Sophie and Aaron found the perfect place they'd want to get married long before they were even engaged. On August 22 of 2014, the couple finally saw what they have envisioned for their wedding – a midsummer night's dream magical forest. The accents and decor definitely fitted to a T. The circle chandelier made out of twigs was the highlight (hah! pun intended) of all the decors.
Click image to enlarge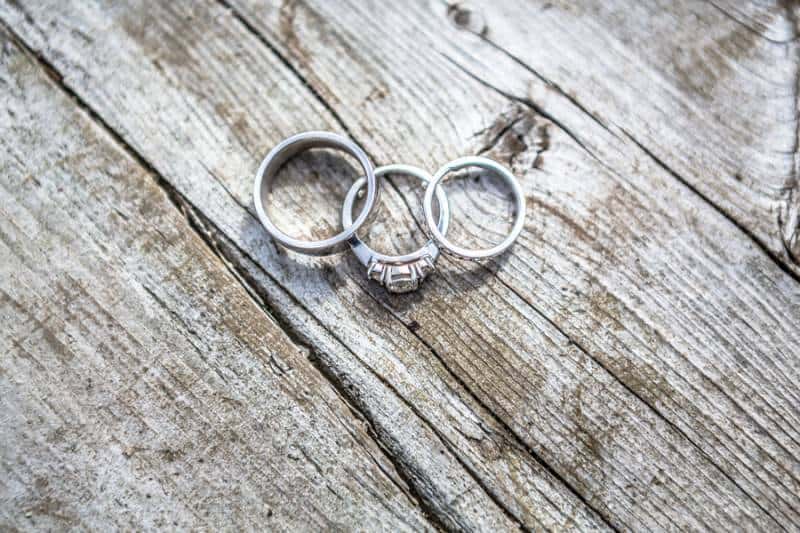 Like. Click to Vote
>

What is your story as a couple, how did you meet & fall in love?
We met through a mutual friend when I (Sophie) needed a temporary place to stay and Aaron happened to be a roommate of his. We hit it off quickly and began a whirlwind romance. Three weeks in I had an accident and broke her arm. Aaron showed up at the hospital and stayed overnight with me. I knew he was "the one" when I watched him sleep in the chair next to my bed only weeks after meeting him.
What makes the two of you a perfect match?
We balance and complement one another. We are both thinkers, but we often have very different perspectives on the same things. He slows me down and I speed him up. We share a ton of interests including being outdoors, reading, food, culture, and animals.
How did he (or you) propose?
I spent many summers as a child in Maine and used to visit a magical place called Monheghan island. I had told Aaron about this place many times, and we finally planned a trip. He proposed to me on a secluded cliff overlooking the ocean during a day of hiking. Afterwards, we walked back into town and had lobster on the pier. The best part was we had no cell reception so it was just us and we celebrated before we shared the news with our families.
How long was the planning process?
Did you think it was enough time? We planned in 11 months which was perfect. Not too short that it felt rushed, and not too long that it felt like a marathon.
What was the best advice you received when you were planning your wedding?
I read a book, "A Practical Wedding" by Meg Keene. Which is all about breaking free of the consumer culture of wedding madness and just doing what makes you happy. Every word of it was beneficial by mostly it helped me focus on what was important to me, and not feel obligated to do everything as might be expected.
What tips & tricks (can we use "hacks"?) can you share future brides that you yourself have learned during and after your wedding?
Don't let the vendors push you around. You don't NEED these napkins of those chairs. Be firm with your financial limits and personal preferences. Don't feel obligated to anything — do what matters, nix the rest.
What were some challenges you faced while planning your wedding & what did you do to address them?
Well, this isn't directly wedding planning related, but two months before the wedding Aaron was diagnosed with testicular cancer. For a little while, we thought about cancelling the whole thing and eloping, but we decided we didn't want cancer to take away from our day. It put everything in perspective. All the little things that can make one a "bridezilla" were insignificant. All that mattered was that were alive, we had each other and our families, and we wanted to celebrate! We made some signs that we took photos with that said things like, "check your balls" and "if we beat cancer we can beat anything". We also set up a fundraising bowl. Sometimes having a dose of reality really helps make the day even more special, and the planning process in perspective.
What inspired your wedding décor? Why did you choose the things that you did?
We knew where were wanted to get married well before we were engaged because we used to walk there all the time. It's a gorgeous Italianate garden that is rustic, elegant, and just oozes romance. It was pretty easy to be inspired when surrounded by such beauty. We did minimal decor because the place spoke for itself. However, we did rent a gorgeous twig chandelier wrapped in white lights that hung in the middle of the room. Our centerpieces also played on that theme with low succulent arrangements around the base and a branch with lights coming up out of it. I envisioned a midsummer night's dream magical forest.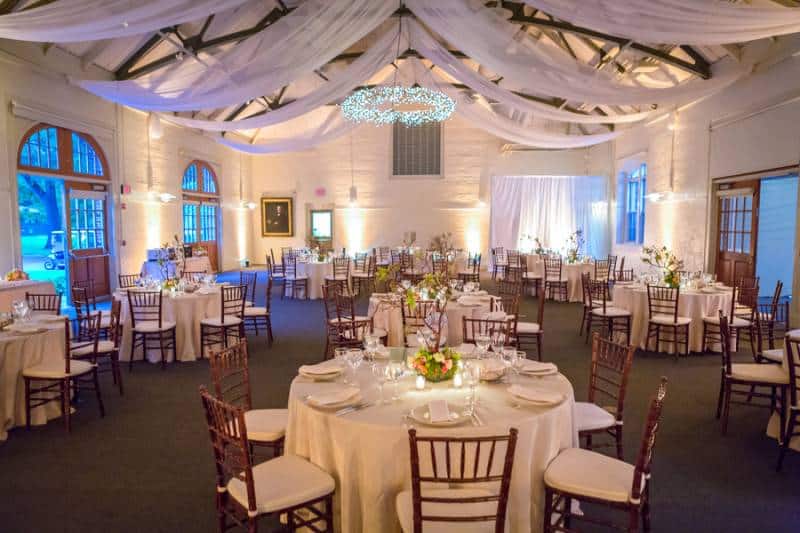 What was the wedding budget?
35,000
Where did you save the most money?
We looked around where we could to save money. For instance, we rented chairs from a vendor other than our caterer. We also decided to nix the limos and videography since our ceremony and reception were at the same place, and we had a friend video our ceremony.
What was the biggest expense?
Catering by far. It was nearly half our budget.
How many guests were invited in your wedding and what was the final guest count?
120 were invited and 95 came.
How did you narrow down your list?
Maybe we just don't have that many friends or we have small families, but we included everyone we wanted to!
What songs did you use during the ceremony?
Procession — an acoustic version of "all you need is love" Beatles.
Bride — "grow old with me" Tom Odell
Recessional — "I Do" Colby Caillat
Where did you go on your honeymoon?
planning a trip to Costa Rica this winter.
What are you most excited about for the future?
Aaron's cancer and a number of other things we've been through together have just made us happy to have each other. We are excited to just have a best friend and partner to go through life with.
Do you have advice for couples still in the planning process?
Don't sweat the small stuff. Do what you love and what comes from your heart. Don't let other people's opinions override what you want to do.
What is the overall story for this album?
We are a couple that in two short years of being together weathered an accident, graduate school, parental illnesses, building careers, and finally cancer. It's been really intense and it's only made us love one another more. Our album shows the culmination of all of these events and how "love conquers all".
What inspired the wedding day outfits?
The outfits matched the theme of an outdoor romantic garden wedding. We didn't want anything too formal or uptight. We wanted to be both elegant and natural. My dress was lace with a champagne underlay. It had a champagne sash. I put a simple flower in my hair. The men wore slate grey tuxes with matching sage green ties. The boutonnieres were simple and elegant — just a simple succulent or orchid against a leaf.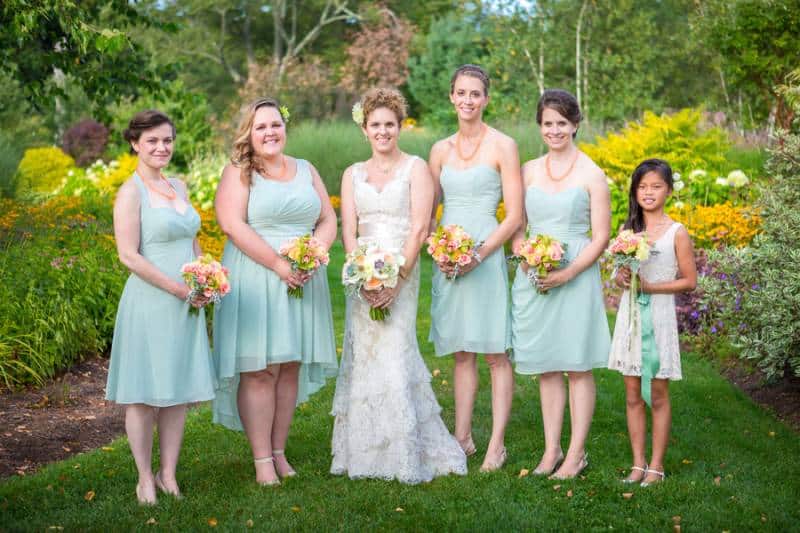 What was your favorite part of the day?
The ceremony was amazing. It was intimate, sweet, and completely us. We did music that wasn't your standard Pachabell and here comes the bride. We did a wedding contract that the whole community signed. We also read a poem as our vows. It was spiritual and not religious.
Was there any Do it Yourself (DIY) projects? If so, can you describe them in detail?
Not really. I'm not very crafty!
What were the highlights from the ceremony & reception?
The toasts were amazing. They were heartfelt, funny, and very meaningful. It was just amazing to have all the people we love from all different parts of our life in the same place.
Was there a theme for the ceremony and reception?
Rustic, elegant, family oriented and down to earth.
What part of the ceremonies do you think was the most memorable for you? (& your guests?)
For me, it was hearing the vows that we had written for one another. We knew the whole ceremony except for those vows. It meant so much. Also, walking down the aisle with both my parents and seeing all of my closest family and friends. It was so overwhelming.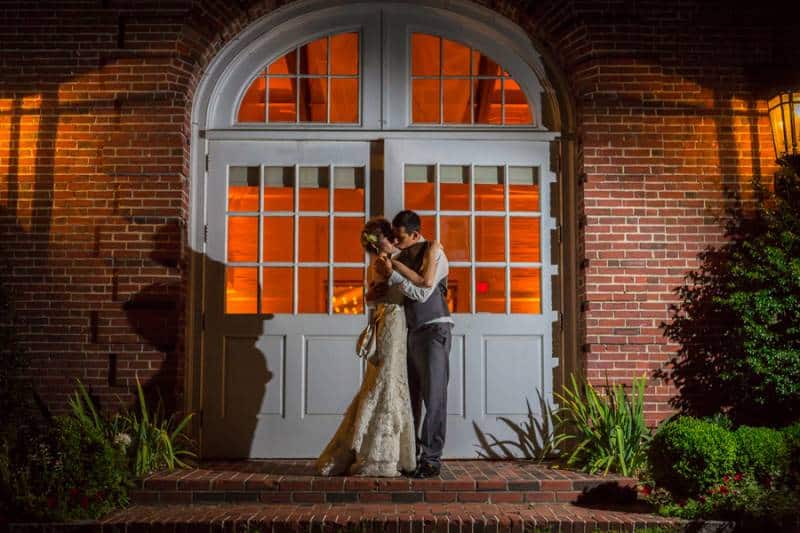 VENDORS
Photographer: Derek Halkett Photography
Caterer: Cuisine Chez Vous
Tuxedo and Men's Attire: Men's Wearhouse
Event Venue: Massachusetts Horticultural Society at Elm Bank