Luxury and elegance – now, who wouldn't want that? Taken in the Grand America Hotel, the photos definitely show how much of an inspiration the setting was. The light lemons and forest greens in the centerpieces complemented the Murano Room. Even the cake fit right in, too! And don't you just love those high ceilings and huge windows? Letting in all that natural light into the Murano Room made it perfect. If you want a daytime celebration, definitely consider these things for your venue — natural light can do wonders in improving any setting of this sort!
As for the bride's black and white outfit, well, it just exudes this air of luxury and class. The diamond ring sitting on those black elbow-length gloves? Très chic! Those ruby lips and that fabulous updo totally go well with the retro elegance that the dress provides. And need I mention the hat? All-in-all, this look is such a classy break from the usual all-white goodness we're so used to.
Congratulations to the team behind this amazing inspiration shoot! The styling and the photography all melded into one in these gorgeous photos. And we certainly can't wait until someone tries out this luxurious wedding theme. Who knows? Maybe these photos will be your guide, dear reader. Have fun viewing!
Click image to enlarge
1

Like. Click to Vote
>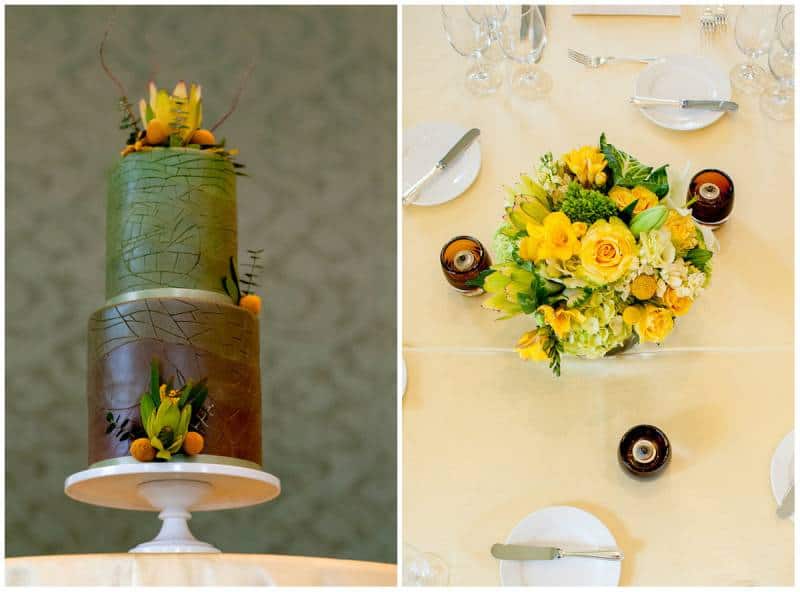 The Album Story:
We wanted to showcase the unique personality of the Murano room and Grand America. I guess you could say our theme was luxury. The Murano room itself was the main inspiration for the cake and the flowers. Our black and white bride's wear was used to create contrast in such an elegant atmosphere.
There wasn't anything difficult about this shoot from my point of view. Working with these professionals makes it easy to be a photographer. Life always seems easy when you are surrounded by luxury in the Grand America. Getting lost in luxury sounds fun to me. And as a photographer, I enjoyed all the different exotic woods, marble and chandeliers.
VENDORS:
Photographer: Smyer Image
Event Venue: GA Hotel
Make-up Artist: Red Scarlett Make-up Artistry
Linens and Coverings: Specialty Linens & Chair Covers