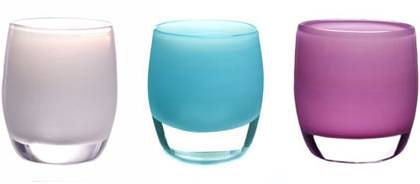 Glassbaby votive holders are exquisite – with a beautiful, sleek modern shape and gorgeous colors that cover a vast spectrum, they're almost irresistible.  In this economy, though, the only visible downside to them is their price – at $40 a pop, they're not exactly budget friendly if you need to purchase in quantity for a wedding…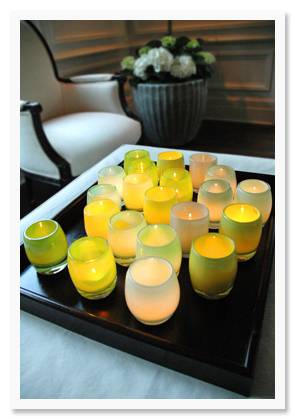 Fortunately, they provide a rental service where you can borrow some votive holders for $5 each – a vastly more affordable way to get the beauty of these gorgeous pieces. With over seventy colors to choose from, it's easy to find a perfect match for your color theme.
If you're having a cocktail hour in a different room than the actual reception area, why not consider these instead of flowers? If you're on a budget, $100 for 20 decorative votives can only buy you a single bouquet in most areas (if that even covers it!) so it's really a no brainer solution to pump some color into the cocktail hour atmosphere. If you're scaling back on centerpieces, putting a few votives around them can make the decorations feel a little more substantial without adding too much cost. Also consider using them as decor on your ceremony table, especially in larger quantities if you're getting married outside in the late afternoon or evening – they can give the ceremony a lot more warmth and color, and multiples of these sweet little votive holders ad a lot of impact!
Images from Glassbaby.