Sometimes nature goes against how we want things to be. But little do we know, a little intervention from nature could help make things wonderful. Alisha and Abram pushed through their engagement photoshoot despite the rainy weather. Looking at these lovely photos makes you think everything fell right into place. The coziness brought by the weather and this lovely couple makes you want cuddle up with your special someone. They didn't use a lot of props like most engagement photoshoots; in their case the scenery and the weather were enough. A perfect setting for those on a tight-budget couples who want personal and unique engagement photos. You can always count on nature to be a perfect backdrop.
Click image to enlarge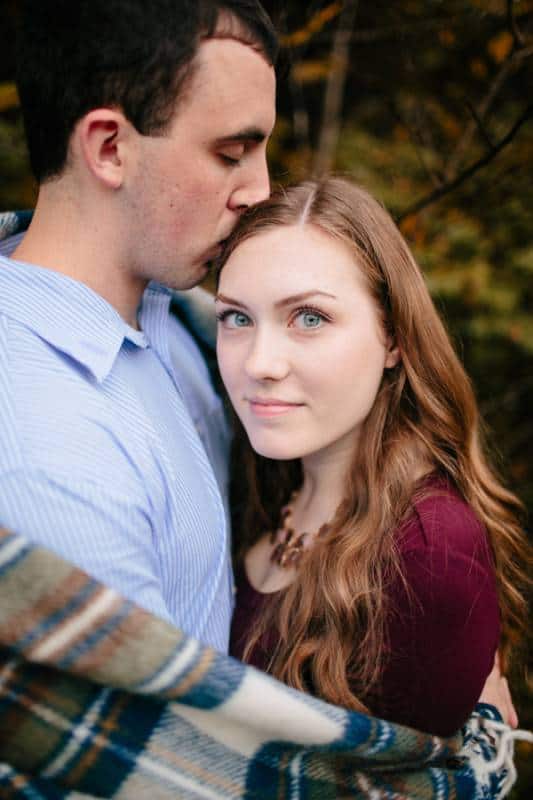 Like. Click to Vote
>
What did you want to portray in your engagement shoot?
When we first met with our photographers, I was imagining a perfect autumn photography session with the sun shining and the leaves falling. It ended up raining the entire week before, the day of, and during our shoot! It was making me so nervous, mainly because I thought that rain would ruin these perfect pictures I had in my mind. I actually think the rain made the pictures better! Since the leaves and grass were wet, it seemed to make the little details pop in the background.
Why did you choose the location?
Our pictures were taken on my fiancé's family farm. It was important to him that we took them there, and they ended up being really special. The farm was amazing! We were able to use so many different places on the property. My favorite pictures were taken on a old wagon road that was above the farm. It had been raining all day, so it was slippery and muddy, but the pictures turned out wonderful.
What inspired your outfits for the engagement session?
I am a planner, so I had planned out our outfits weeks in advance. We originally chose to wear our wedding colors; navy and white. I had found a lovely white dress to wear for our formal pictures, but when I was trying it on a few days before, it just didn't seem right. I quickly went out and found a new dress. It ended up being perfect for our pictures! The color of my dress was picking up on the burgundy and red leaves on the farm. My fiancé wore some nice navy pants and a button down shirt. I liked that his shirt really popped out from the autumn colors behind us. For our casual outfits, we both wore clothes that we liked to wear on the weekends. I think that helped us look more relaxed and comfortable. We stuck with the navy and white theme for those pictures, and I think it was a great way to subtly tie in our wedding plans.
How did you feel at ease with all the posed shooting?
At first, the posed shots were a bit awkward, but after a few minutes, we got used to it. We appreciated how our photographers eased us in to the poses. We laughing during some of the serious posed shots, but I think that actually caused some great candid shots.
Anything else you would like to add?
The main thing I learned from our session was trust your photographer. Like I said, I was so nervous that our pictures would be bad due to the heavy rain. They knew how to make the best of it, and we are so pleased with how the pictures turned out!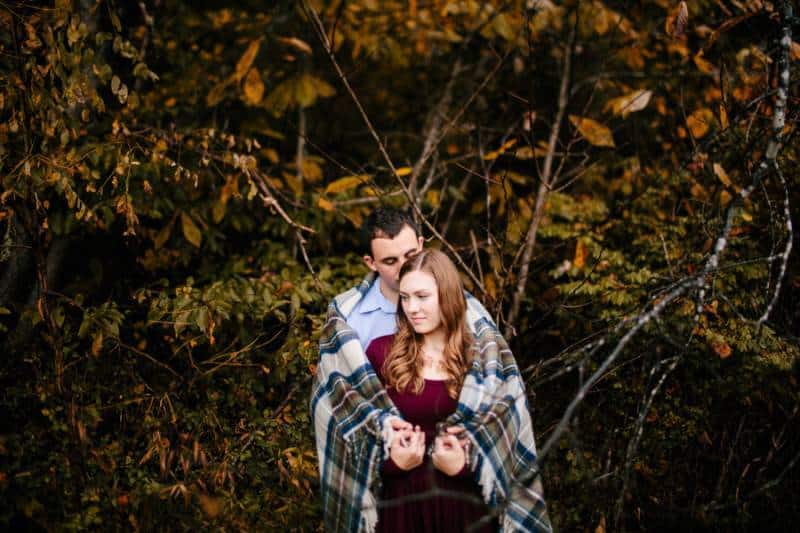 VENDORS
Photographer: Andrew & Erin Photography