A diamond is potentially one of the most important purchases an individual will make, with many factors and considerations to determine. While many companies offer discount products, few are making a notable impact on the industry. One company, Brilliant Earth, is trying to make a lasting impression for consumers who want to consider ethical sourcing and its implications over the countries that rely on them.
Where Do Diamonds Originate?
When looking at a beautiful diamond, it's easy to forget that these stones originate deep inside the Earth. Mining for diamonds often uses two different methods for extractions; pipe mining and alluvial mining. The great majority of diamonds are found in Africa, although there are mines in Russia and Canada. Diamonds take millions of years to form and require extensive resources to discover and harvest.
Deep-earth mines use cutting-edge technologies to dig within the Earth's surface, while some mining is performed by hand (similar to gold mining in the early 20th century. These hand extraction methods are a painstaking process, bringing ethical dilemmas into the mining process.
While significant corporations perform alluvial mining, it adheres to strict environmental and ethical standards. Unfortunately, informal alluvial mining (the kind done by hand) often follows unsafe, intense labor without sustainable employment. These communities live in extreme poverty and employ young children in the process.
Many informal alluvial mines face extremely unsafe conditions that also subject workers to human rights violations. These might include violence and torture as militias and rebel groups attempt to control the mining areas. Currently, fourteen percent of the world's diamonds are sourced through these mining methods.
What are "Blood Diamonds"?
Coined in the late 1990s, blood diamonds refer to violent rebel groups taking over mining areas within western and central Africa. After taking over the mines, often by deadly force, they would trade the diamonds for money or weapons – fueling the violence and brutal acts. Once sold, these blood diamonds wound up in jewelry stores around the globe.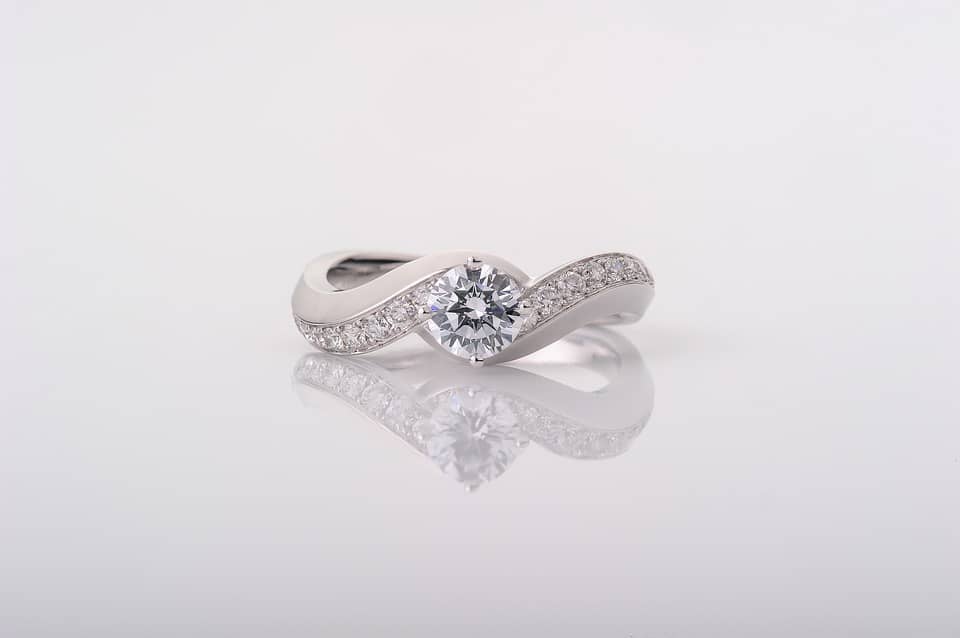 How does Brilliant Earth Create Ethical Jewelry?
This Brilliant Earth review highlights the difference in sourcing between conflict-free jewelers and generic shops. Although industry standards exist as the Kimberly Process definition, they are often the bare minimum standard a company must take. This process defines conflict (or blood) diamonds as rough diamonds financing wars against governments. Brilliant Earth works with suppliers that ensure custody protocol follows for the diamonds purchased. This requires the suppliers to source stones from specific mines following recognized trade, labor, and environmental standards.
The company also offers the GIA Diamond Origin report to trace the diamond from the source. This report includes scientific analysis to provide rough-to-polish diamond matching. Unique identification numbers will assign to each rough diamond, which eventually matches with the polished stone.
Are Other Gemstones Ethically Sourced Too?
While having conflict-free diamonds is a fabulous start, Brilliant Earth is improving the mining industry overall. That's why they try to offer colored gemstones and pearls with the exact alignment as their diamond standards. That means the working conditions and environmental impact parallel with their diamond mines. Promoting higher standards within the sourcing is just one of the aspects of gemstone jewelry. They're working to improve mining conditions, responsible practices, and safer working conditions overall.
Does Brilliant Earth Give Back to the Community?
On top of sourcing ethical diamonds, Brilliant Earth tries to protect the environment, improve human rights, and protect responsible mining practices. This involvement includes rainforest restoration (after degrading by gold mining), sustainable methods of mine closures, improving deforestation, and working with several organizations to protect Americans against food insecurity. Additionally, Brilliant Earth partners with Diamond Development Initiative to fund a primary school in a rural diamond community. By developing a more transparent and sustainable industry, Brilliant Earth creates a compassionate approach to previously dark and dangerous mining history.
How do these initiatives influence price?
The market price for diamonds sets at a global standard. This standard means the source of a diamond does not influence the overall pricing directly, regardless of how it was mined. Mines do not add a premium to diamonds sourced ethically (including treating the environment properly or ensuring safe working conditions). Likewise, diamonds mined from deplorable conditions don't offer lower price points either. The source of the product doesn't influence the pricing, making the ethical attachment voluntary.
Knowing that diamonds and other precious gemstones don't influence the price is a great starting point for value. Consumers deserve the information attached to their jewelry, whether that's the source of the impact their purchase makes on the environment overall. By ensuring the products we purchase are ethically in line with our beliefs, we'll feel more confident in our purchase.
Brilliant Earth wants to remove some of the veils connected with the diamonds people wear. Through education, enforcement, and implementing higher levels of control, Brilliant Earth brings the best of both worlds – minimal negative impact to the communities that mine the product and maximum transparency to those who wear the finished product.