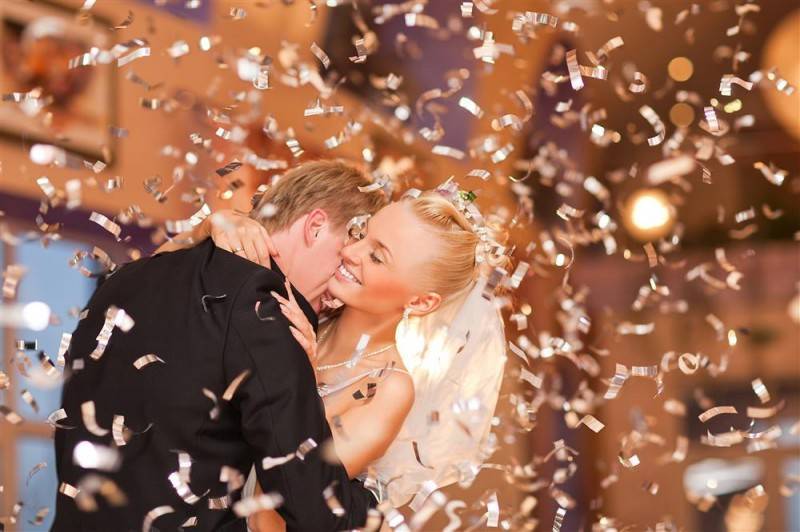 Every girl dreams of having "the smile that could launch a thousand ships." In the months leading up to your wedding, you will be taking part in some very special events – from your bachelorette party to the bridal shower and the reception. Of course you're going to document each of these amazing events with pictures and videos, so having the perfect smile is a must. It also goes without saying that your smile needs to be it's most dazzling on your wedding day. Starting from a teeth whitening system all the way to the lipstick you use. The following tips will help you accomplish exactly that!
Items You'll Need for the Perfect Smile:
The right whitening toothpaste.
An intense whitening system.
The perfect lipstick or gloss.
A face brightener.
Starting the Process – 1 Month Prior
Toothpaste is a very important part of the whitening process. It's not required, but it will give you a great boost and help make sure the more in-depth product gets your teeth as white as they possibly can. So, you're going to want to give up whatever toothpaste you use, at least temporarily.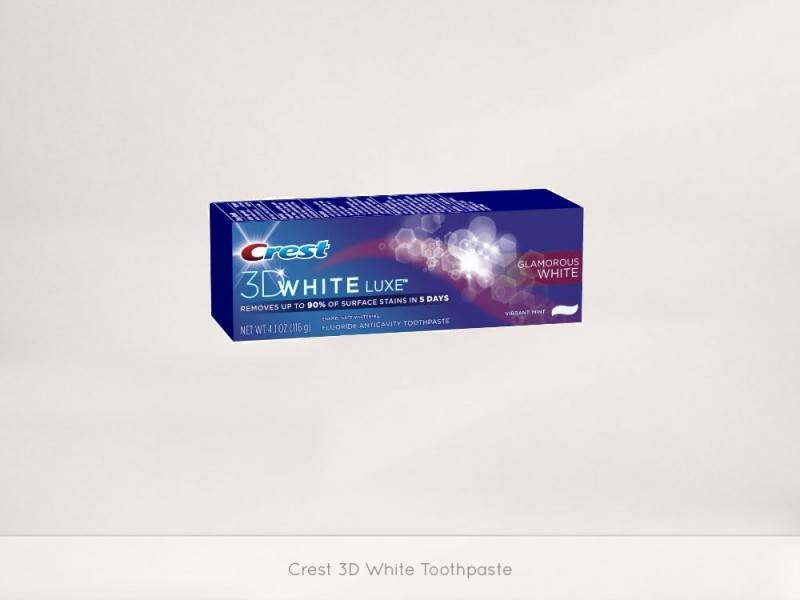 One month before your wedding, replace your regular toothpaste with Crest 3D White Toothpaste. This is an award-winning whitening toothpaste with almost perfect customer review score on amazon. It removes up to 90% of surface stains in as little as 5 days. It will not harm your gums or enamel, but will remove stains within the first days of use and help prevent tartar and plaque. This toothpaste tastes great as opposed to some of the other toothpastes designed specifically for whitening. This is a great first step toward making sure your smile is as white as it can be for your wedding day.
Tips and Warnings: During this particular time, it's best to avoid things that are going to stain your teeth, because this may undermine the work you're doing. This includes things like beets, blueberries, blackberries, tea, red sauces, colored sports drinks, wine and soda. You can enjoy drinks like coffee and tea through a straw to minimize the contact with your teeth!
Intense Whitening – 2 Weeks Prior to the Wedding Events
The next step is for those who need intense whitening. I am a coffee and tea drinker, and I've never really gotten into that "drinking coffee from a straw" phase unless it's a venti iced mocha! That's why I immediately went for a product guaranteed to give me a professional-quality whitening.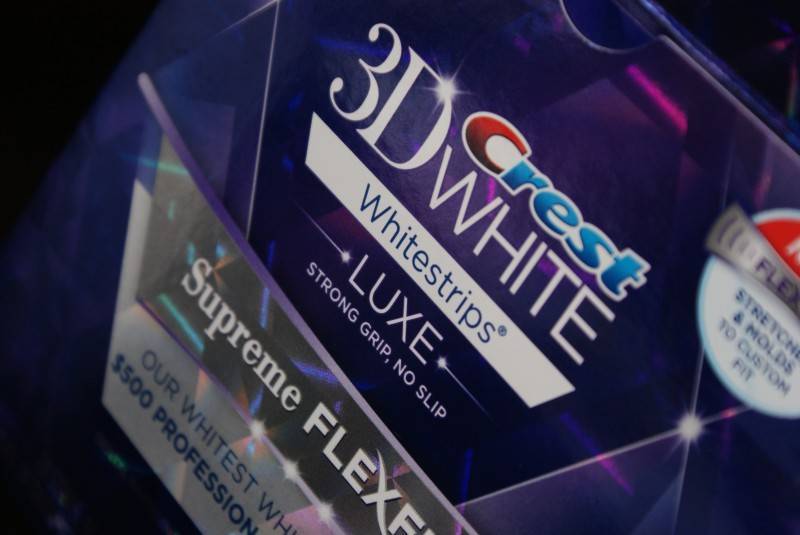 Two weeks before the pre-wedding events take place, start to use the Crest 3D White Whitestrips Luxe Supreme FlexFit system. You apply the flexible strips to your teeth and leave it on for an hour each day, once per day. The great thing about this system is that you can talk and drink water, etc. while whitening your teeth. I loved not being chained to the sink with a tray that was dripping here and there. It works as well as a professional whitening, and costs hundreds less.
The benefits are numerous – it takes just an hour a day and results are noticeable after minimal use.
This allows you to look your best and have the most dazzling smile throughout all of your pre-wedding events! Plus, there's no need for a professional whitening before your wedding day because your teeth will already be beautifully white.
Did I mention that this product is so easy to use; you literally just pop the stickers on your teeth and an hour later, they are noticeably whiter. This is a perfect thing to have in your purse because you can use it on the go. Bridal shower in an hour? Use the strips and your bridal shower pictures will be stunning!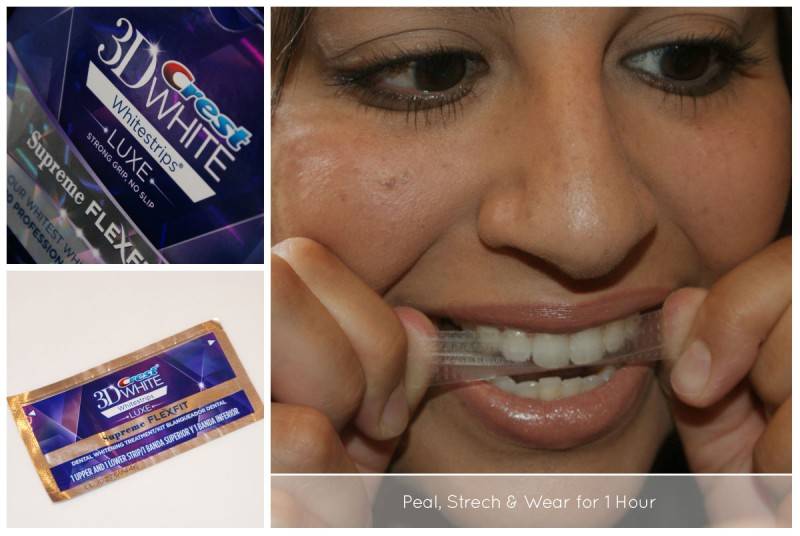 Tips and Warnings: This particular product contains hydrogen peroxide, making it stronger than other whitening products. It's the same ingredient your dentist uses for a professional cleaning, and it lifts stains from the enamel, leaving your teeth super white. Because this product contains strips, it's super easy to use: you just place the strip over your teeth and you're done. You will begin noticing results with this product in as little as a few days' time.
Click here to receive $2.00 off any Crest 3D White Whitestrips purchase
The Perfect Lipstick
Did you know that choosing the right lipstick or gloss is just as important as making sure your teeth are dazzling white? Professional makeup artists recommend choosing a lipstick that is just one to two shades darker than your actual lip color. Spend some time trying on different shades; apply them to only one lip so you can tell just how dark the color is compared to your natural lip color. A quick rule of thumb for choosing the perfect color for your skin tone:
Fair Skin: Go for light, glossy colors like apricot or coral. Avoid colors that will starkly contrast with your skin, such as purple or brown.
Medium Skin: Choose colors that will complement your skin tone, like rose, deep blush, or mauve. You'll want to avoid super light colors.
Dark Skin: Women with dark skin look wonderful in shades of plum, chocolate and wine red.
Let's not throw out the idea of the perfect red lipstick, though. Even if you have super-fair skin like me, you can still wear red, but you need to choose the perfect shade. Fairer skinned girls should go with bright reds like cherry red while girls with olive skin tones can go for the fire-engine red look. Those with dark skin can complement their color with burgundy shades of red.
Quick Tip: If you have thin lips, use a nude or sheer gloss, which gives the illusion of plumpness to lips. One of my favorite is the Dior Addict Lip Maximizer High Volume Lip Plumper in sheer pink.
Knowing these tips can make sure your smile looks fantastic for every event in a bride-to-be's calendar.
Face Highlighter
A face highlighter is a wonderful way to add a little glow to your skin, highlighting your natural beauty and drawing attention to your bright smile. Highlighter should be applied just under the eyebrow, to give your face a natural lift, as well as on the apples of your cheeks – right over your blush.
When you apply it to the corners of your eyes, you draw attention to your eyes, making them appear brighter and more radiant. Also, applying just a touch of highlighter to the peaks of your lips will make your lips appear more youthful and brighten your smile. My favorite facial highlighter is bareMinerals Natural Light Face Lifting Duo.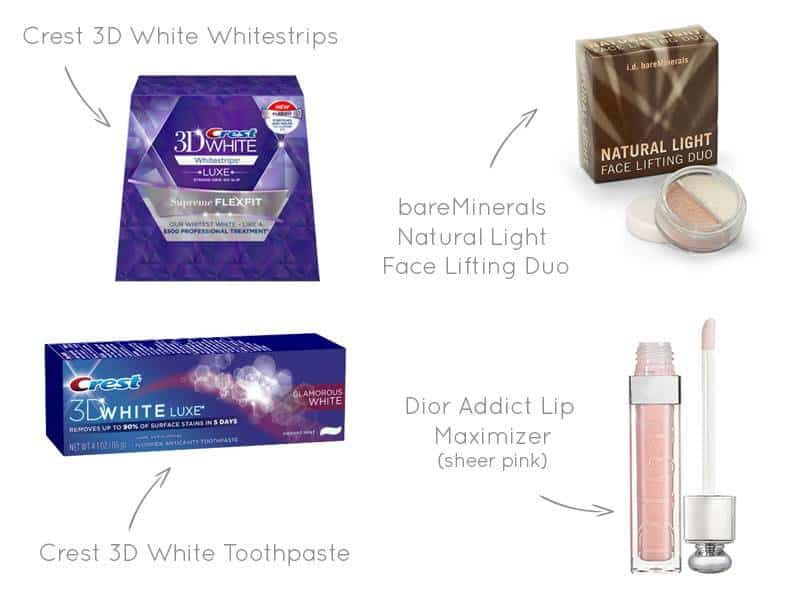 Additional Tips and Tricks
Speaking as someone who has tried a variety of different whitening products, there are a few suggestions that I think might make sure your smile is as beautiful as it can be:
Take pictures each day for comparison when whitening teeth. This will help you see the difference as you use your whitening product so you know exactly how much progress you're making!
For stubborn stains on individual teeth (you need to whiten one or two teeth rather than all of them), whitening strips are a great solution. Just cut them to size!
Don't be afraid to try several different makeup products, especially the lipstick and facial highlighter. One product may be perfect for one woman but not that great for another.
When having your picture taken, pull an old red-carpet trick: place your tongue behind your teeth for the perfect smile. This helps you avoid a huge and goofy grin!
When you want a dazzling smile, you may need to take the extra time and invest in the beauty you're putting out toward the world. These steps will help you get there and make sure you are glowing all over on your wedding day!
THE GIVEAWAY
One lucky winner will receive a 3D White Luxe Whitestrips Supreme Flexfit to give away or maybe just keep to yourself.
The Prize: 3D White Luxe Whitestrips Supreme Flexfit (Value $59.97)
To Enter: Simply follow the instruction below.
Compensation for this post was provided by Crest via AOL Media.  The opinions expressed herein are those of the author and are not indicative of the opinions or positions of Crest or AOL.