When you think wedding venue, it's probably the 'usuals' that come to mind: your family church, the banquet hall in your favorite hotel, or even your own backyard. Maybe you want to spice it up a little and hold your wedding in a unique location. The following are our favorite ideas for unconventional wedding venues that can be truly magnificent!
1) Rooftop Wedding
Imagine saying your vows with nothing blocking your view of the gorgeous sky. Many brides are enjoying this benefit by having rooftop weddings. From the rooftop of their apartment buildings or the rooftop at their favorite restaurant, anything is game. Your guests will love the unique wedding venue and you may be able to get the venue at a lower cost than the more traditional ones, simply because brides aren't lining up to book the rooftops the way they are local bed and breakfasts or barns.
2) Library Wedding
Book nerds take notice: one of the more unique venues  is becoming quite popular amongst those who love their local libraries. That's right! Imagine getting married between the non-fiction and the reference volumes. And don't worry about the wedding being silent and drab; library weddings are actually quite lively and beautiful. Tall ceilings make for a dramatic look when long, flowing drapes are used and groups of candles create a romantic glow amongst the stacks.
3) Zoo Wedding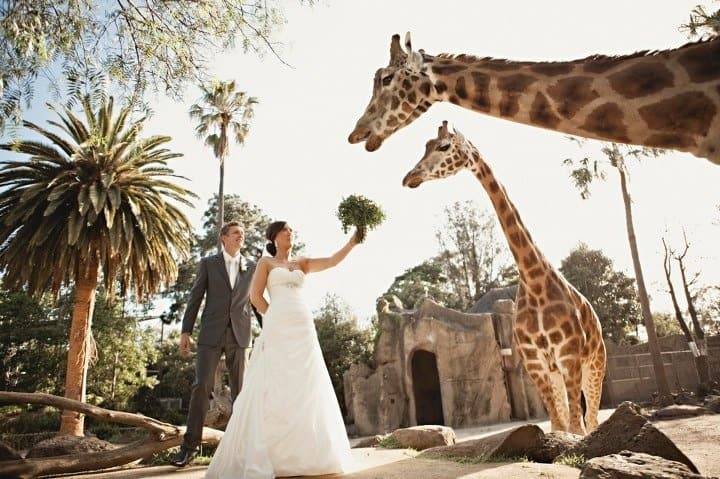 You bunch of animals! A zoo wedding is perfect for the bride and groom who love having a great time and want to treat their guests to something fun and unique. While each zoo is set up differently, most have locations where parties or celebrations will take place. It creates the perfect place for the bride and groom to have fun with their guests, enjoy the nearby animals and experience one of the happiest days of their life.
Would you take advantage of one of these wedding venues or are you a more traditional guys/girls who insists on a church or a more conventional wedding venue? Please share your thoughts with us in the comments below.