If you've ever been invited to a wedding, you probably already know the process of agonizing over what gift to bring. It really is a daunting task sometimes, because most people can't spend a fortune but also don't want to appear cheap. This is immediately what I thought about when Wine for a Wedding sent me one of their wine gift boxes for review…like a light bulb going off, I realized that it's the perfect medium.
What is Wine for a Wedding?
Wine for a wedding has taken two things couples love (personalization and wine) and created a gift box that makes an amazing wedding gift. The boxes are completely customizable so you can put your own flair into the gift and make sure the couple really loves it.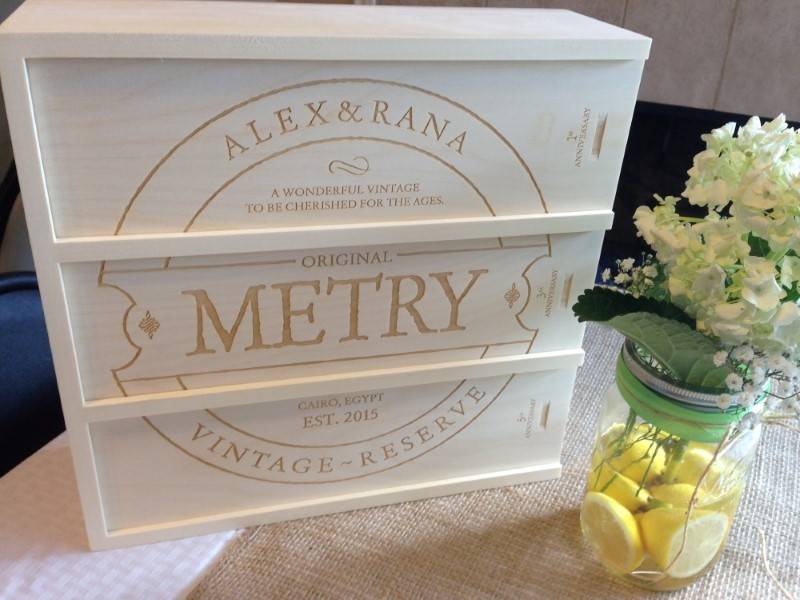 Monogrammed things are huge right now, and you can have your gift box customized with the couple's names! Not only will they receive fantastic wine from Mount Pleasant Estates, but they can keep the box long after the wine is gone as a memento they will truly cherish.
Mount Pleasant Estates
Established in 1859, the winery grows 16 grape varieties and the vineyards span more than 80 acres of land. The original cellars are still used to age the "estate bottled" wines. This is another thing that really stood out for me. When I first learned about Wines for a Wedding, I wondered if the wine would be good wine that my friends would really enjoy, or just any "old thing" they bottled up and tossed in a pretty box. Now I know the wine is excellent (award-winning, in fact), so it's a gift I would be quite proud to give.
Personalization
Wine for a Wedding offers a huge selection of box styles so you can choose something that will be perfect for the happy couple. Have their photo engraved on the box, their initial, a pretty quote, or my personal favorite, the "open when" boxes. The boxes feature three compartments, so a bottle of wine is placed in each one, and the outside of the box tells the couple when to open it. You can choose first anniversary, fifth or even tenth. Imagine your wedding gift continuing to give 10 years after the couple says their vows.
Artificer Woodworks
The box is strikingly beautiful, and I love the idea that this is something the couple will really cherish for years to come. They can use it for a decor item once the wine is gone, a place to store cherished love letters or mementos, or anything they want. The boxes are created by Artificer Woodworks, based in Missouri. After being so impressed with the box, I researched the company. After seeing their gorgeous selection of items, I noticed two things that made me feel really great about this company: these are made in the US, from sourcing the materials to creating the end products, and the company plants a tree for every product they sell. Sustainability and 'Made in the US' – I approve whole-heartedly!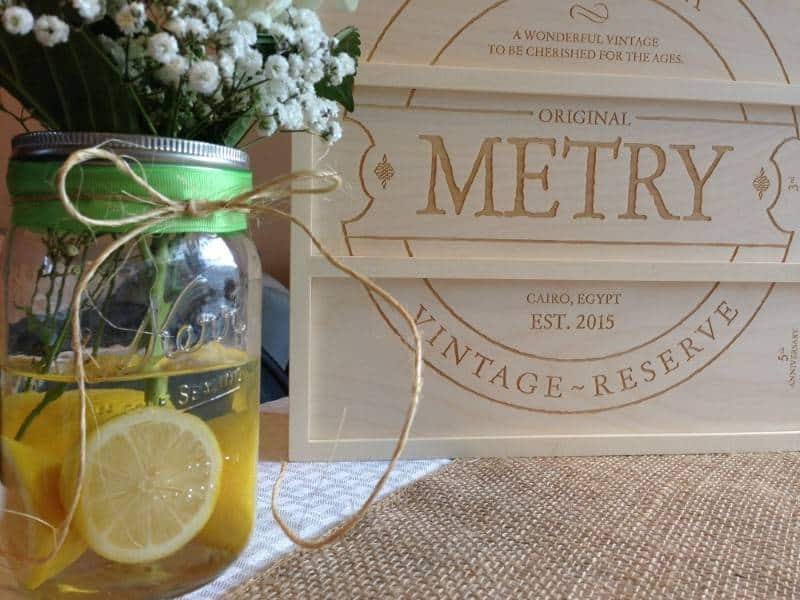 Cost
Finally, down to the nitty-gritty: the cost of the gift. Before doing more research, I tried to guess at the price and factoring in a gorgeous, customized box plus three bottles of excellent wine. I would expect to pay around $350 or $400. I was very pleasantly surprised when I saw the actual prices. The boxes themselves are $99 and you don't have to add wine if you don't want to. However, if you do want to add wine, prices for the wine range from $89 to $120 for three bottles. So, the end price is typically going to be less than $200.
SHUT UP AND TAKE MY MONEY!!!
Seriously, I think this is a fantastic gift and I will be purchasing this not only for the next wedding I am invited to, but I've already imagined using this as an anniversary gift or a house-warming gift as well. The awesome folks at wine for a wedding has agreed to do a giveaway of 1 custom box to one lucky winner. You can enter below. Wine is not included in the giveaway.
a Rafflecopter giveaway

I love it, but I want to know your thoughts – what do you think of Wine for a Wedding? Let me know in the comments below!