Click image to enlarge
Like. Click to Vote
>
Alice in Wonderland is brimming with colorful and unique ideas. And I've seen tons of parties make use of this so I thought that it's only a matter of time before this work of art gets translated into a wedding theme. And although there are no romantic interests in this story (it is a children's book after all), I have always been fond of the Mad Hatter and Alice's unconventional (but sometimes borderline psychotic) friendship. So when this styled shoot harnessed this relationship, I couldn't help adore this album even more. Then moving on to the stylistics, the rich purple was perfect for the magical vibe this theme was aiming to have. And of course, the Mad Hatter wouldn't be complete without his time piece and this has been one of the abundant detail. I love how despite this being such a whimsical theme, the stylists managed to make it highly useful to those planning their weddings. Enjoy this awesome styled shoot!
Mad Hatter: "Have I gone mad?"
Alice: "I'm afraid so, but let me tell you something, the best people usually are."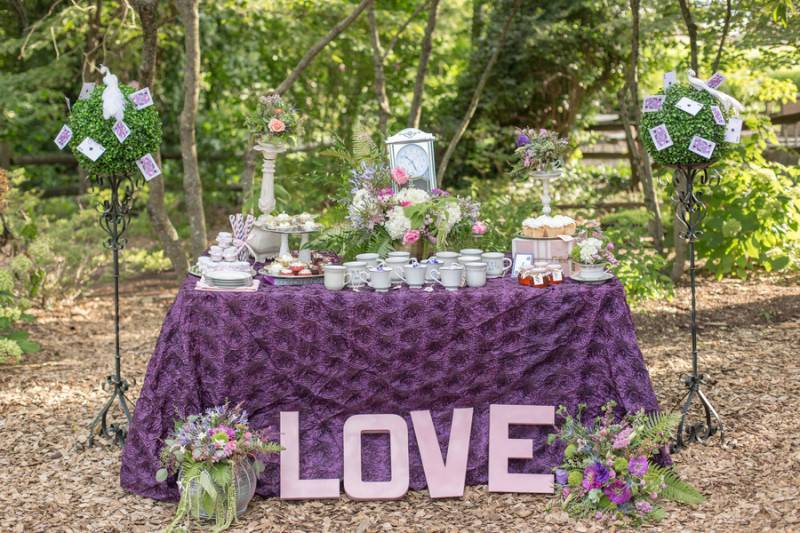 Photographer
There is nothing better than a whimsical wedding, so when Star Noir Studio teamed up with Southern Sirens for a series of storybook inspired inspiration shoots, Custom Love Gifts And Events couldn't wait to join in on the Alice in Wonderland themed wedding shoot. The theme opened doors to a whimsy, eclectic and a little avant-garde style perfect for a unique venue like the Knoxville Zoo.
We started with eggplant purple linen with 3 dimensional rosettes from Campbell Tent And Party Rentals paired with a giant teapot overflowing with flowers and greenery from Melissa Timm Designs. A mix of floral arrangements and brightly frosted cupcakes in gold-rimmed tea cups from Vintage Inspirations added the perfect details. Spray-painting inexpensive clocks in silver was an easy DIY project that made the Mr. and Mrs. seating extra special.
The cake from Sweet Beginnings By Elaine featured a mix of pearls, vintage brooches and even a miniature looking glass with a tiny teacup and a hand-crafted "love" cake topper. A dessert table featured mini key lime pies, brownies and red velvet cookies from Bradford Catered Events and honey pot favors in pink and gold with Alice themed vintage look tags.
The dress from Wedding Wonderland included a delicate lace neckline that flows down the back of the dress into a pool of soft organza and tulle. Our groom's attire included a pocket watch similar to the design on the invitations. In keeping with a out of the box theme, we asked our mad-hatter to show off a little fire breathing skills with his lady by his side.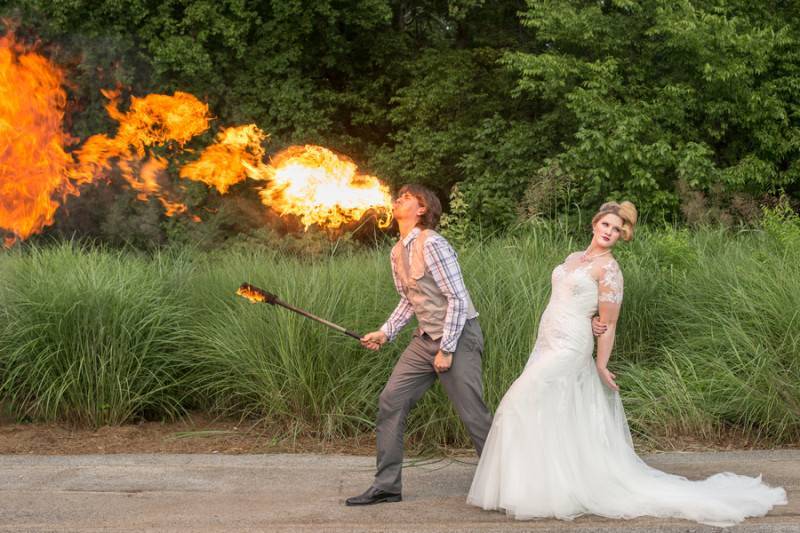 Vendors
Photographer:  Star Noir Studio
Caterer:  Bradford Catered Events
Equipment Rentals:  Campbell Tent & Party Rentals
Favors and Gifts:  Custom Love Gifts
Event Venue:  Knoxville Zoo
Floral Designer:  Melissa Timm Designs
Makeup Artist:  Southern Sirens
Invitation Designer:  Star Noir Studio
Cake Designer:  Sweet Beginnings by Elaine
Heirlooms and extras:  vintage inspirations
Dress Store:  Wedding Wonderland