We've seen a lot of the same themes over the last few years: rustic, country, and shabby-chic. If you're looking for some fresh new wedding theme inspiration, then today's post is perfect for you. We're going to explore an Old Hollywood wedding theme, complete with all the glam you could ever want! Let us know which ideas you find the most inspirational!
The Dress
Dresses in the old Hollywood era (between the 20's and 40's) were super sleek, feminine, fluid and gorgeous. Most were sheath-style dresses, although some of the more formal styles might have included ball gowns or mermaid-style dresses. Most of the dresses in this area featured fabric that draped lazily (but elegantly) or cascaded into pools of silk, satin and chiffon.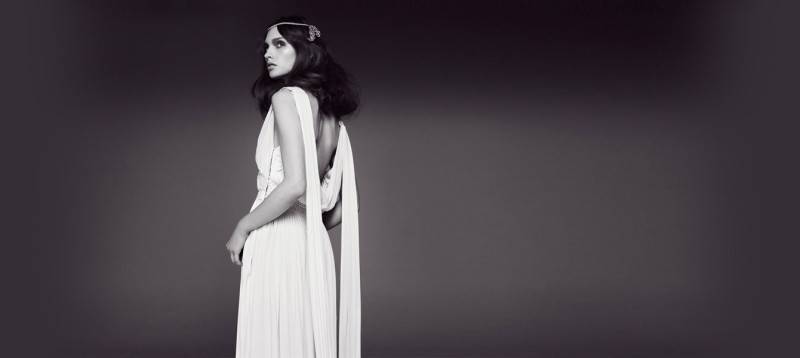 Opt for a sleeveless sheath dress, cinched at the waist, with minimal embroidery or beading.
The Decor
Everything Hollywood in this era was glittering, glamorous and glitzy. If you want to go with this wedding theme, picture a formal Gatsby setting and you'll know exactly which direction to go in.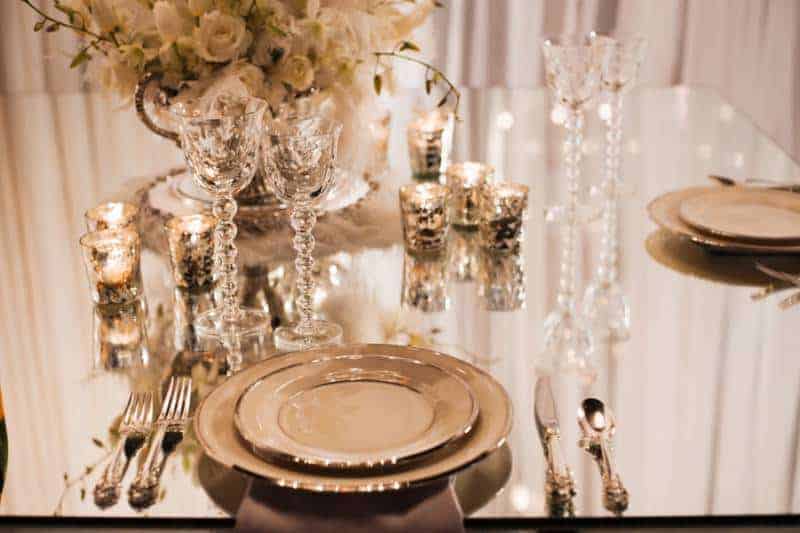 Mercury glass or silver candleholders and vases as centerpieces, gleaming charger plates with art-deco style flatware, intricate crystal champagne flutes, chandeliers, layers and layers of hanging chiffon or tulle…these are all wonderful elements to use in this theme.
The Cake
Most brides opt for a modern cake (fondant and tiers) but with an old Hollywood design. Geometric lines are perfect, as are the colors gold, black and silver, and baby blue. Cakes that focus less on the floral embellishments and more on the color palette and patterns are perfect!
Usually, cakes created with this theme feature elaborate piping or fondant work, and at least one shimmering, metallic color.
The Hair & Makeup
When you're trying to decide on the perfect hairstyle and makeup for the old Hollywood wedding theme, think of Bette Davis with her thick, long eyelashes, finger-waved hair, and rich, red lipstick. This is the perfect look for this wedding theme.
Finger waves look fantastic in long and short hair alike. Add in a beautiful headband if you want a little "wild child" with your elegant and put-together Hollywood look.
This can be an incredibly fun wedding theme and it's not difficult to pull off. So much of the vintage items of the 20's, 30's and 40's is coming back with a vengeance and is more readily available now than it was 10 years ago. Do you love this idea for a wedding theme? Of the looks and ideas in this post, which is your favorite? Let us know in the comments below.