You don't need to spend much to have a beautiful wedding; Valerie and Richard's shabby chic wedding proves this. Their theme, itself, provided the groundwork for the savings. Most of the components of this theme can be found in thrift stores and vintage shops. In fact, the more vintage and rustic, the better! And they didn't compromise on quality and style either. With resourcefulness, bargain hunting skills, as well as friends and family to help out, they were able to put the whole event together in 4 months with just $3,000! Congratulations, Valerie and Richard!
Click image to enlarge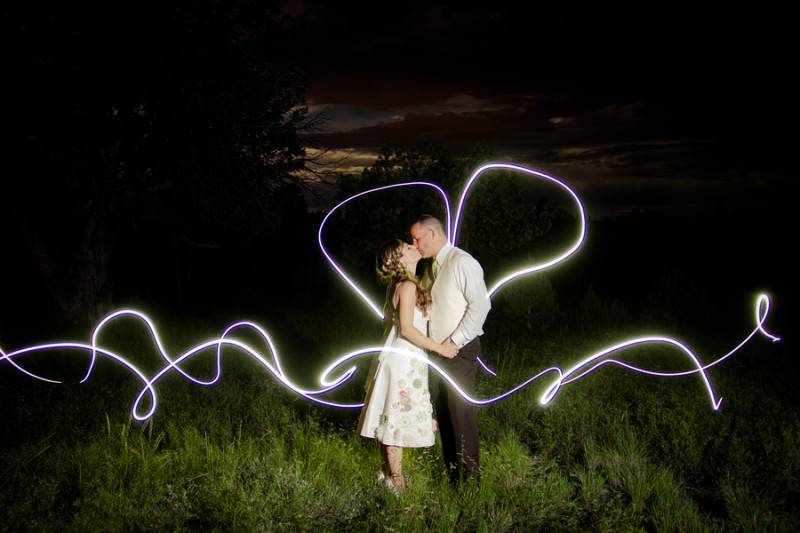 1

Like. Click to Vote
>
Our Story:
We met while working at a small credit union in Phoenix, AZ. In retrospect, we discovered that the attraction was immediate, but like a school-yard crush, neither of us were aware of the other's feelings. At least six months would pass before that mutual attraction would come to light.
One afternoon, while on a lunch break, I heard a Bob Marley song playing in the distance- 'One Love, One Heart.' I discovered the music was coming from a car in the employee parking lot and I wondered which employee was listening to one of my all-time favorite artists. Then I came upon Richard's truck and sure enough, it was him! When I returned to my computer, I immediately emailed him expressing my love for Bob and his music. There was an instant connection and after some back and forth, we decided to have lunch.
It was an awkward lunch, to say the least. Both of us were such different people at that time, not to mention the fact that we were both still in relationships that were nearing the end. That afternoon, awkward as it may have been, prompted us to spend more and more time together and it became clear to us that we were very much walking the same path in life and our attraction to each other became undeniable. It did not take long for us to finalize our other relationships and be free to pursue each other. But, before we could do that, we both decided that it would be best to spend at least a year being single. Healing emotionally and working on the inner demons that we both were battling – all the time still working together at that tiny little local credit union.
We remained friends, kept the communication open and occasionally saw each other outside of work. Then, one day, Richard invited me to come over and watch, "Lost," a show that he had recently become fascinated with. I loved it immediately – as well as the time spent together – and we quickly made it a habit of watching the show together several times a week. It was not long before we became inseparable. Our relationship growing stronger and healthier every single day. And on Christmas Day 2013 Mr. DeSpain asked me to become Mrs. DeSpain. Without hesitation I screamed "YES!" We were married on September 6th 2014 in Strawberry, AZ.
We Are A Perfect Match:
We were both done with the drama and dysfunctional things we experienced in previous relationships and in our handling of our own lives. We seem to have a great way of communicating with one another, calmly, rationally and openly. That ease of communication is surprising even to us. Plus, we have so many things in common from our love of music, food, taking scenic drives and snuggling on the couch- and of course making mad passionate love for hours!
The Planning:
It took us about 4 months total to plan the wedding. I deliberately got involved in a high intensity personal growth class that lasted 90 days. One of my goals was to have my wedding completely planned and paid for in that time period. I started planning mid-May 2014 and everything was ready around the end of August. It was the perfect amount of time. I didn't feel too rushed, but I also did not have any time to procrastinate.
Wedding Décor Inspiration:
I chose shabby chic as my décor. We both love the earthy tones and vintage looks. I actually chose 4 colors: pinks, earthy greens, chocolate brown, and ivory. They were the perfect for my setting in the countryside.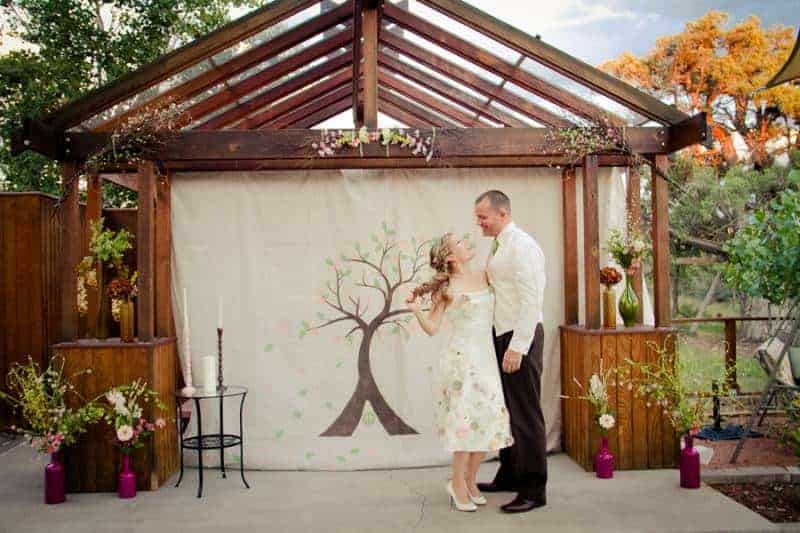 Our Advice For Other Couples:
Always work together as a team. Communicate and compromise!
Money Matters:
My budget was $3000. Really! Only $3,000. I had so much help and support that I actually came in right at my budget and this included our rings and everything.
We spent the most on our photographer. I knew this was going to be the case from the very beginning, but I knew that it was the item I wanted to invest the most in – memories for a lifetime!
We really saved money on everything. My Godparents own 'Up the Creek Bed & Breakfast' in Strawberry, which we chose for our venue. All we had to do was get 3 of our guests to rent rooms…no problem! I shopped at Hobby Lobby when floral was 50% off. Got all the vases and candles there, as well, in the clearance aisle at 80% off. I am friends with my photographer and she gave me an outstanding deal. My dress was only $130 and then my aunt customized and adorned it with handmade shabby chic flowers, which made it priceless! My ring was also custom made. Richard originally proposed to me with a ring his best friend (and best man) gave him. After the proposal, his mother gave us his great grandmother's wedding ring. We decided to take the diamonds from both rings and create a totally new and unique design. Since we provided the stones along with some scrap gold it only cost us $250 out of pocket!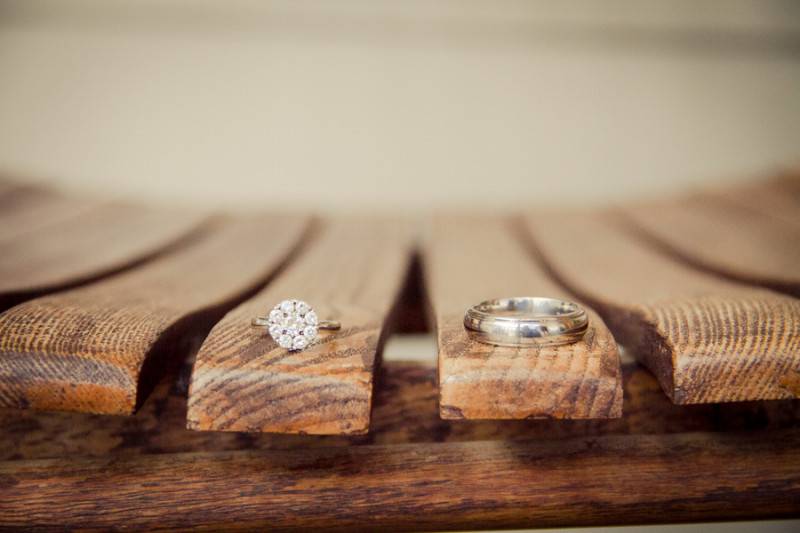 You Are Cordially Invited:
We invited 52 and I think 45 showed. We narrowed it down to family — mostly mine, as Richard's family is quite small and then just a handful of close friends.
Our Do-It-Yourself (DIY) Projects:
Yes! Our whole wedding was a DIY project. We did not hire a wedding planner and were on a super low budget. As I stated before, my aunt created my dress. I bought the dress itself from Azteca Bridal in Phoenix. It was a plain, long ivory dress — nothing fancy.
I knew I wanted something vintage and unique. I had the dress shortened and then let my aunt work her magic. She already had scraps of fabric and she purchased more at thrift stores and discount fabric stores. Then, she painstakingly made each little flower by hand, not to mention she glued all of the tiny pearls that accented the flowers so well. She also made my flower girl's dress by hand, again we purchased the fabric at a discount fabric store and she worked her magic.
After purchasing my flowers from Hobby Lobby, I had no idea what I was going to do with all of them. So we took an entire day, drove up to Strawberry and my mom, aunt, and I created all of the displays. We actually hung everything the morning of the wedding! We also had to create an alter at our venue. There just so happened to be an enclosed spa that was the perfect alter area, but we needed to cover up the spa itself.
With lots of advice from family, Richard and I decided to purchase a large painter's drop cloth from Home Depot. Then we went to Target and found a large sticker of a tree and leaves (you know, the kind you would put on a wall). We then had to create a stencil out of the sticker. Once we did that we laid out the drop cloth in the garage, tacked the handmade stencil to the drop cloth and spray painted the tree and leaves. It took us about 7 hours total, as we had to figure out how we were going to get the leaves a separate color from the tree, but it turned out even better than we thought. It was great team work!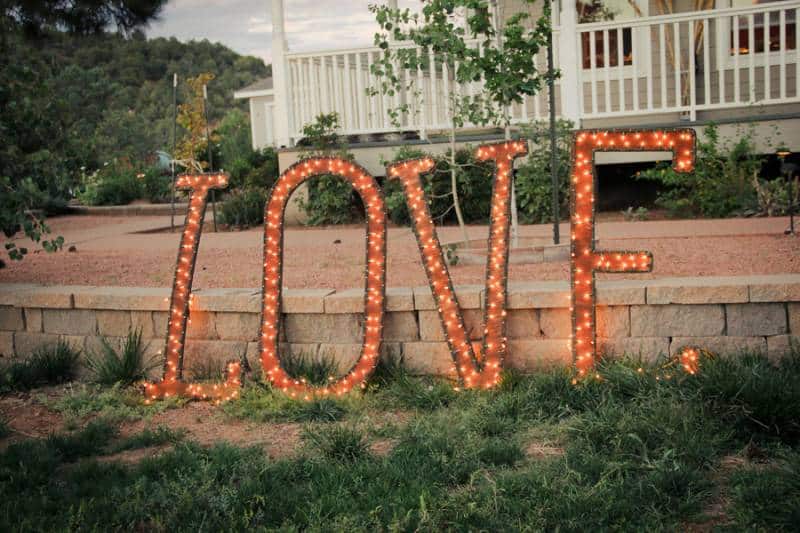 VENDORS:
Photographer: Life & Rain Photography
Dress Store: Azteca Bridal
Event Venue: Up the Creek Bed and Breakfast