Aundrea and Kerry certainly went all-out for their rustic and old French style wedding. The theme was the bride's idea, being a "rustic chic fanatic", as she puts it. Well, she certainly knows her style because the whole event was truly beautiful. It had that intimate old country feel while still maintaining an air of simple elegance. There were many subtle rustic French elements — from the cut of the wedding gown, to the rich purples and soft lavenders, to the gorgeous reception setting. And you can just imagine the flowers used during the wedding and reception being turned into potpourri right after. Everything was rustic chic all right, no doubt about it.
Click image to enlarge
1

Like. Click to Vote
>
What is your story as a couple, how did you meet & fall in love?
My husband, Kerry, and I were set up on a blind date. For our second date, Kerry took me on a hike. It rained the entire time and we were soaked after, but was completely magical. The conversation never ran dry and we learned so much about each other. By the end of the day I knew he was the one!
What makes the two of you a perfect match?
Kerry and I enjoy the same activities, share the same values, and have similar personalities. But most of all, we have fun together! We are open and willing to try new adventures together, and support each other no matter what.
How did he (or you) propose?
About a year and a half in to our relationship, Kerry and I went on our first vacation together to Cabo San Lucas. After dinner one night, Kerry suggested that we take a walk on the beach. It was a gorgeous evening! The sun had set, the city lights were shining in the background, and the waves were crashing. We stopped to admire our surroundings and Kerry put his arms around me. He started telling me the reasons why he loved being with me and then got down on one knee. I was so excited to know that he was the one I would spend the rest of my life with!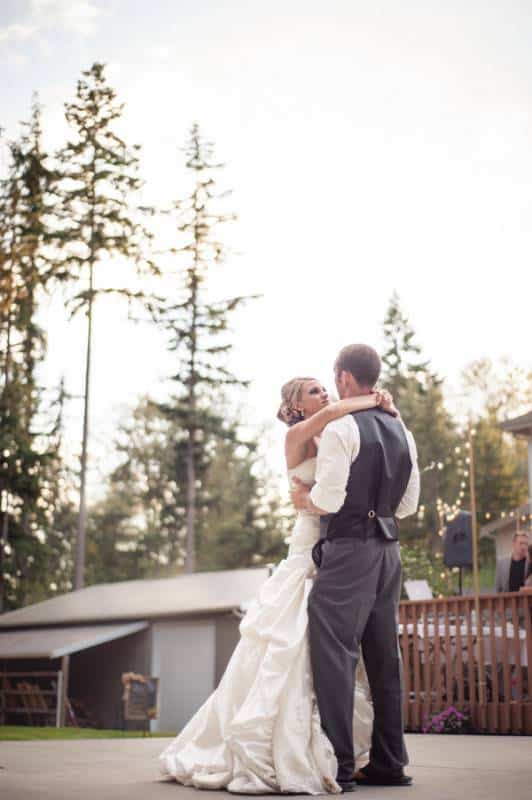 How long was the planning process? Did you think it was enough time?
The planning process was about 1 year. It was the perfect amount of time.
What was the best advice you received when you were planning your wedding?
The best advice I received was to remember that it would all work out. It is easy to get stressed about all of the minute details, but in the end everything always comes together perfectly. It was a good reminder not to stress about the little things.
What tips & tricks (can we use "hacks"?) can you share future brides that you yourself have learned during and after your wedding?
One trick that I would share with future brides is to have a day of coordinator. I love planning and enjoyed doing all of the wedding planning myself, but having a day of coordinator was extremely helpful. They are there to make your life easier and make sure everything is in order on your big day!
What inspired your wedding décor? Why did you choose the things that you did?
I am a rustic chic fanatic! I love the old French country style and being able to create that look myself.
Where did you save the most money?
I saved the most money by doing my own flowers. The local farmers' market offers gorgeous flowers during the summer and as long as you don't mind a little DIY project, it can save you a lot of money. I went to the market a week ahead and was able to order the flowers I wanted.
What was the biggest expense?
Catering! Also one of the most important parts of the wedding. I would suggest double checking with your caterer on the amount of food they are bringing. While I ordered food for 125 people, the amount of guests I had coming, it would have been better to order for 140 to ensure there was plenty of food and maybe some extra for our family and friends the next day!
How many guests were invited in your wedding and what was the final guest count?
Kerry and I invited about 155 people and ended up with 125 guests. It was the perfect amount of guests for our venue and allowed us to talk to everyone there.
What songs did you use during the ceremony?
My parents walked me down the aisle to "Marry Me" by Train. And Kerry and I walked out together to "A Thousand Years" by Christina Perri.
Where did you go on your honeymoon?
For our honeymoon, we went to Aruba! It is gorgeous there and was a nice getaway after all of the wedding hustle.
What are you most excited about for the future?
I am most excited about sharing and experiencing life together! As husband and wife you get to enjoy so many "firsts"… homes, vacations, children, kids' soccer games. I couldn't imagine spending them with anybody else!

Do you have advice for couples still in the planning process?
Remember that all that matters is the two of you! After all of the planning and stress is over, you have each other!
What inspired the wedding day outfits?
I saw an image on Pinterest of the most gorgeous wedding dress ever from a "mad hatter" themed wedding. From then on, I was on a mission to find something similar.
What was your favorite part of the day?
My favorite part of the day was walking down the aisle to my husband! I was so anxious/nervous before walking down the aisle in front of all of the guests, but once we started and I was walking towards Kerry, it was one of the most incredible feelings ever.
Was there any Do it Yourself (DIY) projects? If so, can you describe them in detail?
Our entire wedding was DIY. I love those types of projects and it made the wedding that much more special. Each piece was crafted with an exact purpose and had love poured into it. Even the amazing arbor we got married under was hand made by Kerry and his father, and decorated perfectly by my mom.
What were the highlights from the ceremony & reception?
The highlight from the ceremony was having all of our family and friends there supporting us. It was quite the feeling to look out at the guests and feel the love from them. One of the biggest highlights from the reception was the dance floor around the fire pit. Almost everyone was on the floor dancing and having a good time! The pictures explain themselves.
VENDORS
Photographer: B. Jones Photography
Cake Designer: Pure Bliss Desserts