You can find inspiration for your wedding anywhere. There are countless magazines and social media posts made to make brides fall in love with different ceremony and reception ideas. A large market for wedding inspiration focuses on jewelry, since it's a crucial part of what every bride will wear on their big day.
The dress you end up wearing is the first big fashion statement you'll make as a bride. The next statement will be your jewelry. It may even be the flashiest thing you wear on your wedding day, besides one of your gold rings. Have you thought about which pieces you'll pair with your dress?
Sometimes the best inspiration comes from amazing women from history and the modern culture. Check out what jewelry these celebrities have worn, and see if a replica or similar style would look great on your big day.
1. Meghan Markle Halo Studs
Meghan Markle had the most recent royal wedding. It was an elegant and lavish affair, but done in her own style. Her fashion sense has always been chic and classy, which is what she exhibited through her halo studs on her wedding day.
Take a look at a picture of her halo diamond studs. You'll find that they're an extremely popular bridal earring style, and they'll work equally well with a loud, bejeweled dress or one that's more understated and elegant, like the one Meghan Markle wore.
2. Mandy Moore Pearl Bracelet
Last November, Mandy Moore got married in a small ceremony with family and friends. She skipped the classic white dress for one that was blush pink, and to accessorize, she wore a gold pearl bracelet.
Pearls have had many meanings over the years, but most recently they've come to represent a steadfast loyalty from those who wear them — along with good luck. They're perfect to wear on your wedding day. See if you can find a dress with pearls woven into it so that your pearl bracelet works seamlessly with your gown.
3. Jackie Kennedy Inauguration Bracelet
Jackie Kennedy was a fashion icon, even after she left the White House. What she wore was always starting new trends that women across the world would wear the day after she debuted new clothing or accessories. Jackie's inauguration outfit was something the world waited anxiously to see, which is why her jewelry got so much attention.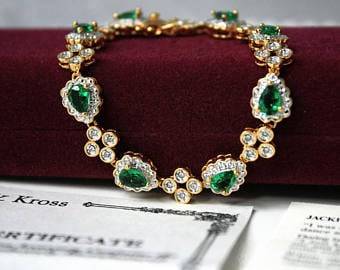 Splashing against her off-white gown, her inauguration bracelet of emeralds, diamonds and a gold chain band caught everyone's eyes. This bracelet is the perfect one to buy as a statement piece against your wedding gown. Match it to emerald or diamond earrings, and you'll have a set that naturally goes with your wedding band.
4. Princess Diana Tiara
You can interpret Princess Diana's tiara style in one of two ways. The first is to include a tiara of your own in your wedding look. Anything that has curved silver features and plenty of diamonds will call back to the tiara worn by Princess Diana.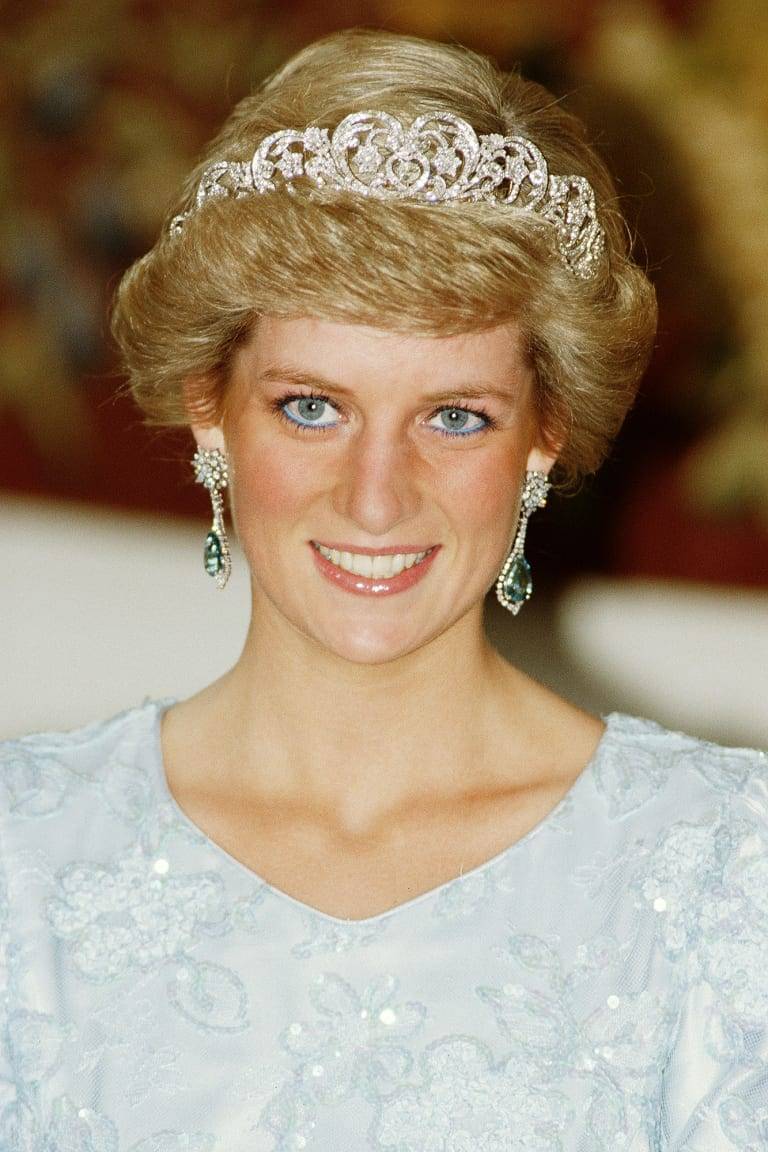 Another way you can still style your look after this tiara without necessarily wearing a one yourself is to wear something passed down from your family. Princess Diana's tiara is actually the Spencer tiara. It was worn by all the women in her family before her at their weddings and all the women who have gotten married since. Wear a silver family heirloom, and you'll have the same meaning behind your choice in jewelry.
5. Amal Clooney Pearl Drop Earrings
Sometimes, a bride's gown has all the statement an outfit needs. Wedding gowns can have flair and character that fills the room, so don't make your jewelry compete with your dress if you're tempted to go this route.
Instead, look for pearl drop earrings like the ones Amal Clooney wore for her wedding. The pearls were just big enough to stand out against her long, curled hair. The length of the earrings wasn't too far, but far enough to give the diamonds their own space. This style is classy and can work with any dress that leans far into the world of fabulous accessories.
6. Kim Kardashian Diamond-Framed Earrings
Another wedding seen around the world was that of Kim Kardashian and Kanye West. For her wedding, Kim wore rose gold, diamond-framed earrings. This style was another case of her dress being the main focus, with the jewelry taking second place while still matching the class of her dress.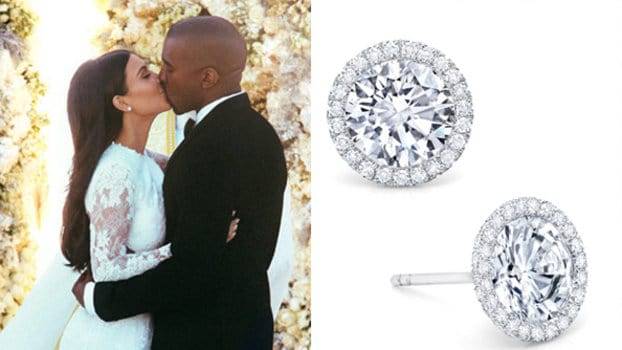 You can find earrings like these if you search specifically for ones that are diamond-framed. Some may have different colored jewels in the middle, surrounded by tiny white diamonds. The color you choose is up to you, but you can always evoke this style icon through the tiniest details of your wedding earrings.
7. Priyanka Chopra Triple Band Necklace
Priyanka Chopra and Nick Jonas famously got married in multiple ceremonies, spanning their different cultures and family traditions. Everyone loved to see the new pictures and videos come out after the ceremonies occurred, especially when they featured the different wedding styles that Priyanka wore.
For the ceremony they held in New Delhi, Priyanka wore a triple band necklace that stole the show. Pear shaped diamonds lined the three separate bands all the way around the neckline. It perfectly showed off the incredible necklace and the neckline of her top. If you're going to wear a wedding gown with a low or plunging neckline, consider going big on your necklace with something that might even have triple bands.
Picking out your wedding jewelry may not be the most important thing on your mind if you're still in the midst of wedding planning, but it's something you'll be glad you thought about ahead of time when your wedding day finally arrives.
If you don't consider yourself into jewelry, you can get inspired by your favorite celebrities and historical figures. Women such as Jackie Kennedy and Princess Diana have worn jewelry that was made famous just because they wore it. Look into famous jewelry pieces of your favorite celebrities, and use them as inspiration to craft what jewelry you'll wear on your own wedding day.