There isn't probably a woman in the world that hasn't dreamt about her wedding dress. When mentioning wedding dresses, most girls often imagine a white and glamorous "princess" dress but that shouldn't be the case all the time. No bride wants to be ordinary, and a wedding dress is a perfect opportunity to shine.
If you are an open minded girl who is fond of different things, or you simply want to go beyond the boundaries of classics, your wedding dress is the way to show off your personality, attitude, and style. In case you are worried whether you'll find your perfectly quirky dress, don't bother, here are some great ideas which may help you choose something utterly different:
Royal Style Difference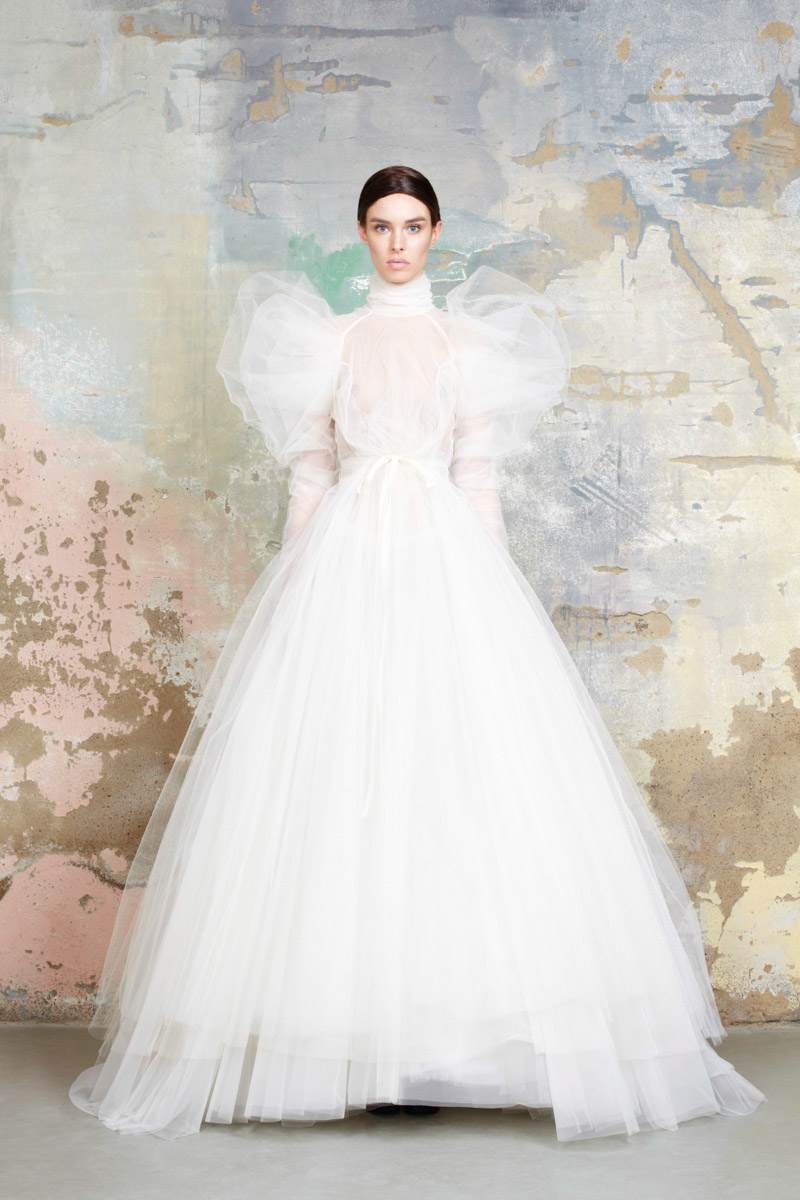 If you are looking for an extraordinary and a bit rebellious gown that best describes your inner decadence, then you may consider a fabulous wedding dress by Vivienne Westwood.  You don't need to be her fan to figure out that her wedding inspirations are everything except usual and classic.
This gorgeous dress named "Elizabeth" carries the spirit of old Royal Victorian gowns, but it also has sophisticated lace in layers which gives it a glamorous look. So if you like romantic dresses but you want it to be entirely different, here it is – a real queen outfit for your upcoming wedding. As this dress covers all your parts from head to toe, it is the best choice for wintertime indoor weddings.
Pink-Black Extravaganza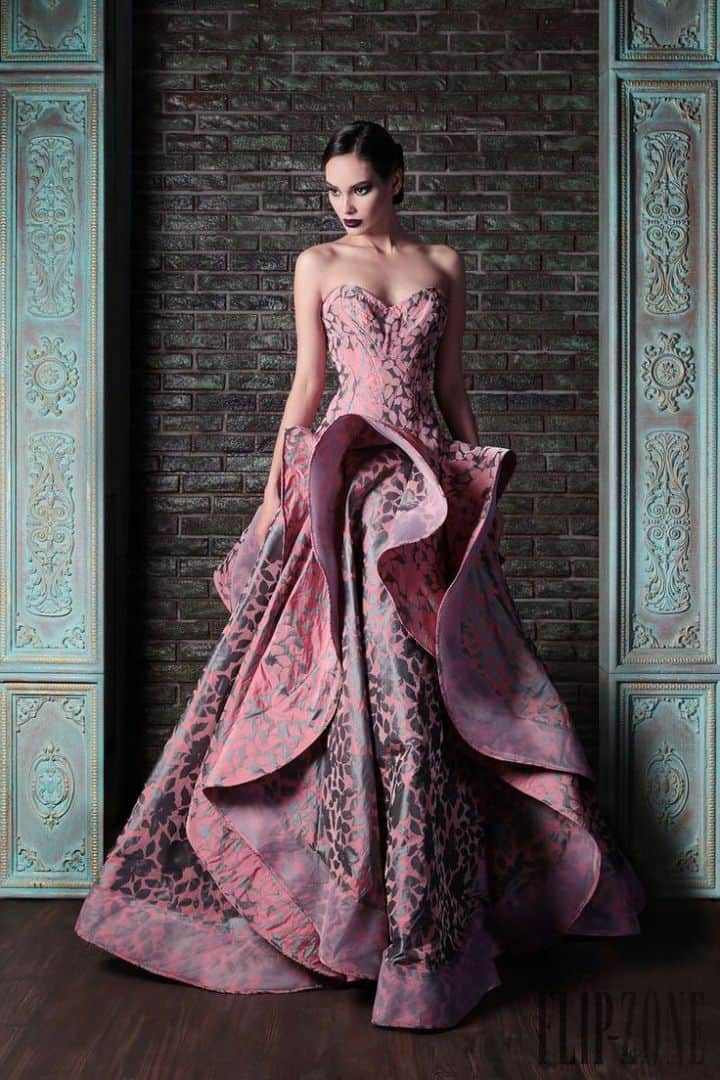 Here's a beautiful colored wedding dress. Who said that the wedding dress needs to be white? Well, the times of white weddings are long behind us and fashion gurus now amaze us with such a beautiful combination of design and colors. This fantastic dress by Rami Kadi, Lebanese-American designer, exudes elegance, traditional crafts, and a perfect match of patterns. The upper part is a classy corset, while the skirt creates breathtaking flounces, so it's perfect for brides who want to achieve the luxurious, sophisticated look. This dress requires an accent on makeup rather than on jewelry.
Paradisiacal Outfit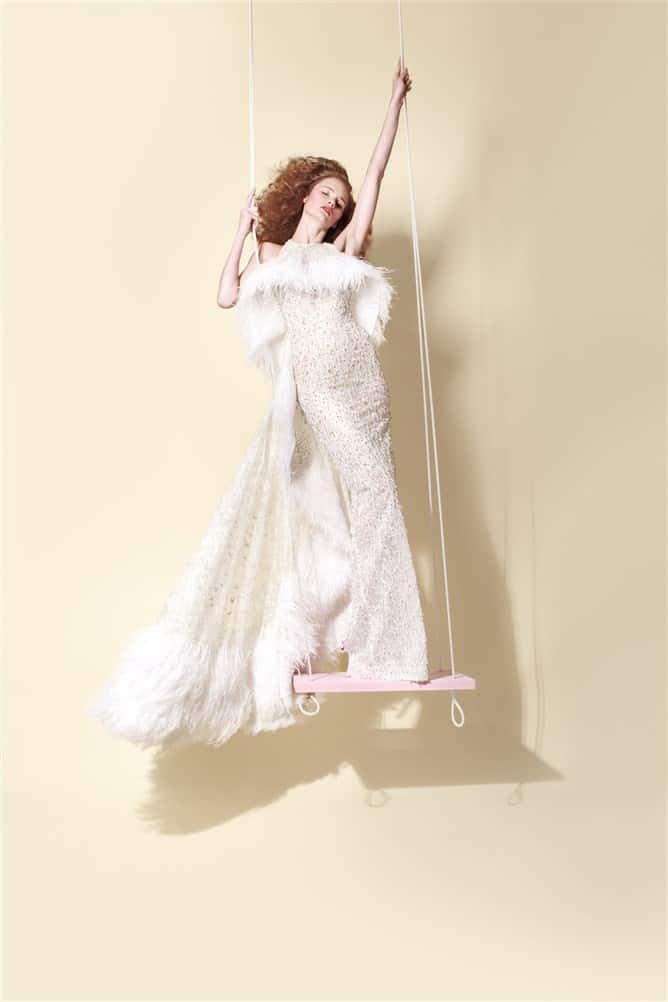 I am continuing with Rami Kadi's creations because this designer is a real discovery for every bride-to-be who seeks to be different. This one has the touch of angels, composed of handmade lace dress and eye-catching feather wrap. If you want to keep it simple and want all eyes on you, this is the one to pick. Nothing too complicated but distinct and practical, as you can instantly turn it into a gorgeous lace dress for every occasion.
Gothic Elegance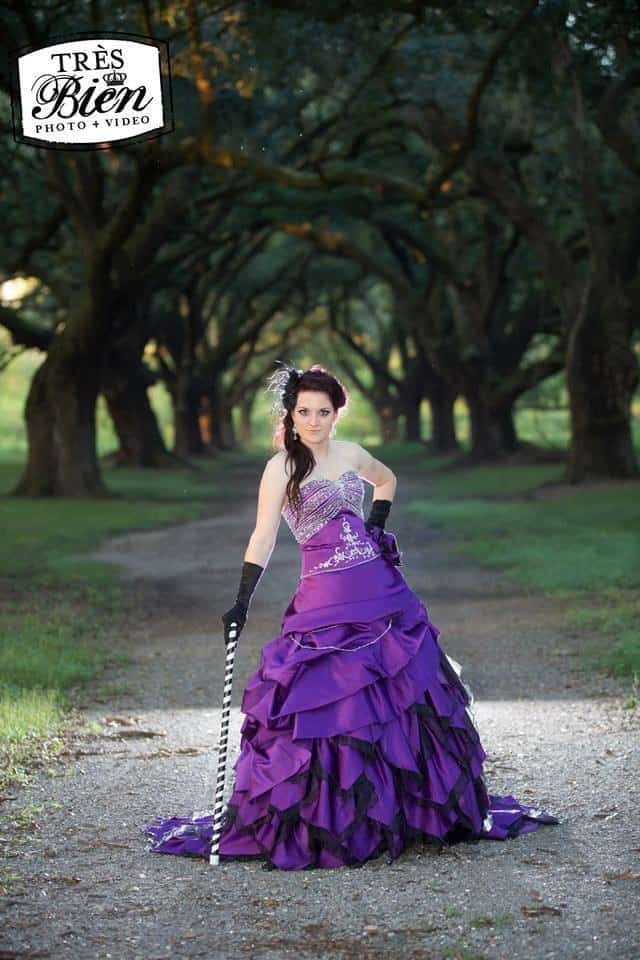 If you want your wedding dress to speak your attitude and preferences, this one may be for you. Made of purple satin with attractive white embroidery on the upper part, and asymmetrical black-purple flounces, this is the excellent choice if you are looking for a bold and impressive wedding outfit. Thanks to the white details, you can include a same color veil or hair decoration. If you dare to go a bit further, you should opt for glamorous similar style ladies' hat and gloves. No doubt you will look like you just came out of fairy tale, but this one is also great if you plan to make a themed wedding ceremony.
Rainbow Glamour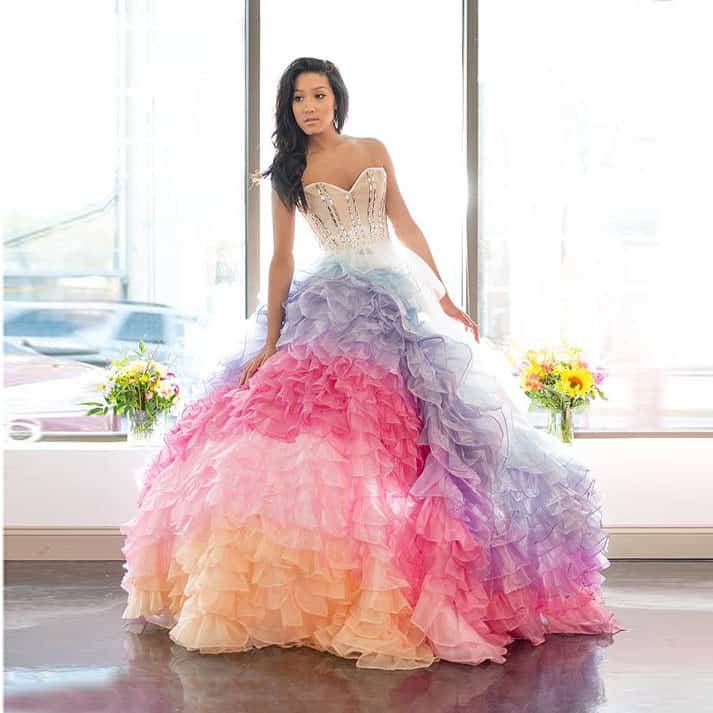 For cheeky and romantic brides who still want to accentuate their taste for uniqueness, rainbow colored ball dress is a perfect one to pick. Although there are a variety of color spectra and upper parts to choose and combine, this one caught my eye. A heart-shaped top with golden details keeps it simple, while the glamorous skirt goes in four color ruffles and creates the dramatic look. It looks great on girls with a darker tan, or if you don't like to wear intensive makeup. Jewelry is also a part which you can leave out here as the dress itself has a lot of details so there's no need for more.
Black & White – Why Not?
Black and white combination is very popular fashion inspiration these days, but it slowly spreads into wedding dress collections too.
This dress by Sophia Tolli keeps recognizable wedding gown lines, but the designer focused on outer layers to make it unique.  Classy lace with white and black flowery motifs creates the effect of blossoming.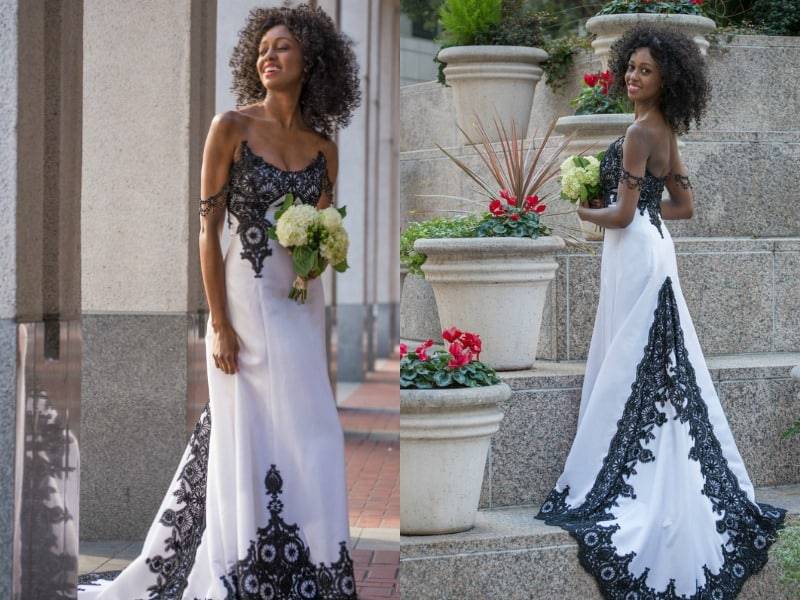 Another offbeat black and white wedding dress with intricate details. This dress can be an excellent choice for brides who don't want an entirely white dress and like details which are romantic but not too bold.  You can pair it with black shoes, hair accessories, and jewelry.
Ruffle masterpiece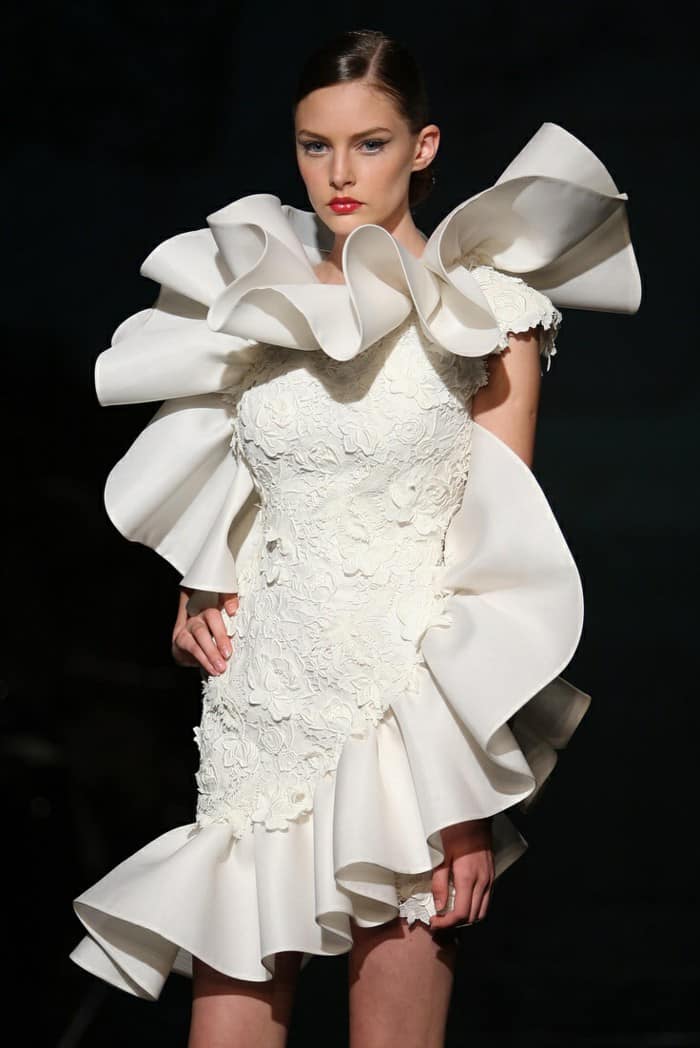 Girls, if you are fans of ruffles, embroidery, and a rustic spirit, this dress will certainly take your breath away. It is so opulent that you have a hundred percent chance to amaze all of the guests, yourself included. This is a simple creamy white dress with a fascinating embroidery layer, but the ruffles on the edges add so much effect that this dress belongs to one of the most authentic ones you can find. The great thing is that you can take off the ruffles so your utterly different dress can quickly become a beautiful cocktail dress. This dress doesn't require any hair accessories, and jewelry should be subtle.
Wrapped in letters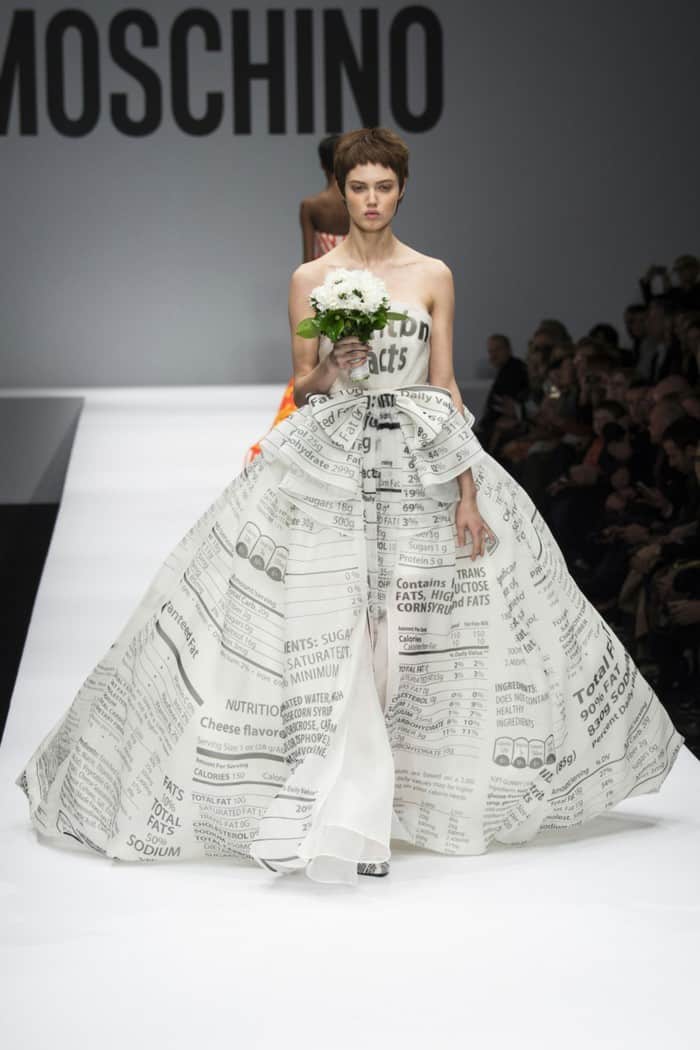 At first sight, this is a regular ball dress but the pattern is one of the most interesting you can find. If you're looking for a lovely romantic dress, this one is certainly not for you. But if you would like to be totally authentic and contemporarily styled, then you should definitely go for this. The model has a one piece dress with a giant bow around her waist. As a part of the Moschino's 2014 collection, this dress definitely spells out attitude.
Absolute Romance
For all of you ladies who can't get enough of romantic motifs, this magnificent flowery artwork may be a good choice for you. The upper part follows good old classics and has a white heart shaped corset, which is great if you're looking for something to show off your shoulders and décolletage.  Vintage corset goes perfectly with an extravagant powdery pink skirt which reminds of a bouquet of roses. You should know that this dress won't allow you to dance crazily on your wedding party but this is certainly the one to pick if you want your guests to remember you.
Glitz and Glam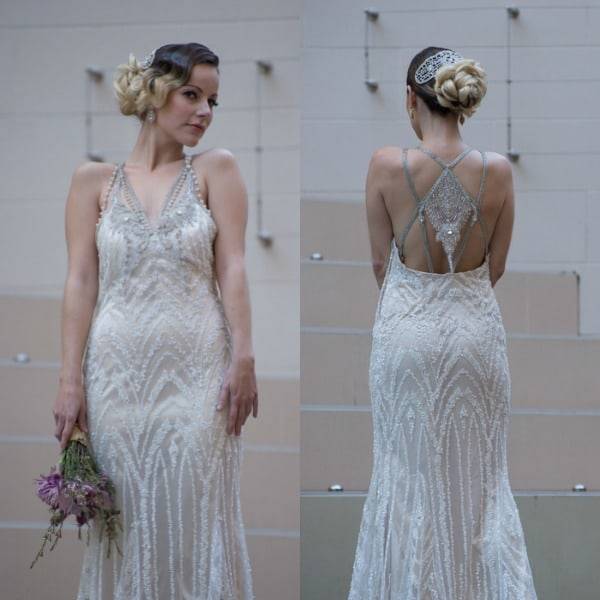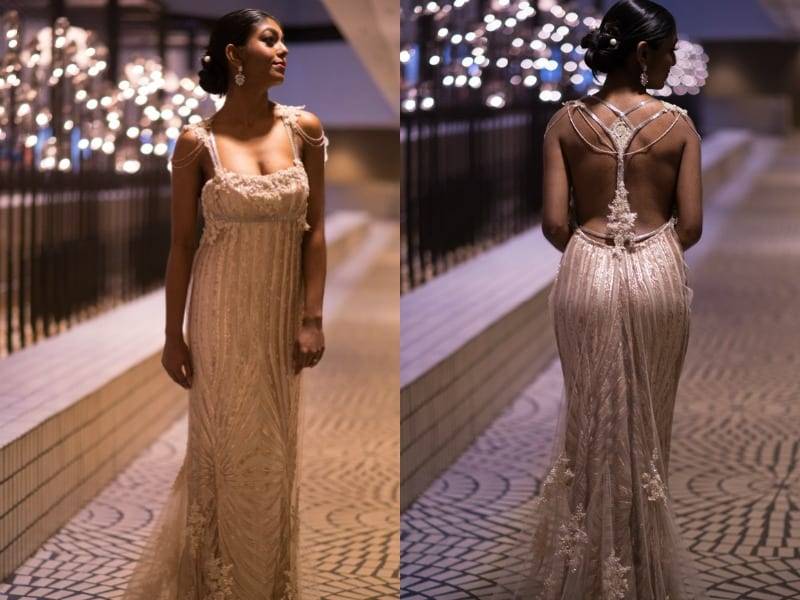 Let your dress show them your story! For all you ladies out there who are looking for the perfect wedding dress, this collection of uniquely tailored wedding gowns will surely hit your sweet spot. A glamorous array of glistening couturier masterpieces tailored with precision. These unique wedding dresses will certainly flaunt not only your curves and physique but your passion, desires and your glitzy personality.
Which dress do you like the most? Which one suits your style the best? Let us know!