Click image to enlarge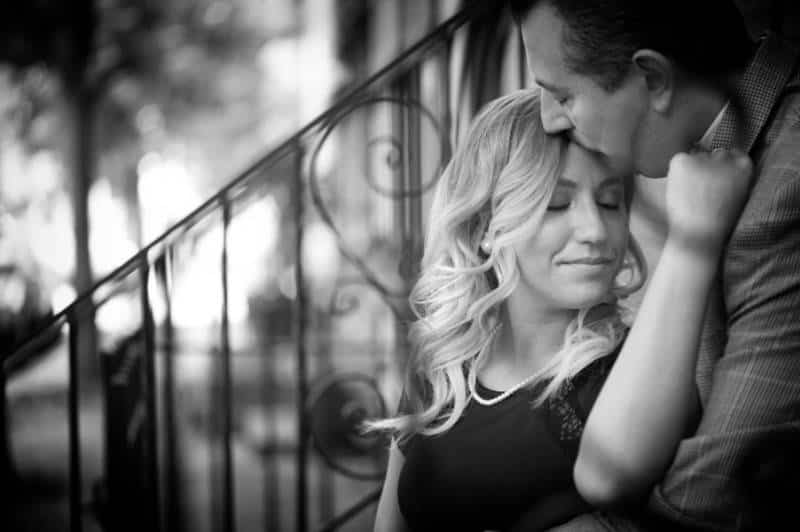 Like. Click to Vote
>
Audrey Hepburn's role as Holly in the acclaimed Breakfast at Tiffany's is widely known up to this generation because of her regal and impeccable style – with the iconic wide brimmed hat, cigarette holder, little black dress, and sunglasses. So when couple Cortney & Mike decided to recreate this look for their engagement session, it was no doubt that what they came up with is something equally elegant and glam. Congratulations you two!

Bride
What is your story as a couple, how did you meet & fall in love?
Mike & I met through mutual friends. After knowing each other or awhile we decided to go out on a casual date. We both had recently gotten out of relationships so we were hesitant to jump into serious relationships so we casually dated for awhile. Our fondness of one another was obvious. Close friends of ours knew we were meant for each other, they called us the "love story." We had booked a trip to travel to the Dominican Republic together and on that trip we declared our love.
What makes the two of you a perfect match?
Mike & I compliment each other very well. He is a Cancer, the sign of the moon. Where I am a Leo, the sign of the sun. That pairing leads to a very intense couple.
How did he (or you) propose?
Mike planned a getaway to Seven Springs Mountain Resort. It was one of our favorite mini getaway spots, we have lots of great memories there. Our first night there we got all dolled up to go to our favorite restaurant called the Slope Side. When we arrived to the large formal dining room overlooking the slopes, all of the tables were gone except for one. We were seated at our intimate table for two and greeted by our waitress with a champagne toast. Shortly after MIke got down on one knee and proposed. It was one of the most special day's of my life.
What are you most excited about for the future?
I am excited about planning out wedding! I keep changing what I want to do. At first we wanted to do a destination wedding, then a big wedding at home and now I am thinking about an intimate affair with very few people
Do you have advice for couples still in the planning process?
Take your time! It should be all about you!
What do you think is the overall story for this album?
Classy Modern Elegance
What inspired the wedding day outfits?
We are still planning our wedding.
What was your favorite part of the day?
I love being in the city! With the large buildings and the people rushing around. I have always considered myself as a city girl. Being able to tie my favorite classic movie into our engagement portraits just took it to a whole other level. My absolute favorite part of the whole day was just being able to embrace my fiancé and look deep into his eyes, while forgetting all about the cameras.

Vendors
Photographer:  Angel's Vision Photography