With Valentine's Day just around the corner, people are starting to look for romantic and unique ways to show their partner how much they mean to them. Spa's, fancy restaurants, a night away in a boutique hotel, or even quick city breaks are the norm for most couples, but have you ever thought about doing something more unique?
Usually, couples spend a romantic day or weekend away to reconnect with each other and create lifelong memories around Valentine's Day. We know that this year, for some, the normal Valentine's Day routine is not possible, but we've teamed up with Glamping Hub, the largest online booking platform for luxury outdoor accommodations across the globe, to share with you some of the most unique and romantic glamping accommodations across the USA to give you some inspiration for your next trip away together.
So, even if you are having a cozy dinner at home this year, why not browse together to find something special, and who knows, you might even find the perfect place to get engaged, enjoy your honeymoon or celebrate your next anniversary.
You can find some real-life stories for unique style weddings throughout our site, check out Derek and Megan's Farmhouse wedding, or Rebecca & Shane's Afternoon Lakeside Proposal, or Jessica and Owen's Rock and Roll style wedding.
For now, take a look at these 8 Romantic and Unique Valentine's Day getaways across the USA.
1. Imagine spending an evening cozied up to your partner in this beautiful tented cabin, tucked away on 30 private acres surrounded by woodlands and a lake!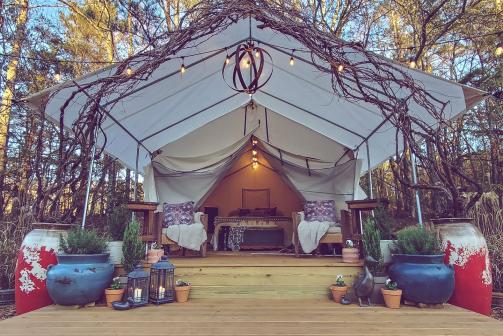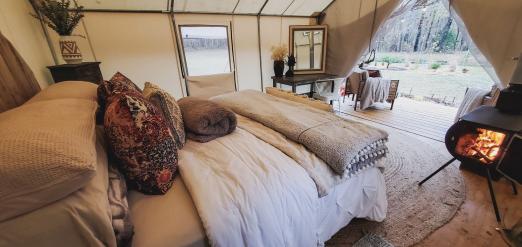 Enchanting Tented Cabin with a Fireplace for Luxury Camping near Atlanta, GA
2. How about a retro-inspired Valentine's day? Go back in time in this amazing Airstream in Arizona!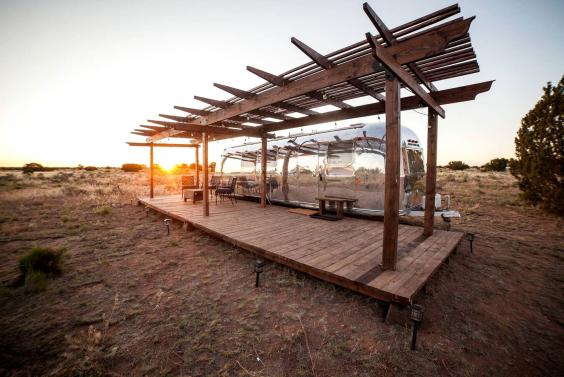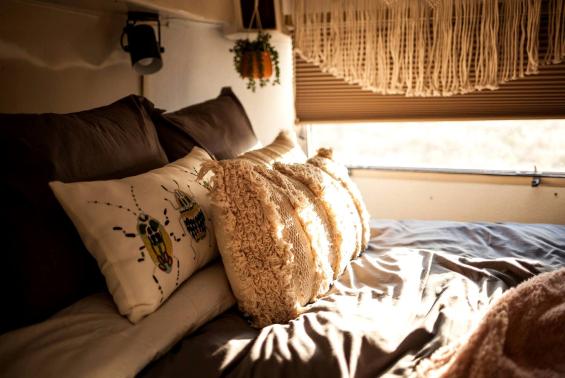 Boho Chic Grand Canyon Rental for Airstream Glamping in Arizona
3. If you and your partner prefer more modern amenities but are still looking for something unique, check this tiny home in the middle of a forest!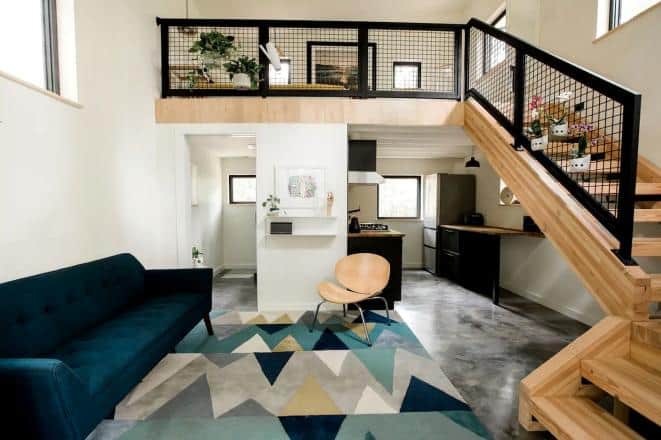 Tiny House Rental in the Trees Ideal for Glamping in North Carolina
4. Have a spa-like experience in a private outdoor hot tub near Zion National Park!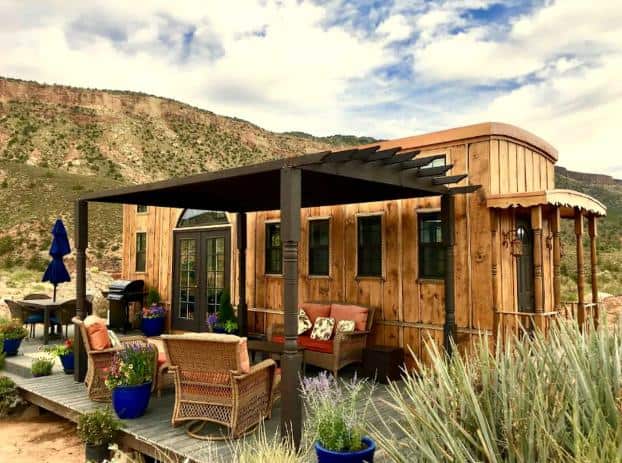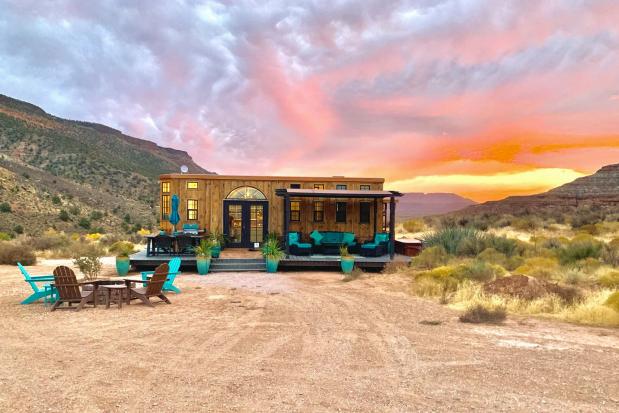 Luxury Tiny House with a Private Hot Tub near La Verkin Creek in Southern Utah
5. Prefer adventure? how about these old west style cabin, where you can go horseback riding in cowboy boots in the spring, or cross country skiing in the winter.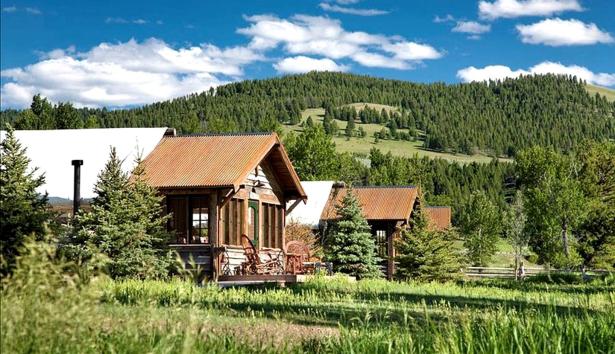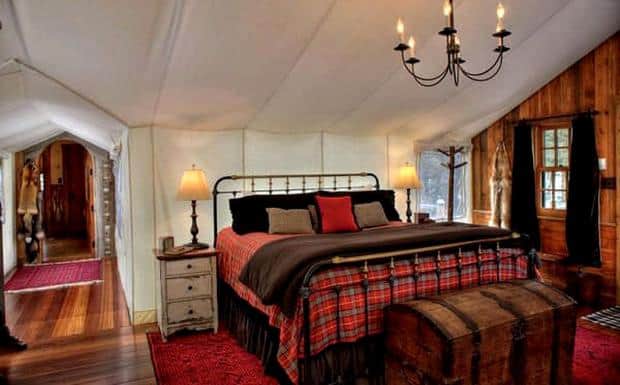 Luxury Canvas Cabins with Hot Tub near Philipsburg, Montana
6. Want complete seclusion? Have you thought about spending a night or two in a stunning, luxury glass house in the middle of nature?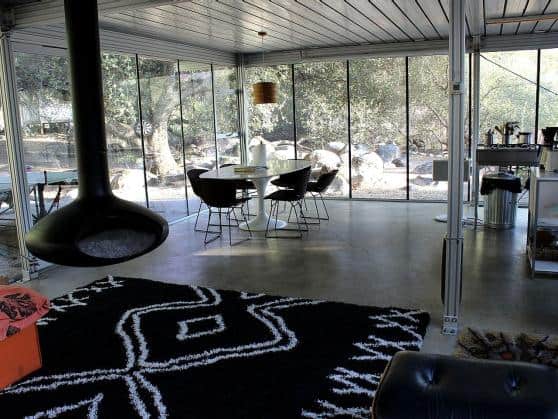 Breathtaking Glass Home Blends into Nature in Three Rivers, California
7. The key thing about Valentine's Day is spending quality time with your partner, this tiny home in Washington is completely off-grid, so there is limited to no wifi or cell service. This is a great option if you truly want to disconnect from the everyday.
Off-The-Grid Glamping Experience in the Cascade Mountains of North Bend, Washington
8. Sometimes, we can't always spend Valentine's Day with just our partner, so if you need something to fit a few more guests, this stunning A-Frame in Missouri is the perfect option.
Family-Friendly Lakefront Cabin with Gorgeous Views near Columbia, Missouri
If you and your partner haven't been glamping already, now is the time to do it. Whether you are at the start of your relationship, halfway through planning your wedding, or now enjoying your married life, keeping romance new, creative, and unique can sometimes be a challenge. But, the simplicity of nature combined with stunning hotel and luxury comforts is the perfect combination to disconnect from your everyday stresses and reconnect to each other. And if you can't get away this Valentine's Day, it's a nice activity to do plan your dream weekend away together, for when you can.
We love learning about your unique engagement and wedding stories, so if you have ever enjoyed a glamping style wedding, let us know! Check out our submissions page for a chance to share your story.
** Thanks Glamping Hub for providing the photos for this article.