Try to recall how you and your significant other started out. More often than not, it all began with that single connection you had because of a common interest. And if there's anything Jessica and Owen love (other than each other), it's rock and roll. The energy and passion of rock and roll are major parts of their personalities and lifestyles, and it definitely shows in the alternative urban theme they had for their wedding. When some parts need an added flair, it's a good idea to incorporate your own style into the design elements you use. I personally love how the event itself was also a perfect marriage of edgy rocker and classy. It was formal, but not uptight. And the forest color scheme they used was also a lovely contrast to their urban setting. Keep rocking it, Jessica and Owen!
Click image to enlarge
46

Like. Click to Vote
>
What is your story as a couple, how did you meet & fall in love?
Owen and I met on OKCupid five years ago. After some hilarious messages, we had our first date at the Beat Kitchen, a rock club in Chicago — and our second date a week later at the same place. After that important rock n roll trial test run, we learned how much we really had in common, and couldn't get enough of one another. Since then we've basically been together nonstop.
What makes the two of you a perfect match?
Compatible energy, passionate partnership, killer teamwork, + boundless love.
How did he (or you) propose?
He tricked me into thinking the dog peed the bed and in the midst of my flurry to get the paper towel, surprised me with the ring.
How long was the planning process? Did you think it was enough time?
We had about 11 months. It was probably enough time, but we probably didn't take enough advantage of it. There's a lot of hurry up and wait when it comes to planning a wedding.
What was the best advice you received when you were planning your wedding?
Slow down and savor every moment. You won't remember the dumb stuff that went wrong unless you let it bother you.
What tips & tricks (can we use "hacks"?) can you share future brides that you yourself have learned during and after your wedding?
Don't buy a dress on your first outing. Seriously. DELEGATE: if your bridesmaids and family offer to help, take them up on it. You don't need to do everything yourself, seriously.
What were some challenges you faced while planning your wedding & what did you do to address them?
The vendor I got my wedding dress from was a disaster and I almost didn't have the dress in time to make alterations. The best thing I did was rely on my mom and my bridesmaids to help make phone calls and get through it. And the dress was beautiful anyway.
What inspired your wedding décor? Why did you choose the things that you did?
We wanted it to feel like us – classy but laid back. We were also so inspired by the Palmer House's color scheme, so we used a lot of dark green + metallics to match the Art Deco look and feel.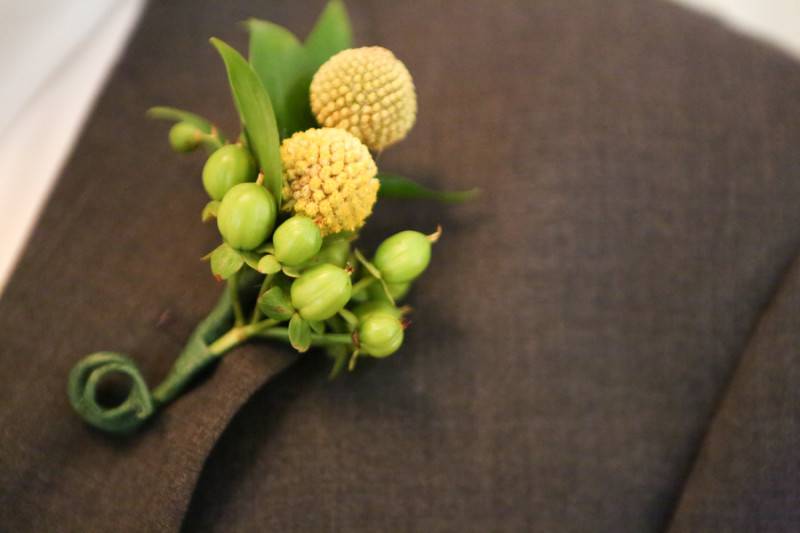 Where did you save the most money?
Handmade favors + placecards. Working with an Etsy designer to do my invitations rather than going through one of the big name sites.
What was the biggest expense?
Food and drink is the most expensive thing in the world. It should also be the place you spend the most – it's what makes guests happiest.
How many guests were invited in your wedding and what was the final guest count?
We invited about 130 and had about 95.
How did you narrow down your list?
Rule of thumb: Only invite people you know. When you start inviting so and so's cousin, it's time to stop.
What songs did you use during the ceremony?
Processional: Velvet Underground, "Some Kind of Love"
Brides Entrance: Yo La Tengo, "Our Way to Fall"
Recessional: The Ramones, "I Wanna Be Your Boyfriend"
Cake Cutting: Kelis + Andre 3000, "Dracula's Wedding"
Where did you go on your honeymoon?
Cancun, Mexico. The relaxing, do-nothing honeymoon was essential. We were exhausted!
What are you most excited about for the future?
We're working on buying a house with a big yard for our dogs. We're making music together + cooking + just continuing to feel blessed by our love and companionship!
Do you have advice for couples still in the planning process?
Be true to you. Every decision you make should be an expression of both of you – your love, your likes, your world. And if you can, try to shake up some of the traditional + gendered expectations you have about weddings. The groom is going to have some killer ideas you should use. And some of the expectations of brides won't work for you. Throw out everything that doesn't resonate in your heart. It's not for you, and there's something out there that is.
What inspired the wedding day outfits?
Glam. I was going for kind of a Marilyn Monroe meets Kim Gordon thing – classy but cool.
What was your favorite part of the day?
After the ceremony, the formal photos, and the whirlwind cocktail hour, we were "played in" to the reception area by the DJ. When we sat at our sweetheart table, Owen and I looked at each other and just could not stop laughing. It was perfect – a joyous, real moment I'll always remember.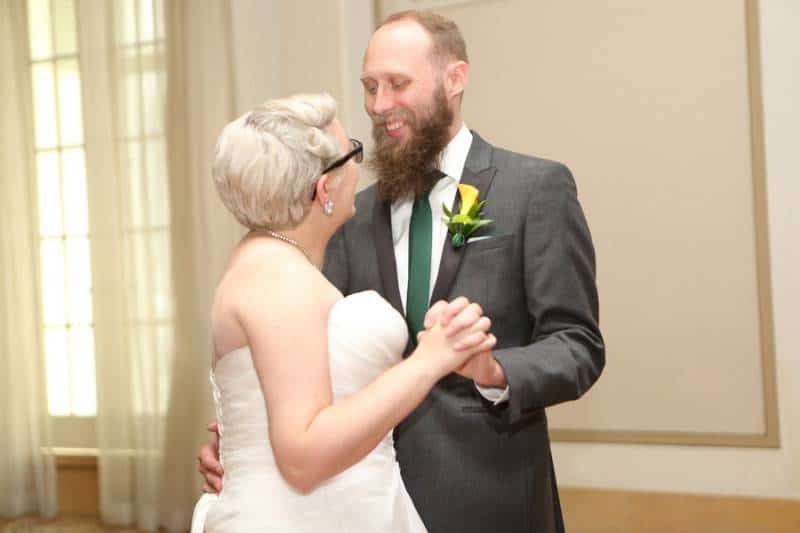 Was there any Do it Yourself (DIY) projects? If so, can you describe them in detail?
I did glittered placecards for all of the attendees: basically this – http://www.flaxandtwine.com/2013/10/diy-geo-chalkboard-place-cards/ We also went to the local root beer brewery (Filberts Sodas in Chicago) and bought a bunch of cases of their root beer, which we love. We then had our friend Mike Funk, a fantastic artist do a label for the bottle, which was SO fun.
What were the highlights from the ceremony & reception?
Beautiful toasts from the father of the bride, the best man, and both the maid of honor and a bridesmaid. Dancing, dancing, dancing – I socialized, but mostly if people wanted to see the bride, they had to dance their way to me!
VENDORS
Photographer: Leah Moyers Photography
Cake Designer: Cake Chicago
Reception Venue: Palmer House Hilton
Officiant: Rev it Up!
DJ: Toast & Jam
Floral Designer: Weddings by Westgate