If you're not the type of bride to get excited by the traditional round, 2 or 3-tier white wedding cake, don't worry. There are plenty of alternative ideas that you can choose from and still have an amazing wedding cake for you and your guests to enjoy.
Cupcakes
One of the most popular options for non-traditional brides is a cupcake tower. Cupcakes rather than a traditional cake allow more options for the bride. You can incorporate several different flavors and colors, and cupcake towers are just as beautiful as a traditional cake. They're also easier to pass around to guests, and more convenient for the bride.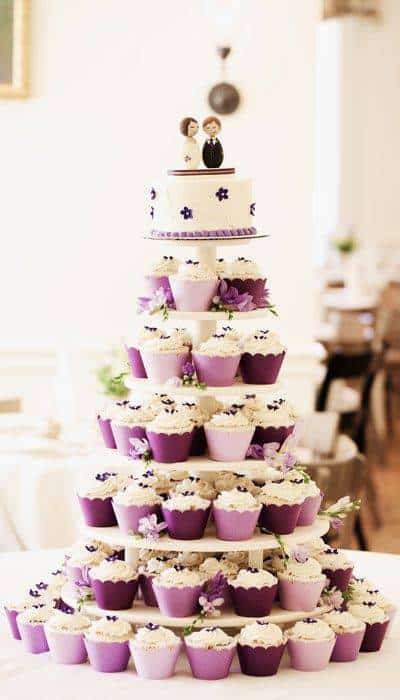 Personal Cakes
Another wonderful option that is becoming more popular is having personal, smaller cakes at each table rather than one large cake. This also allows the bride to have more options. As with cupcakes, you're able to choose more than one flavor and color. The cakes can be coordinated to work well together, and it's easier for each guest to get a piece.
Petit Fours
Just like cupcakes became all the rage a few years ago, petit fours are becoming extremely popular as well. These "mini cakes" are covered in icing and typically feature beautiful details and designs. They can be arranged however you'd like, and are easy to pass around to guests.
Unique Wedding Cakes
The possibilities for unique wedding cakes are limitless. You can choose square tiers, off-centered tiers, upside down cakes, and cakes in nearly any shape you can imagine. Try choosing a cake that works very well with your theme. For instance, if you're having a Vegas theme, why not have a cake shaped like a roulette wheel? Or, if you're having a modern and elegant wedding, choose a fondant cake with tons of elegant filigree. Simply make an appointment with your cake specialist at least a few months in advance to choose exactly what you want.
Don't let tradition demand that you have the same old boring wedding cake as everyone else. Think outside the box and come up with the perfect wedding cake for you. If you can imagine it, there's a baker and decorator out there that can create it!