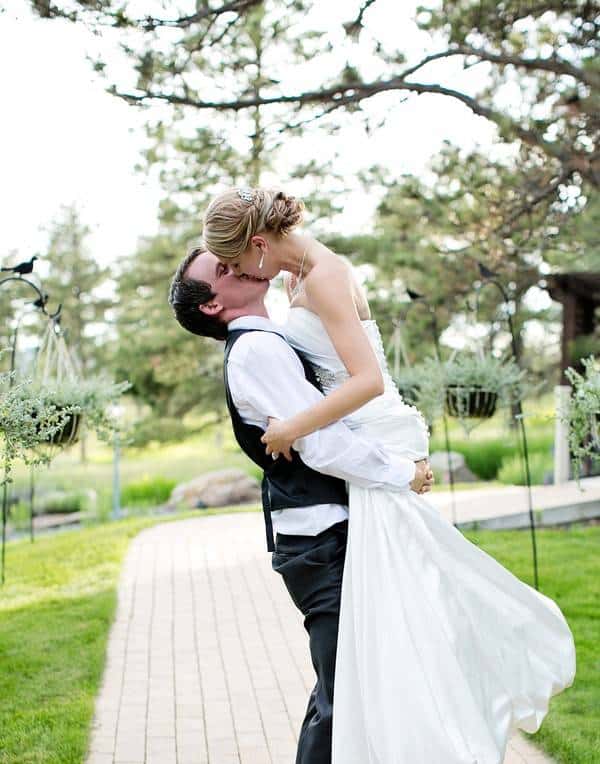 It was a calm and gorgeous day over at Black Hills when these two love birds tied the knot. It was a simple and intimate affair shared together with close family and friends. The bride looked stunning as the sun on such a bright day.
Melissa and Chris were highschool sweethearts. Unfortunately, they went on separate ways during college but still found their way back into each other's arms in 2010. It was a romance well-written by destiny. Their love has sparked every bit of magic felt on this special day. Thanks again to Cadey Reisner for graciously sharing their precious moments with us.
This couple enjoyed biking together so they decided to incorporate their favorite hobby into their wedding cake. This wedding had a lot of fun DIY ideas which we are sure you will love to try! A good example would be the wine glasses which they gave out as guest favors, it was all hand-painted with chalk board paint at the base.And guests were given pieces of chalks to doodle on them. The personalized tissue napkins — great idea! We've got the bride telling us about this unforgettable once-in-a-lifetime summer escapade with her Mr. Right.
What is your story as a couple, how did you meet and fall in love?
High school sweethearts.
What was the best advice you received when you were planning your wedding?
Don't wait till the last minute to finish the details. To take care of items as they come up so you can enjoy family and friends when they arrive the week of the wedding.
What makes the two of you a perfect match?
Chris gets my little quirks and puts up with them. Chris is a little more laid back and relaxes me, and I give Chris more structure that he needs.
What inspired your wedding decor? Why did you choose the things that you did?
Pinterest was a huge help for the details.
Do you have advice for couples still in the planning process?
You can't predict what is going to happen so just enjoy it and don't get too stressed out.
What were some challenges you faced planning your wedding & what would you have done differently to avoid them?
We tried planning in 7 months and the original date we wanted did not work with some of the vendors that we wanted. But it worked out great in the end because the weather was better than on the date we wanted.
What was the wedding budget?
No set budget.
Where did you save the most money?
My dress was reasonable, and all the DIY projects helped me save money.
What are you most excited about for the future?
Spending our lives together and having a family.
What songs did you use during the ceremony?
"I Do" by Colbie Calliet as we walked out then instrumental during the ceremony. First dance was "I Can't Take My Eyes Off of You".
How many guests were invited in your wedding and what was the final guest count? And was it difficult to narrow down your guest list?
Invited: 175 Final:134
Yes, it was very hard. Chris had a lot of friends that he wanted to invite, but we had to cut back somewhere. So the friends attended later in the reception. It was hard to narrow down between extended family and friends. But we chose to invite more family than friends.
Vendors
Photographer:  Cadey Reisner Weddings
Cake Designer: 2 Sisters Bakery
Caterer: Anything's Possible Catering
Reception Venue: Black Hills Receptions and Rentals
Floral Designer:Roots Floral