After a year of placate and fun planning, Aileen and Lloyd's wedding bells finally rang in crescendo. Where there is whimsical, rustic, and southern feels, lots and lots of elements must converge to bring about a fascinating wedding! And yes, these elements include mason jars, laces, soft flowers, flowy dresses, and a vineyard full of twinkling lights. Aileen also enjoyed pirouetting her lace low back wedding dress that complemented their chosen color scheme of pale pink, taupe, and grey. What I liked the most is the up-cycled window pane used as a frame for their photographs and memories, so creative! So, here's to love and friendship, to Aileen and Lloyd!
Click image to enlarge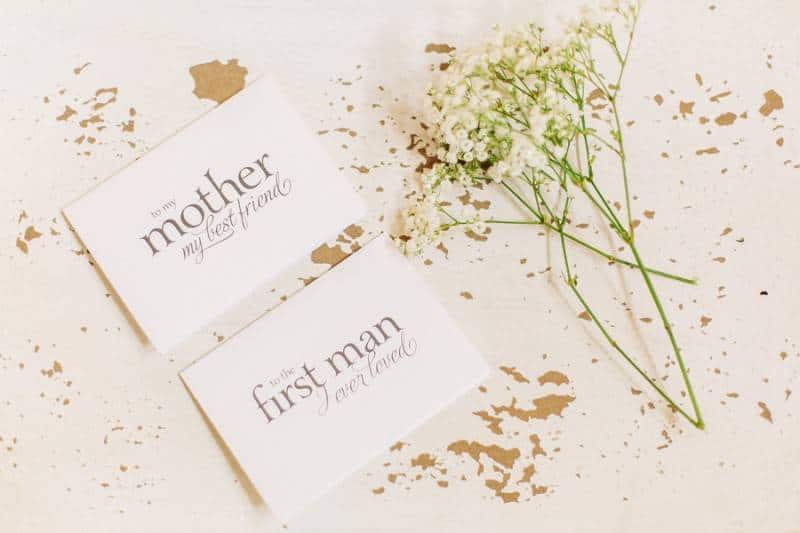 Like. Click to Vote
>
Our Story
Lloyd and I both grew up in small towns but it wasn't until college in geology class that our love story began. I had my eye in Lloyd for awhile until finally one day I had the courage to use the class list and find him on Facebook! I told him that I couldn't focus in class because he was so cute. Shortly thereafter we had our first date, second date, and it turned into my fairy tale love story.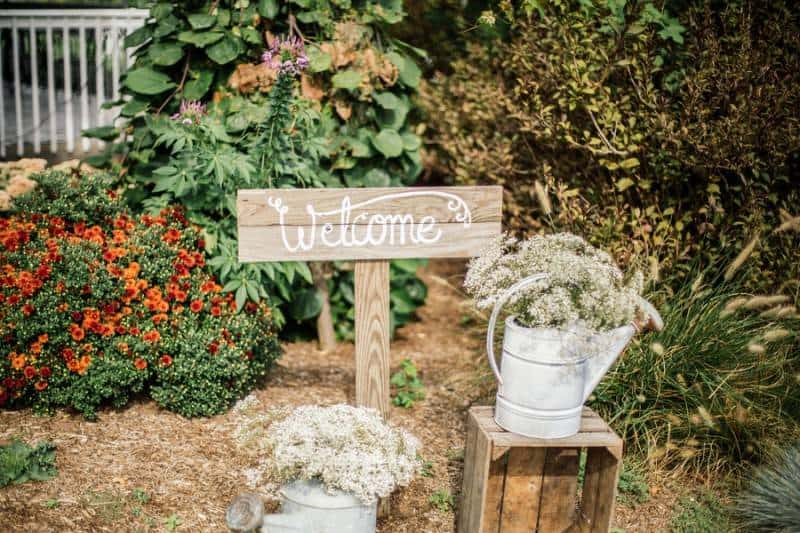 We Are A Perfect Match
Lloyd and I are the perfect match because we support eachother at all times. Hes my better half and the first person I think about when anything exciting happens. He always makes me laugh and never seizes to amaze me with his sweet sticky notes that say I love you, surprise flowers, and just the little small gestures he does each day to show how much he cares.
The Proposal
Well, six and a half years later Lloyd did the opposite of what I told him I had always dreamed of when he proposed! He wanted to surprise me and knew if he did anything out of the ordinary I would know. So, we went to a restaurant where I told him he better never propose with our best friends. It was a normal evening out until my girlfriends convinced me that we should all order martinis. Out of nowhere Lloyd was on his knee and a Martini glass with the most beautiful Vera Wang diamond was in front of me. He could barely get out his thoughtful speech he was so nervous. Of course.. I sobbed! The restaurant proposal was absolutely more perfect than I could have imagined.
The Planning Process
We planned our wedding in a little over a year with the help of our amazing parents and friends! It was the perfect amount of time!
The Best Advice We Received
The best advice I received was to enjoy the planning and the little things without too much stress. All of the details leading up to the big day should bring nothing but happiness!!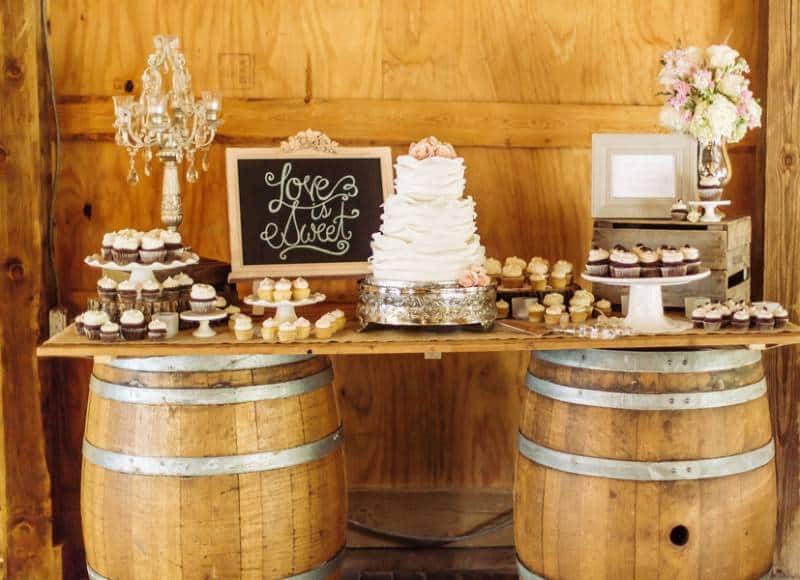 Tips & Tricks For Future Brides
I learned to 100% have an event planner! It made our lives and the planning so much easier! Also, my biggest piece of advice is in that moment that you are about to walk down the aisle just take a moment to breathe, look around at all of your loved ones who are there to celebrate your special day, and smile. Enjoy every moment of your day because it goes by so fast!
The Challenges We Faced
Our biggest challenges were keeping our wedding small and intimate like we wanted without hurting anyone's feelings. We only Invited 100 people and had about 85 showed up. It was the perfect amount. We just made sure to tell our friends and families that we wanted to keep it small and mostly everyone understood!
The Theme
Whimsical, Rustic, and Southern.
Wedding Decor Inspiration
We wanted to make sure that every detail to our wedding was true to our southern roots. We based our day around three words: Whimsical, Southern, and Rustic. Between the mason jars, pale pinks, flowy dresses that perfectly complimented each other, soft flowers, beautiful venue filled with twinkling lights and lace. Our wedding day came together more beautifully than we even imagined.
Wedding Outfit Inspiration
We wanted pale pinks, taupe, and Grey. My dress was lace with a gorgeous low back. It all tied together so nicely!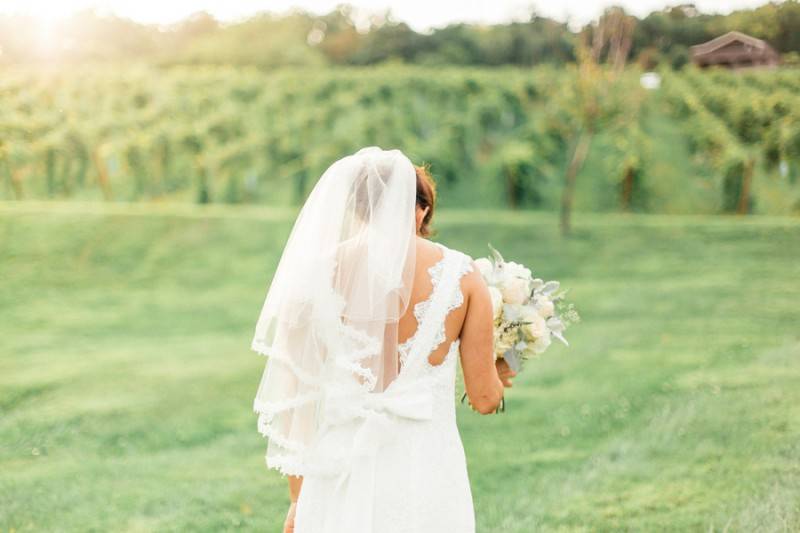 Money Matters
We started out at $25,000 but it quickly reached $40,000. We saved the most money with decor. Our florist also did our decor and it was all one price which was beyond amazing! We didn't have to buy centerpieces or anything.. She did it all!! The biggest expense was Bluemont Vineyards  (venue) and the food!
The Guest List
100 were invited and 85 total came!
We did not do any narrowing of the guest list. We just kept our list true to us. We wanted our closest family members and friends!
The Songs
Best day of my life – Recessional
Bride's entrance – Piano instrumental
First Dance – I don't dance by Lee Brice
The Honeymoon
We went to Punta Cana, Dominican for our most awaited honeymoon!
The Next Step
Well, we just finished building our very first home and cannot wait to move in and start our future together by adding a little one to the family soon!
Planning Advice For Couples
Try to enjoy it all with your husband and let him have a say in some things he wants. My husband picked out and thought of a lot of our rustic idea and put together all of the guys suits! They looked sharp! Have fun planning and don't stress because it all works out in the end!
Highlights from the Ceremony and the Reception
I think the highlights were definitely Lloyd crying when he saw me for the first time and me dropping his ring during our vows! I was SO nervous!! All of our friends and family went from crying to laughing! Our entire reception was filled with dancing and laughing!
Favorite Part of the Day
Ahh.. I just have too many to name. I think my most favorite was seeing my husband cry when he saw me as I was walking down the aisle. It is something I will never forget.
A Memorable Moment
My sweet husband crying, me dropping his ring during our vows, and my parents dance they surpised us with during the reception! It was hilarious!!!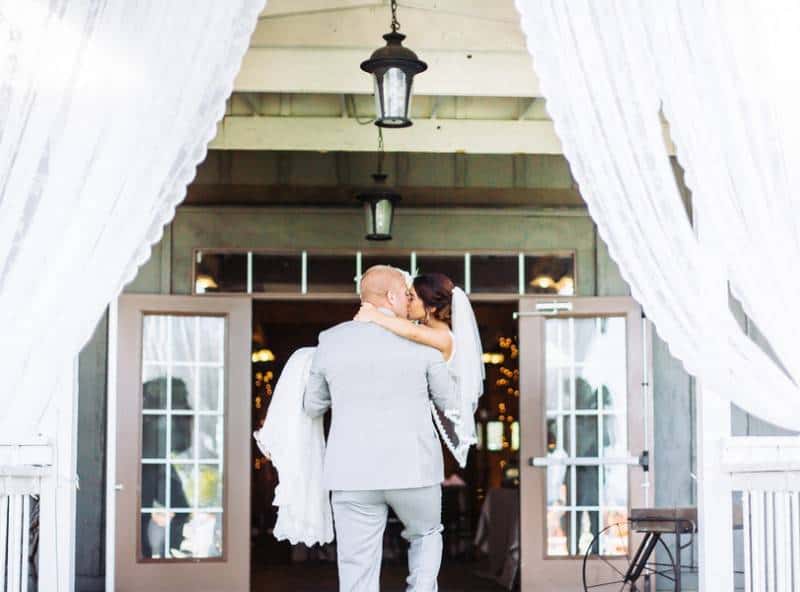 VENDORS
Photographer:  hay alexandra photography
Ceremony Location: Bluemont Vineyard
Other: Elegant Momentz
Event Designer: Eventstudio
Hair Stylist: Hair and Makeup by Mandy J
Shoes: Nina Shoes
Cinema and Video: Video Scrapbooks
DJ: Above and Beyond DJs
Dress Store: Blush Bridal Boutique
Floral Designer: Event Studio
Caterer: Savoir Fare Restaurant & Catering
Cake Designer: Shugar Shugar
Event Venue: Stable at Bluemont Vineyard