Nothing brings a couple closer together as people than a labor of love. Annie and Tom did just that in restoring this vintage Ford pickup. Not only did they bring it back to its former glory, they made it stronger, too. How? Well, on the outside, it may look like a sleek and vintage pickup, but I bet on the inside, it's all about Annie and Tom –  a symbol of their love. Maybe not literally, but you get what I mean. They made it theirs. Not his, not hers; theirs.
Click image to enlarge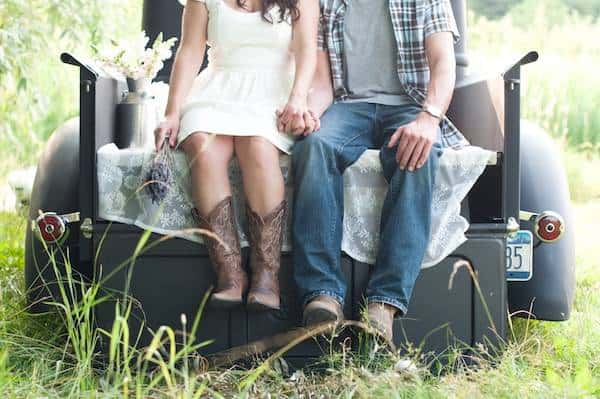 4

Like. Click to Vote
>
Their Story:
Annie and Tom are laid back and in love and this is what I wanted to portray. They don't need a lot of frills; they love to laugh, and they'd rather be in the country than a city any day. They spent the better part of the past few years refurbishing their beautiful vintage Ford pickup. It was truly a labor of love, sweat and tears and this truck was to be a focal point of the shoot.
The Location:
From the start, Annie and Tom wanted to shoot on a farm because it speaks to their style and love for the countryside. I was intent on finding a farm with a red barn to complement the red details in their truck. Fraleigh's Rose Hill Farm was perfect plus it had rolling hills, views of the Catskill Mountains and this magical private area of weeping willow trees by their pond.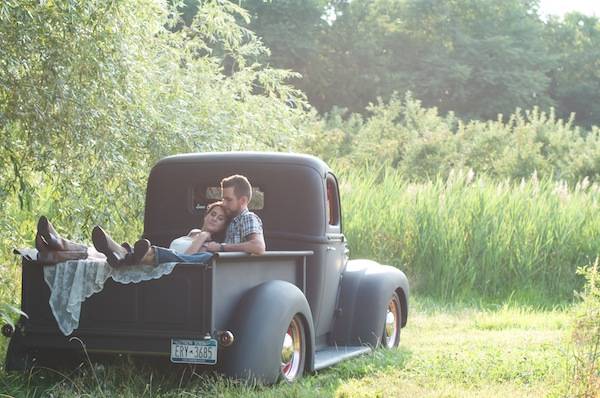 Outfit Inspiration:
Because the venue and truck had so many wonderful details, and because Annie and Tom are simple, we chose to keep their outfits laid-back. Of course because she is a bride-to-be, I wanted her to be in white especially to pop against the black truck. For Tom, he is a jeans and T-Shirt kind of guy but we added the button down to make it a little dressier than he might normally be. These two are most comfortable barefoot or in cowboy boots, so I didn't want them wearing anything but that!
A Hint For the Wedding Day:
Yes! Annie and Tom are having a rustic wedding at the Byrdcliffe Barn in Woodstock, NY. It will be a laid back vibe, and they will, of course, be featuring their vintage truck throughout the wedding. Their colors are pale yellow, and light pink, and the bride will be DIYing most of the decorations.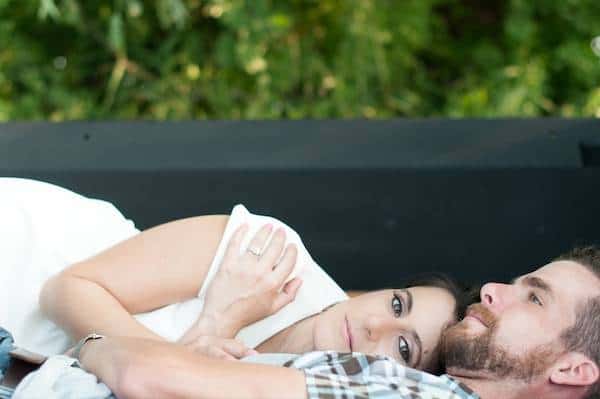 The Advice I Gave To The Couple:
I talked to them a lot BEFORE the shoot so they could start and get to know me and what to expect. I gave them big hugs in the beginning and was even bubblier than I normally am – all to make them really comfortable with me. I talked to them throughout the shoot and kept complimenting them on how beautiful they looked, giving them very specific direction on where to put their hands or focus their eyes. And I showed them a few photos on the back of my camera during it. It was super helpful for Tom who was a little hesitant at first but then became totally relaxed, and he couldn't believe how much he was enjoying it or how much he loved the photos! I had such a great connection with these two, enjoyed working with them and can't wait to shoot their wedding!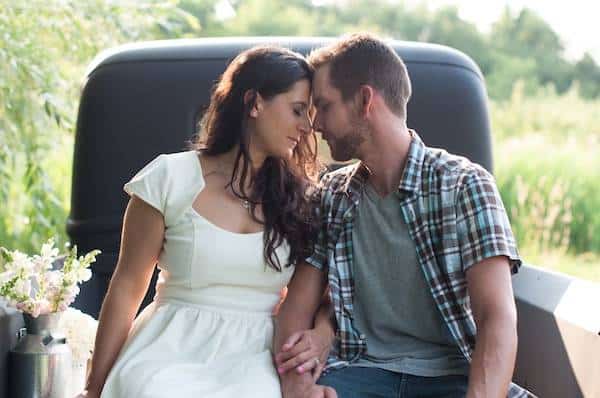 VENDORS
Photographer: Nicole DeTone Photography
Vintage Truck: T. R. Welding & Fabrication
Flower Vases and Lace: Ikea 
Venue: Fraleigh Rose Hill Farm 
Make-up Artist: Marriessa