Click image to enlarge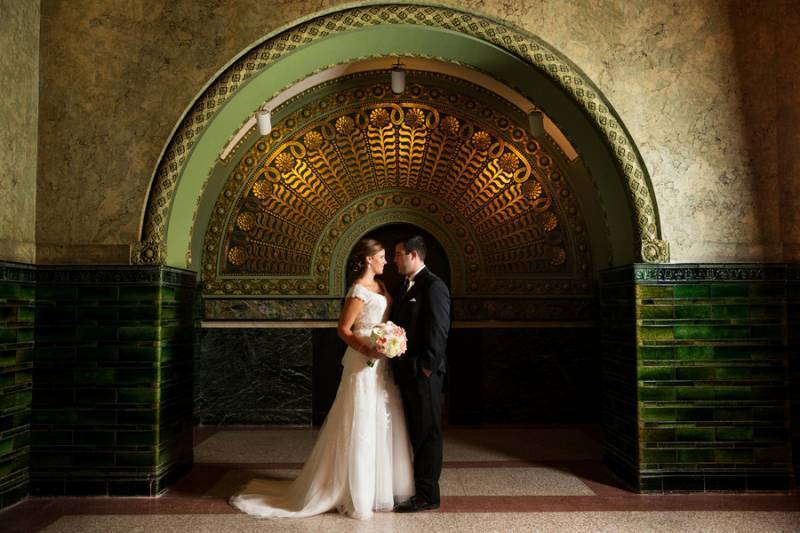 Like. Click to Vote
>
As much as we're huge fans of Gatsby themed weddings, toning it down a bit to sort of blend into this decade's style does not lessen the elegance and class it would originally exhibit. Case in point, today's featured wedding wanted a flapper Gatsby feel but a little less intense and look what they came up with, an awesome wedding with soft touches of modern styling and little bits of art deco details. Another wonderful thing about this wedding is the ceremony and it's not just your usual by the book one. I love how they made use of beautiful works of literature by some of the most talented writers, I Carry your heart by e.e. cummings, A Marriage by Mark Twain and (YA) Wild Awake by Hilary Smith. It was a nice sort of introduction to their wedding vows. Congratulations Danielle & Powell!
A marriage makes of two fractional lives a whole;
It gives two purposeless lives a work,
And doubles the strength of each to perform it.
– 'A Marriage' by Mark Twain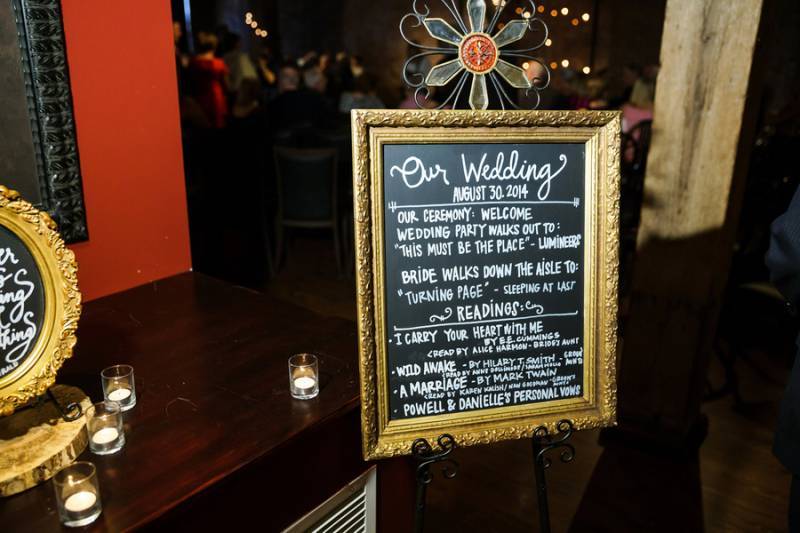 Bride:
What is your story as a couple, how did you meet & fall in love?
We meet at a mutual friends birthday party! We hit it off right away and spent the entire night talking, laughing and dancing! There was a spark right away but the timing was off and we both had big trips coming up so we didn't go on our first date until almost a month after meeting(maybe even longer then a month) once we finally did have our first date the rest was history!!
What makes the two of you a perfect match?
We enjoy a lot of the same things! Some of which are music, family, food/drinks, baseball, and travel! Also we're both very driven and have similar goals for our life! It doesn't hurt that we crack each other up; laughter is a big part of our relationship!
What was the best advice you received when you were planning your wedding?
I gave my self advice; which was pick a budget and stick to it! It makes it so much easier to eliminate unnecessary purchases!
What inspired your wedding décor? Why did you choose the things that you did?
I was inspired by The Great Gatsby but I wanted it to feel more intimate and not as formal as the typical Gatsby theme. Also making it feel romantic was really important to me!
Where did you save the most money?
I saved money on things like not printing program's. Instead I paid a friend to put the ceremony order and bridal party on chalk boards. As guest walked in they could read it! People tend to throw away programs right after the ceremony and they are pricey!
How many guests were invited in your wedding and what was the final guest count?
Number of invited guests was 240 and we ended up with 215 attending
How did you narrow down your list?
It is always hard to work on a guest list but we knew we wanted to include everyone we could!

What songs did you use during the ceremony?
Songs for the ceremony in order:
Wedding party walked out to:
"This must be the place"-The Lumineers covering the talking heads
Bride walked out to:
"Turning page"- sleeping at last
Bride and groom exit ceremony to "I Wanna Hold Your Hand"- the Beatles
Where did you go on your honeymoon?
We went to Curaçao on our honeymoon it was a blast!!
What are you most excited about for the future?
We are most excited about going on more trips together and just having fun as a newly married couple! We are also excited to start a family together in the future!
Do you have advice for couples still in the planning process?
While planning your wedding make sure and enjoy it! The experience will fly by! Also check in with each other and make sure you're on the same page!
What is the overall story for this album?
This is a romantic and fun story of the day soul mates committed their life to one another in an intimate, heart felt ceremony followed by a party that is one for the books! There were tons of laughs and a fantastic dance party to kick off the couples life in style!
What inspired the wedding day outfits?
Classic, timeless looks that still felt modern and fun!
What was your favorite part of the day?
Our favorite part of the day was having all our favorite people in on space for an entire night! It was magical!
What were the highlights from the ceremony & reception?
The best part of the ceremony was reading our vows to each other! It's a moment you can't ever replace! Favorite moment from the reception was the dance floor!! Our band Arvell and company was phenomenal!!
Photographer:
What do you think is the overall story for this album?
Danielle and Powell are full of life and joy. Both have such a presence about them. You just can't help but smile. Second to their charisma is their classy style which is illustrated perfectly with their gold/champagne themed wedding.
What was your favorite part of the day?
My favorite part of the day was their ceremony. I don't think there was one person in there without a smile.
What were the highlights from the ceremony & reception?
The ceremony was heartfelt and featured family members sharing coming up an doing non traditional readings. Great food and a live band. There was sooo much dancing!
Was there a theme for the ceremony and reception?
I'd say Gatsby with Champagne!
#kalishbash
Vendors
Photographer:  Oldani Photography
Bridesmaid Dresses: Adrianna Papell
Band:  Arvelle & Co
Floral Designer: Belli Fiori
Makeup Artist: Flawless Makeup, LLC
Dress Designer: Mori Lee Design
Reception Venue: Moulin
Ceremony Location:Moulin
Hair Stylist: Studio Branca
Bakery: The Cakery Bakery, LLC