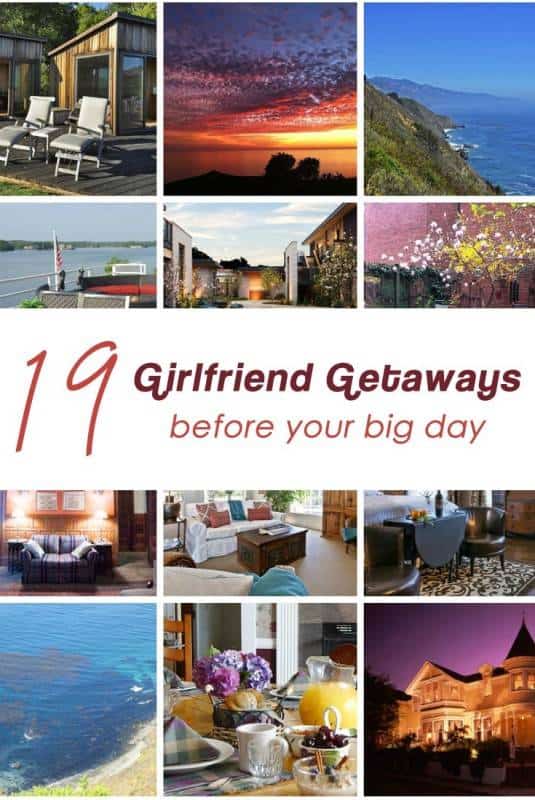 Getting married is such an exciting event, and there's plenty to do, what with the planning and fittings and tastings and vendor interviews. While your girlfriends will be there for you every step of the way, it can be difficult to really bond. That's why a girlfriend getaway is so essential; it's the perfect opportunity to spend some much-needed quality time with your best friends before your big day. Check out these amazing possibilities for a fantastic girlfriend getaway.
Beach Getaways
Mountain Getaways
City Getaways
Eco-Friendly Getaways
Luxury Getaways
Beach Getaways
Could you use a few days with your girls on a white-sand beach, soaking up the sun and enjoying life? Then you have to see these unbelievable destinations!
Coconut Grove: 2 BR, 1 BA – Sleeps 5; $250/night
Imagine spending a few nights with the girls in this unbelievably beautiful, historic 2-bedroom Coconut Grove mini villa guest cottage. Spend your days sipping margaritas by the pool and stay up late at night conversing by the cozy fireplace. In the heart of Miami, this villa is the perfect location; take the girls to South Beach for some rowdy fun, check out the boutiques and shops of Little Havana or have a blast at one of the many local water parks. Reviews for this villa were positive; past guests love the privacy of the Moorish estate and the beauty and cleanliness of the pool and cottage.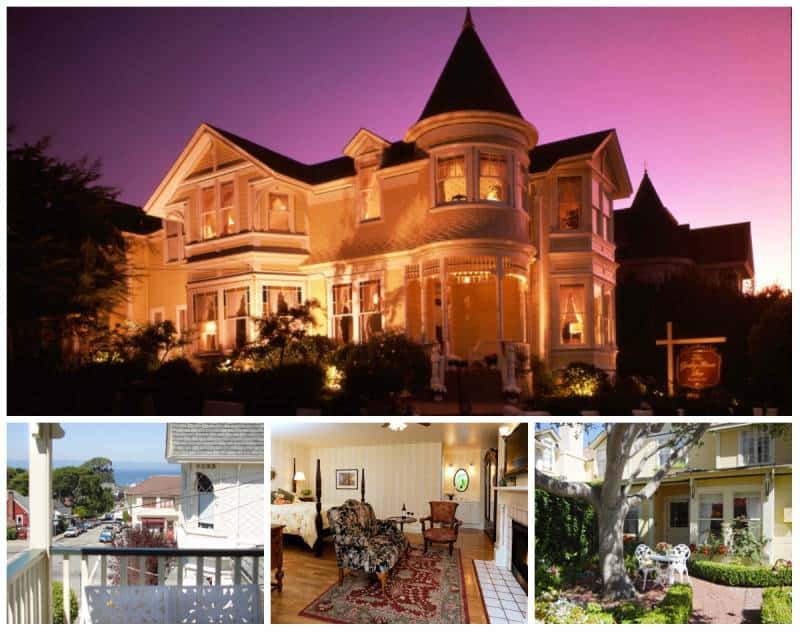 Gosby House Inn: 22-Room B&B – Sleeps 2 per Room; $120-$300/night
Nestled in the historic Monterrey Peninsula, Gosby House Inn is a stunning Victorian mansion featuring 22 guest rooms, immaculate gardens, and the finest amenities. You and your girls can enjoy a delicious, full breakfast, afternoon wine and hors d'oeuvres, and the luxury of the gorgeous guest rooms. Nearby, you can enjoy Tony Pebble Beach, a place the rich and famous often frequent. Or, visit Charming Carmel, where art galleries are abundant.
Coast Ranch: 3 BR, 2 BA – Sleeps 6; $800/night
Imagine staying in a rustic cabin with a private beach for you and all of your girlfriends to enjoy! Located in the Coastlands development of Big Sur, the Coast Ranch is an ocean-front property boasting all of the luxuries you could ever want, along with the perfect amount of seclusion. This place is a fantastic retreat, offering the perfect chance for you and your best friends to get away and enjoy some girl bonding time. Sit outside and bask in the glorious views, or get out and explore the area. Big Sur offers a variety of attractions, from horseback tours and hiking trails to spas, museums and a thrilling nightlife.
Mountain Getaways
If nothing is more appealing to you than looking out a window and seeing a gorgeous view of the mountains, then the following getaway destinations may be perfect for you!
The Hillside Cabin: 3 BR, 2 BA – Sleeps 6; $209/night
The Hillside Cabin from Golden Anchor Getaways is the perfect opportunity for you and your best friends to enjoy some time in the gorgeous mountains of West Virginia. This 3-bedroom cabin sits at the very top of the property and the views are unbelievable. Enjoy the huge outdoor hot tub, located on the private deck, or sit around the fireplace enjoying your favorite drinks. If your group is a nature-loving bunch of girls, this is the perfect getaway. Go hiking on one of the numerous nearby trails, check out the nearby theaters and live music venues, or if your getaway will be in winter, enjoy some of the best skiing the country has to offer.
Larkspur Lodge: 4 BR, 2 BA – Sleeps 8; $300/night
Another fantastic mountain getaway, this gorgeous log cabin features 4 spacious bedrooms and is large enough for you and 8 of your best girls! Enjoy the 7-person hot tub on the private deck, or dine out on the front deck around the 8-seat table. It's also just a few feet to the town of Vail bus stop, so you won't have to worry about needing any form of transportation to see the sights. Vail features the largest ski mountain in North America, so if your girls are up for it, you can hit the slopes during the winter.
Misty Chalet: 5 BR, 4 BA – Sleeps 16+ | $325/night
For a larger group of girls who want a gorgeous mountain getaway, the Misty Chalet is the perfect option. This luxurious rental is located on 3 acres of beautiful Montana land near Yellowstone, and offers up four spacious bedrooms. There are three full bathrooms as well as two powder rooms and two full kitchens. For additional room, the apartment above the garage (optional) sleeps an additional 4 guests. Your group can snuggle in and enjoy the unbelievable mountain views while staying warm by one of the 2 fireplaces, or you can take your chances at the Big Sky Ski Resort located very nearby. There are plenty of other fun activities nearby as well, from zip lining or hiking to lift rides, gemstone mining and golf.
Sierra Mountain Paradise: 2 BR, 1.5 BA – Sleeps 4; $150/night
If you're craving the stunning view of mountains with the fun and excitement of a waterfront property, then you need to see this mountain paradise getaway. Situated in the perfect location just minutes from Kernville, Sequoia National Park and Kern River, you can enjoy the seclusion of this beautiful getaway as well as the convenience of having major attractions just out the door. Go out and visit some of the historical gold rush sites, take part in a nature hike, shop 'til you drop or make a short 3-hour drive and visit LA. If you're the group who wants to stay in, you'll really enjoy yourself. This home offers up a full kitchen with granite countertops, stunning gardens, a pool table room, and a cozy hot tub with views of the unbelievable California sky.
City Getaways
If nothing sounds more fun than spending a few days in a big city with your bridesmaids and maid of honor, then the following getaways will be right up your alley.
Mount Morris House B&B: 3 BR, 1 Apartment Suite B&B; $225-$275/night
Mount Morris House B&B is a historic getaway in the city of New York; built in 1888, this place combines a rich past with modern amenities. Stay in one of the gorgeous suites if it will just be a few of you, or reserve the top-floor apartment which features an amazing cast-iron tub and garden views. There are plenty of entertainment options in the area, including jazz clubs, museums, pubs and theaters.
Shafer-Baillie Mansion Bed & Breakfast: Multi-Room B&B; $149-$209/night
Imagine spending a night or two on Seattle's original Millionaire's Row in the gorgeous Shafer-Baillie Mansion Bed & Breakfast. Featuring 8 guest rooms and suites, an unbelievable baby grand piano, and the finest amenities, this gorgeous B&B is an elegant getaway option close to downtown Seattle. It's just a block from Volunteer Park, and downtown is minutes away by car. Take the girls out for a night out on the town, or visit the many museums, theaters, or live music venues.
Signature MGM: 2 BR, 2 BA – Sleeps 8; $350 per night (starting)
If a day or two in the gorgeous and sparkling city of Las Vegas is appealing to you, then the beautiful penthouse suites at the Signature MGM will as well. You and the girls will thoroughly enjoy the unbelievable views of the Las Vegas strip, either from inside the room or from the private balcony. Relax and unwind with the Jacuzzi tub, and enjoy all the amenities that Las Vegas hotels are known for. Plus, there are so many options for entertainment – from fun shows like Cirque de Soleil to gambling, night clubs and live music. This getaway promises tons of thrills and plenty of memory-making opportunities!
Cabernet House B&B: Multi-Room B&B; $199-$449/night
Does spending a few days in the gorgeous Napa Valley area sound absolutely divine? We thought so. We also think you'll like the gorgeous Cabernet House B&B, where you'll enjoy a home-cooked breakfast every morning, a wine reception featuring Napa Valley wines, the spectacular lobby where you'll find complimentary French press coffee and an arrangement of teas, and so much more. This gorgeous B&B offers up rooms decorated in themes; A Night in Paris, Bella Tuscany, La Boheme, La Biblioteca and many others. Cabernet House also boasts a convenient location; nearby you'll find all the best wineries, wine bars, restaurants and bistros.
By the Marina: 1 BR, 1 BA – Sleeps 2; $200/night
If you're just planning to take your best friend or maybe your sister for a girlfriend getaway, then you don't need a multi-bedroom house. But what if you still want the experience of an exciting and cozy rental getaway? This charming top-floor apartment is the perfect solution. Modern yet with lots of character, you and your bestie can enjoy the gorgeous views of Golden Gate Bridge in this fully-furnished apartment, complete with WiFi and a flatscreen TV. Plus, it is in a perfect location; within walking distance to hundreds of boutiques, restaurants, night clubs, and other sites and pleasures that San Francisco has to offer.
Williams Hideout: 2 BR, 1 BA – Sleeps 6; $130/night
If you want to spend the weekend in Portland catching your favorite band, visiting all the best clubs, checking out local festivals or spending time in nature  hiking through one of the many gorgeous trails, then the beautiful Williams Hideout might suit you perfectly. It's located just a block from the bustling Williams neighborhood, and you and your girlfriends will be within walking distance of the Mississippi and Alberta arts districts. Although it's located perfectly to take advantage of all the excitement Portland has to offer, it also feels like a secluded country home.
As the second story of a private home, this hideout is 800 square feet of comfort! It features a private entrance, sky lights, a gas-powered fireplace and two large bedrooms. It also boasts a private deck with an incredible view of the Williams gardens; the perfect place to enjoy morning coffee or evening cocktails.
Eco-Friendly Getaways
If your group is a very eco-conscious group of girls, then it's important to find accommodations that go along with your beliefs. Check out the following unbelievably luxurious eco-friendly getaways!
Wild Spring Guest Habitat: 5 Elegant Cabin Suites – Sleeps 2-3 Per Cabin; $198-$328
Situated on the southern Oregon Coast, Wild Spring Guest Habitat is a collection of 5 gorgeous eco-friendly cabins on 5 acres of old Native American grounds. The habitat boasts a carbon-footprint of zero, proudly showing guests that eco-friendly and luxury can definitely co-exist. Have the girls join you in the open-air, slate spa that overlooks the ocean, or get out and enjoy nature on one of the numerous hiking trails. You can also take advantage of the in-cabin massages as well as the breakfast buffet and round-the-clock refreshments available. This is a wonderful eco-friendly getaway that's perfect for the eco-conscious crowd.
Bardessono: 62 Luxurious Guest Rooms & Suites; Packages starting at $825 per night, including spa credits
Another amazing getaway in California's beautiful Napa Valley, Bardessono is a gorgeous LEED-platinum certified hotel, restaurant and spa that your girls will fall in love with. Offering up spa suites, steam spa suites and special Tufa suites, the hotel is specifically designed for a relaxing, amazing stay. This isn't all the surprises Bardessono has to offer; their restaurant uses fresh, in-season ingredients and there's a fantastic rooftop pool where you can relax and have a great time. While staying in this gorgeous eco-friendly hotel, you and your girlfriends can visit local wineries, enjoy self-guided tours, take bicycle tours or have a great time at one of the local festivals held at various times throughout the year.
Luxury Getaways
If money is no object and your only concern is finding an amazing getaway location for you your best friends to thoroughly enjoy, then you must check out the following options.
Lake Ozark: 5 BR, 5 BA – Sleeps 14; $1,000 per night
If it's a luxury lake getaway you want, nothing could be better than this gorgeous Lake Ozark home, offering the finest amenities and plenty of entertainment. You and your girlfriends will be greeted with champagne and flowers, and will have access to a full housekeeping staff, concierge and a private chef, if desired. Located in the heart of Lake Ozark, this unbelievable rental features 5 gorgeous bedrooms, 5 bathrooms, a baby grand piano, a pool table, a screened-in deck with fire pit, private balconies, gated security and striking views of the lake. The home is just minutes from the area's best shopping, nightlife and entertainment. A private car and driver can be arranged, if needed as well. It's the perfect luxury getaway for those who have the most discriminating tastes.
Enchantment Resort: Multi-Room Hotel – Full Suites Sleep up to 8; from $350 per night
If views are important for your luxury getaway, you will be hard pressed to find more gorgeous and stunning views than those offered at the Enchantment Resort. Offering up a variety of rooms, suites and packages, you and your girlfriends can take advantage of the spa, the pool with striking views from every side, and the unbelievable restaurants and cafes on site. There's also a wine bar, so you can all have a wonderful time trying different varieties from the award-winning wine list.
Stage Neck Inn: Multi-Room Hotel; $250-$350 per person, per night
If you're really looking to get pampered during your girlfriend getaway, then a Resort Getaway with Spa Treatment Package from Stage Neck Inn is the perfect New England luxury getaway. Each guest will be able to choose their own spa treatment from options like the hour-long deep tissue or Swedish massage, a classic mani/pedi combo or the rejuvenation therapy massage. Rooms include the finest amenities in this oceanfront hotel, and the package includes a full breakfast and four-course dinner for each guest. The views are absolutely stunning, and there are plenty of things to do in the area, from tours and landmarks to visiting the York Gallery or the Wiggly Bridge Distillery.
Waldorf-Astoria Hotel: Multi-Room & Suite Hotel; From $409 per night
If getting out in the country simply isn't your thing, then enjoy some city luxury with the Waldorf-Astoria Hotel in Manhattan. The Towers Suites offer top-notch luxury and a huge variety of amenities for your group – including spa access, an exclusive Park Avenue entrance, full kitchens and a complimentary breakfast in the Astoria lounge. The suites also have maids' rooms and high-level security if needed. Enjoy the beauty of your rooms and the pampering available in-hotel, or get out on the town and enjoy one of the numerous local shows, night clubs, theaters, or seasonal events.
Which one of these gorgeous and inviting getaways speaks most to your sense of fun and adventure? Let us know in the comments below!