When it comes to bold, graphic color and playful, spirited design, no one does it better than Kate Spade. I work 7 floors above their 5th Avenue flagship, and the window displays are just the jolt of energy I need every morning as I'm running into work. Whether it's a rainbow of stripes that spill out from the store onto the sidewalk, or a wall that could very well be the product of a disco ball explosion, the store design manages to put a smile on the grumpiest New Yorkers' faces. So it comes as no surprise that Kate Spade's signature style is inspiring weddings and inspiration shoots all over the blogosphere. Let's get to the eye candy, shall we?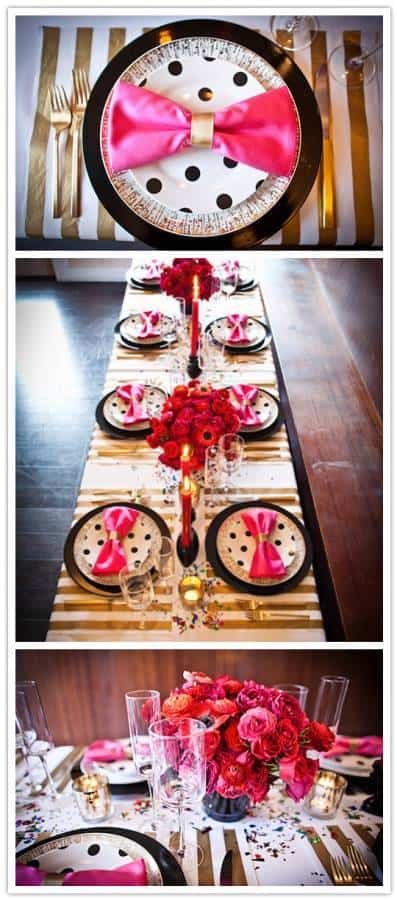 The first tablescape is not actually a wedding, but it certainly could be. Cassandra from Coco + Kelley designed the table for her 30th birthday bash, inspired in part by a pair of Kate Spade shoes. So many steal-worthy ideas here: ribbons on the table, colorful candles, mismatched plates, and what else – polka dots.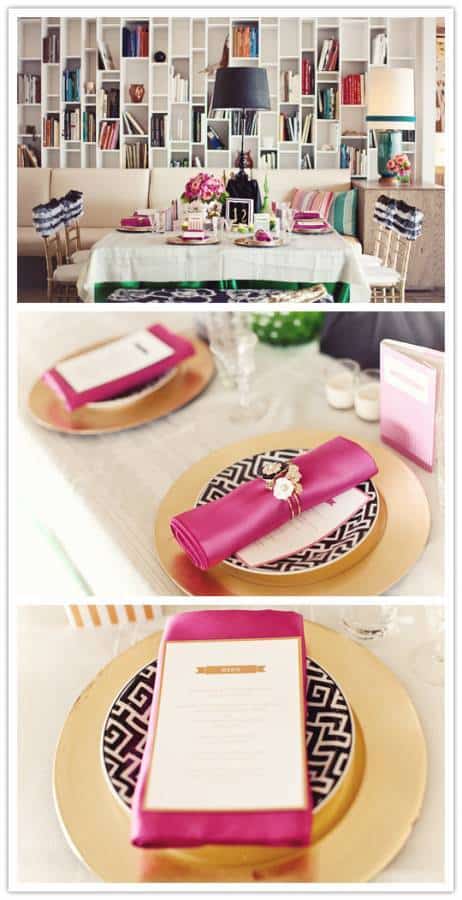 Second, a Kate Spade inspired bridal shower by Kennedy Grace Photography. Many special were created by Kasi's bridesmaids. I especially love the glittery love sign board!
Next up, an inspiration shoot spotted on the Wedding Chicks. Created by MMD Events, the table was designed around bold pattern and a color scheme of kelly green, hot pink, gold, orange, and black and white. A black lamp serves as the focal point of the table, right next to the bright pink garden roses placed on a stack of fashion mags.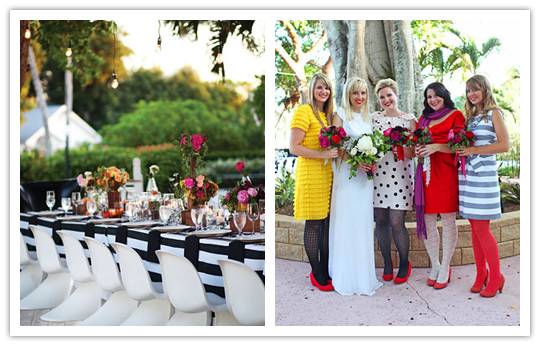 Finally, this amazing wedding which I'm sure you've seen before but can't possibly be tired of yet. A CMYK color scheme was reflected in the bridesmaid's dresses (Kate Spade, of course) and the parasols the couple put out to shield their guests from the Florida sun during their ceremony. The black & white striped linen on the table tops off this wedding's bold, quirky style.
What's so great is that this bright and vibrant style would work across all four seasons, inside an urban loft or outside in a vineyard. Perfect for a couple with a modern design sensibility who wants a day that's all about fun. So, what do you think? Are you sold on polka dots and stripes and sparkles?
Images via Lonny Mag, WWD, Char Beck, Tina Bass Photography, and Max Wanger.
• • ♥ • •
Jessica Edwards Malish is a brand manager at a boutique branding and design agency. She and her husband live and work in New York City. As a recent bride, she fell in love with wedding styling and design and is thrilled to continue the love affair in her guest posts for Inspired Bride.