If you're looking for some inspiration for your wedding dress, look no further. Here are some ideas on wedding dress styles, inspired by celebrities who sported them on the red carpet.
Classically chic
Go for a chic number like Rachel Weisz at the film screening of 'Oz the Great and Powerful'. She wore a champagne Michael Kors lace strapless gown, gathered in at the side of the waist and falling elegantly to the ankles. She was also sporting a belt of the same color to give more definition. Wear this on your wedding day and be the queen of chic.
Very vintage
If you're going for a vintage look, here are a couple of brilliant examples for you, both of which are ideal if you're looking for a shorter dress.
Alexa Chung wore a sixties style Chanel white tunic dress to the fashion house's Tribeca Film Festival dinner in New York. Falling above the knee and decorated with pearl buttons, this would be a cute, simple design for a wedding dress. Match it with some striking red lips to add some color and you've got a killer outfit.
Another example of a beautiful vintage style dress is one worn by Mila Kunis to the recent premiere of 'Oz the Great and Powerful'. She wore a nude, lace flare dress made by Dolce and Gabbana, which she complimented beautifully with some colorful African ruby earrings. If you're marrying the man of your dreams after meeting on eHarmony.com and you want to wow him with a fantastic dress, this is a style that will blow him away.
Simply gorgeous
Amanda Seyfried recently wore an exquisite Alexander McQueen number to the 2013 Oscars in Los Angeles. A lilac organza embroidered gown, complete with a halter and keyhole neckline and a train, this style makes any woman the picture of elegance.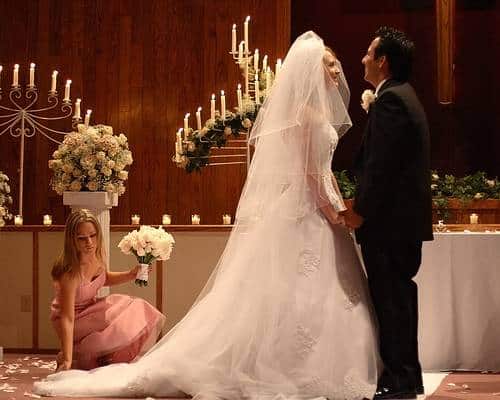 How to carry it off
Something that the celebs really work on is actually learning how to carry themselves when on the red carpet. It's not just their outfits which make them seem elegant; they also hold a good posture and pose in flattering positions for the camera.
Here's how: keep your shoulders back and pull your abdomen in – this makes you look longer, leaner, and actually more confident. Try to pull your shoulders down your back and show off your bust.
If you're still looking for that special person to find the perfect dress for, trying online dating is a good idea. There are many people of various ages, backgrounds and cultures who meet through online dating, end up in a serious relationship and go on to get married.
Some websites match you on compatibility, which gives you a better chance of finding a companion who you'll really click with. So whether you're looking for Hispanic singles or professional singles, give it a try and let it do the searching for you – click here for more information.