Fall weddings are romantic, beautiful and elegant. Fall decors will surely bring a picturesque event that guests will keep talking about until the next day. You can add more autumn touch to your wedding by decorating the cookies that they look like fallen leaves.They are fascinating that you think twice of eating them and you just want to bring them home. If you are excited to get started, then read on for instructions.
What you need:
Leaf-shaped cookies

Food coloring (red, yellow, brown, green)

Soft brush

Alcohol or flavored extract

Medium consistency royal icing
Put a drop of each food coloring on each small dish or palette. Add a few drops of alcohol or flavored extract.
Now, we are going to apply the colors into the cookie using soft brush. Start with yellow, red, brown and lastly, the green one at the bottom.
If you are satisfied with the look of the cookie, we will add the veins. Use medium consistency royal icing and tip 1. Start at the bottom and work your way up to the tip of the leaf. This will give the 3D effect on the cookie. Afterwards, let the icing dry for about two hours.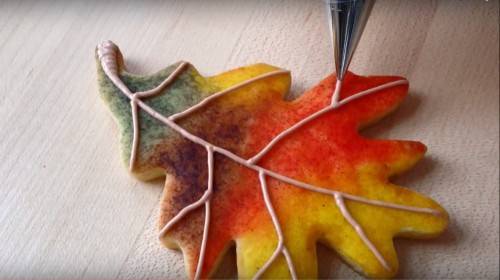 Mix gold luster dust and alcohol or flavored extract and paint it on the veins. Additionally, paint the edge of the cooking using the same food coloring.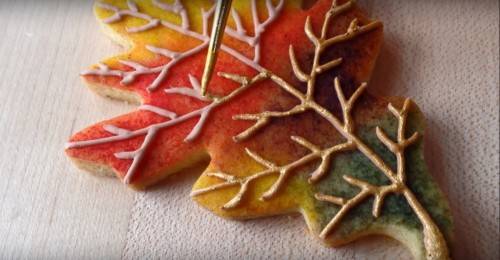 And you are done! I hope your guests enjoy these ravishing fall leaf wedding cookies.
Watch How it is Done
Save All the Steps Using this Bookmarklet