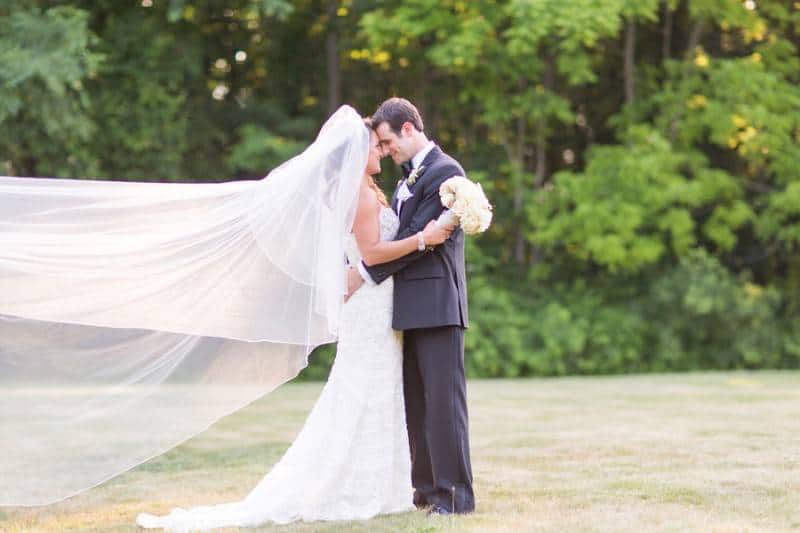 Cristina & Jeff first met one summer in their hometown. They went out during that first meeting & the rest was history! Fast forward into the future, here they are, officially Mr. & Mrs! They chose to go with a simple yet classic elegant theme for their wedding. And instead of choosing bold summer colors, they decided to go with a classic elegant touch of black & white with gold & blush as accents.  Everything came out beautifully! I definitely loved the romantic details of their reception area. Their wedding cake is a vision of loveliness! You can tell that everybody had a great time just by looking at this wonderful images captured by the Thompson photography Group. Cheers again to Cristina & Jeff, may you live happy forever after!
What is your story as a couple, how did you meet & fall in love?
We met during the summer time at a restaurant in our home town. Although we never knew each other, we grew up in the same town! We went on a date the night of the day we first met, and the rest was history.
What makes the two of you a perfect match?
We have the same interests and hobbies, but we are very different personalities. As the bride, I'm very type A. My groom is very laid back, but attentive to details. We compliment each other very well.
What was the best advice you received when you were planning your wedding?
To do as much planning as you can in advance, but during that last week leading up to the wedding, let it all go. If it's not done the week before the wedding, just forget about it.
What inspired your wedding decor? Why did you choose the things that you did?
I wanted something very classic, but very different. A lot of summer weddings have bright, bold colors (which I do love). So I decided to go with something sophisticated and elegant – classic black & white with gold & blush accents.
Do you have advice for couples still in the planning process?
Stick to a consistent look & theme. If you're going to go rustic, go rustic all the way! It'll make things easier down the road and really tie everything all together.
What were the highlights from the ceremony & reception?
The food and wine… and our band. Food is very important to us. We have a cooking blog (www.costacucina.com) and we really take pride in the food we served as we worked one on one with the chef at our venue. And our band totally brought down the house!
What were some challenges you faced planning your wedding & what would you have done differently to avoid them?
Making everyone happy was a challenge, but it always is, right? I did everything I could to be prepared and make sure that everyone knew the schedule for the weekend, but it's very hard to get 100+ people on the same page.
Was there any Do it Yourself (DIY) projects? If so, can you describe them in detail?
The limoncello favors. I bought small glass bottles of limoncello and wrapped some classic Italian confetti candy in netting around the neck of the bottle with ribbon. The ribbon was customized for us with our names and the date. Those were the favors for the men. The favors for the women were pashmina scarves that we wrapped around the chairs at the reception.
What was the wedding budget?
I would have set a budget and stuck with it. Instead, we didn't have a budget… which was detrimental to our wallets. Luckily, it was beautiful and I wouldn't trade it for the world!
Where did you save the most money?
I didn't save any money! I'm not kidding.
What was your favorite part of the day?
Our favorite part was HANDS DOWN the bridal party intros to the reception and our bride & groom dance. We choreographed our first dance to Frank Sinatra "Let's Fall in Love" and totally nailed it!
Can you share some tips or tricks that you learned along the way leading up to the wedding or after?
Get all your vendors settled upfront. Once you have the vendors you want, the rest falls into place.
Where did you go on your honeymoon?
Spain (Barcelona) and Portugal (Porto, Portimao, Lisbon)
What are you most excited about for the future?
Traveling, buying a home, and having a family!
What inspired the wedding day outfits?
We went with black tie because it really fit our venue and theme. My gown totally hit the nail on the head – the beading was very typical of the 20s and looked like it belonged at our venue.
How many guests were invited in your wedding and what was the final guest count?
180 were invited and 135 attended.
Was it difficult to narrow down your guest list?
It was very hard to narrow down the guest list. We had an expensive wedding, so we tried to make a rule – if we hadn't seen/heard from you in a year, you were off the list!
What songs did you use during the ceremony?
We kept it classic, but added our own touches. I walked down to the Bridal March, but our recessional was "All You Need Is Love" (like in the movie Love Actually). It was beautiful!
Was there a theme for the ceremony and reception?
Classic vintage.
What would you say, the overall story for this album?
There's so much to say, but the pictures describe it all. It was truly magical! The story is our story – the love and admiration we have for each other and our amazing families & friends.
Vendors
Photographer:  Thompson Photography Group
Reception Venue: Jackie Flowers