Forget Valentine's Day; the cutest possible holiday for a recently engaged or married couple is Halloween which is celebrated around the world. After all, it's the only time for couples Halloween costumes!
A couple can wear coordinating outfits without friends and family rolling their eyes and sighing! We've gathered up our absolute favorite "his and hers" couples Halloween costumes to provide you with a little inspiration as you decide what to dress as this year. So, whether you're attending a costume party or going "trick-or-treating" with family and friends, these costumes are absolutely perfect!
Famous Couples Halloween Costumes
One of the most popular (and safest) options when it comes to his and hers couples Halloween costumes is a famous couple costume. Check out our favorites:
1. Mickey and Minnie – This super cute Disney costume is family-friendly and perfect for family-oriented parties.

2. Woody and Jessie – Another costume that is perfect for family get-togethers, this Woody and Jessie idea is adorable and fun!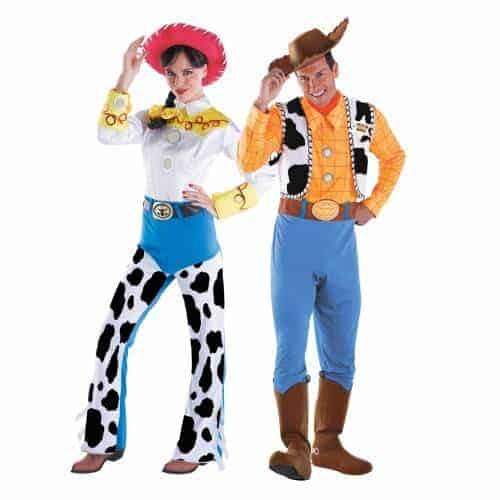 3. Mario and Princess Peach – If you're a video game loving couple, this one is perfect for you! It's none other than Mario and his beloved damsel in distress, Princess Peach!

4. Alice and The Mad Hatter – Okay, so these two weren't technically a "couple," but this terrific Alice in Wonderland twosome is a lot of
fun!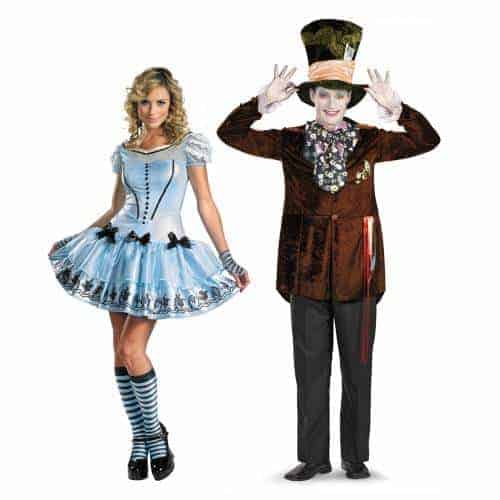 5. Beauty and Her Beast – You can't find a more romantic costume than this; after all, it is a tale as old as time!

6. Romeo and Juliet – Romeo, Romeo, wherefore art thou, Romeo? Why, he's right here, and so is his Juliet. This couples Halloween costumes idea is perfect for a recently married or engaged couple, and we're almost positive the night will end better than the story.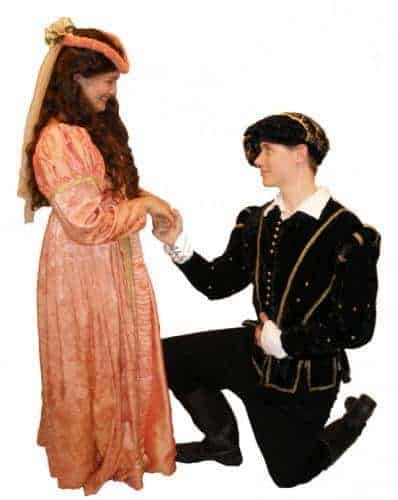 7. Cinderella and Prince Charming – No one gets to tell you that you can't go to the ball, and with this lovely costume idea, you can go with your favorite Prince Charming beside you.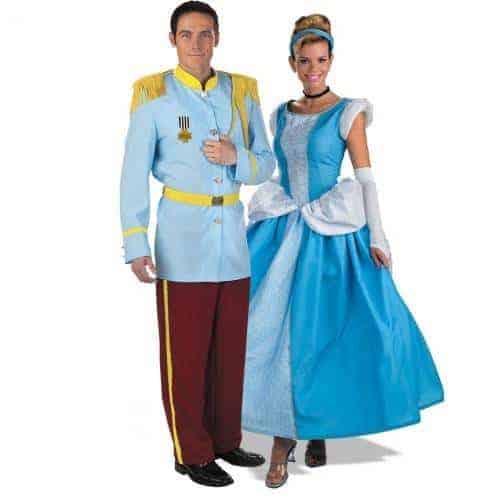 8. Sonny and Cher – "I've got you, babe!" A fun costume idea that isn't as overdone as some of the other couple ideas, these Sonny and Cher costumes will make you the rock stars of the party.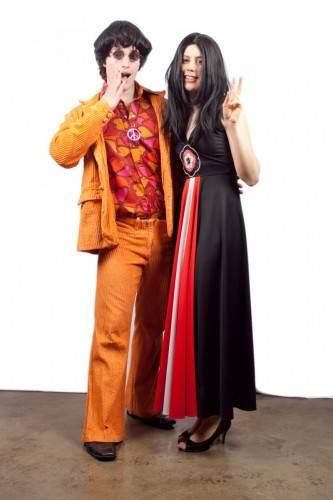 9. Gomez and Morticia Addams – Keep things dark and spooky (as well as romantic) with this Gomez and Morticia Addams costume! This is the perfect couple costume candidate for a DIY as well!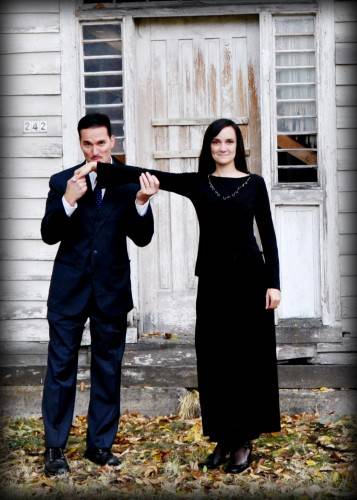 10. Ragnar and Lagertha Lothbrok – Whether your ancestors were the plunder and pillage type or you simply love the television show, why not take Halloween on Viking-style?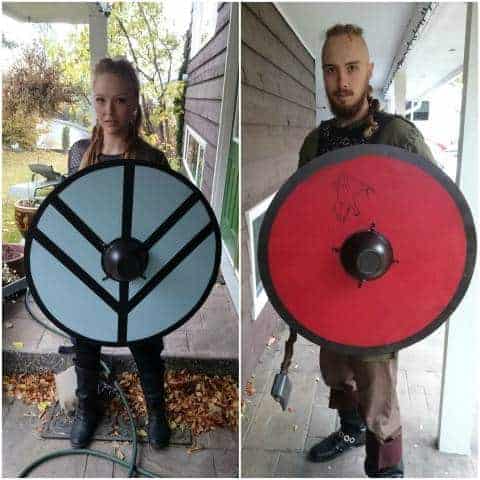 Funny His and Her Couples Halloween Costumes
If you'd rather not go the route of famous couples, then why not make sure you and your new fiancé or hubby will give everyone a laugh? Here are some of our favorite "funny" couples costumes:
11. Google Map Locations – We love this one, just for its sheer uniqueness and we think it's absolutely hilarious!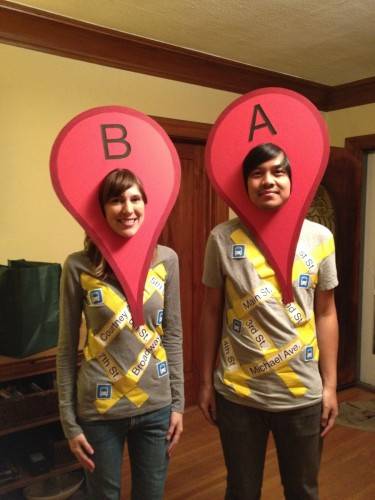 12. Wine and Cheese – Hey, let's keep it classy for Halloween, and what's classier than wine and cheese? This is a super funny (and potentially easy DIY) his and her Halloween costume!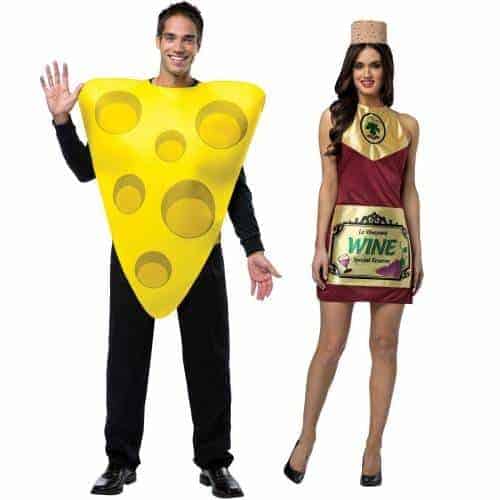 13. Bacon and Eggs – It's everyone's favorite breakfast food! What goes better together than bacon and eggs? We love this one.

14. Fairly Odd Parents – This hilarious and adorable costume features the fairy god parents from the Nickelodeon TV show, Fairy Odd Parents. It's a great option for a DIY costume as well.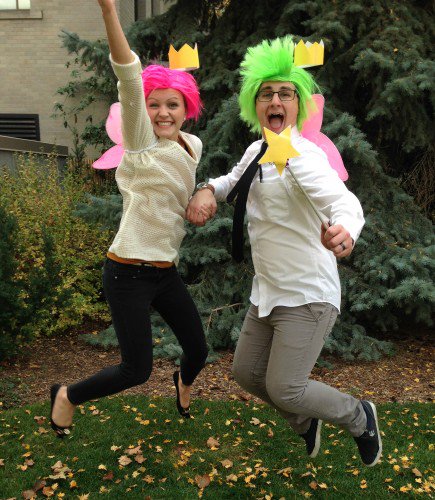 15. Lightning and Its Victim – This funny and super easy costume features a lightning bolt and the lightning's victim! We think it's a genius idea, and it can be created with little more than an old t-shirt and umbrella, cotton and some poster board.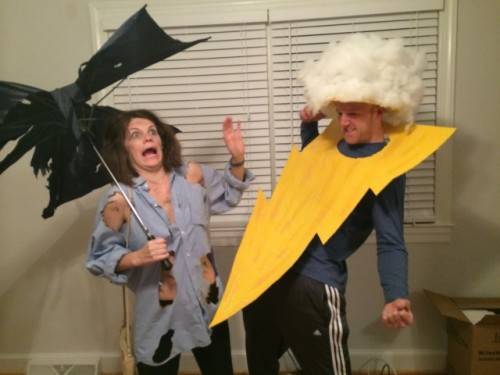 16. Bride and Groom Lego Woman and Man – This is such a perfect Halloween costume for the just-married bride and groom or even the engaged couple looking forward to their wedding!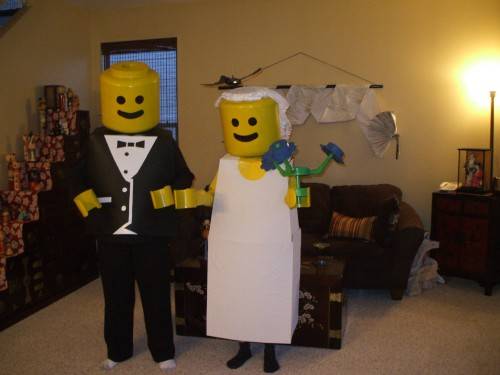 17. Chuck and Wilson from Castaway – For those searching for a priceless and super-funny costume, Chuck and Wilson (the FedEx employee who washed up on a deserted island and the volleyball who became his only friend) is perfect!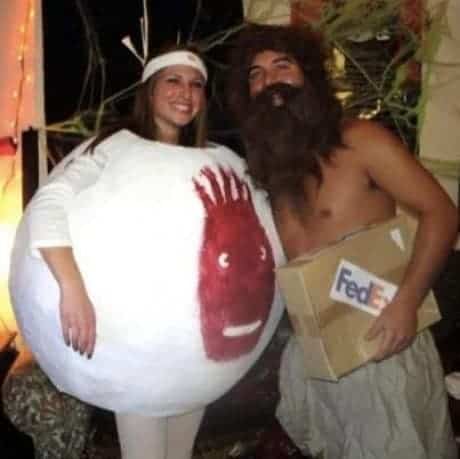 18. Social Media Sites – For the engaged couple or new bride and groom who loves social media, this Twitter and Facebook costume is perfect and so funny!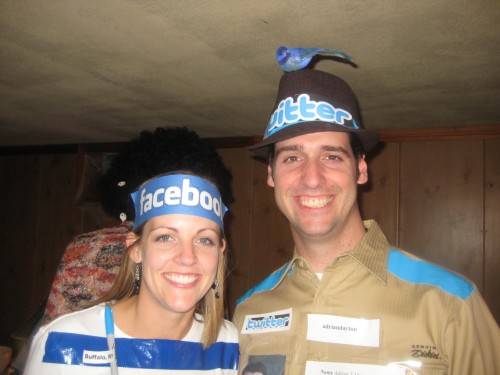 19. Loaded Bagel – Couples who enjoy food will love this one. Two halves of a bagel complete with toppings; this is an outstanding example of a funny his and her Halloween costume.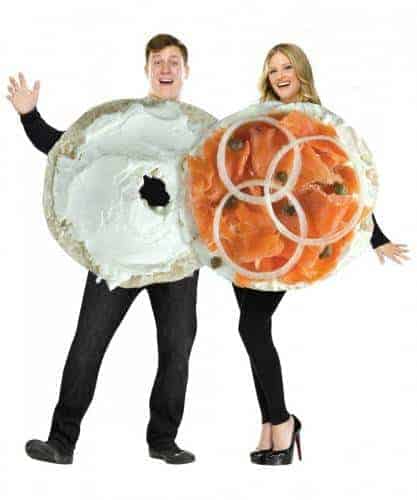 20. Fork and Spoon – A simple but cute costume, this fork and spoon is a great DIY that could be completed within a few days.
Awesome and Artistic His and Her Couples Halloween Costumes
For the artistic and talented couple, there are some truly awesome costume ideas available. These can be DIY costumes, but may involve a little more work and artistic ability than some of the others. Here are our favorites:
21. Sugar Skulls – This "his and hers" costume idea is absolutely phenomenal! A beautiful dress, a dapper suit and a few hours in front of the makeup mirror can make an absolutely amazing costume.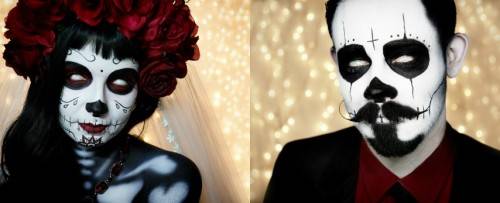 22. Green Army Men – We love this couple's costume idea, which is inspired by those green, plastic army men toys that children have played with for decades. The right clothing, some army-green paint and a few props make this outstanding couples costume.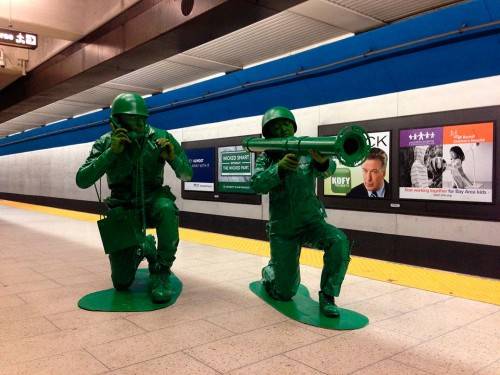 23. Pop Art Couple – This amazing "pop art" costume idea for couples is genius! Looking like they're straight from a graphic novel page, this couple is just precious.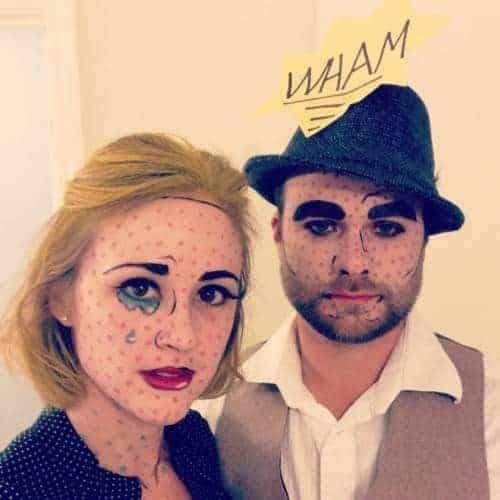 24. Vintage Photograph – This couple utilized gray paint as well as black and white clothing to make a vintage photograph couples costume that is unbelievable!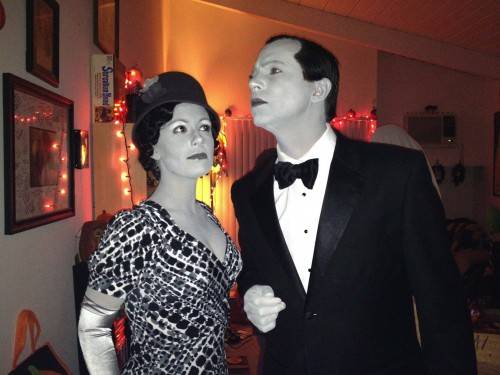 Obscure Couples Halloween Costumes
These costumes, while amazing, are slightly more obscure than some of our others. However, many people will get them instantly and hopefully will love them just as much as we do!
25. Raggedy Ann and Andy – This adorable duo is almost as cute as the original Raggedy Ann and Andy! These characters were created for children's books in 1915 and 1920.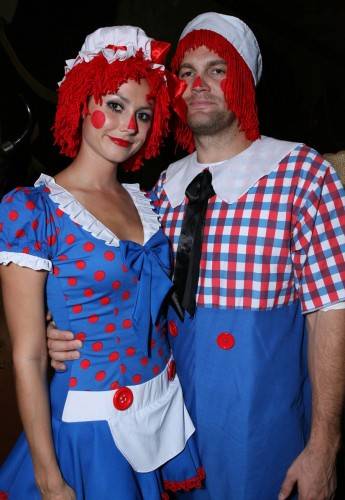 26. John Lennon and Yoko Ono – The only thing that makes this costume slightly obscure is that John Lennon doesn't have the traditional "Beatles-Mania" hair, but this costume is genius. The best thing about it is that it can be made from virtually any thrift store clothing!

27. David and Victoria Beckham – This one isn't as obscure as some of these, perhaps, but it's definitely one that might make a few people take a second look. We just love it, and think it's brilliant!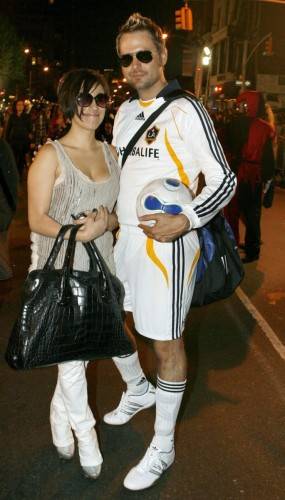 28. Macaroni and Cheese – We think this one could technically fall under "obscure" and "funny" because we certainly laughed. It didn't take much for this couple to create this costume (just some cut out noodle shapes and a yellow shirt with holes), but it's perfect and so hilarious.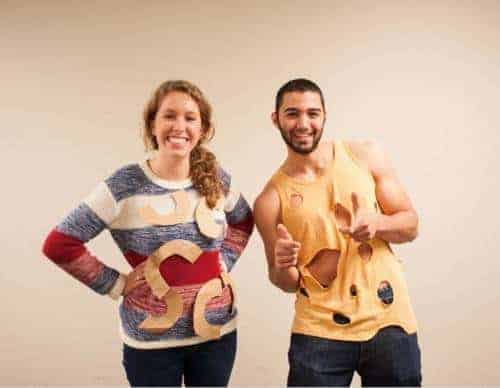 29. Marceline and Finn – Perhaps our favorite, this couples costume is Marceline the Vampire and Finn the Human from the Adventure Time cartoon!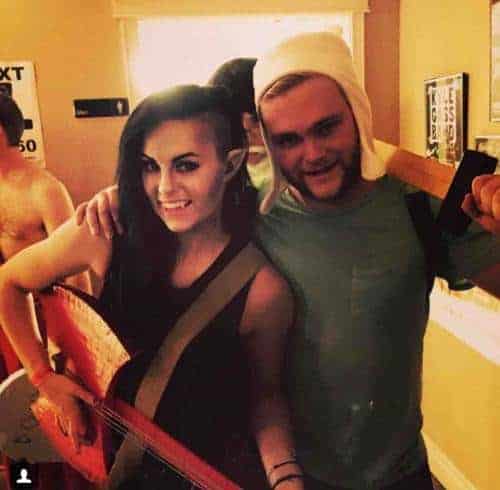 Scary Couples Halloween Costumes
30. Zombie Police Officers – Zombies are such a thing right now, and it makes this couples costume perfect! This couple is a pair of zombie police officers, and they're super scary!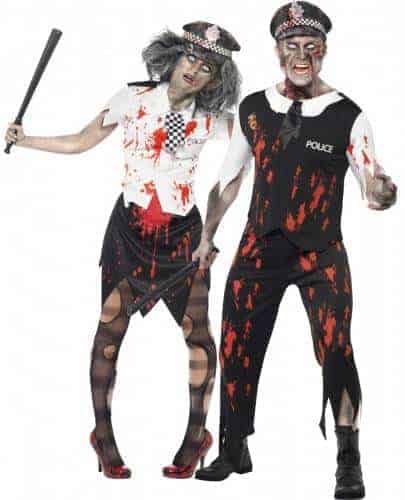 31. Scary Clowns – No one appreciates a scary clown…but that's what makes this couples Halloween costume extra perfect. After all, it is Halloween and people are supposed to be scared.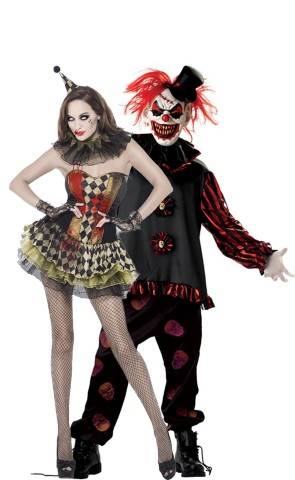 32. Ghostly Bride and Groom – This scary costume is especially great for recently married or engaged couples. This ghost couple is definitely scary! We love it.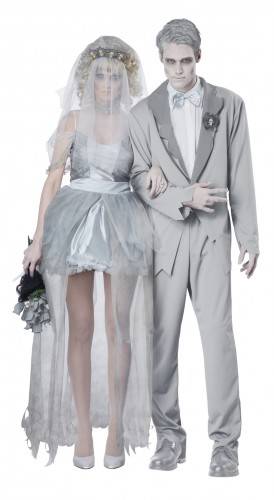 There you have it – our 32 favorite his and her couples Halloween costumes!
​Which one is your favorite? Have you stumbled upon a couples costume you thought was pure genius? Feel free to share with us in the comments below!