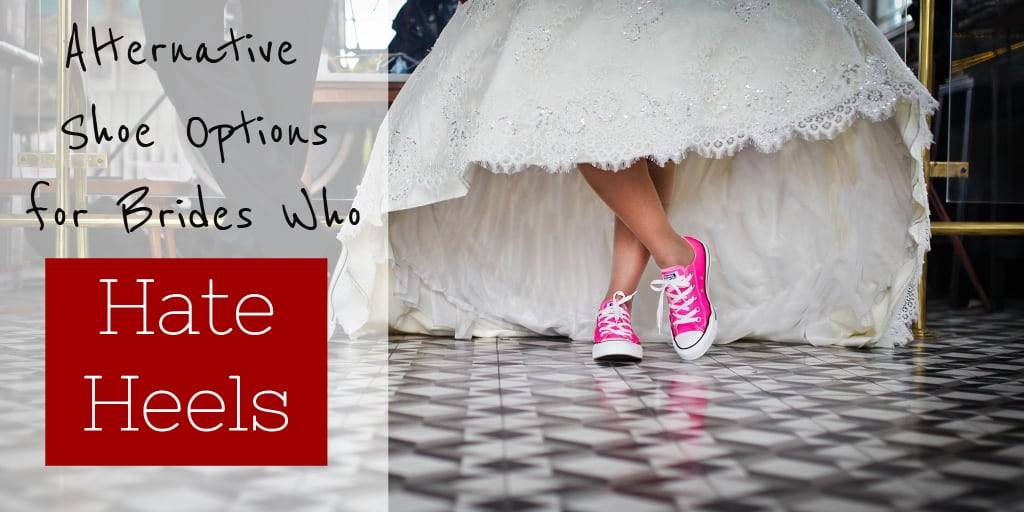 Many traditions go along with weddings, and society expects brides to wear a white dress with high heels. But that may not be your style. And whether you hate heels because they make your feet ache or cause you to stumble, you're not alone.
Lots of brides choose to wear other shoe styles on their wedding day, and there are advantages to choosing unique footwear. You can stand out as a bride by picking a new style or selecting a vintage one. Check out these seven shoe options that can replace heels on your wedding day.
1. Sandals
Summer is usually when weddings abound, and if you're planning a warm-weather celebration, sandals can pull your look together. Exchange heels for simple sandals that will keep you comfortable and your feet cool. This option also makes it easy to transition to the dance floor — you can keep them on while you bust a move, or easily slip them off.
Pick a pair that sparkles for extra bridal glitz or opt for some that have flower embellishments. If your wedding decor has a boho vibe, you can sport strappy sandals to complement your dress.
2. Classic Flats
Flats retain the look of heels without the pain especially if you add flat feet insoles. Keep the elegance with a pair of almond- or pointy-toed flats. You can be confident walking down the aisle in flats, without the risk of tripping over an unsteady heel or being unstable because your feet sweat in heels.
Especially if your dress is floor-length, guests won't know whether you're approaching the altar in heels or flats, so go for the option you feel best in. For ladies who want something a little different, suede or velvet flats can add some texture.
3. Mules
Mules have all the benefits of flats, but with an open feel that offers even more freedom. This shoe option that's taken over autumn trends can add a unique style to your one-of-a-kind wedding. The striking shape can accent your dress but protect your feet during the long day from the arch of heels. Snag a pair of fancy mules that are covered in glitter or pick a simple white pair for a clean effect.
4. Running Sneakers
Many brides like to add a personal flair to their wedding ensemble, and if you love fitness, why not lace up your running tennies for the big day? Bridal sneakers can still be glamorous, whether you're aiming for a dainty shoe or a bold style. If your soon-to-be spouse is your workout partner, you can both wear this quirky accessory.
Tennis shoes can get you down the aisle and into married life much faster. You can cover them up with a long dress to surprise guests with a big reveal or change up the look of your wedding pictures. If you feel like you're missing height from heels, chunky sneakers can make up for that while keeping you supported.
5. Combat Boots
For an edgy bride, combat boots create an intriguing contrast. When you're celebrating a victory at your wedding, donning a pair of combat boots can be the perfect fit. And if any shoe can get you through your wedding day, combat boots can keep you going strong until you're driving off as newlyweds.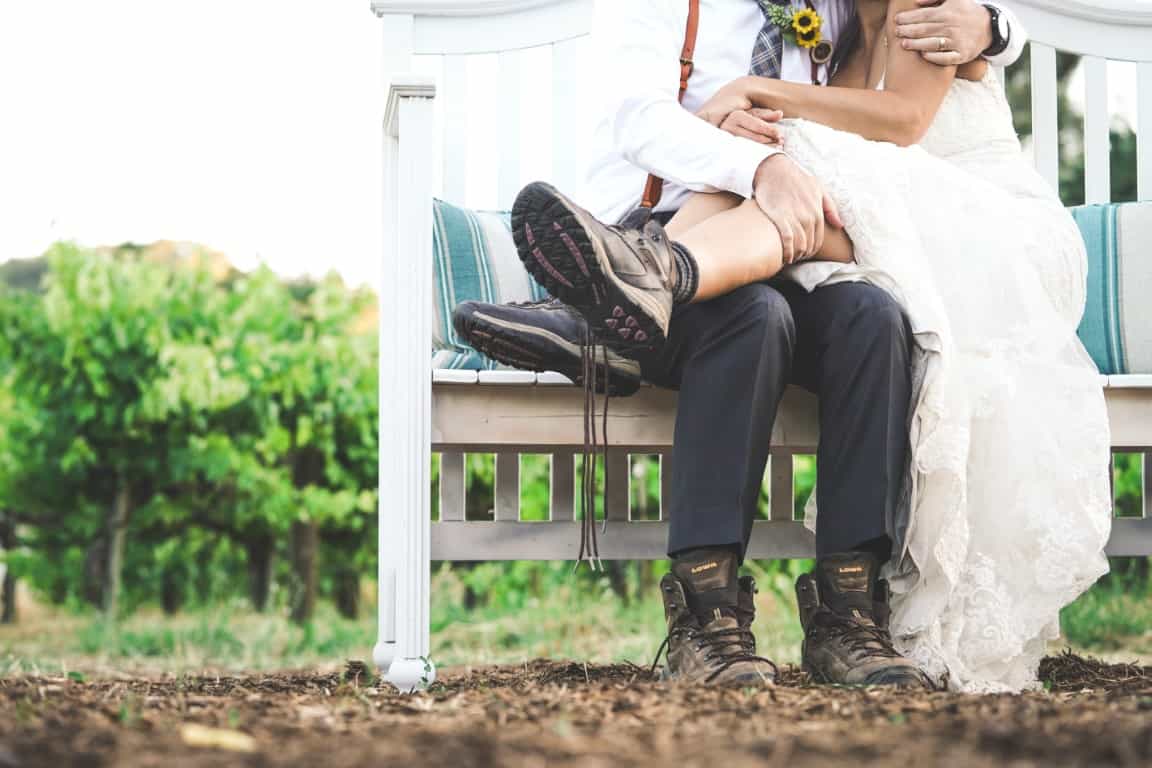 6. Cowgirl Boots
Brides with country style can choose cowgirl boots over traditional heels. Some cowgirl boots have a low heel, but there are a few flat versions available, too. If you've picked out line dancing for the reception, make sure your shoe option is a pair of cowgirl boots. The rustic charm of boots can add to your celebration, especially if you've chosen a wedding barn venue.
7. High-Tops
High-top tennis shoes like Converse can bring out you and your partner's personalities. Many couples like to add the casual element of Converse to balance out their sophisticated setup. If you want to add some frills, brides often add ribbon or shiny accents to their pair.
High-tops can keep your feet warm if you're throwing a fall or winter wedding. They also give stability throughout the day, from the ceremony to the reception and activities.
Opt for a Different Shoe Style for Your Wedding
If you're a bride who doesn't like high heels, you can choose an option that fits your taste on your wedding day. Wear a style that can make you feel comfortable and special while you exchange your vows. Whether it's sandals or cowgirl boots, you can stand out in your favorite kind of shoes.