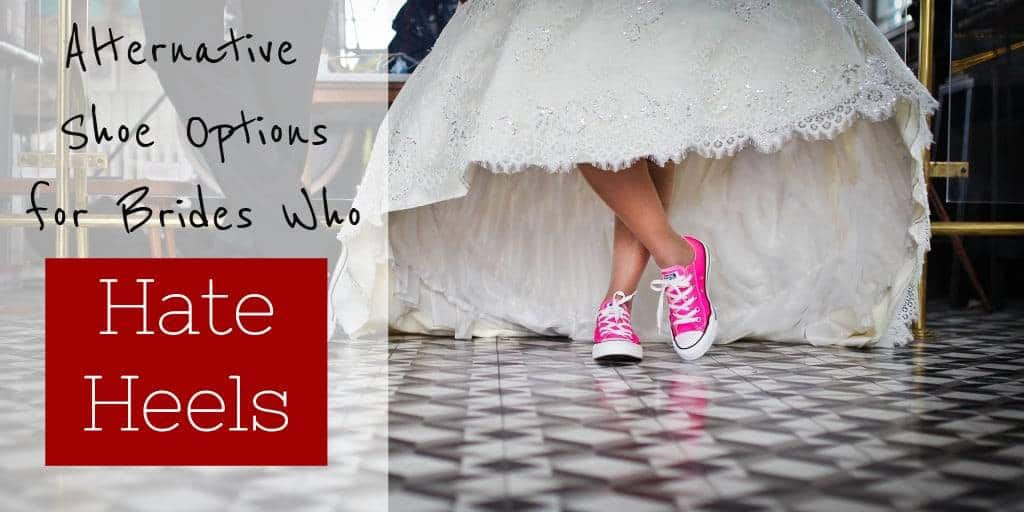 So, you've got your wedding dress, your dream venue, a lovely guest list, and the perfect catering. But… You cannot, for the life of you, find decent, unique wedding shoes that aren't high heels.
Wedding shoes are a pretty big deal – they have to carry you through one of the most important days of your life. Obviously, you want them to be comfortable and stylish.
The thing is – most traditional wedding shoes tend to have a heel attached to them. So, if you're looking for something sans heels, you're in for a ride trying to find it.
All hope is not lost, though. I know the pain, the stress, the frustration – and that is exactly why I'm here to help you find the alternative wedding shoes of your dreams.
So, get comfortable, strap in, and let's get started!
9 Non-traditional Wedding Shoes Ideas for Your Big Day
>Your love story is, of course, unique – and so is your bridal style. So, your choice of wedding shoes can – and should – reflect your individuality. And with that said, here is a list of non-traditional wedding shoe ideas to inspire your bridal look.
1. Sandals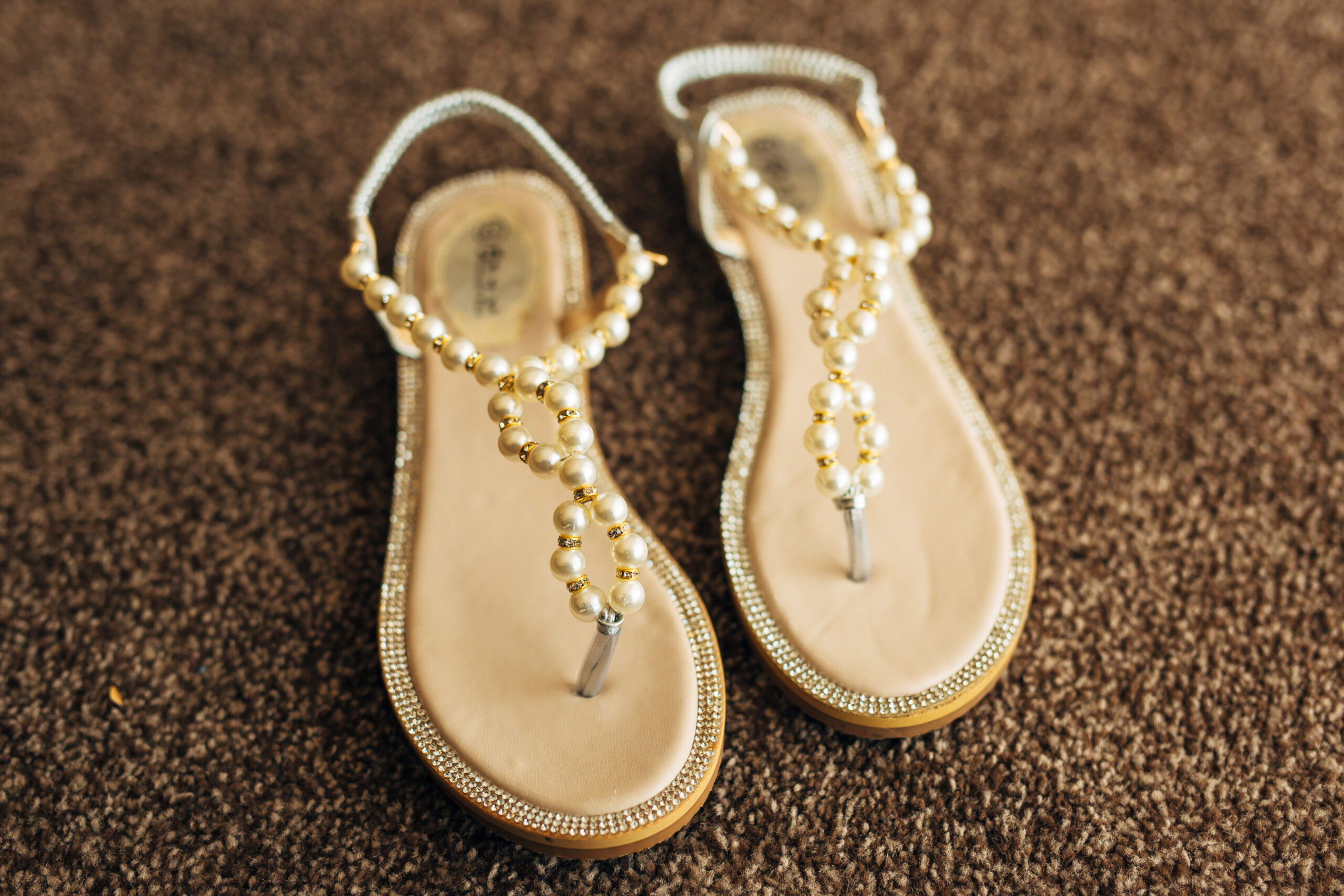 Summer is peak wedding season, so if you're planning a warm-weather celebration, sandals can be the perfect addition to your look. It also makes it easy to transition to the dance floor at the reception – you can keep them on while you bust a move and slip them off if needed.
Pick a pair that sparkles for some bridal glitz, or opt for a more whimsical vibe with some floral sandals. If your wedding is boho-themed, you can sport strappy sandals to complement the overall aesthetic of your wedding.
2. Classic Ballet Flats
Flats are a great substitute for heels. You get that refined look – without any of the pain. Why not go for the option that makes you feel your best?
Think about it:
If your dress is floor-length, your guests won't know whether you've walked down the aisle in heels or flats, anyway. You can be confident walking down the aisle in flats – without the risk of tripping over in unsteady heels.
Depending on the look you're going for, you can choose almond or pointy-shaped flats made from satin, leather, textile, suede, or velvet. Choose based on the style of your wedding dress, the venue – and the season, of course.
3. Mules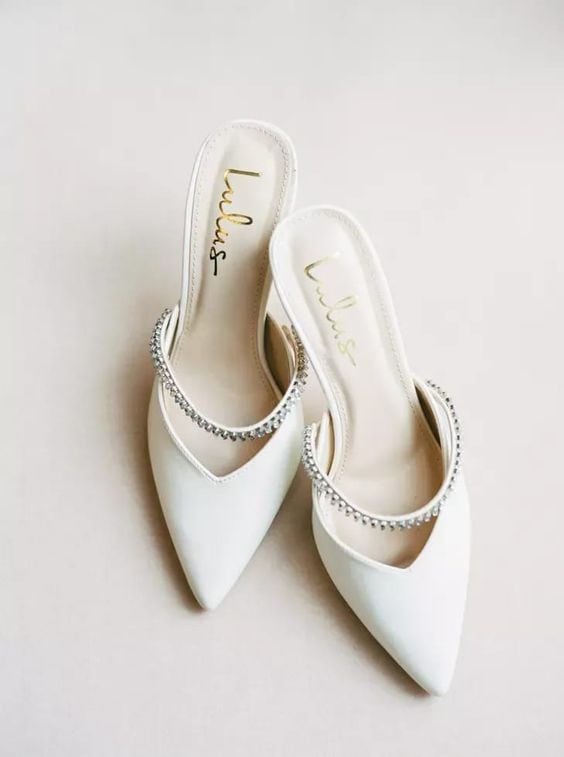 Source: theknot.com
Mules are somewhat similar to flats in terms of the benefits, but they have an open feel that offers even more freedom.
This shoe option can add a unique style to your wedding. The striking shape can accent your dress and give it more flare and even a personal touch to the overall look. At the same time, mules will spare your feet from having to suffer through the pain of high heels.
Snag a pair of fancy mules that are covered in glitter, or pick a simple white pair for a clean effect – the choice is yours!
4. Espadrilles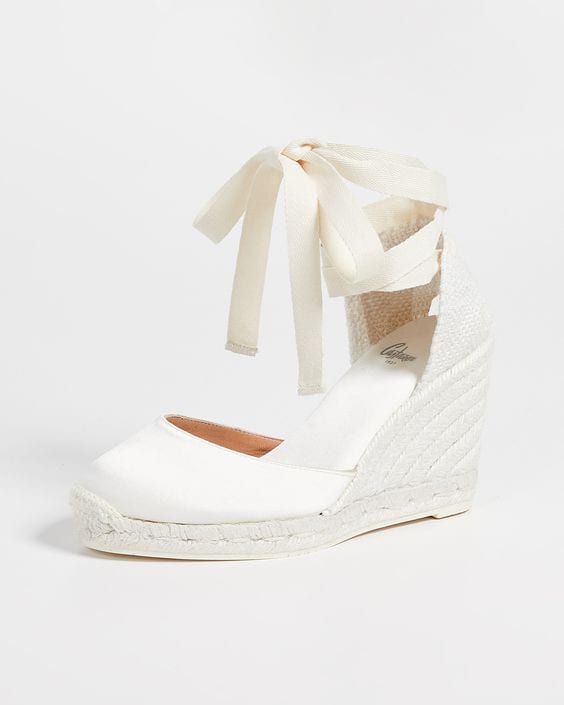 Source: marthastewart.com
Here's another wonderful idea for spring and summer weddings – espadrilles! They're the perfect choice for brides who enjoy a more laid-back and relaxed look but still want their shoes to have a feminine and put-together feel.
You'll have plenty of options when it comes to espadrilles – from simple slip-ons to more elaborate ones, with fabric strips that can tie up around your ankles. You can't go wrong with these beauties!
5. Running Sneakers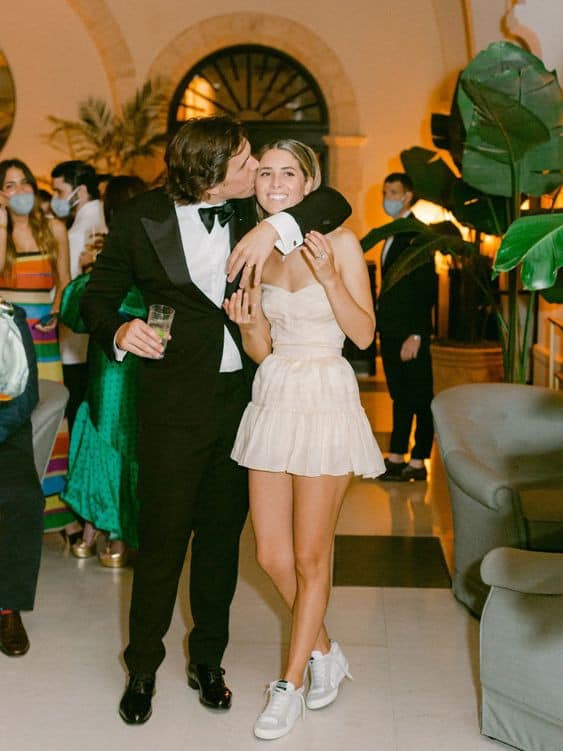 Source: vogue.com
Many brides like to add a personal touch to their wedding style – and if you love fitness, why not lace up your running tennies for the big day? And if your soon-to-be spouse is your workout partner, maybe you could both ditch fancy wedding shoes in favor of sneakers!
Bridal sneakers can still have a touch of glamour – whether you're going for a dainty shoe or a bold style.
You can cover them up with a long dress to surprise your guests with a big reveal or change up the look of your wedding pictures. Oh, and if you're missing the height from heels, chunky sneakers can make up for it while keeping you supported.
6. Converse Sneakers
Converse sneakers have been a long-time favorite when it comes to nontraditional footwear for fancy occasions. So, it's no surprise that many couples like to add the casual element of Converse to balance out their sophisticated setup.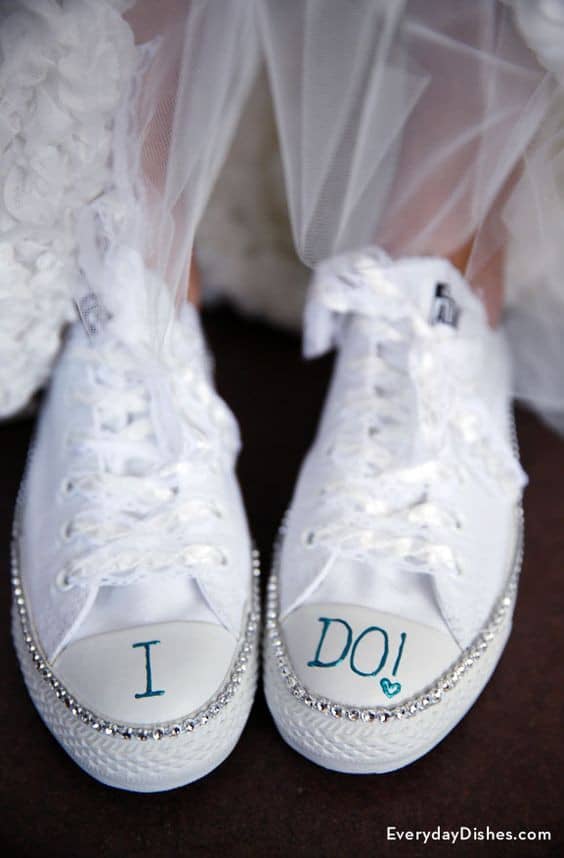 Source: everydaydishes.com
Brides often add ribbons and shiny accents to their pair; that's one way to add some "frill." Plus, you can add a cute, personal touch by matching with your partner.
They come in a bunch of different bold colors and designs, too. You get to choose the ones that fit your style and wedding theme – while staying comfortable all day.
7. Combat Boots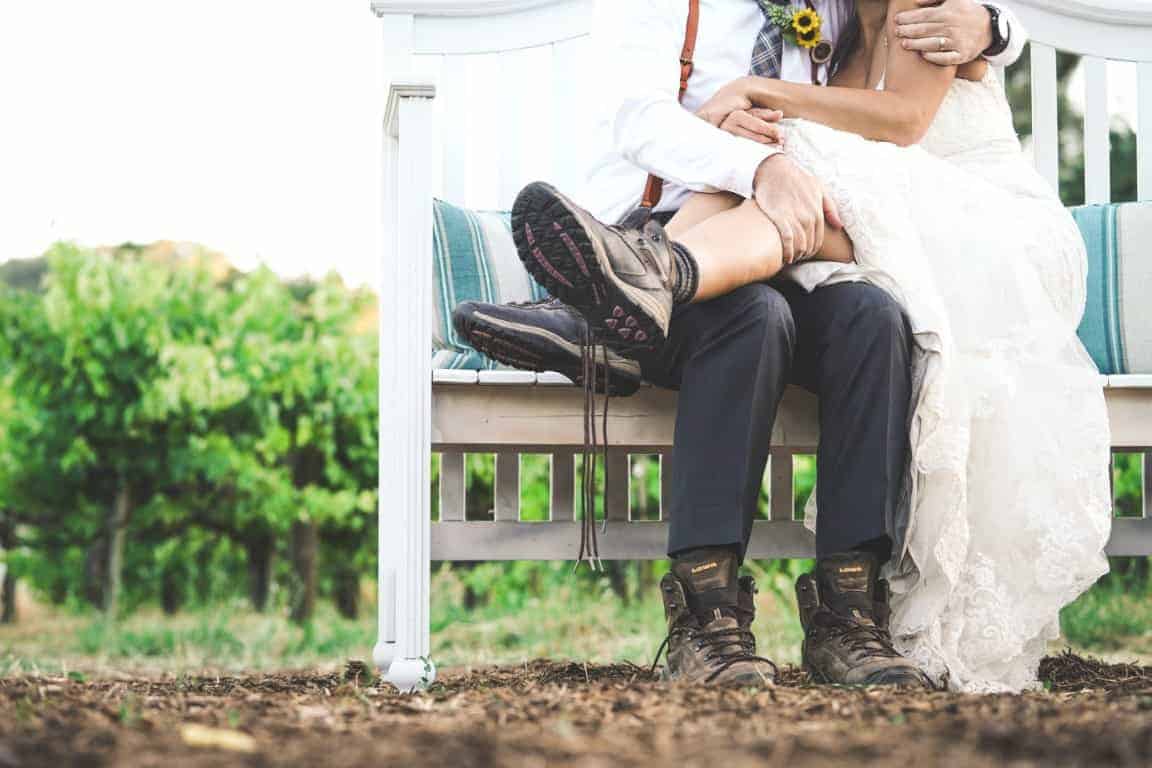 If you're an edgy bride getting married in the fall or winter months, combat boots might just be the best option for you.
Combat boots create an intriguing juxtaposition with a traditional wedding dress – and can really be a game-changer for your big day.
Plus, they're durable, comfortable, and secure. You can relax and enjoy your big day – without worrying about getting uncomfortable.
8. Cowgirl Boots
Source: stylemepretty.com
Brides with a Western country style can go with classic cowgirl boots over traditional heels, even more so if line dancing is on the itinerary for the reception. Their rustic charm adds to the theme, especially if you're having a barn wedding.
Besides, cowgirl boots are just as good for warmer weather as they are for colder seasons – which is another plus.
9. Booties
Source: greenweddingshoes.com
Last but not least, booties are a great choice for nontraditional wedding shoes. They'll serve you right in wet and cold weather – and also give you the support you need for a long day of dancing and having fun.
They come in a range of styles, too – romantic or elegant, with heels or flats – so there's definitely a pair of booties for you!
Personalization and DIY Wedding Shoes

Source: somethingturquoise.com
The pursuit of an unforgettable, unique wedding look is never-ending, huh? Well, personalized and do-it-yourself (DIY) wedding shoes might be the ultimate expression of your style.
Here, I'll delve into the world of customized wedding footwear – namely, custom shoe designs and DIY embellishments.
Custom Shoe Designs for a Unique Look
If you're interested in making your wedding shoes feel more personal, here are some awesome ways to customize them:
Get your textile or silk shoes embroidered with a unique design. For example, you could add your and your partner's initials – or something more subtle, like flowers from your wedding bouquet.
Some stores offer the option of personalizing the shoes by imprinting your initials onto them.
There are also artists who paint on shoes, so you can have a portrait of you and your husband – or whatever else you'd like – hand-painted on your wedding shoes.
DIY Embellishments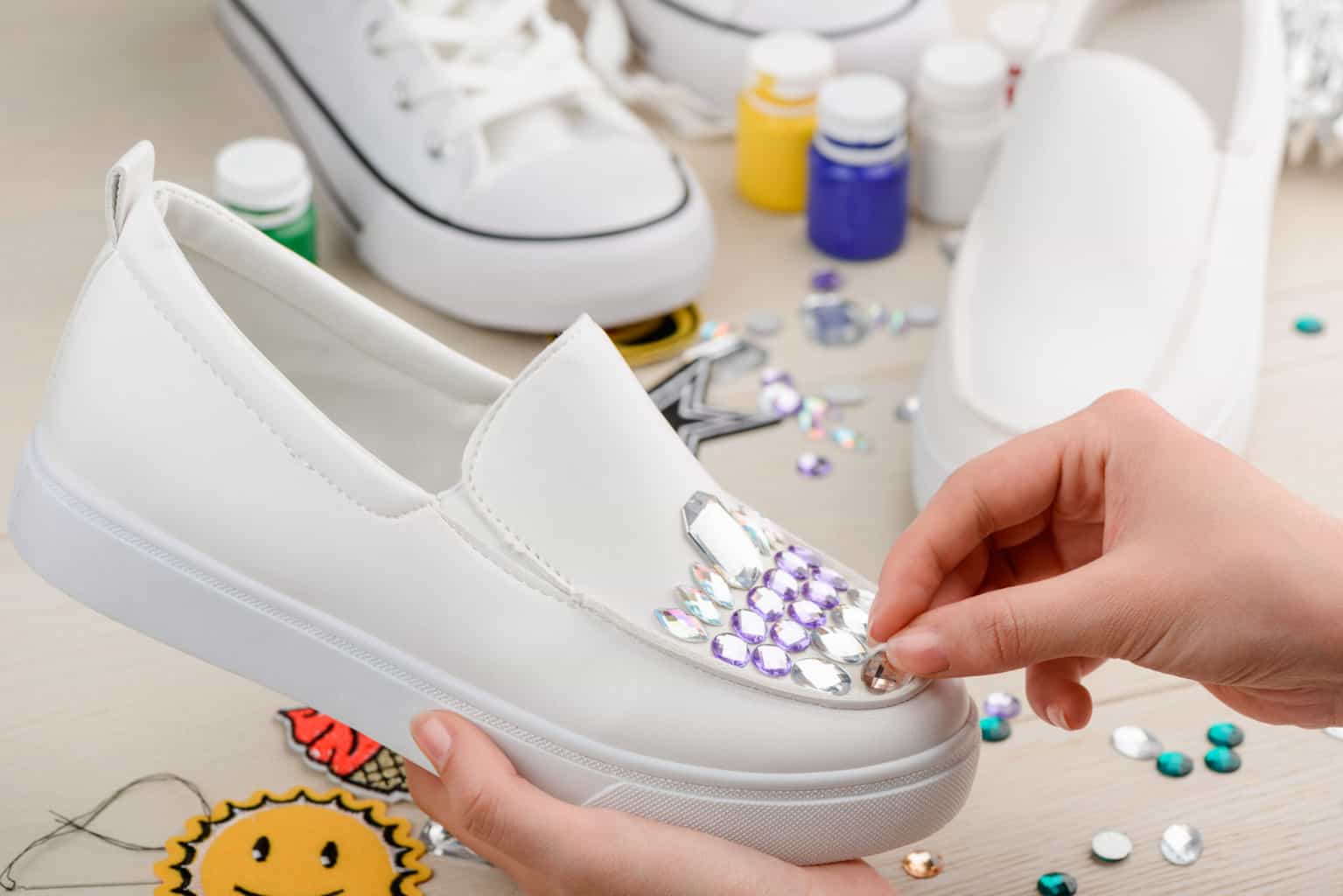 If you're a DIY-er like myself, the idea of doing the "personalization" yourself must've popped into your head – and I'm here to encourage you.
Go for it!
You and your future hubby can make that into a fun project the two of you can work on together leading up to the wedding. Whether it's adding rhinestones, lace, hand-painting, or embroidering your shoes for your wedding day – it's sure to make a statement.
Here's a piece of advice:
Do your research, and plan your project before you start. Not all materials can be painted with any type of paint or treated with any type of glue.
How to Choose the Perfect Alternative Bridal Shoes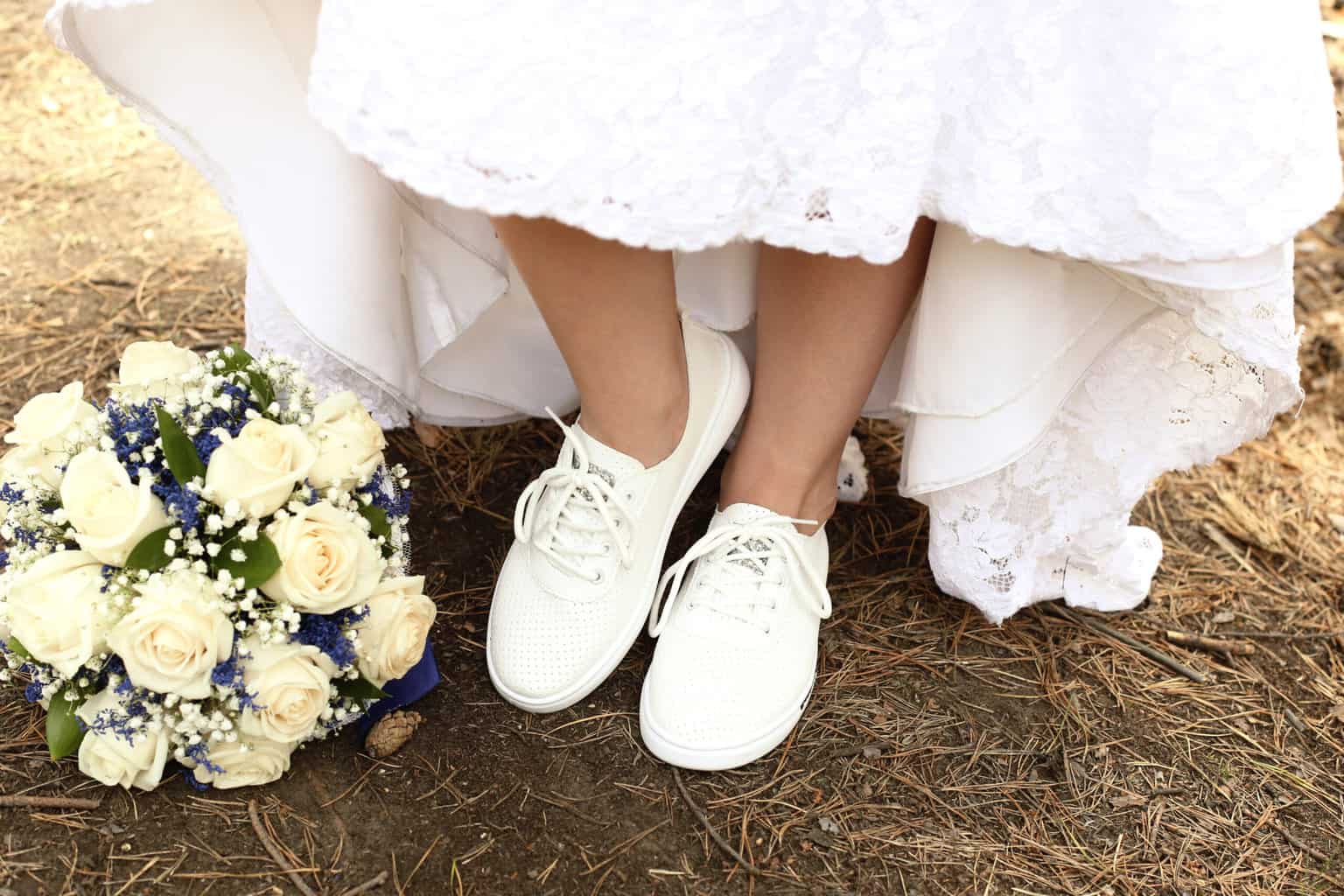 You certainly have quite a few options; we've established that. How do you pick the right one, though?
Here are a few things you should keep in mind when choosing your wedding shoes – traditional or not:
Consider comfort and practicality. That's the single most important thing. You want to remember your wedding day for the fun you had – not the pain you felt from uncomfortable shoes.
Buy your dress first. The dress is (obviously) the main piece of your wedding outfit, so you should plan everything else around it. It's much easier to find shoes that match your dress than the other way around.
Reflect on your personal style. It's YOUR wedding we're talking about. Every detail should have at least a little bit of "you" in it – and the same goes for your shoes.
Match the theme and venue. Your shoes can be the connection between your wedding venue and theme. Cowboy boots for a barn wedding? Perfect, if you ask me.
Don't forget about the weather. If you're having an outdoor wedding, the weather will play a huge role here. Whatever Mother Nature throws your way – hot or cold, wet or dry – your wedding shoes should handle it.
Take your budget into account. I get it; you'd prefer a pair of Jimmy Choos for your big day. But if you're on a budget, something like Steve Madden is more realistic. More affordable – but still chic.
Tips for Brides-to-Be: Completing the Look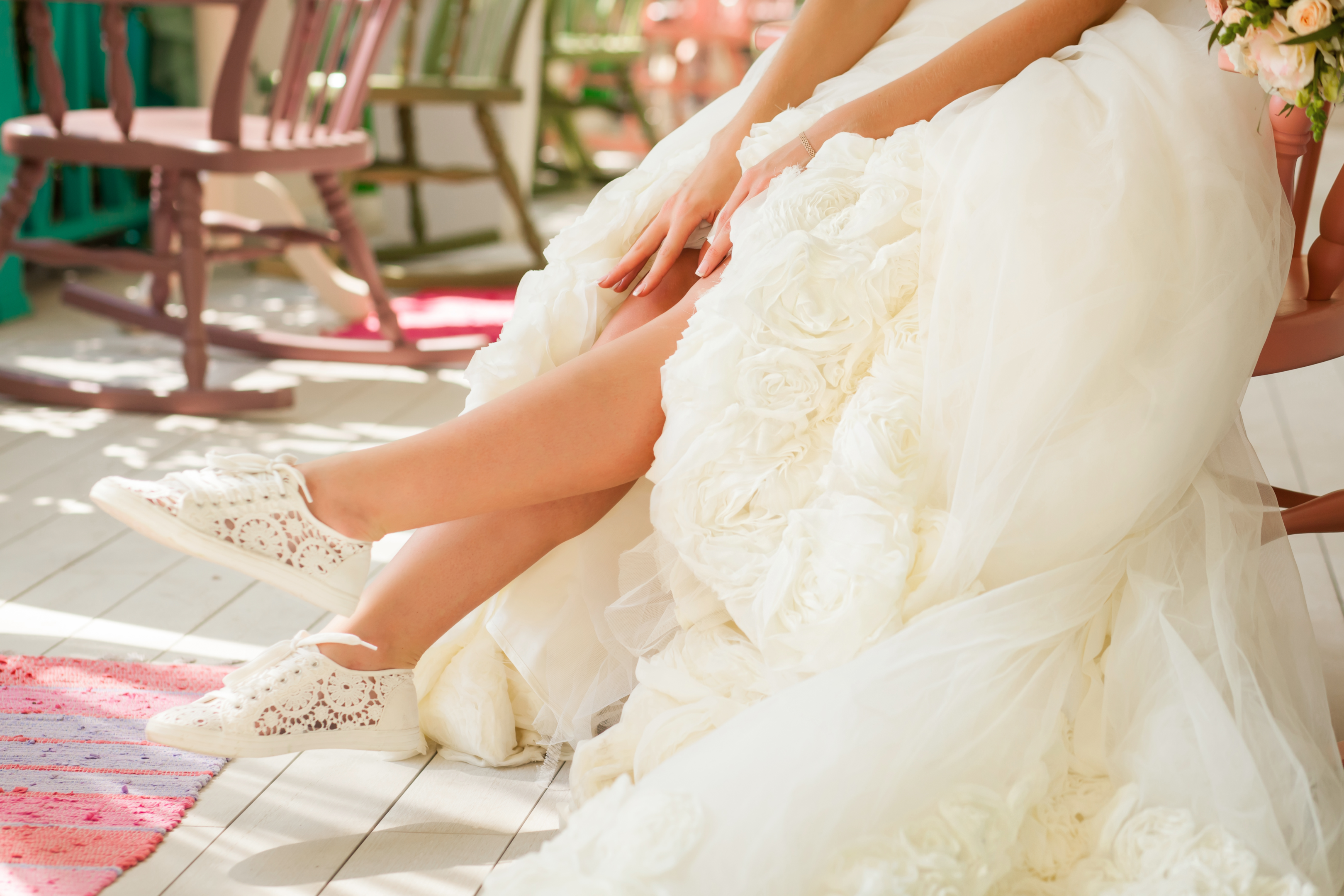 Planning your wedding outfit means taking everything into consideration – the dress, the shoes, the veil, the jewelry, and, of course, the hair and makeup. I know that's a lot of work.
So, I'd like to share a few tips for creating the perfect wedding look:
Wedding Dress Styles and Shoe Pairings
The list of wedding dress styles is never-ending – A-line, ball gowns, mermaid and corset dresses, lacey and blingy, short or long, white or in color… You get the idea.
You can play around with these styles and dress them up (or down) with your wedding shoes.
Fashion-forward brides might like the idea of the two contrasting – and combat boots and a "traditional" princess-cut dress sound like a dream combination. On the other hand, for a glamorous bride, choosing ballet flats instead of platform heels can help create a sophisticated look while keeping you comfortable throughout the day.
If you have a short dress, and your shoes are visible, you can go matchy-matchy – but it's definitely not necessary.
Accessorizing for a Cohesive Look
I'd say accessories are the key to achieving that balanced, well-put-together look. From your headpiece and veil to your belt and bolero – outfit-wise, accessories should be a part of wedding planning.
Of course, you can have some fun with it:
You can achieve a minimalist look with sleek, simple details, or you can go the other way and go wild on the accessories, bringing the look "alive." Plus, you can color-coordinate your accessories with wedding shoes for a non-traditional – but cohesive – look.
Enhance, not overpower; that's the mantra.
Alternative Bridal Shoes: Conclusion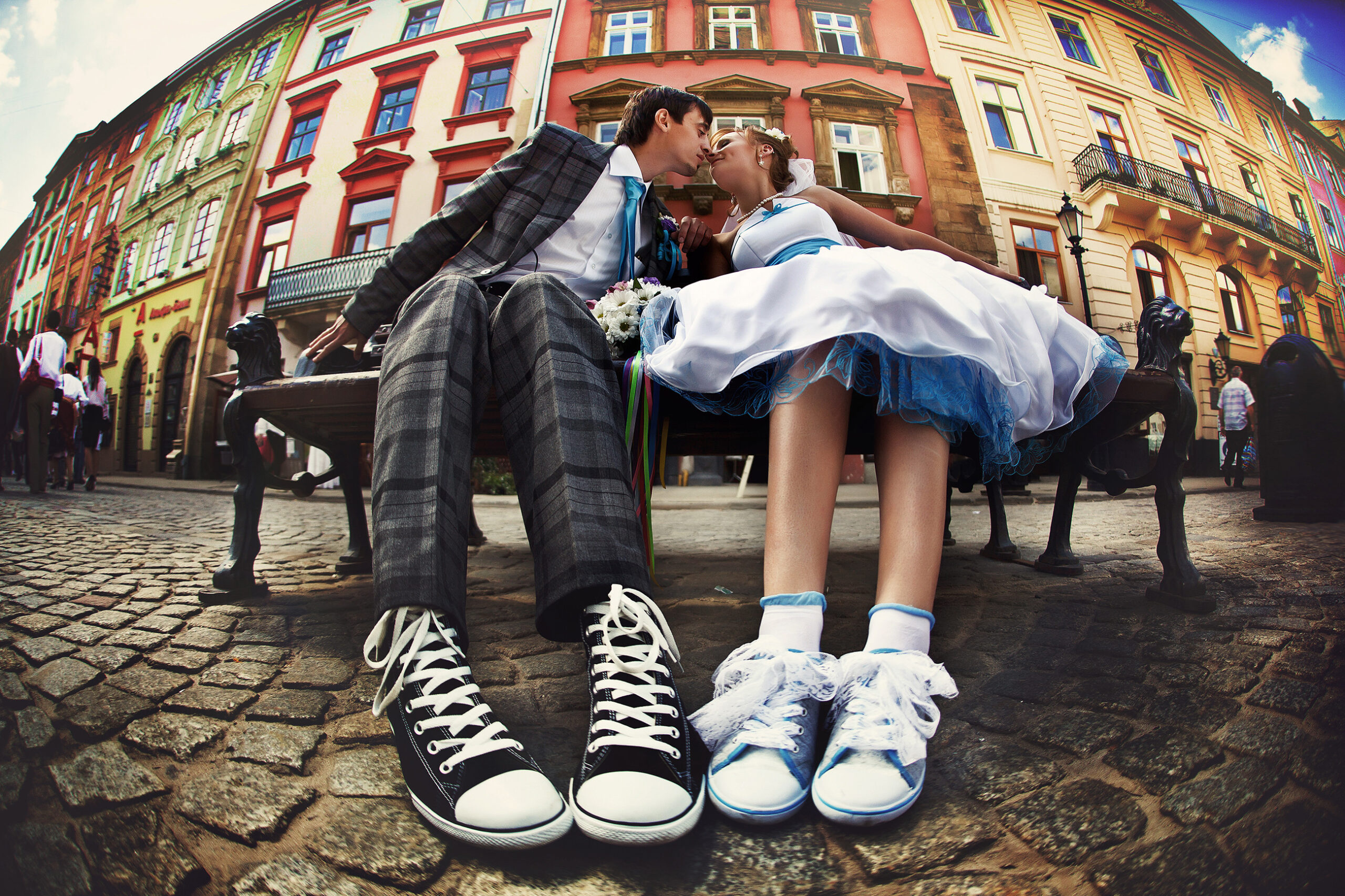 I'll leave you with this:
It doesn't matter what you go for as your alternative wedding shoes, really. As long as you feel good in them, you'll know you've made the right choice.
It's your wedding day – so the most important thing is that you feel comfortable.
Besides, the options are practically endless – and you can definitely find the perfect pair for your vision. Combat boots, espadrilles, sneakers, you name it; these can all be styled to match your dream wedding look.
Combine your non-traditional wedding shoes with some trendy accessories and the right hairstyle, and boom – you've got yourself a winning outfit.
Now go find some non-traditional wedding shoes – and enjoy your perfect day!