There are many different wedding gifts a bride can give her groom: a beautiful watch, a grooming kit, tools, leather bag, grill set, his favorite cologne. And although these are all great gift ideas, not every future hubby will be ecstatic to receive them.
As the future bride, you know your significant other more than anyone and know what kinds of things he enjoys, but maybe you're feeling a little lost as to what the best groom wedding gift is – the one thing that will light up his eyes and put a cheshire grin on his face.
Here's a hint: it's all about you!
I'm talking about a boudoir book. You know, those sexy little books filled with flirty photos of you. And not only will a boudoir book be filled with beautiful images, but it's something you design and create from the heart. You'll put precious hours making this special gift, but seeing your groom's face when he flips through the pages will definitely be worth it.
So save the watch and tools for his birthday because a boudoir book will make a much bigger impact as a wedding gift.
Preparing for a Boudoir Photo Shoot
If you haven't already done so, you'll want to set aside time for a boudoir photo session. Since this will be a wedding gift, book your shoot several weeks before the wedding. Photographers suggest at least six weeks before the big day to allow time for editing and printing. Also factor in time for creating your book.
Look into boudoir photographers in your area (they will know how to get the best photos and help you throughout the session) and settle on one that you feel comfortable and happy with. If budget is an issue, ask a close friend to help you out or take your own if you have a tripod and clicker (so you don't have to hold the camera).
To help you prepare and get excited about your upcoming photo shoot, you can treat yourself to a mani/pedi, massage, facial, body wax, or hair treatment. Even a new bottle of perfume or moisturizer can help you feel luxurious. You might also consider having your hair and makeup professionally done. Some boudoir photographers offer makeup service add-ons or include them in their photo packages, so be sure to inquire if you're interested.
Two things you absolutely do not want to do: sunbathe or get a salon tan the day before the photo shoot. Sun burns and tan lines won't make for the most flattering photos.
What to Wear to a Boudoir Photo Shoot
Not sure where to start with what to wear? Look through online boudoir galleries or scroll through Pinterest for inspiration. Think about what makes you feel sexy, props you'd like to include (your veil, his guitar, flowers), and themes. Maybe a cute satin robe with something exciting underneath.
Popular outfit ideas:
His favorite sports team jersey
An oversized shirt
Lingerie
Slinky robe
Unbuttoned sweater/shirt
Anything see-through
Stockings and garters
Bridal veil
Heels
Hats
Jewelry
How to Create a Boudoir Book
Once the session is over and you've received the edited photos, it's time to pick out your favorites and create the boudoir book.
One of the easiest and most affordable ways to do this is by using an online photo book creator. On these sites you'll find professionally designed templates, a variety of book sizes, shapes, and styles, and everything you need to put together your wedding gift.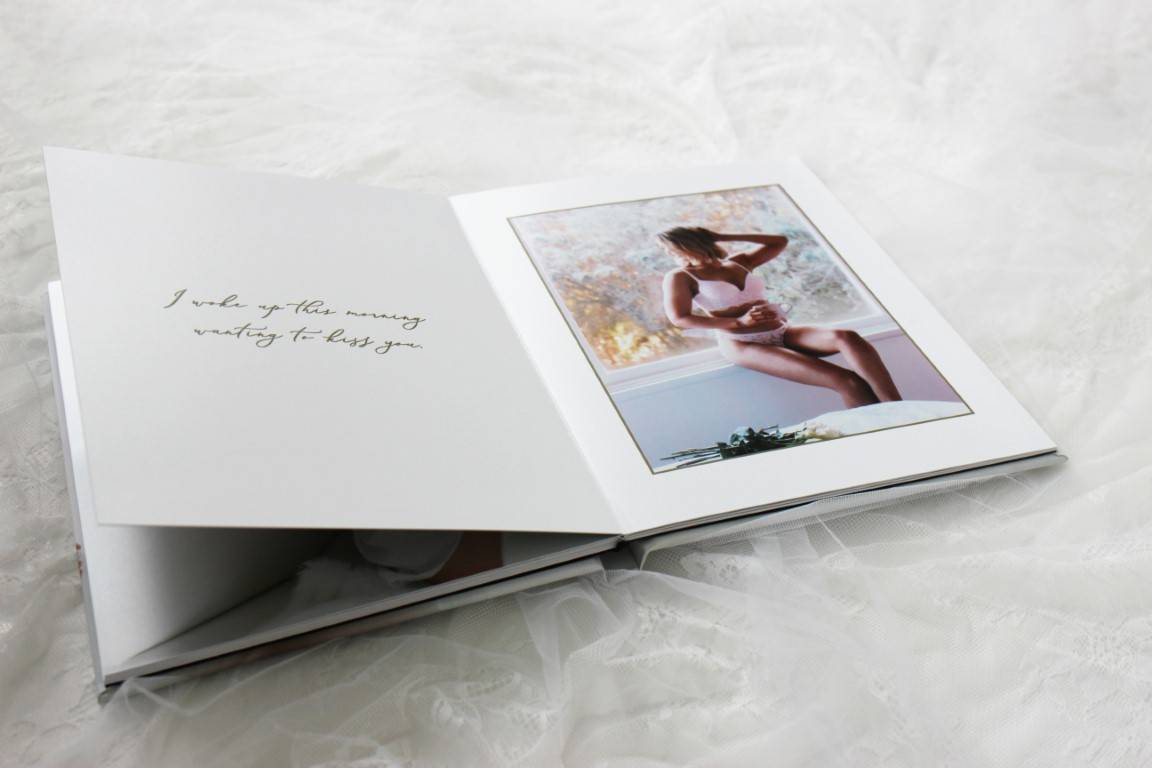 Some services, like My Bridal Pix, offer design consultants in case you're not totally comfortable in the creation process. They are on hand to review what you have already put together or offer the complete layout and design for your book.
Best Times to Give Boudoir Book:
The photos are snapped, the book is complete, and you can hardly wait to hand it over. Even though you're considering it a wedding gift, it doesn't mean you have to give it to the groom right before the ceremony starts. Here are a few great times to make your man's day:
A day before the wedding – put it somewhere he'll see before he starts his day or heads off to work
The rehearsal dinner (sneak away for a cheeky moment)
The morning of the wedding – maybe your wedding photographer can capture his reaction!
The night of the wedding
During the honeymoon
When you get home from the honeymoon as an extra surprise
As far as the groom is concerned, any time is a good time to get a boudoir photo book full of timeless images of you, so don't overthink it. In fact, don't overthink any part of this process – just enjoy it, because it's as much as a wedding gift to you as it is to your future hubby.