The truth about getting it together on the big day
Every bride strives to look her best on her wedding day, but what really makes a bride beautiful?
Of course there is the dress, the hair, make-up – all can add that certain 'glow.' But surely beauty is something money can't buy. Isn't it? If you can afford it, why not do everything possible to feel you absolute best? A spa visit with your bridesmaids, mom or special friend can enhance your wedding day experience. Just remember, when making all these decisions about how you will look on your wedding day, be honest and true to yourself. Don't let anyone talk you into something that doesn't feel right. Don't go for the up-do, if it's not you.
They say beauty comes from within. I know it is a cliché, but I'm here to give you a shot of truth. Think about this:
A stressed-out bride will not look her best. Your attitude towards your wedding celebration will make all the difference. Easier said than done, right? So here some concrete suggestions.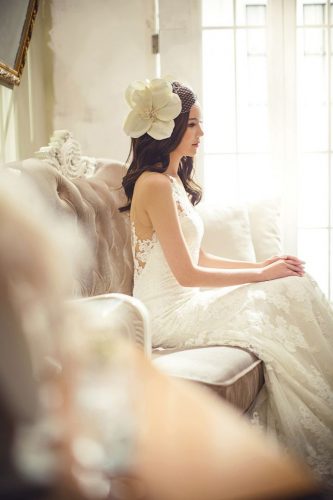 Keep your normal routine, if you have one. I've known couples who, on their wedding day, some went for a run, or a long walk, went kayaking, or some other activity. It helps burn off the excess energy and calm you down, and feel like yourself.
Spend some time thinking about how you will share your love with all your guests. Imagine looking into the eyes of each and every one of your friends and family. Whether it is a receiving line, visiting your guests at dinner, or through casual conversations, take the time to focus on each of them. They are there to support you. Show them you appreciate it. Your wedding is not only about you – but about those who came to share the day with you.
Create a calm atmosphere as you get dressed. I have witnessed many brides and bridesmaids preparing in an environment of complete chaos!
Arrive in plenty of time.
Bring some calming music.
Try focusing on the honeymoon, or some other future event, to take you mind off stressful thoughts about this day. Remember, you are planning for a lifetime together, not just the wedding day.
And finally, if something doesn't go right, remember my favorite adage: when it is all over, you will be married.
So many brides feel heightened stress levels while wedding planning. Alongside the tips mentioned above, you can also speak with a licensed therapist to help ensure peace of mind on your wedding day. A therapist (like those at BetterHelp) can help you develop stress management tools that work best for you.
The expectation of the perfect wedding is the very first mistake. Life is not perfect. And, after all, aren't you promising for better or worse? Maybe the day will not live up to the dream or fantasy, but you will get through, together! It's your first test in your marriage.
Beauty is reflected through mental health and well-being, so let your truest self shine and you will be a beautiful bride.