Click image to enlarge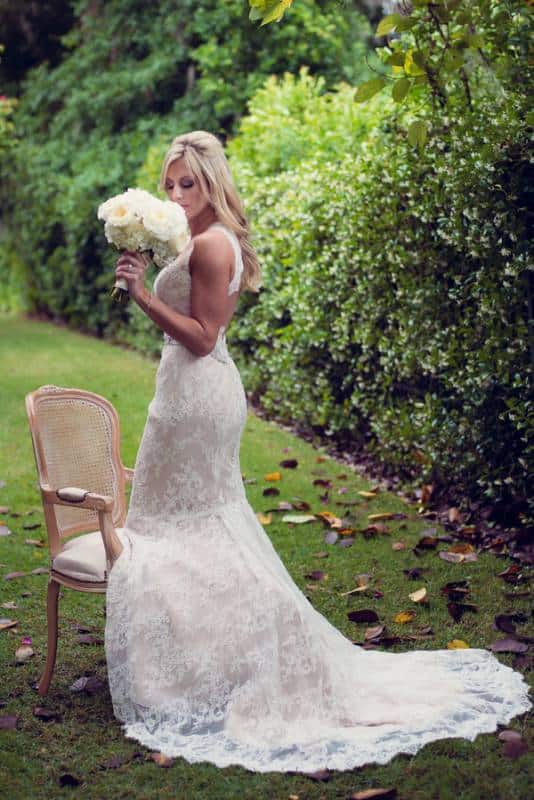 1

Like. Click to Vote
>
From morning to night, this wedding really nailed the romantic atmosphere some events struggled to achieve. You may credit it on the color palette, the lights, the band, the details or even on the rain – but one thing's for sure, this couple's sweetness brought everything together. It also helped they both looked so glamorous in their suit and lovely wedding gown. Congratulations on your wedding day, Elizabeth and Matt!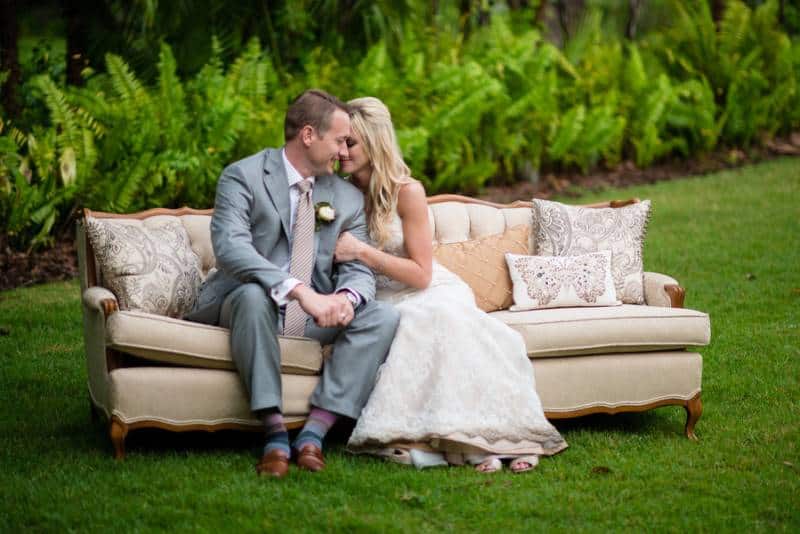 What is your story as a couple, how did you meet & fall in love?
My husband and I met at work. I was working part time while in grad school and he approached me one day asking me where my boss was. He was in a rush and walked away without introducing himself. My best friend worked at the same company and I was describing him to her to figure out who he was because I had an instant attraction to him! She figured out who he was and told him that he ran away the other day without introducing him self to me. The next day he came back up to my office and apologized for not introducing himself. Unfortunately we met during my last week at the company because I was leaving to start a full time internship. Luckily, we ran into each other a couple of weeks later and he aked me out on a date. After our first date I knew that he was someone special and we quickly fell in love with each other!
What makes the two of you a perfect match?
I think the number one thing that makes us a perfect match are our similarities. We have very similar interests and beliefs. Matt also makes me laugh which is SO SO important to me.
How did he (or you) propose?
Matt and I had discussed our future while dating and we knew that we wanted to be together forever. Matt bought a lot to build a house and together we designed the house how we wanted it to be and picked out every detail together. On the day that he closed on the house he drove me over to walk through it. As we were stood at the front door he got down on one knee and pulled out a key that was shaped as a diamond. On the end of the key was the ring attached with a string. He stated that he wanted this to be our home, told me how much he loved me and asked me to marry him. I, of course, said yes. When he opened the door I walked in he had put together two bar stools and there was a bouquet of beautiful flowers and champagne chilling. We sat there in OUR empty house taking in the moment.
How long was the planning process? Did you think it was enough time?
We planned the wedding in 7 months. I am such a planner and knew that if I gave myself more time I would be an anxious wreck. I felt like I had plenty of time to get everything together. It doesn't hurt having an amazing wedding planner!
What was the best advice you received when you were planning your wedding?
To not worry about the little details the day of the wedding because at the end of the day you are going to be married to the love of your life!
What tips & tricks (can we use "hacks"?) can you share future brides that you yourself have learned during and after your wedding?
When getting proposals from our florist and other décor vendors I found that it was easy to save TONS of money by researching and buying items on your own. I saved hundreds of dollars by buying hurricane vases and candles on my own versus through a vendor.
What were some challenges you faced while planning your wedding & what did you do to address them?
Our wedding and reception were both outdoors at a beautiful lakefront mansion. We had planned on hanging tons of market lights and chandeliers across the backyard. When I was able to check the weather 15 days out it was a 90% chance of rain on our wedding day!!! A horrible storm was making its way from up north. I did tons of researching past weather patterns that day in Tampa for the past 5 years and it NEVER rained ONCE! A week before the wedding we had to rent a tent. It poured the entire morning of our wedding day so they had to set the tent up and moved all of the market lights and chandeliers inside the tent. It stopped raining two hours before our wedding and cooled down which made for a beautiful night. A cool front followed the rain so there was no
humidity and the tent actually ended up being more beautiful than I could have imagined!!
What inspired your wedding décor? Why did you choose the things that you did?
We both knew that we did not want a typical wedding venue. SO fortunately friends of ours have a beautiful home on Lake Odessa and were more than happy for us to use it. Once the venue was selected it was easy to decide on the look of the evening. Outside, romantic, garden, beautifully lit with candles and chandeliers….DONE!
What was the wedding budget?
35,000
Where did you save the most money?
The venue! IT was free!
What was the biggest expense?
Food
How many guests were invited in your wedding and what was the final guest count?
133 invited and 94 came.
How did you narrow down your list?
We just thought of who we would actually want to share our special night with.
What songs did you use during the ceremony?
I walked down the aisle to the traditional wedding march played by a string trio. We walked back down the aisle to The Beatles, In My LIfe.
Where did you go on your honeymoon?
We went to Hawaii. We spend 5 nights in Maui and 4 nights on The Big Island and staying on the North Shore.
What are you most excited about for the future?
Traveling together and starting a family together. My husband has two children from a previous marriage and I am excited to share their life with them. They are wonderful kids and I love them dearly.
Do you have advice for couples still in the planning process?
Enjoy every moment because it flies by!! Try not to stress about every little detail because it will drive you crazy!
What is the overall story for this album?
Romantic fun night
What inspired the wedding day outfits?
I wanted our wedding party to wear something they could wear again. Our colors were blush and champagne. The girls all wore different dresses in the same color. They guys wore a light grey suit with champagne ties.
What was your favorite part of the day?
The whole day was amazing. But if I had to pick one moment it would be holding hands with my husband during our ceremony and walking down the aisle after saying our vows because in that moment I knew we were husband and wife.
Was there any Do it Yourself (DIY) projects? If so, can you describe them in detail?
We had a smores bar that my mom and I put together. We had three different clear jars that we placed white and pink marshmellows in. we placed chalkboard tags on each of them. It turned out very beautiful!
Was there a theme for the ceremony and reception?
Just lots of beautiful lights! Since it was outdoors we had as many candles and lights lit to make a beautiful romantic atmosphere.
What part of the ceremonies do you think was the most memorable for you? (& your guests?)
My step daughter surprised us and sang "All of Me" during the reception. She is 12 and has a beautiful voice. It was so memorable and special

Vendors
Photographer: Robin Reiss Photography
Makeup Artist: Lindsay Does Makeup
Musicians: The Dillingham String Quartet
Floral Designer:Botanica International Design Studio
Lighting: Tampa Lights, Inc.
Musicians:The Cover Band
Equipment Rentals: WISH Vintage Rentals
Caterer:Puff n Stuff Catering
Cake Designer: Sylviatampacakes
Event Planner: Winsor Event Studio