Colin and Anastasia love hanging out at the beach so much that they decided to have a nautical themed wedding. For a pop of color, they incorporated navy blue, white and orange on their special day. Anastasia also wanted a vintage glam for their wedding, that explained some of the non-nautical decors you see. The weather was beautiful, it went well for the day. I love the cute orange lanterns along the ceremony aisle, a perfect combination with the grass and rose petals. See more photos below. And scroll down to read the details of their wedding from the bride herself.
Click image to enlarge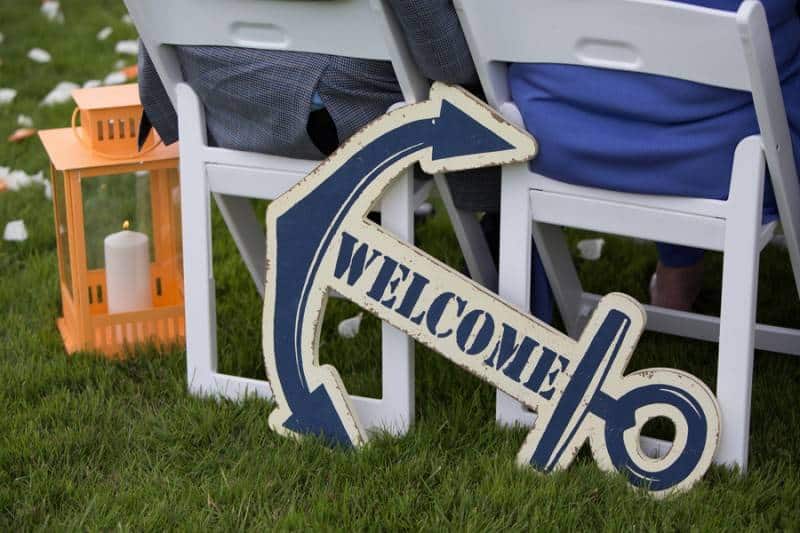 2

Like. Click to Vote
>
Our Story:
My husband, Colin, and I met through mutual friends from college. It was definitely a case of opposites attract.
We Are A Perfect Match:
Whereas I'm a planner who focuses on long-term goals, Colin is great at not taking things too seriously and making me laugh! We found that our differences complemented each other. We're both also very close to our families and spend every Saturday and Sunday at family dinner
The Proposal:
Colin proposed while we were collecting sea glass on the Washington coast. He pretended to bend down to collect a piece of sea glass and instead pulled out a gorgeous vintage ring. The moment was wonderful and of course I said yes.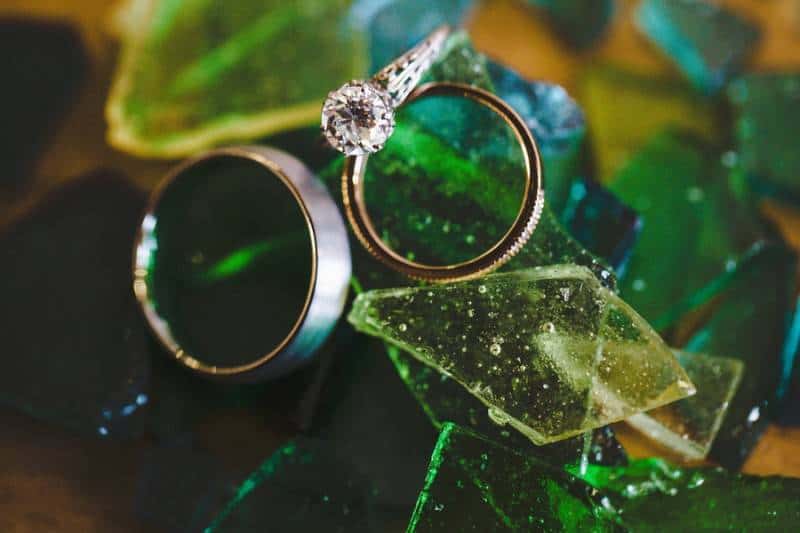 The Theme:
Nautical Vintage/Glam
The Do-It-Yourself (DIY) Projects:
I did a few DIY projects but my favorite the arch for the ceremony -a pair or vintage french doors decorated with sea glass that Colin and I had collected. I bought the doors off of Craigslist, had help from Colin's dad refinishing them, and then used glue and resin to create a stained glass design with the sea glass.
Wedding Decor Inspiration:
I was inspired by Colin's proposal and wanted to incorporate the Washington Coast into our wedding. At the same time, I'm drawn to classic/vintage weddings so from there the Vintage/Glam/Nautical theme was born.
Wedding Day Outfit Inspiration:
I'm guilty…I love wedding dresses and have watched almost every season of Say yes to The Dress so picking out my wedding dress was fun for me. I gravitated toward a classic/minimalist aesthetic in my everyday life and wanted to stay true to that on my wedding day. I fell in love with an Amy Kuschel sample gown I found at a small local boutique. I accessorized with a horsehair ribbon trimmed veil for a classic but modern look. A My bridesmaids all wore navy dresses that captured the vintage nautical feel. The groomsmen wore grey tuxedos with matching argyle socks.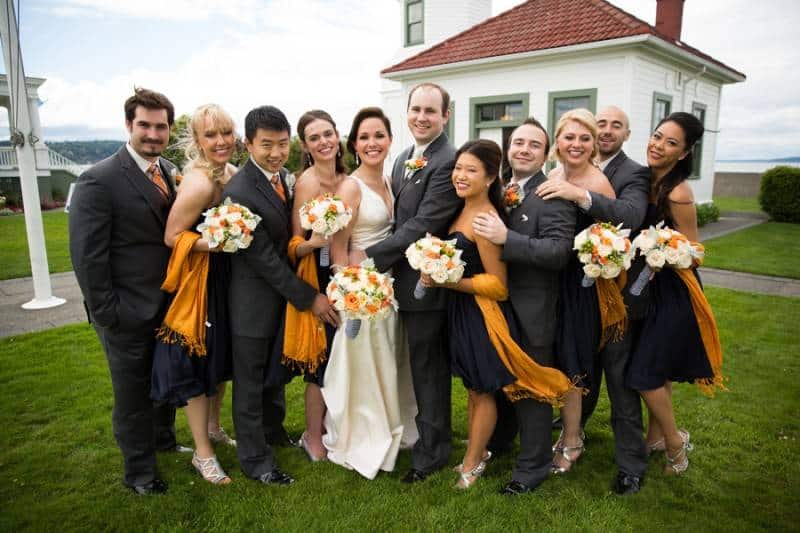 The Planning Process:
We took 14 months to plan the wedding that gave me a good amount of time to accomplish everything without stressing out. What was the best advice you received when you were planning your wedding? All of the advice on A Practical Wedding! Focusing on how you want the wedding to feel for you, your partner, and your guests.
Tips & Tricks For Future Bride:
Do what feels right for you and toss everything else.
The Challenges We Faced:
Managing budget vs. Expectations were the hardest part. We set ourselves up for success early by choosing a venue that allowed me to select my vendors, leaving room to spend more/less depending on how important each aspect of the wedding was to us,
Money Matters:
25,000
The venue we choose was reasonably priced because it is owned by the City of Mukilteo. At the same time, there was high demand for the venue, and we got lucky because their reservation process involves a lottery.
Catering/Food was the biggest expense.
The Guest List:
120, final count around 115
We didn't have to narrow down the list too much because out venue could accommodate up to 250 guests.
The Songs:
We had a three piece guitar band play during the ceremony.
Our Honeymoon:
Cruise around the Mediterranean
Excited About:
Building a life and home together with my husband. Also, using all my wedding knowledge to help my friends plan! (I love weddings)
Planning Advice For Couples:
Figure out what feels right for you in terms of lifestyle and budget and then don't stress out too much about the details! Also pick vendors that you like and trust.
Favorite Part Of The Day:
We took the time to get to know out officiant, Pat Stimac, and then with her help worked on crafting a ceremony that felt true to us. We chose to honor our families by giving roses to our moms and we asked Colin's sisters to do readings. Making the ceremony special to use helped our guests to know us better as a couple and set a wonderful, loving atmosphere for the rest of the day.
The Highlights From The Ceremony And Reception:
Ceremony highlights was listening to the vows that Colin wrote. The reception was fun all around. I was so happy we pulled off our first dance without a hitch and I also enjoyed dancing the hora with all of our guests. Also our photographer, Jenny GG was awesome! She made us laugh so many times and kept the whole day really upbeat.
Most Memorable Moment:
We wrote our own vows. I had several guests come up to me afterwards saying they really enjoyed getting to know us better as a couple.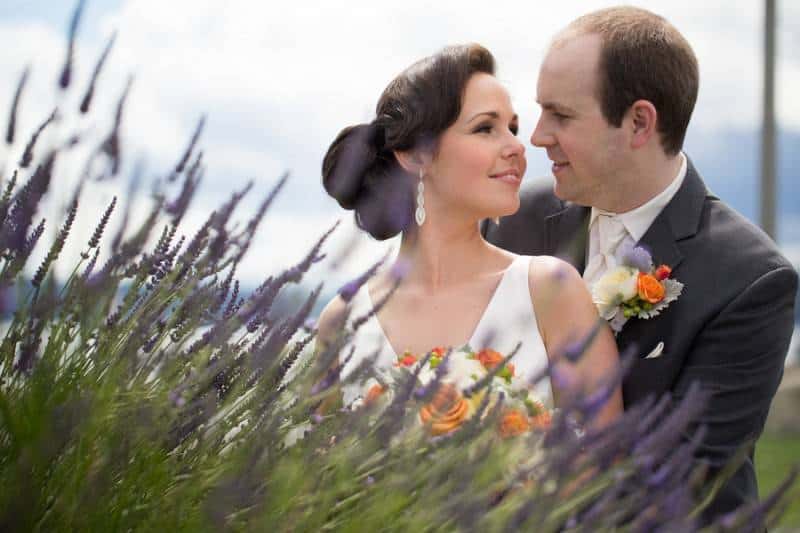 VENDORS
Photographer: Jenny GG Photography
Officiant: A Heavenly Ceremony
Dress Designer: Amy Kuschel
Shoes: Badgley Mischka
Event Planner: Blush Celebrations
Ceremony and Reception Location: City of Mukilteo – Rosehill Community Center
Bridesmaid Dresses: Monique Lhuillier
Hair and Makeup Artist: Pacific Brides
Dress Store: Something Blue Bridal Boutique