"A Thousand Miles" by Vanessa Carlton came on as I was reading Chris and Natalie's story. I suggest you listen to it as you browse the gallery and read on, too. The lyrics speak so much of how they must have felt for each other during their long distance relationship. It's also a sweet and meaningful song that matches the theme of this amazing couple's wedding, which was a romantic and rustic affair surrounded by the beauty of nature. The whole event was exactly how they wanted it to be, down even to a certain change at the very last minute. Read on to know what I'm talking about. Congratulations on your happily ever after, Chris and Natalie!
Click image to enlarge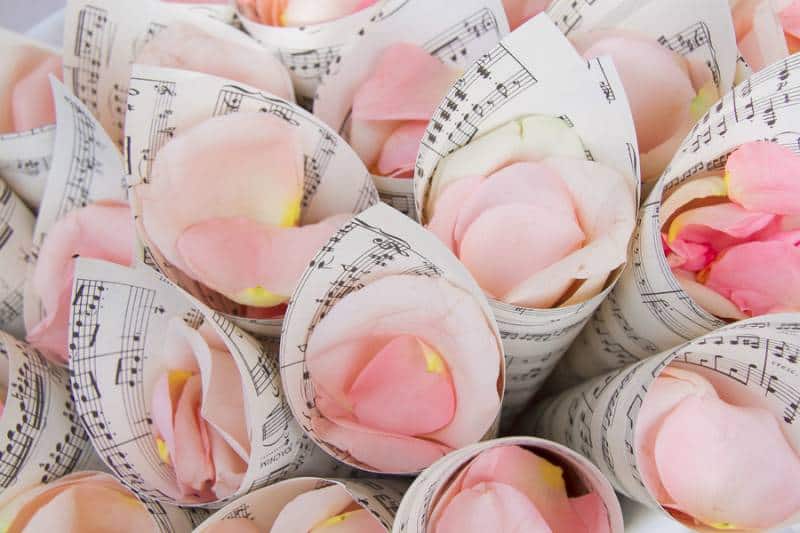 Like. Click to Vote
>
Our Story:
My former brother-in-law and Chris met while they were in the Army, becoming best friends and went through a few deployments together. Chris and I had crossed paths about 5 years before we "officially met", when I visited my sister and brother-in-law in North Carolina. Five years after that "first meeting", Chris came to visit his best friend in Texas. My sister invited me over for dinner to meet Chris. From the moment we laid eyes on each other, there was definitely a spark and that's where it all began. The first two years of our relationship was long distance. Many, many, MANY plane tickets between Texas and North Carolina were purchased. Thanks Travelocity. The third year, Chris moved to Texas with me for a year before he moved to Virginia where I soon followed. So over four years later, and after a lot of hello and goodbyes, we are now beginning our happy ever after.
We Are A Perfect Match:
We work well as a team and we communicate well. I feel that whatever I cannot do or am not good at, he makes up for that and vice versa. And we encourage each other!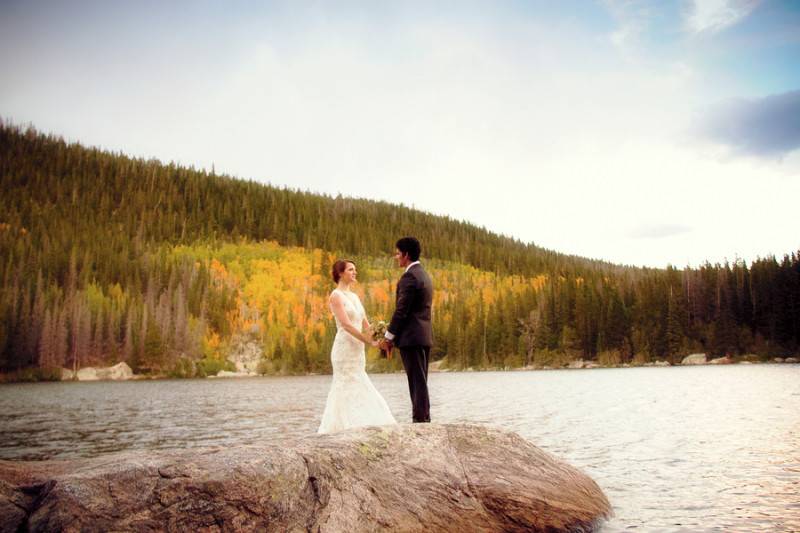 The Proposal:
Chris and I had talked about getting married before, and there was no question that it was a path that we wanted to travel down together. So when he asked me to be his wife, it was a very special moment to me, of course! There are two parts to the story, the first one being his first attempt at proposing, that I, unknowingly, foiled.
Part One: So, after bringing marriage to the table, he had asked what kind of ring I wanted and having about a million different ones picked out via Pinterest, I sent my favorites his way. This went on for months. He would look at them, unimpressed or no response at all. I found quite a few that I really loved and had just left it all in his hands, UNTIL I found THE RING. I sent him pictures and titled it THIS ONE. All unbeknownst to me, he had already purchased a ring and had plans set in motion. Working secretly with my sister and mother on a proposal at a 5 star hotel in downtown Dallas. Being the man that doesn't want to disappoint me and get me what I really wanted, he cancelled everything and had to start from scratch to get me my dream ring. (Now that I know this story, I want to pull my hair out a little, but the actual proposal was very genuine and unforgettable.)
Part Two: We had just moved into our new, and very empty, townhome in Virginia. He had to go to work for just a little bit, he said. Hours had passed and I was doing laundry downstairs, and I heard him come inside upstairs. I went to the back door to let the dogs inside and when I turned around, he was standing there with a dozen roses. He apologized for being late, and I thought that it was sweet for him to have gotten me flowers for being late but a little confused nonetheless, (not comprehending what was going on), and then he gets down on one knee and asked me to marry him. He totally caught me off guard, but obviously my answer was YES!
The Planning Process:
We had about 8 months to plan and it was plenty of time for our small wedding! Thanks to Pinterest, I knew what I did and didn't want. It also helped that one of the first things I did was find a wedding planner! Rachel helped keep me organized and let me know when things needed to be done. A definite must.
Best Advice We Received:
"Do what YOU want to do." Go with your gut on things you like and do not sacrifice your interests because you think someone might not find it as important.
Tips & Tricks For Future Brides:
A goal I had before the wedding was each week, try to accomplish at least one or two things for the wedding. Whether it be making phone calls, researching ways to cut costs or searching for vendors. It didn't feel as overwhelming towards the time of the big day because most everything else was handled, but a big portion of that responsibility was on my wedding planner, who handled it like a champ!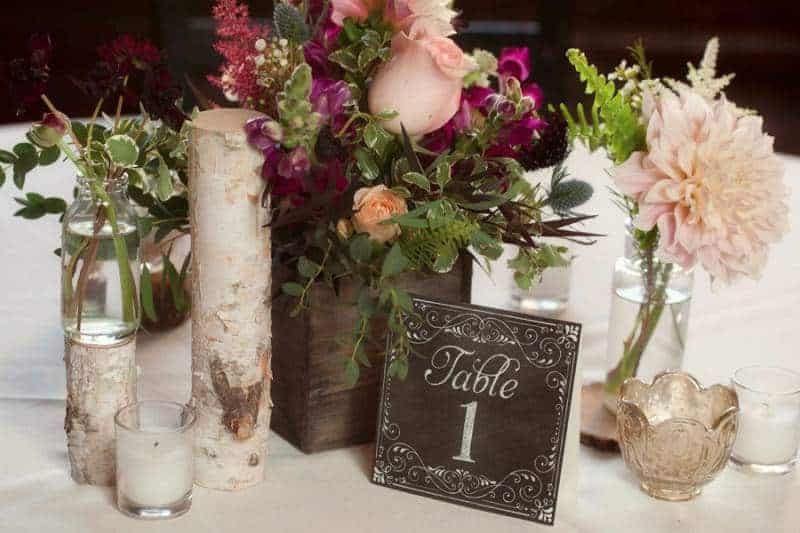 The Challenges We Faced:
Getting an accurate guest count! Because our wedding was a destination wedding and almost everyone was traveling from out of state, I sent out Save The Dates and invitations many months in advance to give guests an opportunity to plan. I understood many people weren't going to be able to make it, but with planning for a certain size of a wedding, it's hard to determine if you're going to need to rent a big room for $2k more, or a small room and save money. It was a bit of a gamble, but it turned out great. Our venues for the ceremony and reception were great and accommodating. We were given many options as to what we could do. Just don't be afraid to ask. We wanted a Saturday night wedding, and ended up having a Sunday noon wedding and saved about 5k in the process!
The Theme:
We just let nature speak for itself and highlighted it with rustic, romantic touches. The ceremony was held outside with the mountains as the backdrop so there was not much that needed to be added to that. Not sure if anyone would have noticed if something was missing anyway! The reception was held in the gorgeous Twin Owls Steakhouse. A rustic, log cabin type of feel to it. My florist, Angela Rohr, did a beautiful job creating a romantic look to the room with gorgeous arrangements, and nice accents like reclaimed wooden boxes, glass bottles of varying colors, lace-bound books and shimmering tea lights.
Wedding Décor Inspiration:
Getting married outdoors in the mountains makes the decor decision so easy, you don't really need much. Let nature speak for itself! I just wanted our wedding to feel romantic, rustic and not over-thought.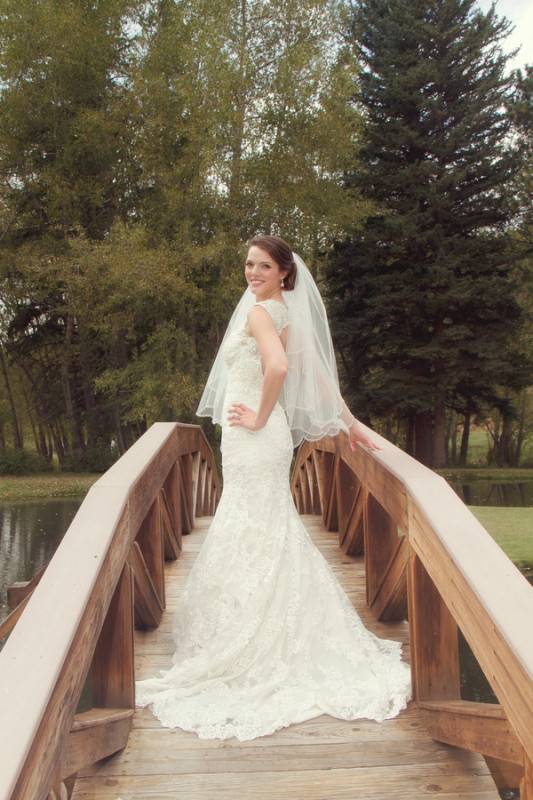 Wedding Outfits Inspiration:
Oh my dress!! Every time I looked at my dress, I found some new and gorgeous detail I didn't notice before. I got my dress in Dallas, TX at Terry Costa. It is an Allure Bridal gown, Spring 2014 collection. I knew I wanted a lace dress with an open back. I had seen so many of the Monique Lhuillier dresses, but as soon as I saw my dress with all of the extra detail, I was in love. It had lace, beading, crystals, the open back, a gorgeous train, flattering neckline and held everything in it's place without being too much. I'd wear it every day if I could. 🙂
Chris was just as serious about his suit as I was about my dress. We wanted a charcoal gray suit and went with a Hugo Boss suit from Nordstrom. He looked like a GQ model on our wedding day.
Our Do-It-Yourself (DIY) Projects:
Yes! I made our wedding favors. I figured what's more cozy in the mountains than cozying up with a hot cup of coffee/hot chocolate/tea. I ordered little sachet bags and made a stamp block using letters and stamps from Michael's to customize each bag. Each bag had either gourmet coffee beans, hot cocoa with marshmallows or chai tea.
I also made the banner the flower girls carried down the aisle with heavy fabric, acrylic paint, a wooden dowel and ribbon. I created the dessert table banner "Love is Sweet" with burlap scrap squares and white paint and string. A lot of free hand going on here! I used music sheets from an old bookstore to make the flower petal cones for the send-off.
Money Matters:
Our wedding budget was 10k. We saved the most on the lodging for the first 3 nights of our wedding, which was included in our wedding package. And our biggest expense was the food!
You Are Cordially Invited:
85 were invited, guest count was 34. We made sure to include only close family and friends. No acquaintances.
The Songs:
Processional – Canon in D
Bride's Entrance – "Latch (Acoustic)" by Sam Smith
Recessional – "Forever and Ever" by Randy Travis 
The Honeymoon:
We stayed in Estes Park, CO. We just enjoyed the beautiful scenery and hiked around Rocky Mountain National Park. And we're very excited to go to Colorado on our anniversaries!
Advice for Other Couples:
Hire a wedding planner, if not for the entire planning process, at least for the day of. BUDGET FOR A WEDDING PLANNER!
Favorite Part of the Day:
Walking down the aisle. It was a last minute decision, well more like last second. There were two different walkways to take to the altar. The one we had practiced on was the short one. I was standing there with my mom and the wedding venue coordinator. Music was playing, the groomsmen had already started walking and the bridesmaids were about to start and I asked the coordinator, "Isn't there a long aisle to walk down?" and she said "Yes! Do you want to do it? It's now or never, honey. It's your day!" and I just said, "Let's do it!" So we hurriedly walked around the corner to come down this dramatically long aisle. As soon as my bridal march song started, and I came around the corner, the sun came out and it was like all the stars aligned. And I could see my future husband waiting for me. It was a truly magical moment to me.
Highlights from the Ceremony and the Reception:
At our reception, my brother in law, Matt, played the guitar and sang Dustin Kensrue's song, Pistol. A song that describes us pretty well. Chris loves to hear Matt play, as do I and it was very special to have him sing at our wedding.

A Memorable Moment: 
The most special to me was the walk down the aisle and my first dance with Chris. Also, my sister gave such a beautiful speech that I had to try my hardest not to do my ugly crying face. I had several people tell me that their favorite was my walk down the aisle and my dance with my mother. My father has Multiple Sclerosis and could not make it to my wedding, so I had his picture in a mini frame, fastened to my bouquet so he could still "walk me" down the aisle. All in all, it is so hard to pick my favorite part. The entire day could not have gone more perfect and I am truly blessed.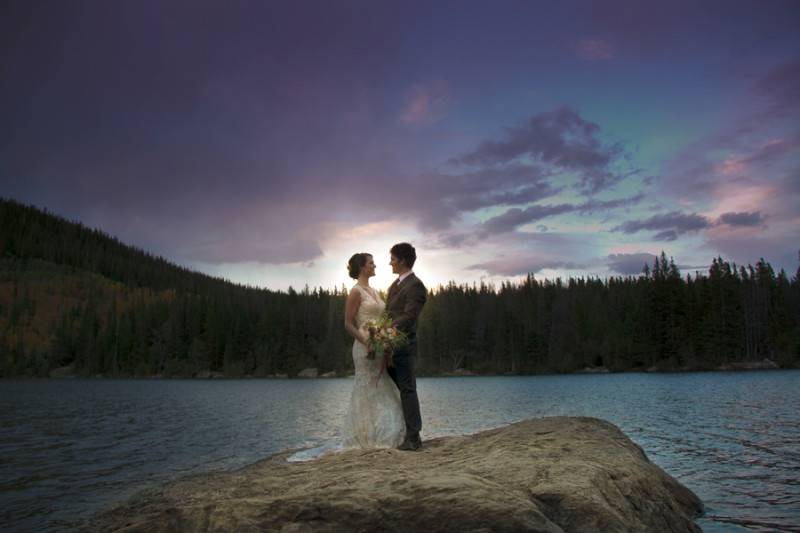 VENDORS
Photographer: Mollie Tobias Photography
Dress Designer: Allure Bridal
Shoes: Audrey Brooke
Tuxedo and Men's Attire: Hugo Boss
Ring Designer: Jared Galleria of Jewelry
Invitation Designer: Minted
Dress Store: Terry Costa
Officiant: Toby Austin
Caterer: Twin Owls Steakhouse at the Black Canyon Inn
Floral Designer: Bella Lu Floral
Ceremony Location: Black Canyon Inn
Cake Designer: Colorado Rose Cake Company
Hair Stylist: Hayley Styles
DJ: Party Pro DJ's
Event Planner: Rachel Austin Events
Reception Venue: Twin Owls Steakhouse at the Black Canyon Inn