From Katie:
The temperature in Boston is starting to drop and fall is definitely in the air. Don't you just love the smell of a crisp autumn afternoon? Soon the leaves will be changing colors, pumpkins will be picked, and hot apple cider will warm our bellies. I was inspired this week by the gorgeous hues our New England foliage takes on this time of year – bright pinks, pumpkins and golds to name a few. I chose to compliment these with a vibrant turquoise, which adds a serious pop of color to the palette.
Oh, and I just have to mention the pumpkin whoopie pies. Have you ever tasted one of these tiny treasures? They are my absolute FAVORITE Fall dessert. What better way to treat your guests than to offer these morsels as an after dinner sweet? I bet they can't eat just one!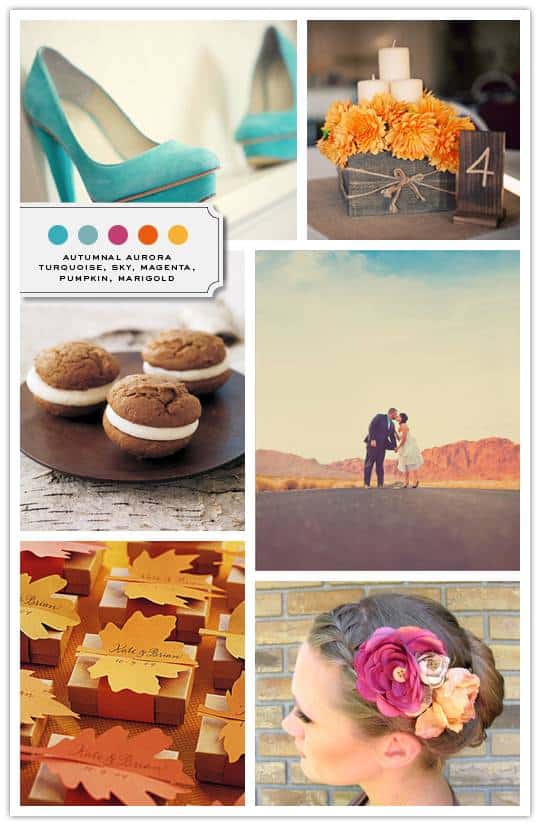 • • ♥ • •
Inspiration Board Credits:
Shoes, via 100 Layer Cake
Centerpiece, via The Knot
Whoopie Pies, Martha Stewart
Couple, W. Scott Chester
Favors, Rebecca Thuss
Hair Accessory, Hair Sew Vintage
• • ♥ • •
Katie Murphy is the founder and editor of Aisle Candy, a sparkling new wedding blog offering the utmost in sweet inspiration for the modern bride. She loves to share her passion for beautiful photography, pretty paper, stellar design and unique weddings with others in the industry and modern brides-to-be. A graduate of Boston College, Hallmark Institute of Photography and former student at Massachusetts College of Art, she works as a graphic designer and marketing director. Katie grew up on Cape Cod and currently lives in Boston, Massachusetts.