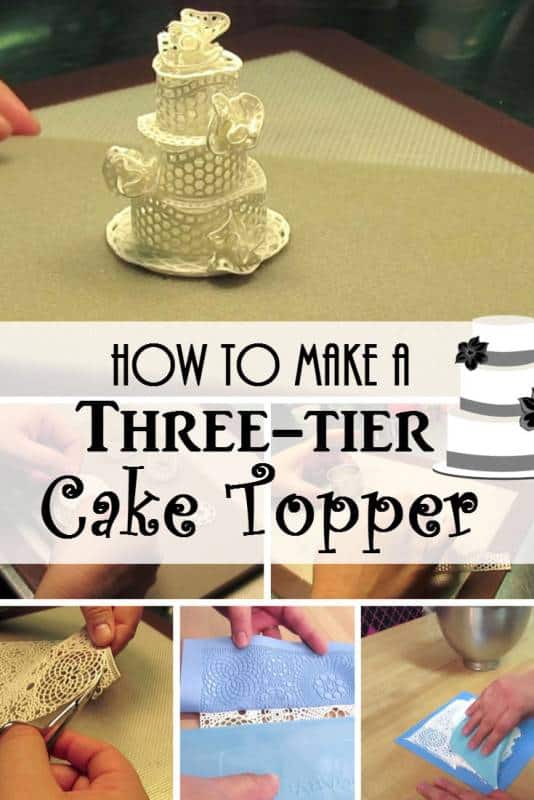 Make a statement with a three-tier cake topper made from Sugarveil icing! This charming topper takes a bit of patience but fun to make. Read on to take step-by-step instructions on how to make unique, fabulous decor for your cupcake or wedding cake.
What you need:
Scissors
Boil a half cup of water and mix some Sugarveil with it. Whip it until the mixture becomes foamy.
Grab the brooches mat complete with various designs of brooches which are essential to create the topper later. Scoop up some icing and add it into the mat. Use Sugarveil fin to smear the icing all over the mat. As you do this, you will notice the designs start to form. Remove the excess icing. Use moist cloth cloth to clean the edges.
Take the lace mat. Add some icing into the mat and repeat the procedure. Leave the two mats for about 4 hours to dry. If the icing is not tacky when touched, then it is ready to be a cake topper.
Now, we are going to remove the icing from the mat. Carefully lift the edges of the icing. If all the edges are lifted, put it facedown and use spreader to gradually take out the icing. This should be done inch by inch to avoid damage to the icing.
Grab the circle cutters. Take the biggest one to create a large circle which serves as the base of the topper. Grab the gum paste and circle cut a large piece.
Take the icing from the brooches mat and cut out one of the circle designs to be placed on top of the base. Choose any design you want, ensure it is large enough to support the three-tier topper. Use scissors to trim it out. Cut various sizes of circle designs which will serve as the tops of the project.
Grab the icing from the lace mat and cut the edges.
Bring back the circle cutters. Choose 1.5 inch, 1.25 inch and 1 inch cutters. We will begin with the largest. Wrap the lace around the cutter to measure how much we need and cut it. Brush a bit of water on the edges to stick the lace together. As you remove the cutter, we are left with the first tier of the topper. Repeat the step with the other sizes of circle cutters.
Assemble the parts on your working area. Start with the circle base, place the first tier. Apply a little bit of water to secure the first tier on the base. Then, place the largest of the remaining circles on top. Follow the same arrangement until you have put the smallest circle last.
Add some decors to your almost-finished three-tier cake topper. Apply small amount of water to secure them.
And you are done! A fabulous, dazzling cake topper made by your own hands!
Watch How it is Done
Save all the Steps Above using this Bookmarklet