Wedding centerpieces mark one of the most important ceremonies of the special day and people generally choose a floral centerpiece for making the perfect style statement. But easier said than done you have to work really hard to get on board a floral centerpiece that not only has the visual appeal and the right fragrance but even complements other factors like; the mannerisms of the food to be served, the season, the wedding theme, color palette, linens, attires, season and the venue of the event.
Seems a lot of work? Isn't it. Weddings are known for their floral centerpieces and you'd never want to make an exception by compromising on one of the main highlights of the lavish affair. For your help – here is a guide that combines the best wedding flower centerpieces ideas according to seasons for inspiration: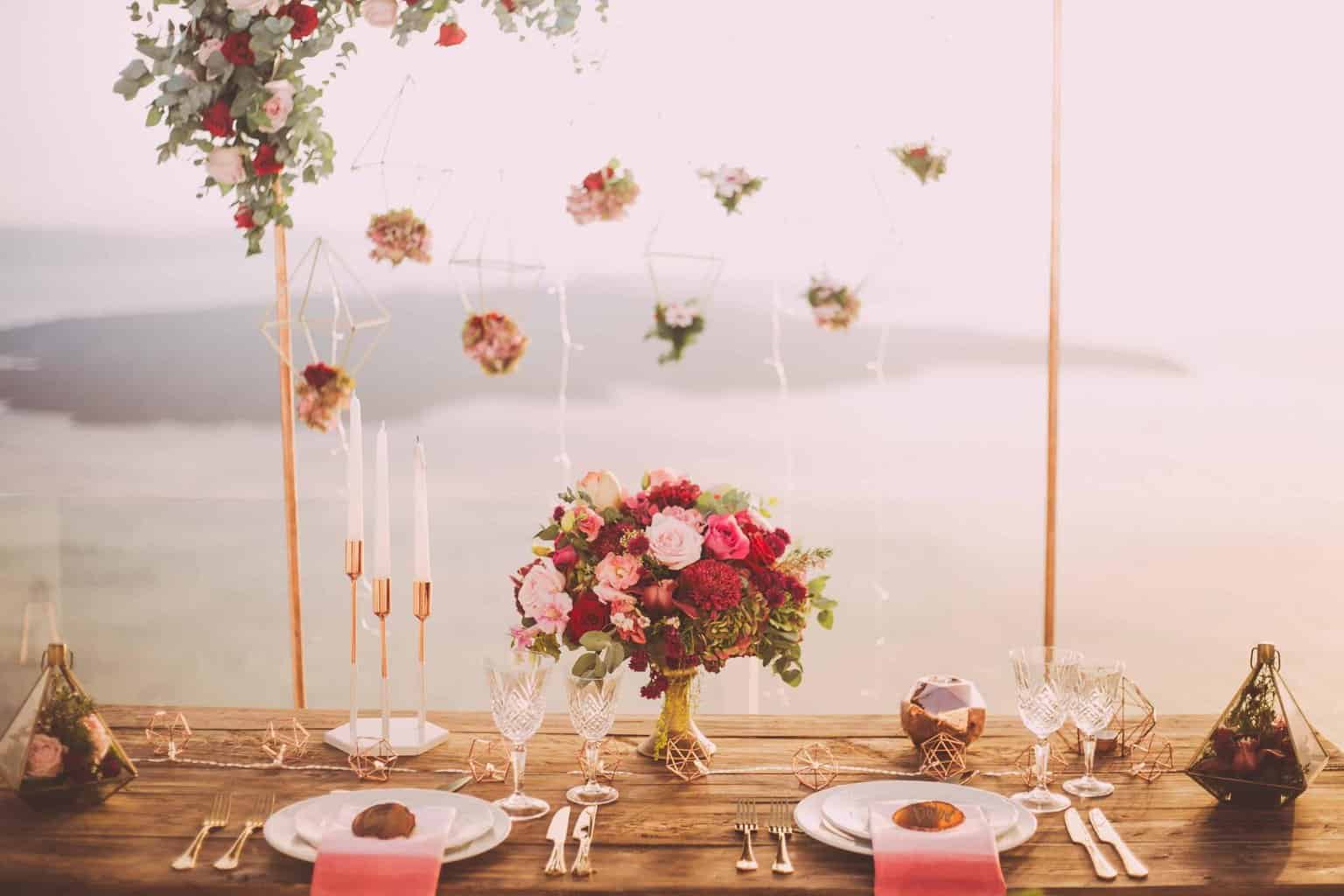 Summer
Summer is usually full of energy and positive vibes and the weather elements give a lot of freedom to you when it comes to wedding flower centerpieces for the season. If you're looking for something trendy but still sophisticated, you can go with mismatched arrangements in the segment. For instance, if you're thinking about a single big bouquet for the whole table then, instead go with three small bouquets with different floral arrangements that complement each other.
Here are 10 centerpiece ideas for further inspiration:
Wildflowers:
While roses, tulips, and lilies often get a nod in summers, you can try using some wildflowers on your reception table and we promise you would not be disappointed at all. The flowers have strong and vibrant hues and your centerpieces will absolutely come alive with their deep purple, oranges, fuschias, and yellows.
Here comes the sunflowers:
Summer and sunflowers almost are synonymous with each other. You cannot possibly have a wedding in summer and not invite sunflowers for the ceremony, can you? The perfect bright sunshine petals look exquisite when paired in various kinds of glasses, wood planter boxes. Tree stumps and woodcuts. You can even use them in vintage or rustic watering cans with or without some greenery and other petals.
Use lighting elements:
You wouldn't believe what simple lanterns and candles can bring to the table in summers. Use vintage lanterns and use simple crisp white roses, hydrangeas and various other accents with greens to make delightful table arrangements.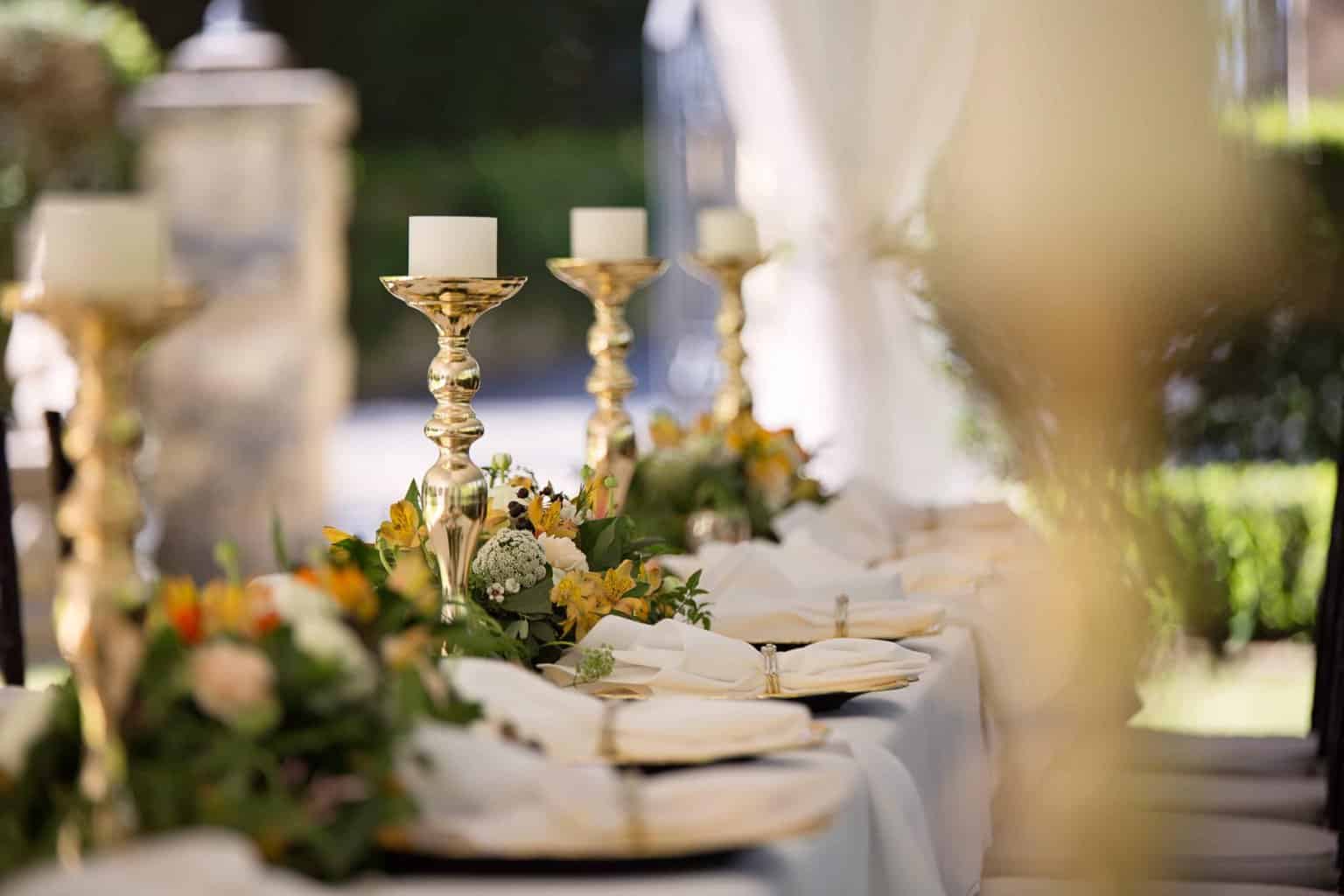 The ocean blue:
You can bring the elements of the ocean to the reception tables by using sea-glass themed drinking glasses circled by flowers in the shades of blue and greens. The following arrangement is both elegant and stunning for any summer theme.
Buy some bird cages:
Buying some white birdcages and then filling them with equally stunning crisp white flowers can give you the perfect reception table centerpieces for a garden or outdoor summer theme.
Have more greens:
In summers you can use a little more greens than usual in terms of the wedding centerpieces and nobody will notice. You can use anything right from eucalyptus to monstera leaves and it will all work out so beautifully. Having more greenery also means that you can cut great costs in terms of wedding décor.
The pretty peonies:
We all can agree on a fact that peonies are the essential summer blooms which look exquisitely beautiful and there is no reason why they can reflect the same beauty for your summer centerpieces. If you're worried about the budget, get 2 or 3 pieces only to make a statement for the whole arrangement and not many. Try using them in silver or gold boxes for maximum effect.
Monochromatic arrangements:
The crisp white elements, when brought to the reception table, can pretty easily stun the audience with natural beauty and elegance. You can use whites of roses, peonies, and some greenery along with wine glasses and glass votive holders with candles to make the whole table sizzle amazingly.
Billy balls:
The flowers can complement the whole summer look of a centerpiece and strike out against various other summer blooms in an arrangement.
The other elements:
Use differently shaped candles with some greens to make that ethereal glow come out of a summer themed reception table. Vases are getting older than old so use tree stumps and woodcuts instead of them to house your blossoms in a centerpiece arrangement.
Winter
Winters are predominantly about cool weather, holiday spirits, snow and cozying up. You can easily go over the top in this romantic season and enjoy full freedom in terms of floral arrangements including; centerpieces. This is the time of year when you let loose tall candelabra and vases or hat boxes with roses and other accents as centerpieces for the reception events or even when the luxurious and glamorous arrangements of crystals and candles get all the glam.
Mason jars and bottles:
This winter maybe you can give a little break to your vases and antique jars and look towards using some cool mason jars and bottles to house flowers. You can even spray paint them into metallic tones and even cover them with all the glitters and golds.
Pinecones:
Pinecones are just about everywhere in winter celebrations and wedding décor. So why not get them on board for the wedding table centerpieces too. You can cut mini trees out of pine cones and use them in glasses, vases, bowls, jars, or even on top of candles or under glass covers. You can also mix the pine cones with flowers, fruits, ornaments and even spray paint them or highlight their edges with glitters
Use wood:
You can bring a whole lot of wood chunks, pieces and stumps to the reception table this season. Mix them well with candles, lanterns, flowers, fruits or you can always add pine cones to make it more of a rustic combination.
Mini trees:
If you're getting married in winter, nothing's better than commemorating the spirit of Christmas and holiday season by incorporating the mini Christmas trees in the reception events. The trees are eco-friendly, highly customizable and can easily be given away as wedding favors. It cannot get any more seasonal than that.
Ornaments:
Although it might sound a little too traditional, I promise that you would not regret using ornaments for decorating your centerpieces in winter. People use a lot of candles and flowers in terms of table décor and after a point, it gets really predictable. You can use them in clear glasses, vases or even in tiered pastry dishes. The ornaments can also be used as mini trees or placed atop candlesticks or even in the traditional forms of overhang décor.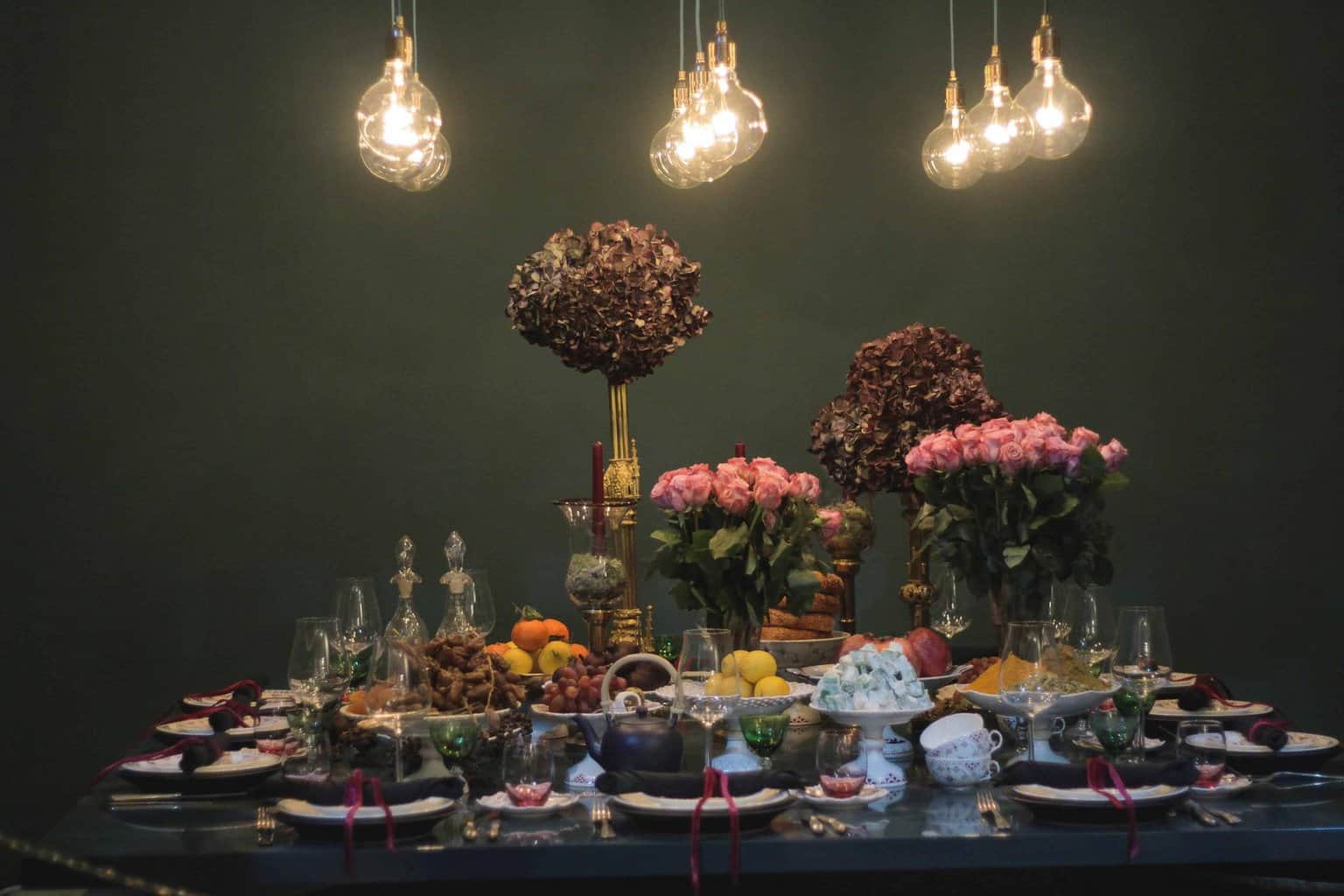 Wine bottles:
If you're using wine for a toasting ceremony, you can use wine bottles as candle holders and even double them for housing certain flowers and greens too.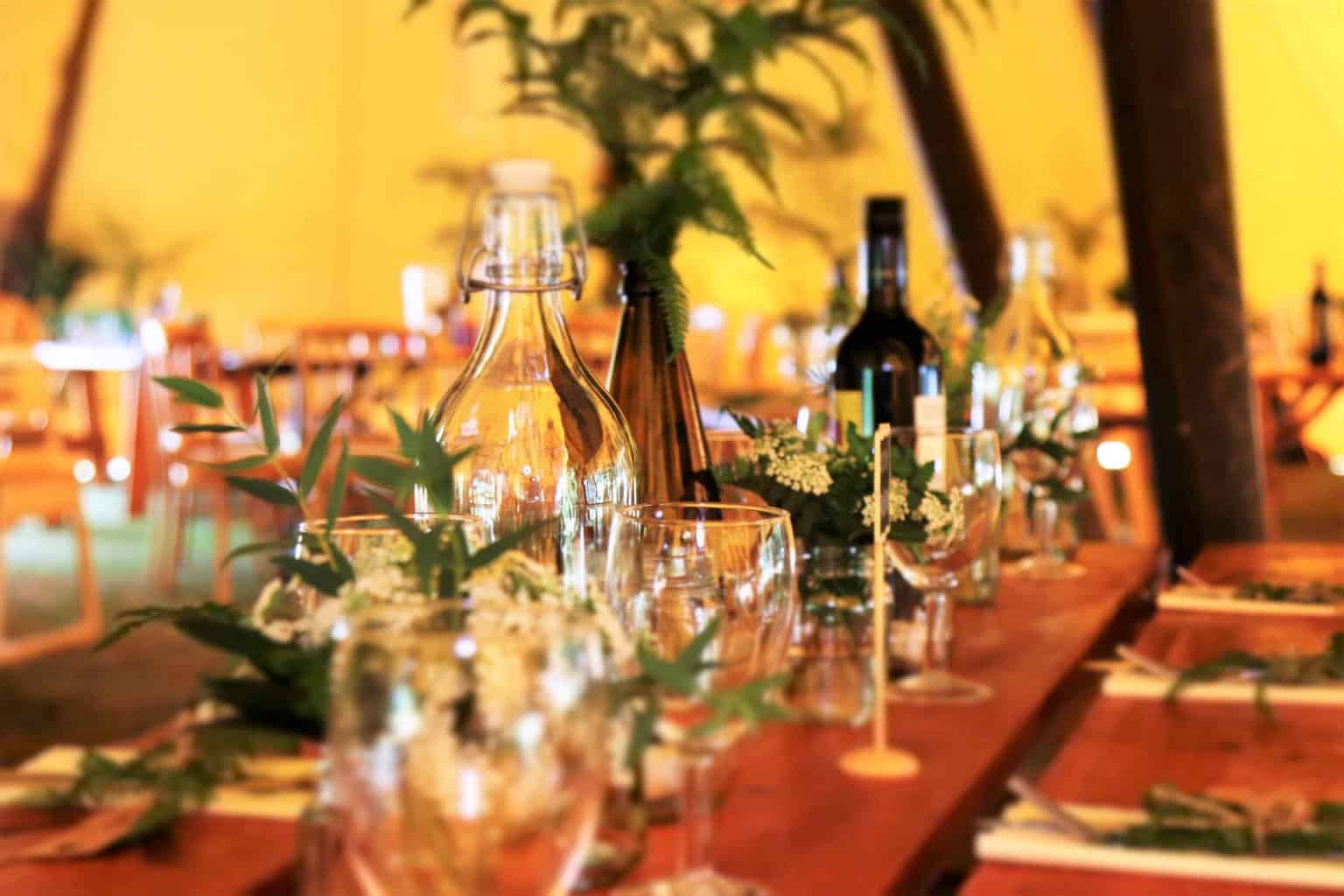 Use lanterns:
Use a vintage black lantern and surround it with assortments of various white flowers including; baby's breath, hydrangeas, and roses.
Use books:
You can get some old books from library sales or even through some online mediums and use them up for centerpieces by stacking up in a pile and wrapping up by a beautiful ribbon. You can use various floral, ornamental stuff or even other things to top them up. The key here is only using classic and vintage books.
Branches:
Simple, dried and skinny branches can be adorned with lights, pine cones, glitters, ornaments and even other little things to bring a perfect rustic feel to the whole reception event. Use some votives around the branch for maximum effect.
Use mercury glass:
Mercury glass votives, sprawling greenery and a lot of silver and gold sparkly snowflakes bring winter elements perfect for a wedding reception.
Spring
Spring is all about fruits, flowers, pastel colors, rebirths and nature coming back to life and normalcy. The season is the perfect balance between the heat of simmers and the chills of winter. You can play with colors, use a lot of roses and wildflowers along with other things like; fruits, pebbles, moss grass and even bamboo elements in centerpieces for the season.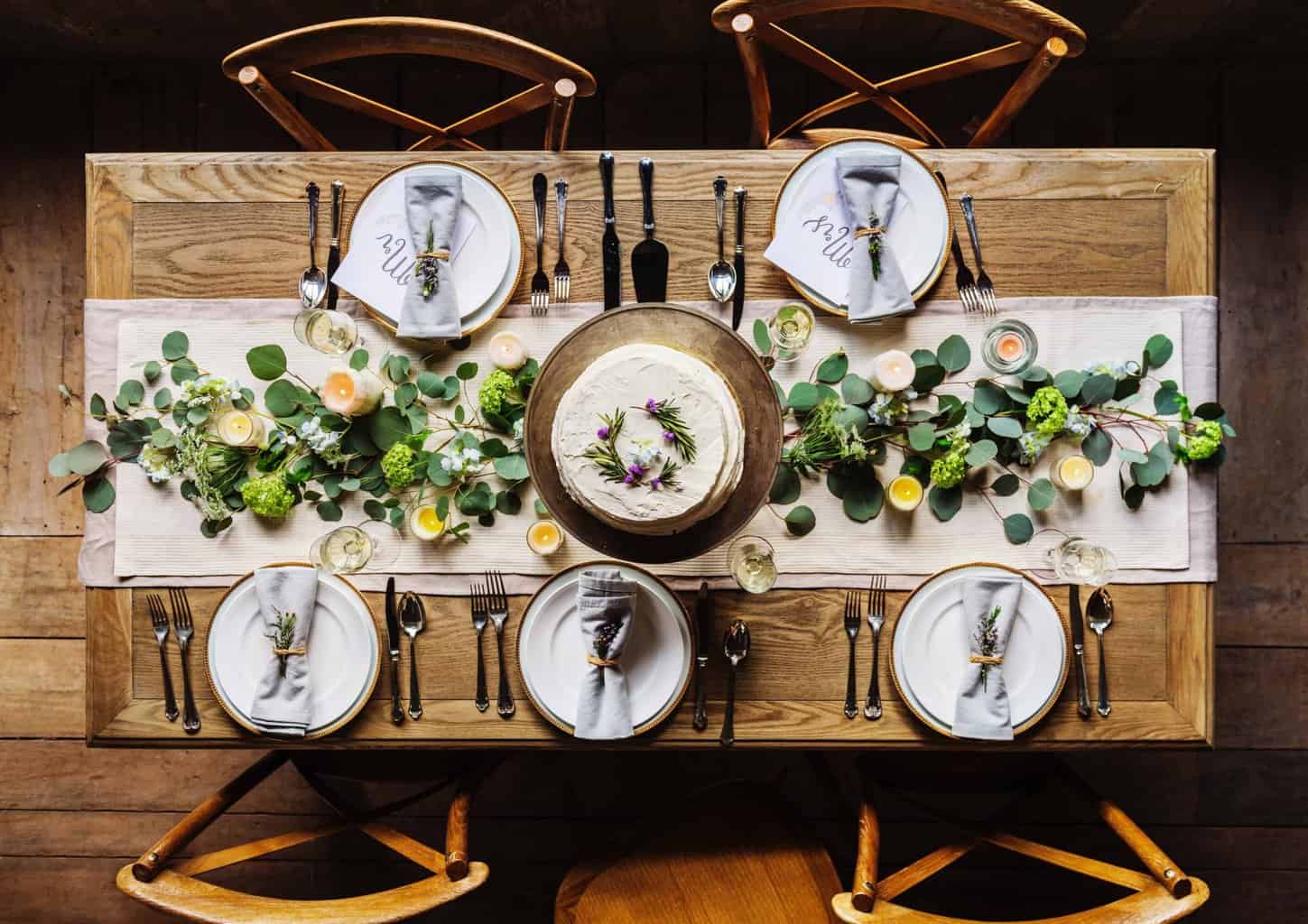 Put the old drawers to use:
You can use some old drawers that are useless and without their cabinets to pose as flower holders. The cup-pull part could be whitewashed to give space for housing flowers.
Rainbow tulips:
One of the most enchanting wedding centerpieces for spring comes to life when porcelain heirloom vases are used to fill different shades of tulips (golds, purples, pinks, and whites) and kept at the center of the table to resemble a field of tulips or even a rainbow of tulips.
Use watering cans:
Watering cans take the place of more traditional floral holders like vases and jars when they are used to fill sprouting daffodils on top of a wooden tray. You can put daffodils bulbs into the potting soil at the beginning of winter so as to provide for a perfect spring blossoming. Add a bird's nest holding a single egg to the trey around watering cans for maximum effect.
A whole lot of pink:
A big glass vase filled with multicolored eggs at the base is nothing but pink when you fill it with pink daisies, pink tulips, pink roses and lavender pink lilac with some green leaves. The pinks of the flowers complement the greens of leaves perfectly in this summer arrangement.
Painted pots:
A perfect DIY wedding centerpiece for spring uses painted pots to hold bold silk blossoms. The pastel-colored pots of blues, pinks, and yellows here complement perfectly with magenta, yellow and red silk poppies.
Blue tinted mason jars:
Go out and clip a few branches full of cherry blossoms and put them into blue tinted mason jars. Just remember to put them straight into the water by keeping the mason jars full of water.
Wildflowers:
A wedding flower centerpiece perfectly reflecting the spirit of spring brings along some wildflowers in purple, yellow and whites and arranges them in blue-tinted masons jars atop a metal basin. Use a yellow and white table runner as a base to support and complement the whole arrangement.
Peonies and roses:
Only a few flower arrangements can look as good as full blossomed pink peonies and white roses in old and classic mason jars. Keep those jars arranged on top of an old drawer or even a wooden box to complete the whole look.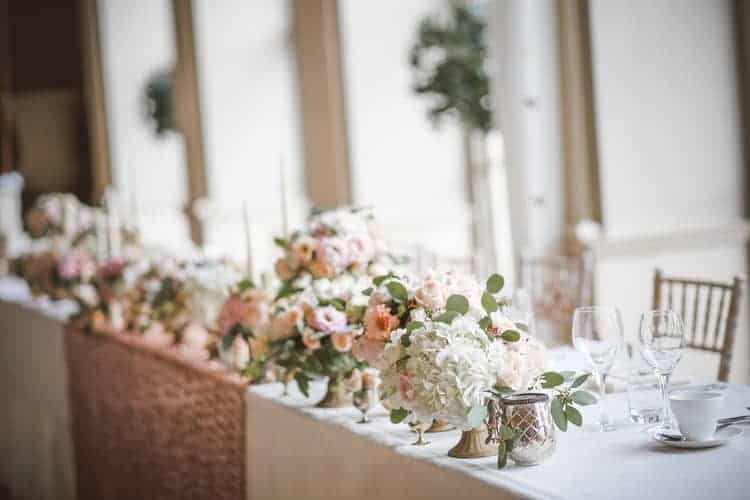 Peaches and birches:
Use a few peach shades and house them together in birch vases as a fascinating spring wedding centerpiece. The orange gerbera daisies and their buds along with white hyacinths perfectly fit the bill as an arrangement in birch containers. For maximum effect, use a peach-hued ceramic vase with a single white ray flower to complete the whole look.
Mason jars in love:
Two mason jars tied together with a brown grosgrain ribbon in the form of a bow holds some white blooms like; white roses, stephanotis, and baby's breath to make a stunning spring wedding centerpiece.
Autumn
Autumn is known for its rich colors and cooler temperatures (especially straight after the summer heat). The season has almost overtaken summer as the most preferred and popular season for couples to get married. You can use mums, dahlias, sunflowers, gerbera daisies, garden roses and gardenias more in your arrangements and even play along with berries, fruits, pinecones, succulents, greenery. When it comes to shades, tangerines, burgundies, golds, and some other darker shades easily get the nod in the season.
Use branches:
Branches are a good way to embrace the outside weather elements at your wedding reception. You can almost imagine falling leaves moment when you adorn them with candles, crystals and a few wedding accents for the décor.
Ceramic vases and pumpkins:
Using ceramic vases and glitter pumpkins can really be one of the most stunning wedding centerpieces for the fall. The glitters and whites can almost make it hard for people to look away.
Succulents:
Succulents are available throughout the year to make wedding décor and floral arrangements special and they can surely fit the bill as far as your fall wedding centerpieces are concerned. Use them in rustic baskets for a delightful combination.
Mini pumpkins:
Use a few colored (white and orange) mini pumpkins and fill them in tall and slim clear glass vases to make an enticing and stunning combination for a fall reception. You can also use some orange or peach wedding accents to enhance the arrangement.
Trees:
Using tree stump vases as flower holders can be both creative and delightful for the fall wedding reception. You can also use tree logs as candle holders and burlap on the wooden slab as an alternative arrangement.
The perfect DIY idea:
You can use tall and slim clear glass cylindrical vases and fill them with water so as to float candles on the top. Use some twigs at the bottom of the vases for maximum effect.
Pinecones and candles:
The combination of pine cones and burlap wrapped candles may strike you as a pretty decent and striking fall wedding flower centerpiece for the reception because it pretty much is.
Acorns, walnuts, and cranberries:
Use acorn, walnuts, and cranberries and fill them in clear glass vases or bowls to make a perfect statement for the fall reception.
Yellows:
Yellow branches and leaves perfectly give an ode to the changing colors of autumn. So why not use them in tall glass vases to create an impact and strike a chord with nature in terms of your fall reception.
Mason jar and corn kernels:
Use a mason jar and fill it with corn kernels to make a simple yet stunning arrangement for the fall reception. Also, do not forget to use a candle on top of corn kernels to complete the look.
Wedding centerpieces are one of the highlights of all sorts of wedding ceremonies right from rehearsal dinners and bridal showers to the original reception event and you would not want to get them wrong at any cost. I hope we did some good and put up enough seasonal centerpiece ideas to inspire you.
Now it's your turn? Tell us about what is your perfect idea for seasonal centerpieces to inspire us.