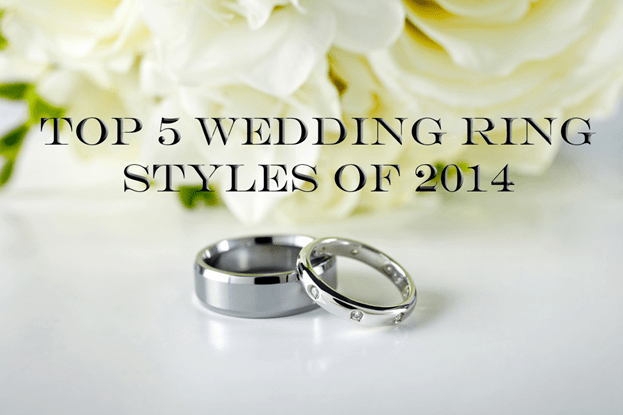 Just 50 years ago, picking the top 5 wedding band styles would have been nearly impossible.
That's not to say people weren't getting married or they weren't exchanging wedding bands. On the contrary, following World War II marriage rates rose steadily in the 1950s and '60s and those couples continued the tradition of exchanging wedding rings.
But in carrying on tradition, couples became beholden to it. Simply put, if you were getting married in 1964, your wedding ring choices were gold, gold and … well, more gold.
Fast forward to 2014, we're spoilt for choice when it comes to wedding ring styles. Want gold? Is that going to be yellow, white, green or rose gold? Looking for something modern? There are tungsten wedding rings, cobalt chrome and even titanium.
The point is, today's wedding ring options are nearly limitless. Each year, a select few wedding rings styles rise to the top as the best of the year; here are the most popular wedding ring styles of 2014:
Rose Gold Wedding Rings
Move over white gold, its rose gold's time to shine.
This year is going to be a big year for rose gold jewelry. With its unique copper-reddish hues, rose gold has always been a stylish choice for couples on the forefront of style but has forever been a distant third to yellow and white gold in terms of wedding bands (sorry green gold, you'll probably always be fourth).
Whether as a solid style or as a complementary inlay lending its warm tones to another material, you're going to see a lot of new rose gold wedding ring styles popping up everywhere. Expect this antique looking precious metal to finally reach the mainstream in 2014.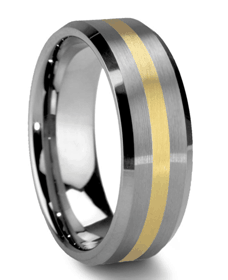 Brushed Finishes
While the emergence of rose gold is all about unique color, this trend of brushed finishes is gaining steam because of contrast.
Matte and satin finishes with their nuanced appearance are quickly surpassing the one-note shine of polished wedding bands. Maybe it's the elegant subtlety of brushed finish rings or the aversion to persistent fingerprinting on high polished surfaces that is making these rings so popular, who can say. Either way these contrasted styles of wedding bands will be prevalent in 2014.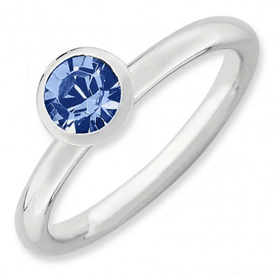 Colored Stones
Variety is the spice of 2014. Wedding colors, birthstones or just favorite color, colored stone wedding ring styles are going to shine. Diamonds may always be the norm but it's pretty easy to see the appeal of these new styles. It's all about choice. Couples can customize unique rings by simply selecting a color they love. With a larger range of colored, created and natural stones in a rainbow of colors the choices are unlimited.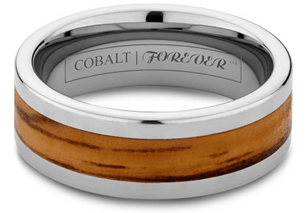 Wood Inlays
I know what you're thinking. Wood? In a wedding band?
Again, it's all about contrast. Metal and wood, warm and cold. The cool look of any wedding band can be greatly enhanced by the warm feel of a nicely lacquered wood inlay.
Real wood inlays with their unique grained texture are not only one-of-a-kind, they are eco-friendly. Couples that want to forego the idea of precious metals being dug from the earth for their wedding rings can have peace of mind with ethically farmed wood inlay rings in alternative metals like tungsten, cobalt chrome and titanium.
With more styles being created every day, cobalt and tungsten wood inlay wedding bands are the rising star of the wedding industry.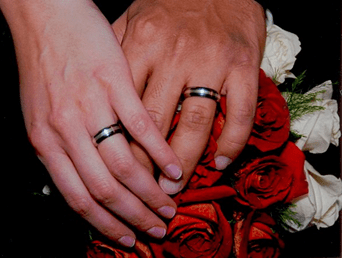 Matching Sets
Matching sets are not new by any means. In fact, matching wedding rings are quite traditional. And that's the allure. All things vintage have been popular at weddings for a few years now. The matching wedding sets trend is yet another in a long line of traditional themes we'll see in 2014.
Jewelers are taking notice. And we're seeing more unique styles that match while still complementing the different shapes of men and women's hands and fingers. Couples no longer have to settle for plain bands when they want to match and with a plethora of options out there, it's a chance to be unique together.
By Author:  Vincent LaRosa Press Officer with TungstenWorld.com
Boasting an extensive knowledge of wedding band metals and materials, Vincent has been writing about the benefits of durable wedding bands for nearly 5 years with Tungsten World. Matching couples with the tungsten wedding bands or cobalt rings that suit their lifestyle and tastes, while keeping his readers up on the latest and greatest in new fashions has always been Vincent's goal. If you're looking for an in-fashion wedding band, casual ring or jewelry sure to look as good as they day you bought it, rest assured he'll have more than a few suggestions for you.
** This Post is Sponsored **