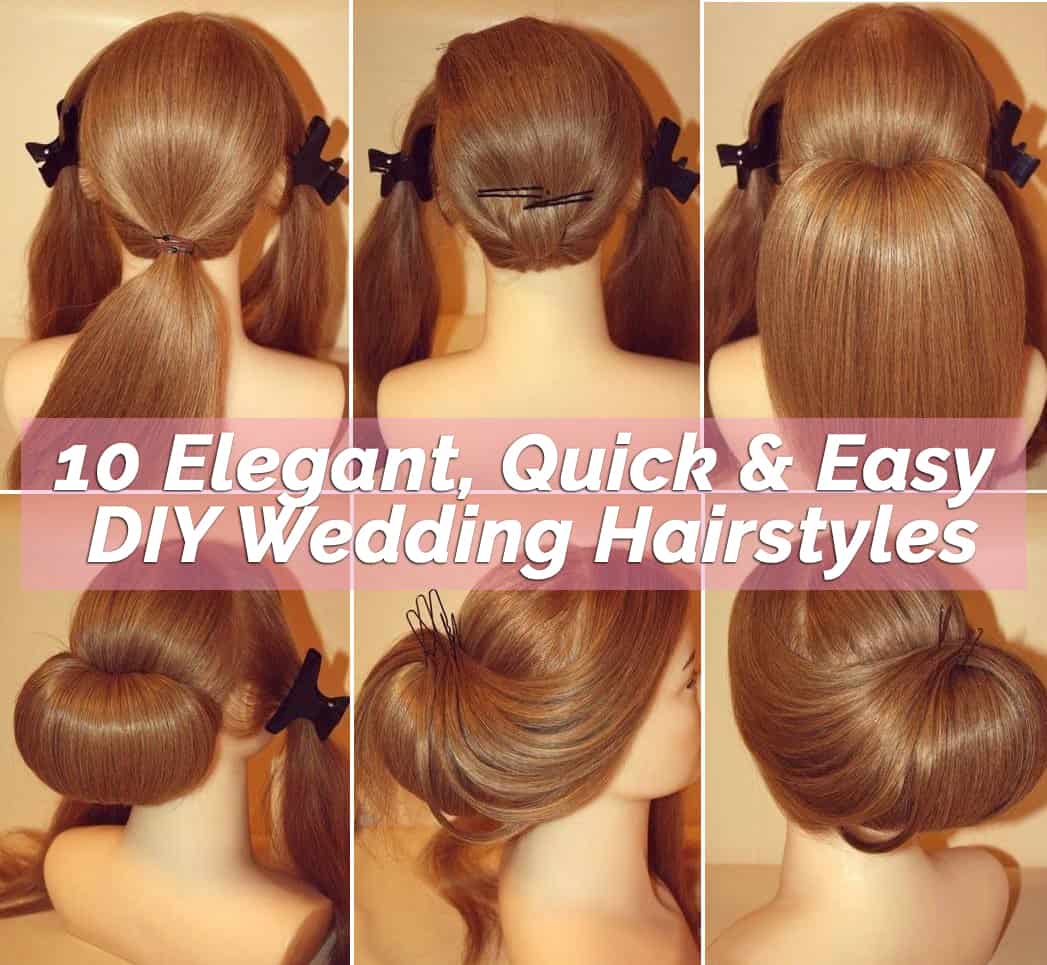 It's your wedding day, and you want to look beautiful without spending a fortune or exerting too much effort. You can do so by doing elegant wedding hairstyles.
Sometimes, all that you need is a few bobby pins, some cute hair jewelry, and a good hairspray to get you set to have hair that will stay perfectly in place for the entire ceremony – and the party afterward.​​
These bridal hairstyles take so little time to recreate. You can try some in your spare time before deciding on the perfect one for your wedding day.
Just imagine the feeling of fulfillment you will have when you look in the mirror and say, "I made this myself."
Though you can let your friends give you a hand, that's always OK – and sometimes even necessary, especially if you want the soft waves. ​​
A big plus of styling your own hair during the wedding is the money you will end up saving. Hairdressers tend to charge more for hairstyles that aren't even that special – like a high bun or half-up wedding hair. We have chosen the cutest and the easiest hairstyles for you to practice until it's time to say "I do."
Now, check the DIY wedding hair ideas below and do it yourself!
1. Classy Lower Bun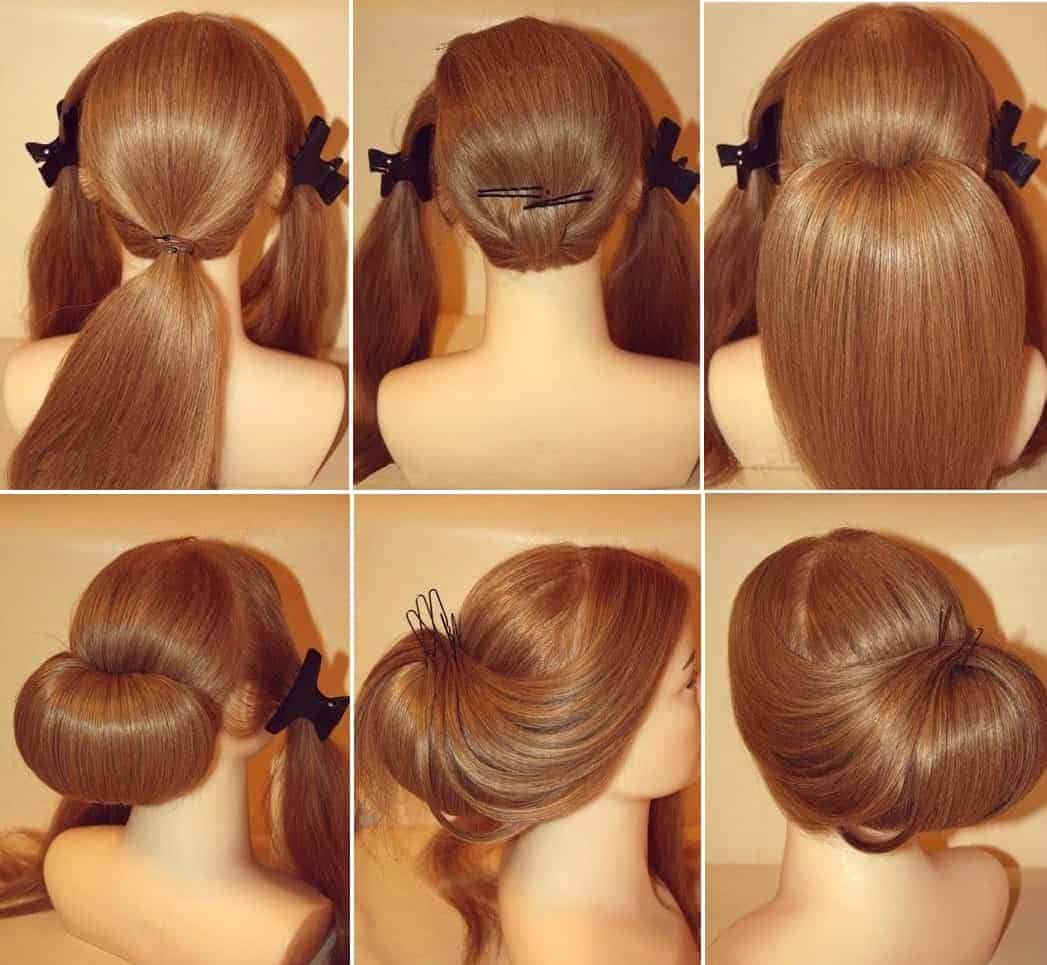 This cute hairstyle is one of the most famous options for a wedding or any other classy occasion – and for a reason:
It makes you look like you came out of a fairy tale.
This elegant updo completes almost all bridal outfits and dresses, and it isn't too difficult to make, either.
On top of that, you don't need many tools or accessories. In fact, all you need to make this classic updo yourself are hair ties, bobby pins, hair clips, hair rollers, and some rhinestone accessories.
The first step in making this stunning look is to split the hair in half and clip each side using any kind of hair clip you have at home.
Then, make a tight low ponytail out of the rest of your hair. When you tie it, use a small brush – or even a toothbrush – to smooth down baby hairs and hide away your ponytail with hair pins.
Place the roller on the hair, roll it up as shown below, and add some stunning bridal jewelry – and voila, your perfect hairstyle is done in under 10 minutes. Remember to add some hair spray to hold down your bridal hairstyle and ensure it lasts longer.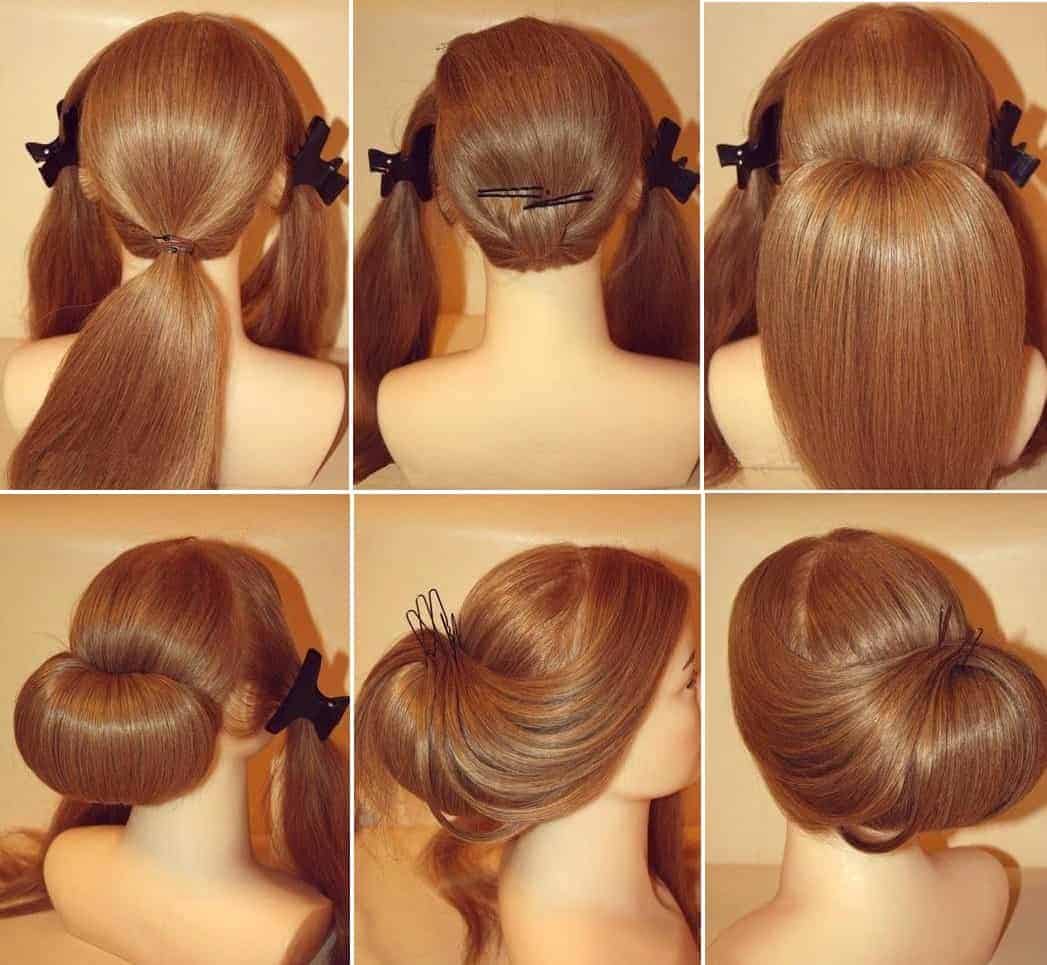 Wedding Hairstyles Pro Tip
If your hair is too sleek and won't stay put when you're trying to make the low bun, try spraying some hair spray on your hair before you tie a tight ponytail; it should make a significant difference.
2. Beautiful Curly Up-Do
An updo with some wispy curls is perhaps one of the best wedding hairstyles for long and medium hair. It's always a reliable choice to go with wedding updos, as this kind of wedding hairstyle will likely stay perfect the entire night – even if you never stop dancing.
A curly updo with soft waves always looks elegant and gives away a fresh-out-of-the-salon look, even if you did it at home, making it one of the ultimate hairstyles for wedding. Moreover, it's not a difficult look to achieve.
First, you'll need to section out your hair; you can do that with some hair clips you have at home. Then, you will take a teasing comb and tease the front – the focal point of your head – to give your hairstyle more volume.
Once you're done, use a clear hairband to fix it in place – but if you don't have one, you can use a hairband in a color similar to your hair. Next, you'll perform gentle twists on the rest of your hair in an upwards manner – just like the pictures below.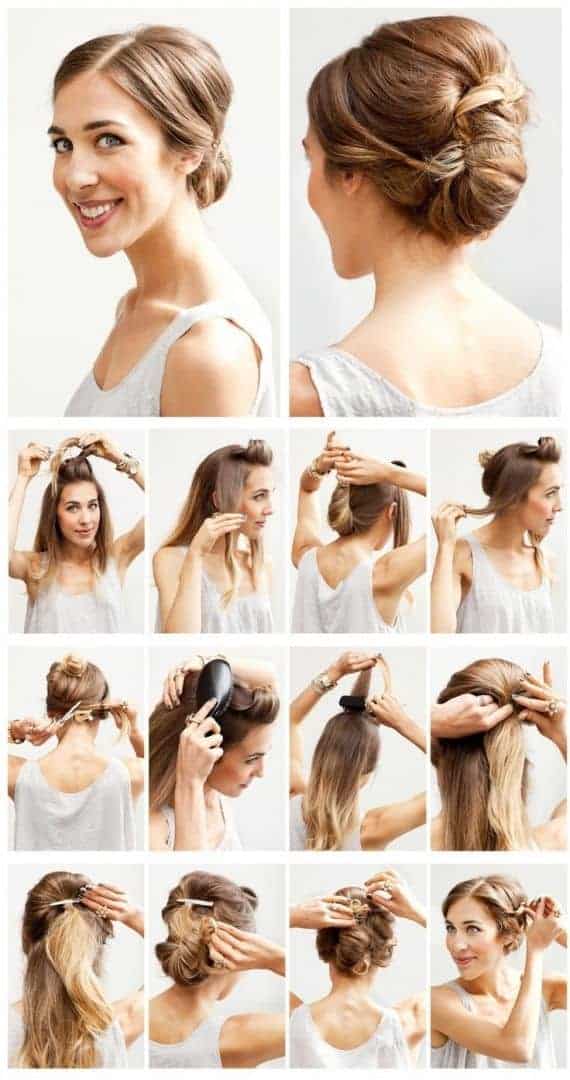 Via Pophaircuts.com
Wedding Hairstyles Pro Tip
If you cannot secure the ends of your hair with your fingers, use hairpins to keep them in place. When it's all done, you can add an accessory to your updo. Nothing says "glam" like a bride adorned with a flower crown or floral accessories!
3. Easy and Dreamy Lower Bun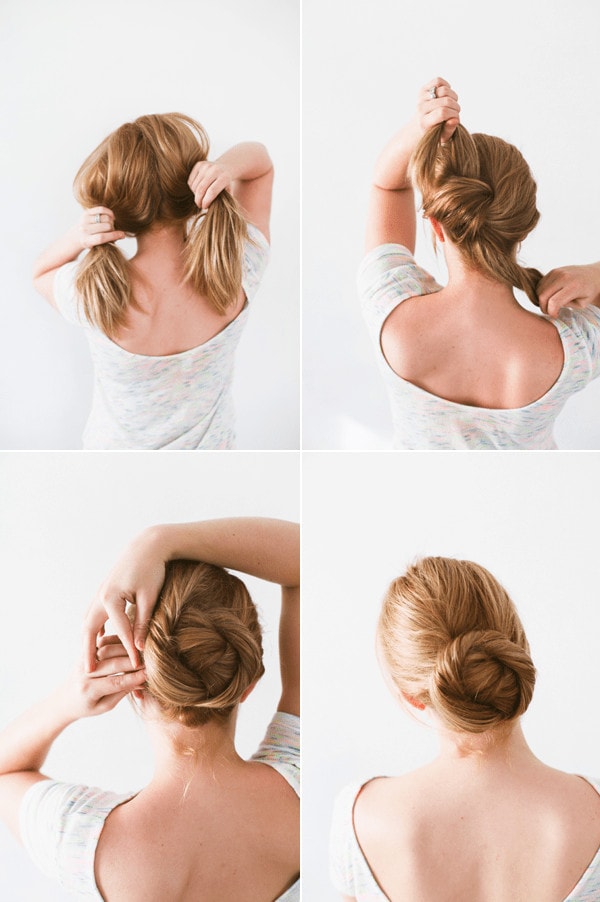 A low bun is one of the most beautiful yet easy wedding hairstyles you could have for your big day. Even if you really didn't spend much time styling it, your wedding guests will still think that you spent hours on it.
And the best part is that this loose chignon works for shorter hair, too.
Before you start, use your blow dryer to smooth down your hair and give it some extra sheen. Alternatively, you can use it to make some loose waves.
The first step in making this glam bun is to split your hair into two sections; you can use hair clips to keep them separated.
Take each section in one hand and tie it up into a simple knot. Then, twist the two parts of hair in opposite directions around the knot to make it look like a bun. Twist it up all the way, tuck the ends into the bun, and use some bobby pins to secure the bun in place.
You can add some cute headbands or hairpins with accessories such as pearls to make the style more glamorous.
4. Romantic French Braid Style
Some bold red lipstick, this romantic headband crown braid-like hairstyle, and you're ready to go get married.
A French braid is one of the best wedding braid hairstyles you can go with – and it's super simple, too.
If you're looking for medium-length wedding hairstyles, this might be the one – but it also works on short and long hair. Braided hairstyles are generally easy to make, and they always make it into the current bridal trends – just like French braids, which are the go-to hairstyle this year.
You'll need a couple of tools and accessories to complete this stylish hairstyle, including a headband, good hairspray, and, optionally, some bobby pins.
If you decide to make this romantic French braid, the first step should be to put on the headband and start making a loose French braid around the band, going from one ear to the other to hide the headband with hair completely.
When you come to the ends of your hair, roll the rest of your braid and split it into small sections, which you will then tuck into the headband.
Once you're done, put on some hair spray to fix your hair in place.

Wedding Hairstyles Pro Tip
Once you're done, you can add accessories per your preference. You can decorate it using wedding day accessories – such as floral or shiny hair pins to match it to your wedding dress or bridal bouquet.
As for the headband, we advise you to pick a small, simple one since it'll be hidden, anyway, and shouldn't peek out.
5. Classy Half-Up Half-Down Elegance
Half-up half-down wedding hairstyles for medium hairHalf-up half-down is a great look for going to work or going out and about – but it's also an amazing option for a bridal look. It's a timeless style for the modern bride that doesn't want to squint at her wedding photos when she sees them 40 years from now – sleek ponytails may be a great wedding-guest look, but it's not the classic wedding hair vibe most brides go for.
Half-up, half-down wedding hairstyles bring out your natural beauty and work great with any kind of wedding theme, including boho style and beach weddings. It can bring out the natural texture of your hair and make you look red-carpet-ready!
It's a fairly easy hairstyle to master, too. It requires only a teasing comb, a hair dryer or curling iron, and lots of bobby pins.
First, preheat your curling iron and make loose waves or Hollywood waves. If you want to add hair extensions to the mix, curl them too. Once you're done, let your curls cool off for a while before going off to the next step.
When your curls are set, take a teasing comb and tease the front part of your hair to create extra volume and texture. Then, using your finger, take small sections from one side and pin them to the other side of your head – more to the back.
Alternate sides with each section until you pin every strand of your hair using a bobby pin. Once you're done, you can pull out some pieces to make it look more romantic and natural, along with some face-framing tendrils.
You can accessorize the half-up wedding hairstyle with huge earrings or some discreet hair jewelry to achieve the "wow" effect.

Via Oncewed.com
6. Twist French Braid with Flower Details
Hairstyles for weddings, such as a French twist, are perfect for romantic brides with a gentle, chic wedding dress and a romantic theme. It's the ideal bridal hairstyle for any type of wedding, really – and if you have highlights in your hair, it will look even better.
For brides with long hair, the French twist will accentuate the long strands, so it's a bridal hairstyle worth considering. As the hair is moved away from your face, it will show your bridal beauty. That said, you can leave out a few strands to frame your face if you'd like.
Start by making cascading curls using a curling iron. Then, section out your hair; section the upper back, twist it a little, and secure it with a couple of hairpins. The twist should be at the center of your head.
Next, take little strands from both sides of your head, cross them over, twist them, and pin them to your central twist. Once you're done, tuck the strands from each side and form them around the loop you made.
Do this until you have no strands left, and braid the rest of your hair. Use bobby pins or decorative hairpins to pin strands to their place – and, if you'd like, add a flower crown or a flower comb to complete this wedding hair look.

Via Restylepro.com
7. Simple Top Knot
An alternative to the low bun, a top knot, messy bun, or high bun is an attractive look that will instantly add a classy touch to any bridal style.
If you're rocking a modest wedding dress and are looking for wedding styles for long hair, a top knot will certainly make you look stunning.
It's one of those bridal hairstyles that aren't too difficult to achieve, but we advise you to try it a couple of times before the actual wedding day to ensure that your wedding hairstyle turns out perfect.
Wedding updos are always in, and they work on every hair type. However, if your natural hair is straight and sleek, it may be a bit of a challenge to put it into place – but it's nothing a little hairspray cannot fix.
So, first, you'll need a teasing comb, a smoothing brush – or a toothbrush – a couple of hair ties, and some hairpins.
Tie a high ponytail and secure it in place. Check if your hair is slipping out, and if it is, use some hairspray to tame it.
Once you're done, use the teasing comb to tease your ponytail until it's twice as thick.
Then, pull the tail backward and pin it with bobby pins, as pictured in the 6th photo, using lots of hair spray to hold everything in place. Next, make a full circle with your strands – you can make them into loose curls, too, around the bun, using lots of bobby pins to secure them in place.
Using the back of your teasing comb, you can take out a couple of strands in front for a more natural, casual look and curl them into loose waves.

Wedding Hairstyles Pro Tip
You can go big with your choice of earrings; the simple elegance this perfect chignon hairstyle brings will pair well with bolder jewelry pieces.
8. Retro Romance Bridal Hairstyle
We saw this in Breakfast at Tiffany's, and we all fell in love with it immediately. The movie is simply iconic – and so are these wedding hairstyles that offer classic style for classic brides.
If you're wearing a backless wedding dress, this bridal hairstyle is the perfect option, but it's one of the most elegant hairstyles in general.
Generally, it works for all hair lengths – but it's one of the top medium-length wedding hairstyles out there. Also, keep in mind that this look requires some more work than most on this list, as you'll need to add texture to your hair before you start.
The first step to recreating this retro romance look is to put your hair back as if you're trying to make a mid-tail. Roll the hair around, starting from the end, as shown in the fourth picture. Then, secure it with bobby pins and hairspray. If you prefer it, you can pull out a couple of strands to frame your face.
This wedding hairstyle works perfectly with retro decorative combs or hairpins.

Wedding Hairstyles Pro Tip
We recommend that you use "second-day" hair rather than freshly washed for this look. Your hair won't be as slick, making it easier to work with.
9. Braided Romance for Short Hair Brides
Some people insist that shorter hair cannot be elegant – but that's simply not true. Shorter hair can be just as classy as long hair. What's more, it allows you to sport dazzling earrings for everyone to see!
We know that choosing a shorter bridal hairstyle can be a challenge, but fear not. This braided romance is just what you need – and it's the perfect updo perfect for short and thin hair.
The best part about this bridal style is that it requires zero hairstyling skills and takes less than 30 minutes to make. All you need are some hair pins, a brush, and some hair clips.
First, use the brush to put all of your hair back, separating it into three sections with clips. Then, braid your hair into three simple braids, nothing too complicated. When done and tied, use your fingers – or the end of a comb – to loosen your braids a little bit and give your hair volume and texture.
When done, pin the three braids to one using bobby pins, making it look like one big braid, loosening them even more as you go. Once you're done, finish off with hairspray – and, of course, you can accessorize with a fancy hair clip or hairpins for an extra dazzling look.
10. Fishtail Braid that Takes Your Breath Away
The bohemian style will never go out of fashion. Luckily, the boho-inspired style offers great hairstyles for both short and long hair, meaning that whatever length you have, you can put together a perfect bridal look.
A boho bridal look may look difficult to achieve, but we promise you – compared to Dutch braids, this one's a piece of cake. And at the same time, it's effective and guaranteed to make you look dashing on your special day.
The best part about this fishtail braid is that you don't even have to know how to braid hair.
To complete this look, start by taking a front strand of your hair, then twist it back, and secure it with a small rubber band, flipping the hair inwards once more. Then, take a piece next to it from the side, flipping it a couple of times and securing it in the same manner.
To add more volume to your hair, pull some little pieces from the twisted strands, and hide away the rubber bands.

Wedding Hairstyles Pro Tip
For an extra dashing look, you can add a satin string at the end of the braid or use some sparkly hair jewelry that matches your wedding dress. Oh, and if you want to achieve that super boho look, we recommend that you curl the ends of your hair.
11. Waterfall Braid for a Feminine Look
Hair wedding styles are all about romance and femininity – and what says femininity more than braided wedding hair?
If you prefer to have your hair down for your wedding day, a waterfall braid might be the ideal wedding hair for you. It'll keep hair out of your face while giving you an elegant look.
This look is fairly easy to achieve:
First, you'll need to do a middle part of your hair. Then, take two strands from one side – take them from the front – and twist them. Add a new strand, going to the back of your head, and let go of the first stand.
Work your way to the back of your head and secure the braid at the back. Then, do the same on the other side.
Put both braids together and braid them down, securing them at the end with a clear band.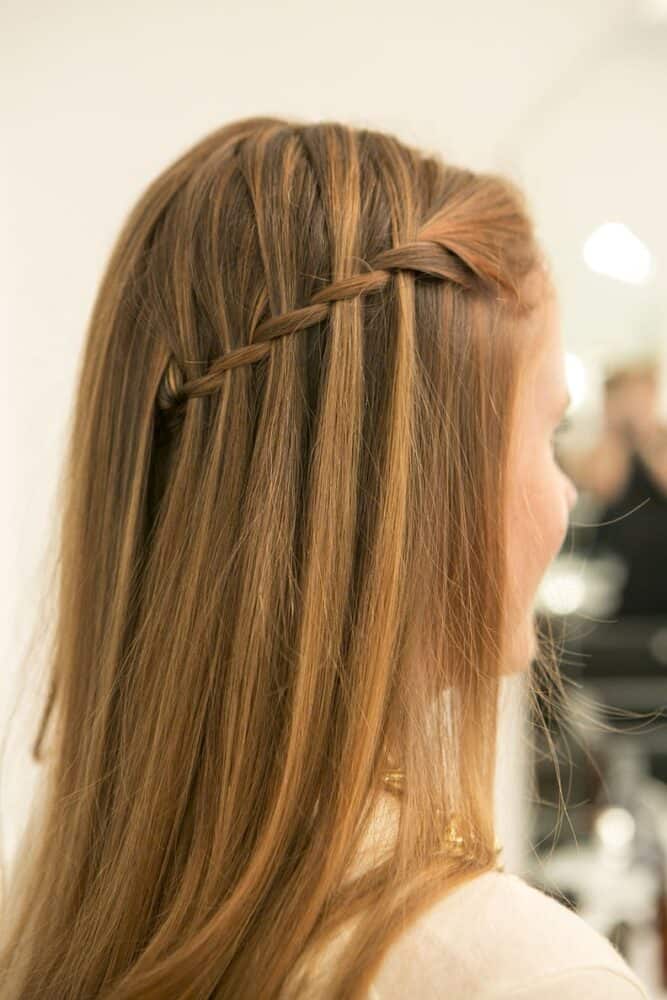 Now, you can add a gorgeous bow at the end or simply wrap a hair strand around the band to hide it. For accessories, you can add pearl hairpins or any kind of hair jewelry you like!
12. Vintage Chic for Short Wedding Hair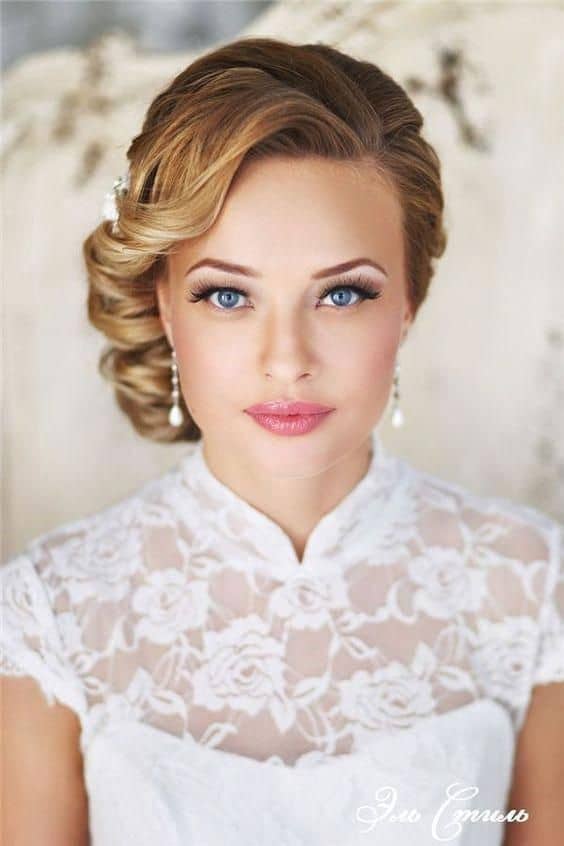 Now, if you have short hair, finding the perfect wedding hairstyle can be a challenge. However, our opinion is – it doesn't have to be:
Wedding hairstyles for short hair do exist – and this vintage vibe can be just what you need for your very special day.
We present to you the beginning-of-the-century vibe for all women with pixies and similar haircuts.
Completing this look isn't challenging itself – but we advise you to try it out a couple of times before the wedding. To complete this DIY wedding hair, you'll need some hairspray, a wide curling iron – and maybe a helping hand for the back of your head.
Start with very small strands to give your hair more texture and go around your head until every piece is curled. If, however, your hair seems frizzy, you can use some hair gel to tame it down.
When done, add some hair spray to keep your hair intact as you dance the night away.
Wedding Hairstyle Pro Tip
Hairstyles for short hair leave lots of options for accessorizing, too. You can even get away with wearing a small tiara or a flower crown!
Which elegant DIY wedding hair do you like? Let us know in the comments!