Happy Fourth of July, our dear readers! And to commemorate this special day the InspiredBride way, here's an AMERICA themed wedding. Featuring Todd and Kate, whom both rendered a service to the country as Navy Pilot and Coast Guard Cutterman.
The red, white, and blue were seen all over the venue. The event was both formal and casual – a perfect balance. I also love their photos at the Air Force Museum – symbolism at its finest! Despite the huge planes at the background, they looked romantic and sweet. Kudos to the photographer! Read more to see what I'm talking about. All in all, it was a beautiful wedding. Congratulations Todd and Kate!  Moreover, thank you for your service to this country!
"Come celebrate the birth of our great Nation and the union of Kate and Todd. Marriage. Freedom. 'Merica!"
Click image to enlarge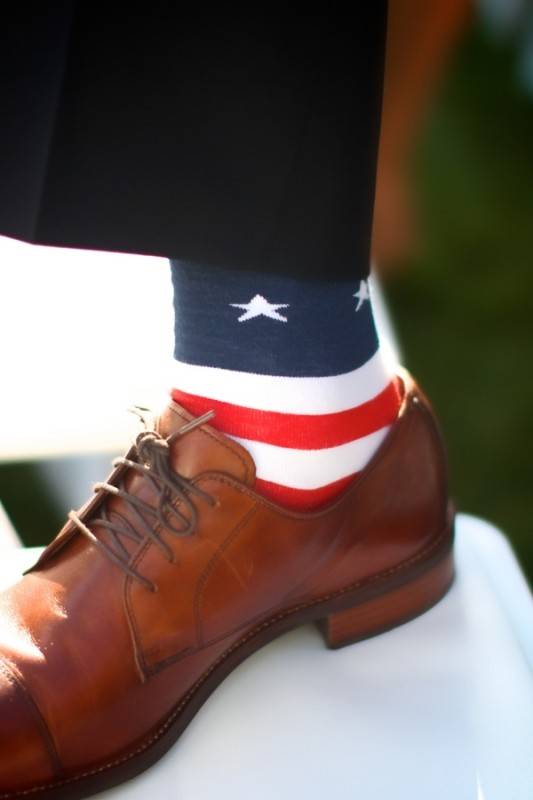 Like. Click to Vote
>
Our Story:
Kate is a Navy Pilot from Colorado and Todd is a Coast Guard Cutterman from New Jersey. We met in Seattle, Washington and knew early on that this was something special. We decided to dive right in and go skiing for our first date! I knew it would either be a disaster or something promising. A full-day date was a true gamble! It all went amazingly well, and skiing turned into dinner, which turned into ice cream before I had to catch a ferry home. I didn't want the date to end. The first kiss was definitely memorable. We walked to the car and were both were full of nerves. Needless to say, we practically head-butted each other, but he was so handsome and charming that I couldn't wait for a second date!
We Are A Perfect Match:
After a few dates, he hand-wrote me a letter and mailed it to my house. It was a simple letter explaining how much fun he'd had and was excited for more to come. He closed the letter with a Darius Rucker quote friom the song "History in the Making". "Our time, let's take our time. I just want to look in your eyes and catch my breath. 'Cause I gotta feeling." I was hooked! From that point forward notes, emails, and song lyrics were a huge part of our relationship, and that Darius Rucker song was what we first danced to at our wedding. My favorite thing about Todd is that he is romantic and the most loyal person I've ever met. Additionally, we are both in different services so it's wonderful to be able to share our experiences and know where the other is coming from. We bounce ideas and leadership challenges off each other all the time and I'm truly grateful to have found a partner that challenges me and is someone I respect and trust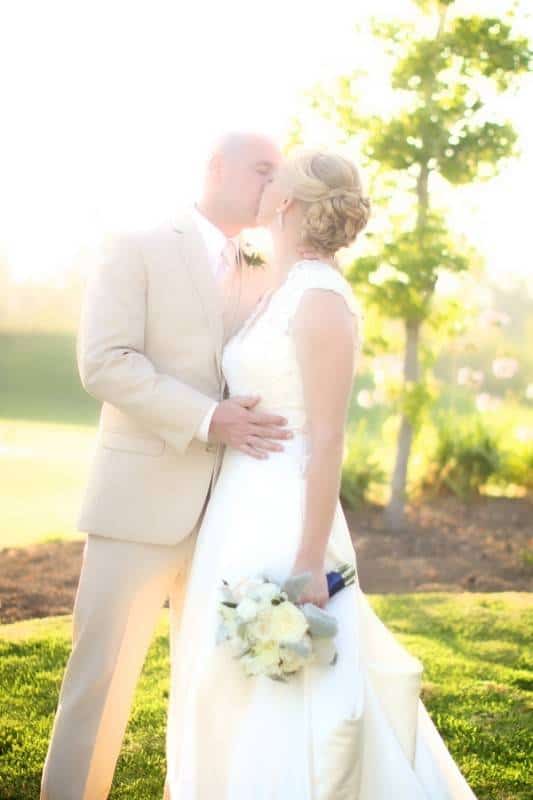 The Proposal:
He is the worst at keeping secrets! The absolute worst. He had this big elaborate plan to get his pilot's license and propose in the air. The plan was foiled the day before when the FAA sent a form to the house, which tipped me off. I jokingly asked if he was getting his license and his face immediately fell. He couldn't keep the secret any longer and proposed right there on the spot. It was so not how he planned, but I thought it was intimate and perfect.
The Planning Process:
We were engaged in November and married in July. We both knew we didn't want or need a long engagement and the 4th of July was a holiday we knew most of our friends and family would have off. I think that it was plenty of time to plan. What was the best advice you received when you were planning your wedding? Have you and your fiance determine what's most important to each of you and focus on those things. Also, don't let outside pressures creep their way into your planning. Stay true to you as a couple and make it exactly what you both want.
Tips & Tricks For Future Brides:
Pinterest is a great source of ideas, just don't let it put pressure on you to be perfect. Celebrate the flaws! Try to invest in decorations that you can use after the wedding. I tried not to buy anything I didn't want as decorations in my house afterward. What were some challenges you faced while planning your wedding & what did you do to address them? It was a challenge to not get overwhelmed at times. It helped to map out a timeline to complete projects and it felt good to check things off as they were finished.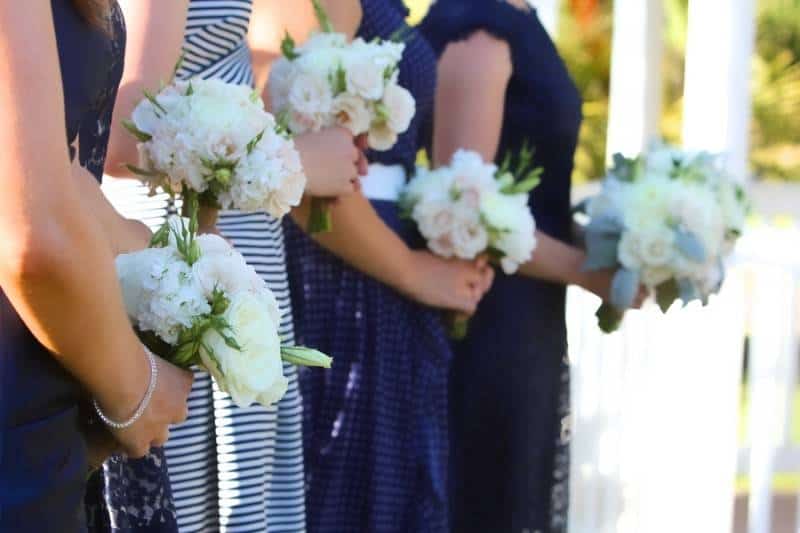 Wedding Décor Inspiration:
With a 4th of July wedding, we knew it would be patriotic, but we didn't want to go overboard into the cheesy or tacky realm. We stuck to navy blues and white, with hints of red thrown in.
Money Matters:
It started at $10,000, but we realized that was a bit unrealistic based on how many people we wanted there and that we wanted an open bar! It ended up being around $15,000.
We saved money by not going overboard on decorations and doing a lot of them myself.
The venue was great and the most expensive, but it included invitations, food, some decor, venue set-up, the DJ, alcohol, and the flowers (except the bouquets/boutonnières). They even threw in a day-of coordinator, which was a huge help.
The Guest List:
We were intending to keep it small but ended up inviting 150. About 75 showed up. It was perfect!
We asked our families to give us a list based on who was most important to them and we made a list doing the same. Then we narrowed it down further and ensured that everyone on that list was close and knew us well.
The Songs:
Our bridal party walked down the aisle to "All I Want is You" by Barry Loius Polisar and my Dad and I walked to Sara Bareilles' "I Choose You". We concluded the ceremony with "Drink in my Hand" by Eric Church.
The Honeymoon:
We went to Interlaken, Switzerland and Lake Como, Italy. It was amazing! What are you most excited about for the future? Getting to spend it with someone who loves adventure as much as I do!
Planning Process:
Work as a team and try to remember that the wedding matters, but the marriage is what's truly important.
Wedding Day Outfit Inspiration:
We wanted to keep it simple but classy. Todd wanted to be in a tan suit and boat shoes, and I knew I didn't want to spend too much money on the dress, which I also knew I didn't want to be strapless! I also wanted each of my bridesmaids to pick out their own dresses and simply told them to find something they liked in Navy blue. I knew they'd all pick out something beautiful in their own style.
Favorite Part of the Day:
The wedding was everything we had hoped for. The best part was having all of our closest friends and family in the same place at once. It was so fun to look around and see people from different parts of our life partying together and having fun. That made all the hard work worth it!
The Do-It-Yourself (DIY) Projects:
We made a lot of the decorations, to include a heart made out of string, nails, and wood. We also made the table setting cards in a nautical (coast guard) and aviation (navy pilot) theme. Additionally, we saved money by doing Evite Save-the-Dates. Lastly, we were so torn on wedding favors that we were worried people would just leave and forget them, so instead we made a sign telling people we donated $500 to the Wounded Warrior Foundation on their behalf. We felt pretty good about that.
The Highlights From The Ceremony & Reception:
Before the ceremony, Todd and I did "first look" photos at a WWII Commemorative Air Force Museum (where we also did the rehearsal dinner). It was important for his Mom and Grandmothers to see him in his dress uniform, so we took some photos of just us and then invited them to join us for a few more. I think it really made it special for his family. One of our close friends was our Officiant. She knows us very well and was able to make the ceremony perfect and short! Afterwards at the reception, she surprised us by donning an American Flag, full body skin suit and tore it up on the dance floor. We were dying laughing and everyone had a blast!
The Theme:
'Merica!
Most Memorable Moment:
Seeing Todd's beaming smile as I walked down the aisle.
VENDORS
Photographer: sun-dance photography
Reception Venue: Sterling Hills Wedgewood