Why would you choose to trash a beautiful dress when you can rock it! Jessica Nielsen, the photographer, truly has a keen eye for beauty. She made the dessert and the river a beautiful sight for this beautiful bride. Also, hands down to Caitlin of Arizona Bridal Stylist for making this bride look ethereal! The vast dessert, the serene river, the wild horses, and the dashing bride — they all complemented each other beautifully!
Click image to enlarge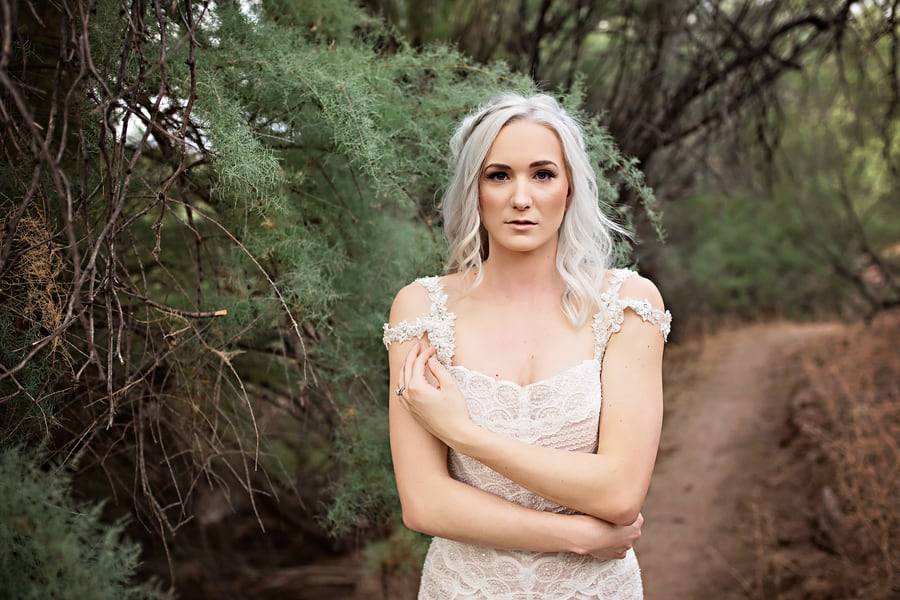 13

Like. Click to Vote
>
Behind the Photos
The location. The location, Phon D Sutton, gave us many different landscapes from the Silver Smoke Arizona Cyprus and Mesquite Trees to the vast desert with Saguaro Cacti to the beautiful flowing river with tall green reeds.
The dress. Sarah's dress was absolutely gorgeous. It had a very intricate lace design with custom cap sleeves that she had added to it.
The bouquet. I loved our DIY bouquet we made from the natural elements found around us during the shoot. Towards the end of the session, a family of Wild Horses crossed the river right behind Sarah.
The wild horses. Fewer than 500 of these wild horses remain in Arizona. It's truly a marvelous sight to see them.
The beauty. Caitlin from Arizona Bridal Stylist did an amazing job with Sarah's hair and makeup as well as styling this shoot.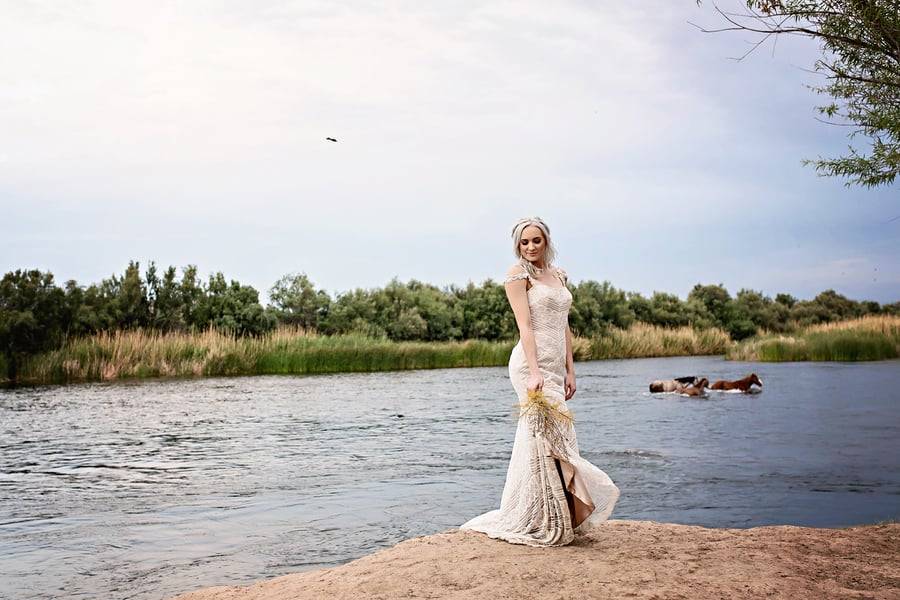 Instead of a Trash the Dress shoot, do a Rock the Dress shoot. Get all dolled up and play around in your dress without worry about destroying it.

— Jessica Nielsen
Vendors
Photographer: J Lobbins Photography
Makeup Artist: Arizona Bridal Stylist
Other Location: Phon D Sutton