It was a classy and elegant affair for Jason and Deana's big day.  Jason wore a traditional tux in black and ivory  while Deana was a stunner in her all lace trumpet dress. One thing came to my mind the moment I saw their wedding gallery — posh! The classic color choices helped with the beautiful aura of it all. With Cathleen's mad photography skills, she made the event even more memorable for the couple. A great photographer is one thing that couples should invest on for their wedding because it'll be the photos you will see and remember for the rest of your lives.
Click image to enlarge
Like. Click to Vote
>
Album Story:
Deana and Jason fell for one another at a friend's wedding and hit it off instantly. After dating and enjoying one another's company, Jason planned an elaborate proposal on top of the Empire State building. His parents helped execute this plan that was originally meant as a mere vacation. It was a COMPLETE surprise for Deana. It was the afternoon of July 26th, and they had just celebrated Jason's 28th birthday the night before. They went up to the top of the Empire State Building that evening to enjoy the breathtaking views of the Big Apple!
And then he did it… As Deana was distracted taking pictures of lower Manhattan, she turned around to see Jason on bended knee with a beautiful ring shining! He then popped the question, and she said YES! Adding to the surprise, Jason's parents Tony and Brigitte were also there to celebrate this memorable day. They headed out for another night on the town, this time celebrating their engagement.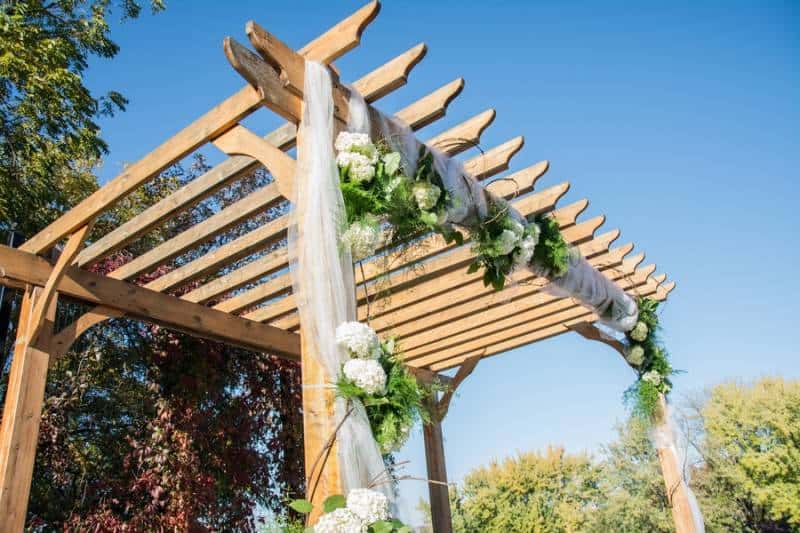 The Wedding:
Their wedding had true Chicago flavor, hitting all the best sites in the city, but their wedding was a quieter, posh affair at a beautiful resort. The wedding, under a beautiful gazebo, featured stunning flowers and a wonderful view. While the couple was whisked away for quick photos at a nearby pier right at sunset, the celebration continued at an indoor/outdoor cocktail hour with amazing passed appetizers. Guests lounged around an elaborate fireplace drinking cocktails while most of the wedding tore up the dance floor.
Wedding Day Outfit:
The bride wore a beautiful form-fitting strapless gown with an ivory base with crisp white lace flowing over it. The groom had mixed up the classic tux choosing an all white top and vest giving him a classy twist on a glamorous look. Deep Violet accents from the wedding party only punctuated the incredible style of the couple.
Favorite Part of the Day:
The best time was the moment Jason saw Deana as she walked down the aisle. He caught his breath and uttered, "Oh, she's…" but was too choked up for the right description of his stunning bride.
The Highlights From The Ceremony & Reception:
The ceremony featured an incredible twist on the standard sand ceremony. The couple who both appreciate good wine chose two different wines and combined them during the ceremony, drinking out of one chalice. The reception had the most incredible food including chocolate covered strawberries, cream puff swans, and more from some of the finest shops. Each couple from the wedding party danced out to a song of their choice, but the truly beautiful moments were Deana tearing up during the first dance and Jason singing to his mother during their dance.
Most Memorable Moment:
The actual ceremony itself and the moment during formal photos where it was just the two of them and the photographers. They had one quiet moment where they could tell one another how they felt without clouds of people rushing around them. They were able to be together and be private, if even for a brief moment.
Also:
These two are a truly kind couple. From the moment that we met Deana and Jason, we knew we had to be their photographers. The engagement session was only supposed to last 2 hours, but because we had such a great time, it ended up lasting 5 hours. We hit tons of sites, walked everywhere around Chicago, and the conversation never dulled. I could not have asked for kinder clients. When we left their reception, we were genuinely sad that it was over, and Jason even looked disappointed that we were leaving them after nearly 12 hours shooting. They both said that they would miss us and couldn't wait to see us after their European honeymoon to get together, talk, and see the photos. We loved this couple so much that we headed down to Chicago again and rented an apartment for a weekend to see them, go over album details in person, and go over a surprise hilarious slideshow.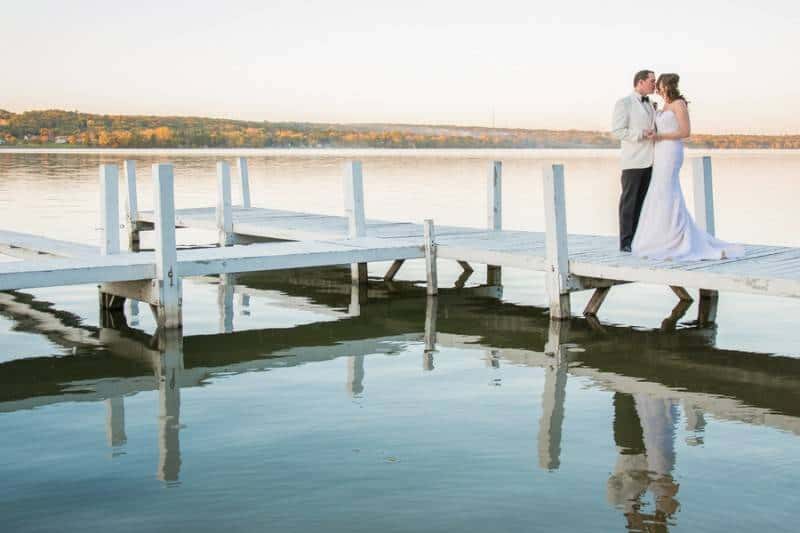 VENDORS
Photographer: Light Source Photography
Event Venue: Geneva Ridge