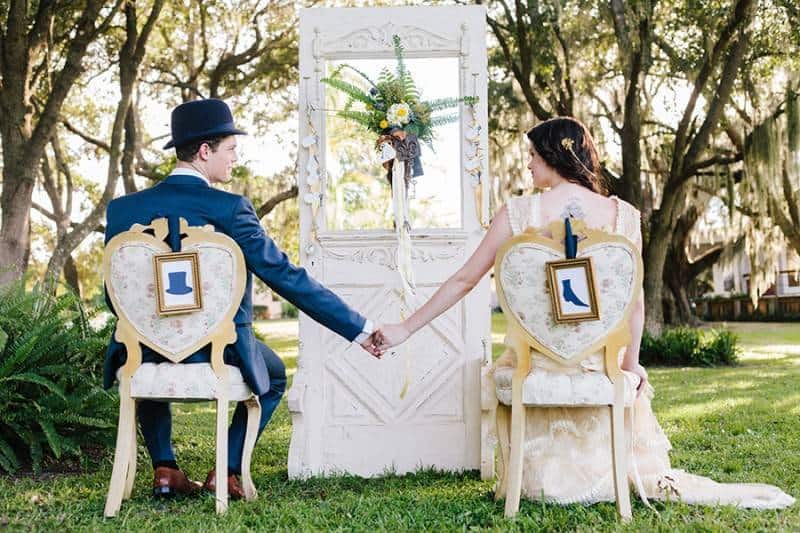 This styled shoot is brimming with ideas that will satisfy the old soul in you. The details such as the decors, invitations, and table piece are lovely but what's really noteworthy are the pastries. The different sorts of cakes and cookies are tastefully designed that no matter what kind of preference you have towards your wedding cake, this shoot is sure to have something in store for you.
This is what the designer had to say regarding the shoot layout.
What do you think is the overall story for this album?
Sometimes things that are old are new again. This was definitely the case for the gorgeous dress that was featured in the shoot which I found at a quaint consignment shop only ten minutes from my home. I knew that dress had to be shared with the world. Up the Creek Farms seemed the perfect place to have the shoot because it combined my vision of taking something old, but lovely like the dress and pairing it with a venue that was just the same. The Decklan House at Up the Creek Farms is over 130 years old. Love, like the dress, this beautiful new venue, is everlasting.
What inspired the wedding day outfits?
The outfits were inspired by the Victorian era. The dress was very much the driving force behind this lovely styled shoot. Inspiration was taken from old photos and paintings that depict a simpler and aesthetically lovely time in history. In the wedding dress, I want to exude the epitome of a gentleman and his lady.
What was your favorite part of the day?
I enjoyed every minute of this styled shoot from planning it with the other amazing vendors to putting everything together the day of the shoot. It is amazing what can happen when a handful of people come together with a shared vision that comes to fruition.
What were the highlights from the ceremony & reception?
The entire day was breath taking!
Was there a theme for the ceremony and reception?
Victorian Era Romance with a keen focus on antique skeleton keys and doors. We also made sure to choose the rich luxuriousness embodied by the key colors of navy blue and gold.
Vendors
Photographer:  Wonder and Whim
Invitation Designer:  After a While Crocodile
Dress Store:  Aurora Bridal
Makeup Artist:  Brianna Gonzalez Makeup Artist
Heirlooms and extras:  Crystal & Crates
Bakery:  Frosting Cupcakes
Event Planner:  Lara's Theme
Event Venue:  Up the Creek Farms