Wedding registries have truly simplified the gifting process when it comes to weddings; individuals can register for the items they need and their guests can choose from those items when picking out a gift. However, there are still some really big issues with registries, namely the fact that you must create a new registry for every store you love. Not anymore! With SimpleRegistry, all that changes and you have a central location to register for literally anything you want.

What is SimpleRegistry?
Mentioned in The Wedding Wire, the San Francisco Chronicle, and The Enquirer, SimpleRegistry is a streamlined, easier approach to wedding registries. It takes away the common registry issues and leaves you with a truly convenient tool. When you create your wedding registry, you can literally register for anything you want – from a covered butter dish to a 2-week vacation. You don't have to create numerous registries in order to have everything you want covered.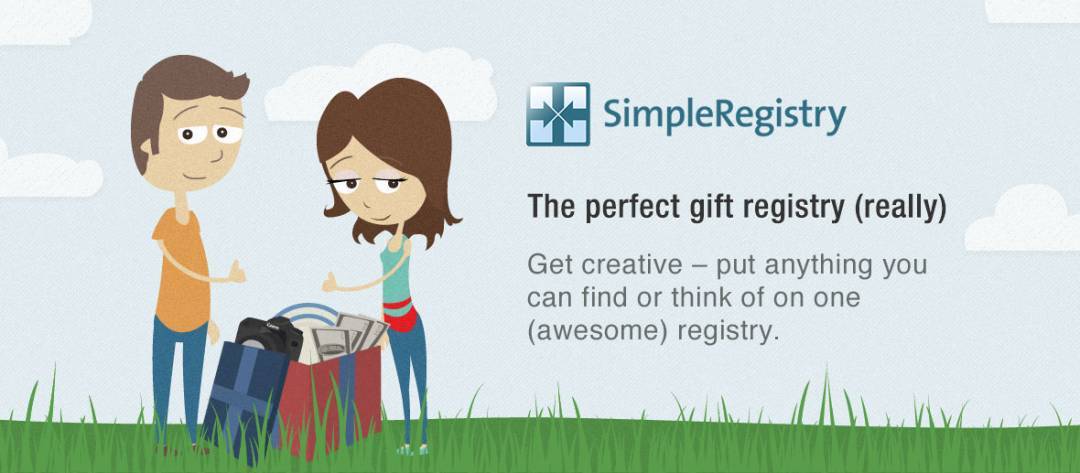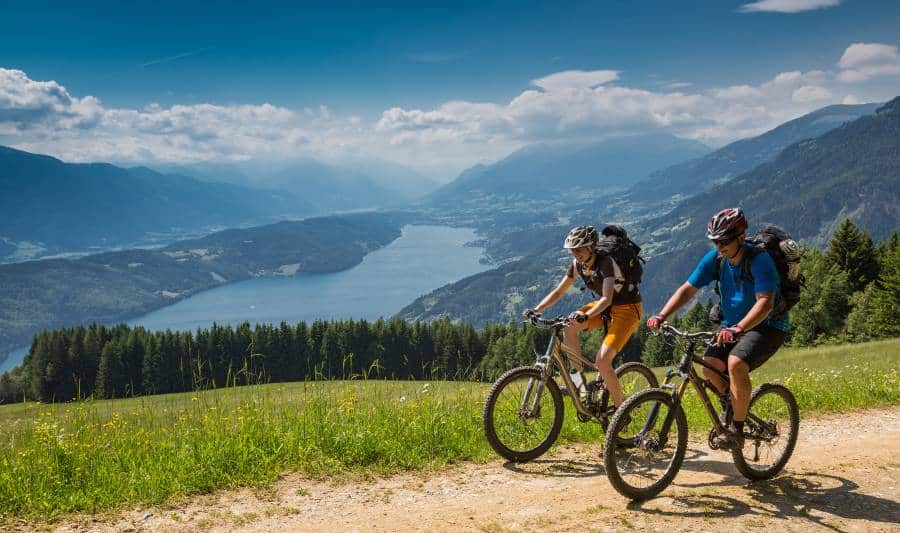 The Group Gifting Feature
SimpleRegistry makes group gifting super easy. Let's say you want to register for a china set that costs $2,000. Not many of your friends are going to spend $2,000 on a gift for you, but 20 people could chip in $100 and make sure you get that china set. They can do it easily through SimpleRegistry and it's a feature that isn't available on regular wedding registries. So, if your bridesmaids want to chip in and purchase you a larger gift rather than several smaller ones, they can do so easily.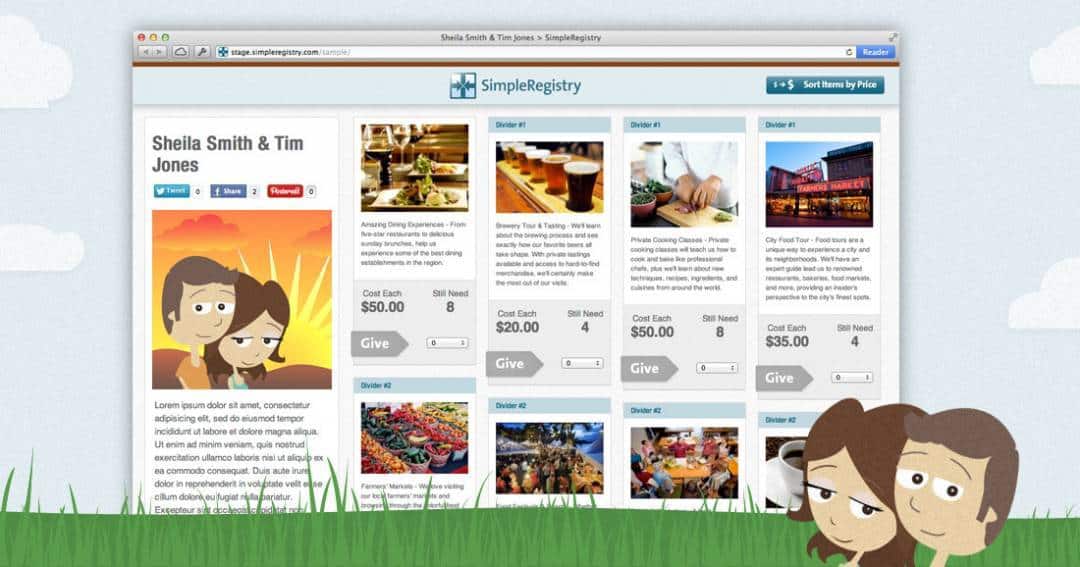 Easy to Set Up
Well, sure, it's easy for your wedding guests but how about set up? How hard is that? It's not. With the built in SimpleAdder bookmark, you can add items to your registry from any website, with one click of your mouse. Or, if you're using your phone, you can quickly scan barcodes to add items to your registry, or snap a photo and add items that way.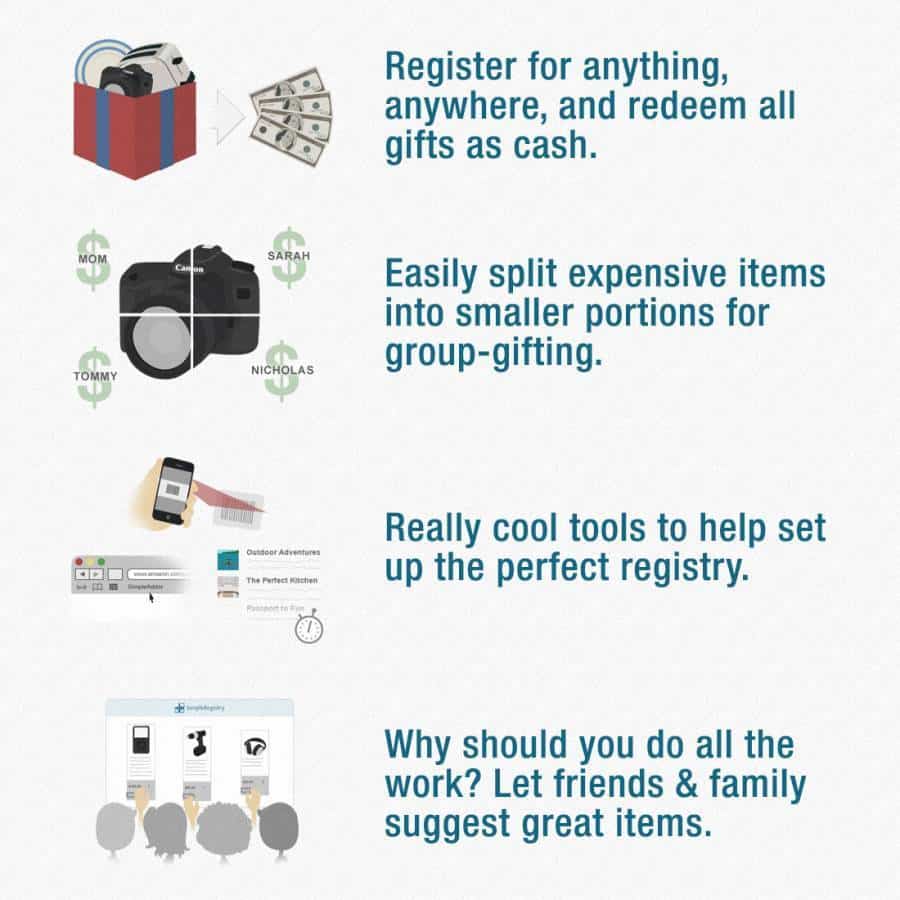 Thank You Notes
One of the biggest benefits of SimpleRegistry is that you can easily keep track of those you've already thanked. The system remembers each gift and the contact information for the person who sent it. It also keeps track of those you've thanked and if you plan on writing hand-written notes, you can print a list of the recipients.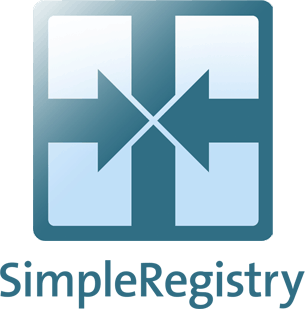 Overall, this registry option is super easy and worth the few minutes it takes to set up. It's a streamlined, genius approach to wedding registries that makes it easier for the bride and the guests.
So stop trying to set-up multiple registries, get creative, and register for anything, anywhere. Even better, one lucky couple will receive a $5,000 credit toward their SimpleRegistry by signing up before 4/30/13.