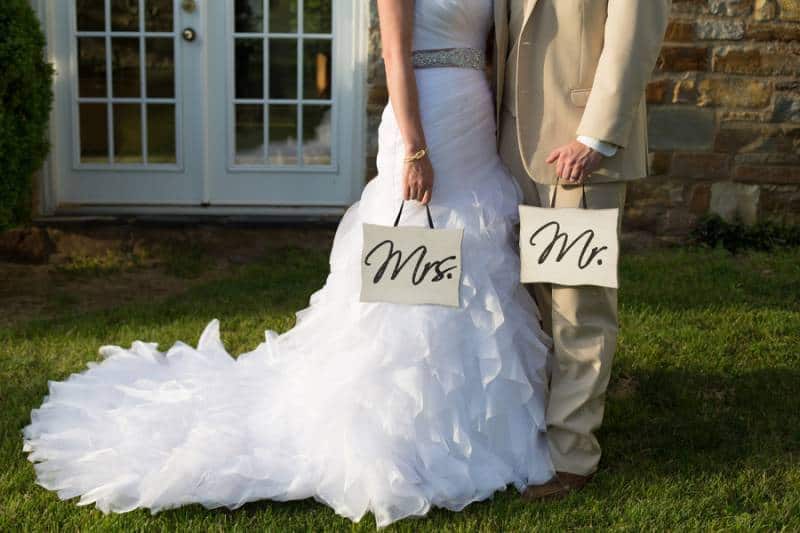 It doesn't snow enough in Virginia for skiing but it didn't stop our couple on having this hobby as a part of their wedding day. This made for some cute and witty details such as using (pseudo) lift tickets as place holders and a cute wedding cake topper of two skiers. But aside from this, the wedding also had some beautiful rustic decorations that added the warmth to the cold of skiing. We love the taupe and gold colors for it made the event look elegant but soft and light at the same time. Congratulations Lindsay and Justin!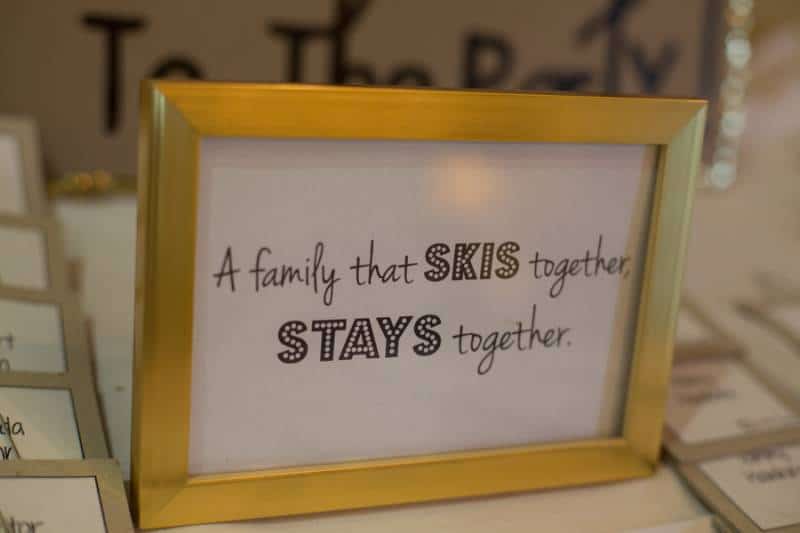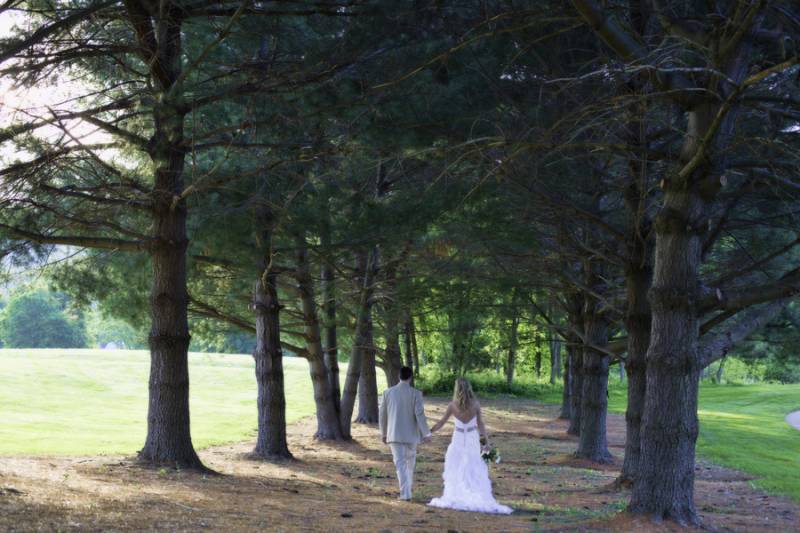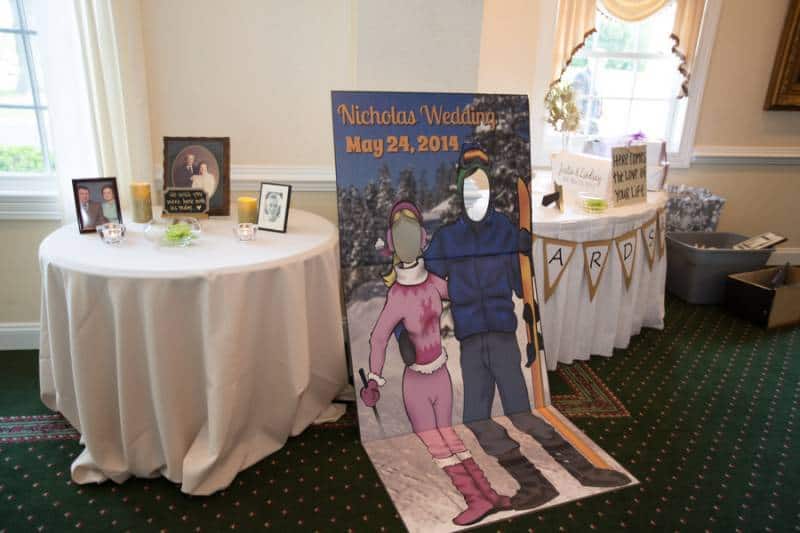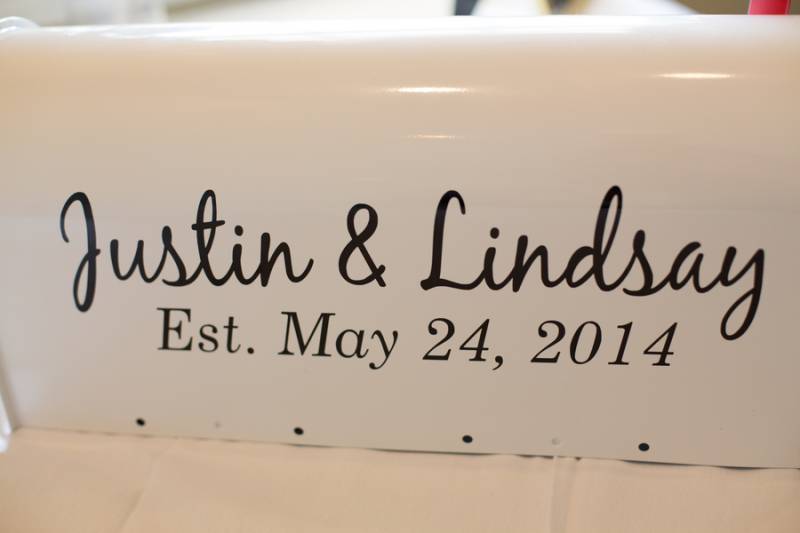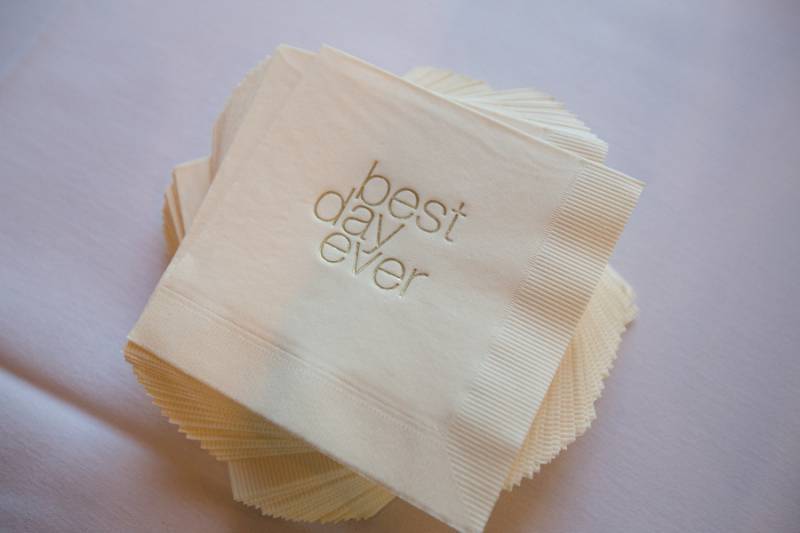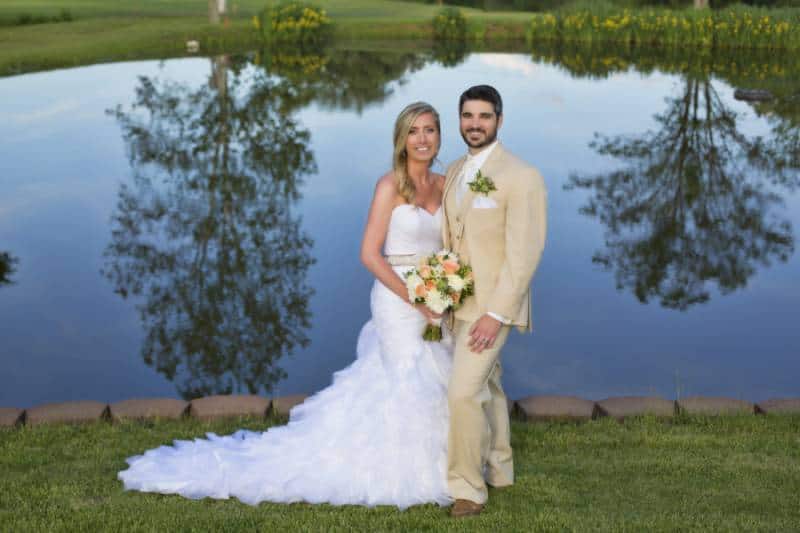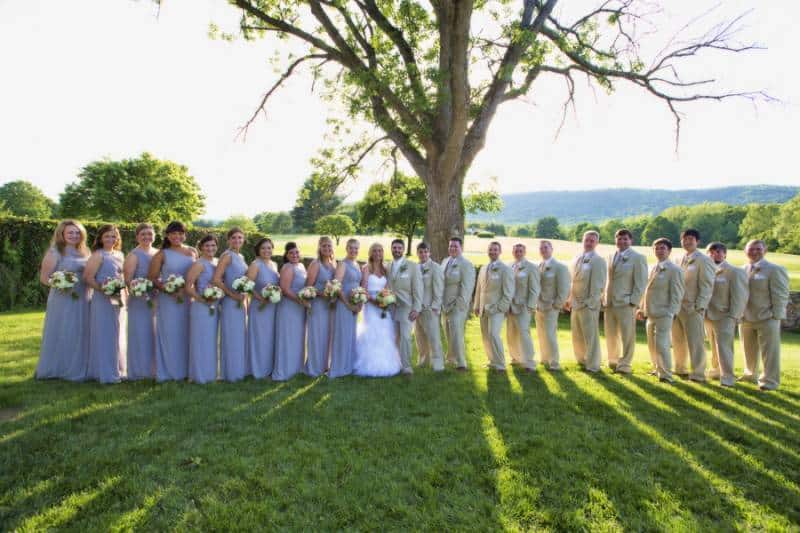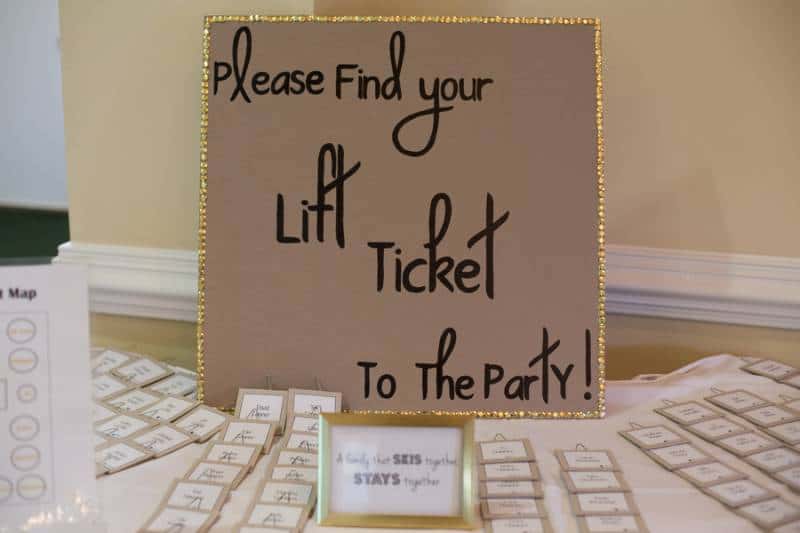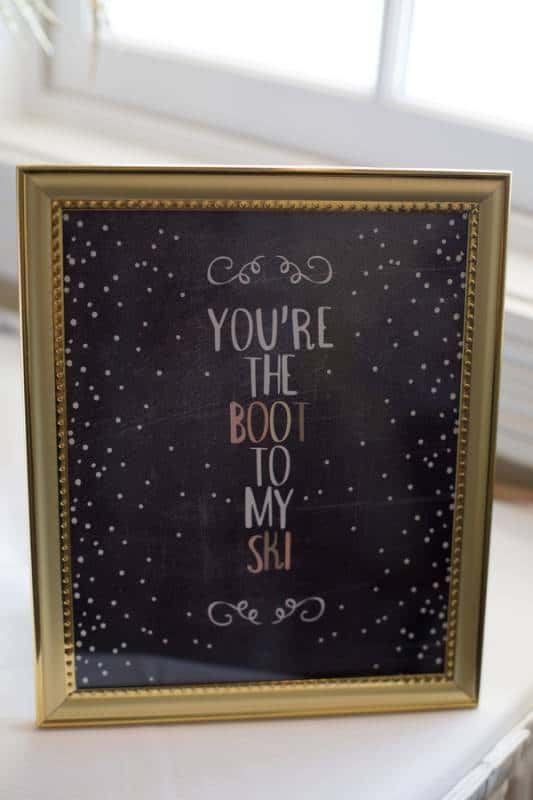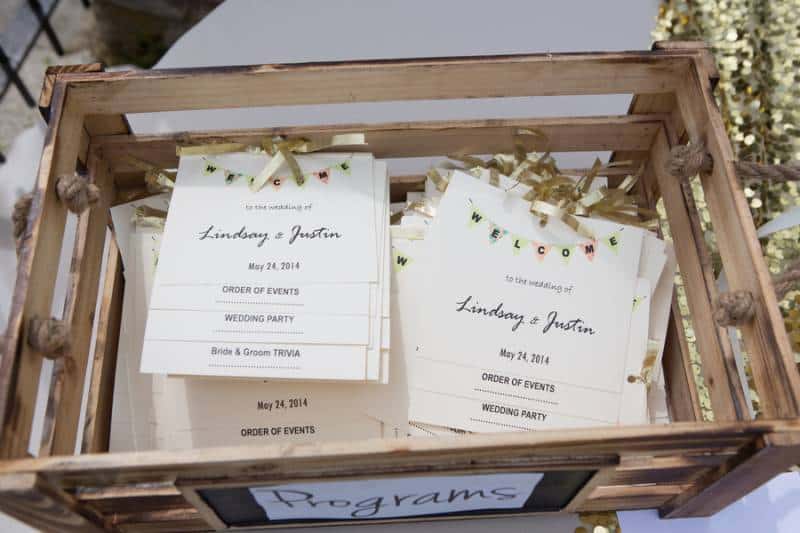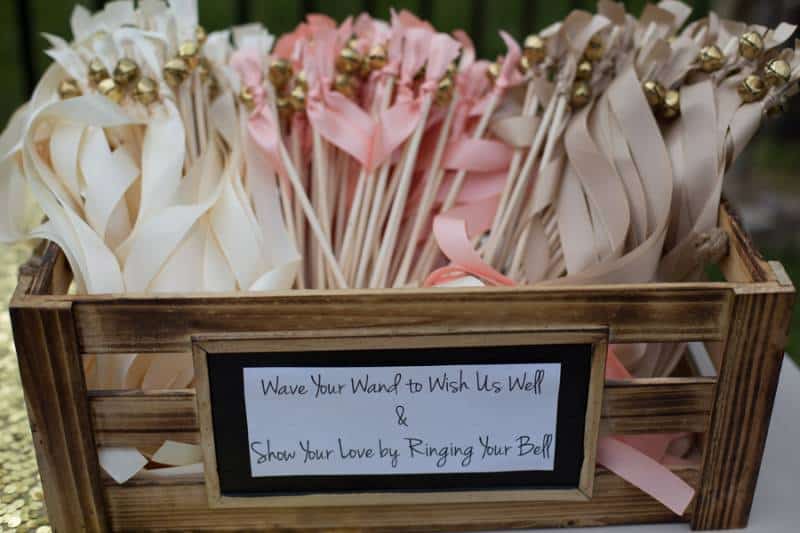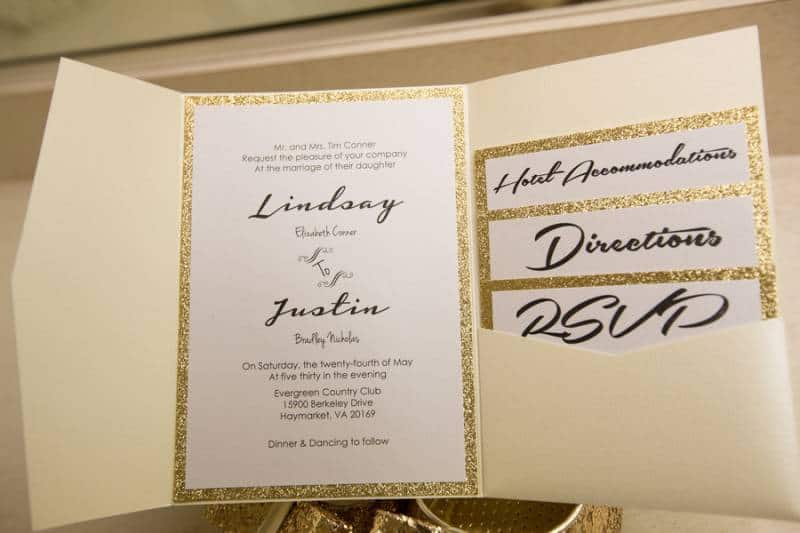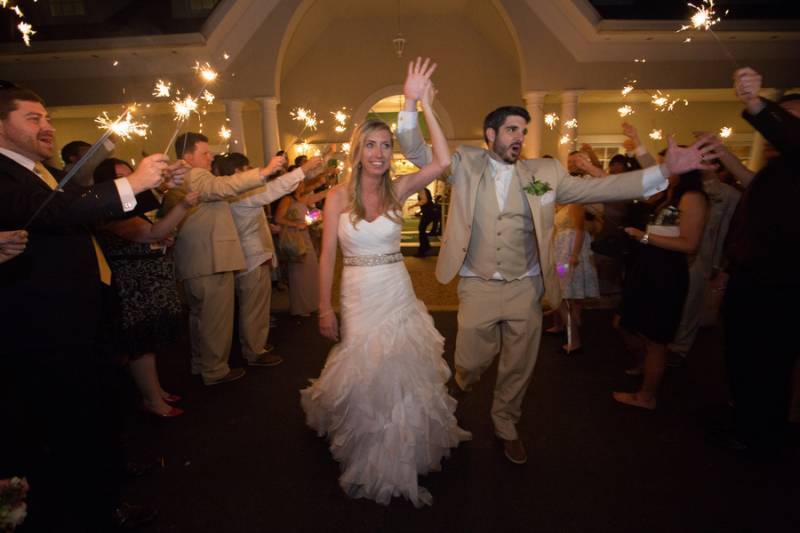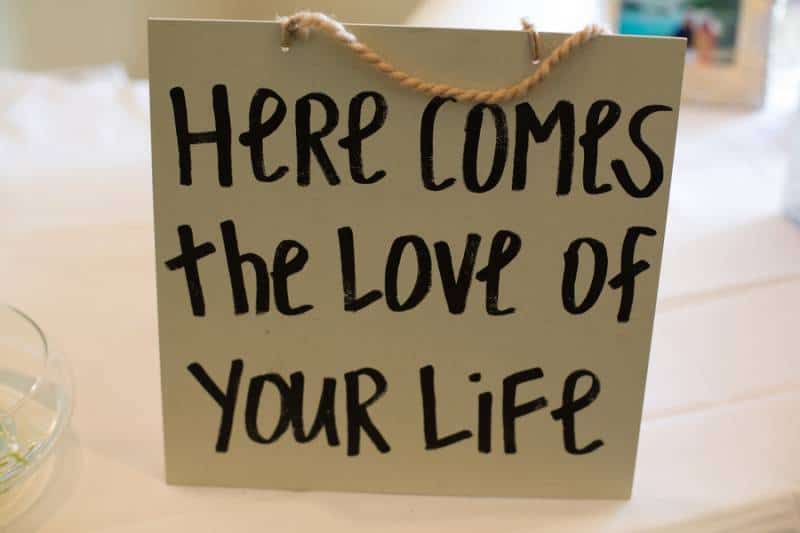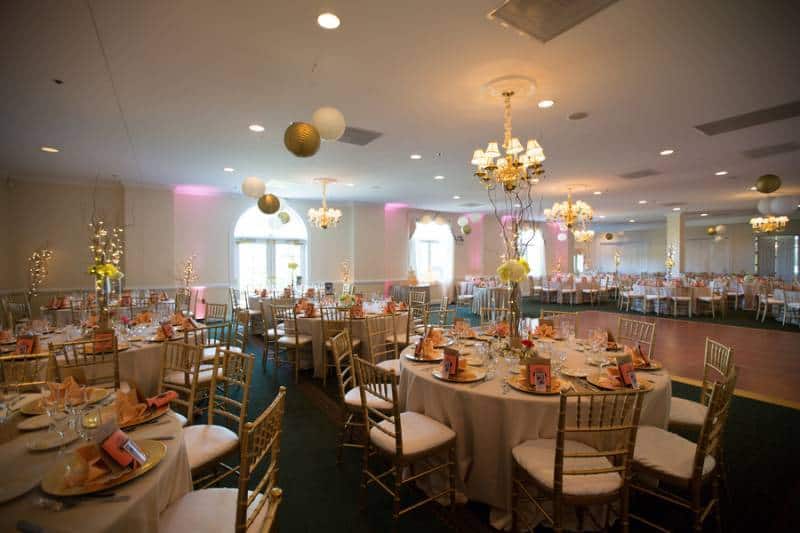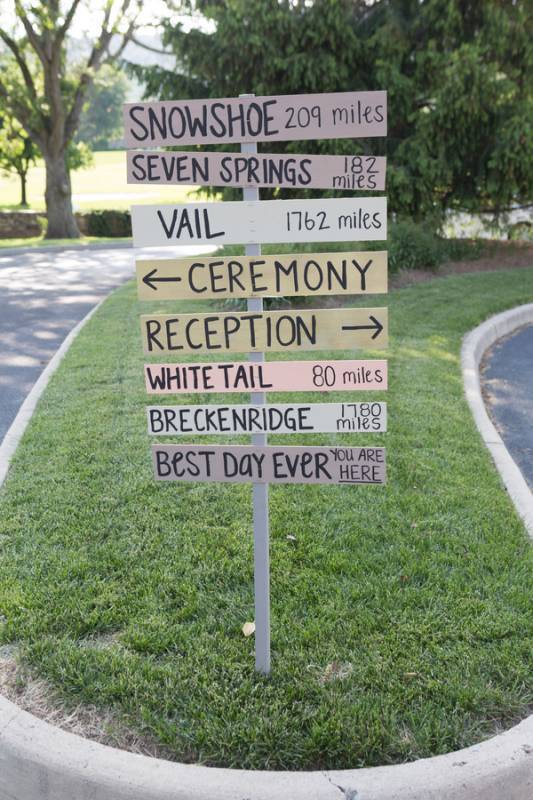 Bride:
What is your story as a couple, how did you meet & fall in love?
Justin and I went to college together, both in the Radford University Greek community, but didn't really know each other well enough to carry on a conversation. We both graduated in 2004, but it wasn't until 2010 where we got reacquainted through a mutual friends birthday party. We are both from the Northern Virginia area, Justin is from Chantilly, VA and I am from Herndon, VA (about 20 minutes apart) so naturally we had friends in common. At that birthday party, I realized, where has he been all along? I pursued, and he pursued back, the rest is history. I moved in with Justin a year later, and a few months after we got a dog together.
What makes the two of you a perfect match?
We have a lot of shared interests, and individual interests, but we are huge supporters of one another. We balance each other out in a lot of areas!
What was the best advice you received when you were planning your wedding?
Book your venue & photographer early! Enjoy every moment because it goes by so fast.
What tips & tricks (can we use "hacks"?) can you share future brides that you yourself have learned during and after your wedding?
I'm a planner and I usually do as much as I can in advance, which really helped to not cause any last minute stress. Our guests kept commenting about all the details, they are worth it to leave a lasting impression!
What inspired your wedding décor? Why did you choose the things that you did?
I have grown up loving the country, and although I didn't go the rustic or country route for wedding décor, I knew I still wanted that soft rustic feel in our wardrobe & colors, so we chose Taupe/Gold/Peach as our wedding colors. I also knew that I wanted a Ski Theme, because that is something Justin and I love to do together, and I knew it would be unique since not many people in Virginia are doing ski weddings.
What was the wedding budget?
$30,000 which was spent mainly on vendors (Venue which included food & alcohol, Photographer, Photo Booth,Flowers, DJ, Videographer, Cake, Brides Dress)
Where did you save the most money?
The venue, and making almost all the "extras" myself, such as the programs, escort cards, etc.
How many guests were invited in your wedding and what was the final guest count?
170 invited, 134 final count
What songs did you use during the ceremony?
Processional – Train "Marry Me"
Brides Entrance – Canon in D
Recessional – American Authors "Best day of my life"
Where did you go on your honeymoon?
We knew we wanted to go somewhere all-inclusive for our honeymoon, preferably a place neither of us had been before, so we chose Punta Cana, Dominican Republic. We stayed at the Secrets All-Inclusive Resort which was very much needed after how busy we had been planning and living out our wedding! We wanted to literally do nothing, and it was just that, and perfect.
What are you most excited about for the future?
Continuing to travel with Justin, make more traditions and expanding our family.
Do you have advice for couples still in the planning process?
Dive in to the details and don't be afraid to get crafty! Find something that is unique to you as a couple, and use it to give your wedding some unique accents. It's what the guests will remember the most. (For us, it was a nontraditional "Ski" wedding in Virginia, in the month of May. But it's what Justin and I LOVE to do!) Don't get stuck on a tradition, set your wedding apart from all the others. We had a large wedding party and an uneven number, and I don't regret a bit of it. I would regret NOT having someone in the wedding, rather than trying to keep numbers down for the sake of it being too much. Don't ask for too many opinions, everyone has their own idea of what a wedding should look like, go with your gut. Lastly, enjoy it as much as possible, it goes by so fast…I wish I could do it all over again
What inspired the wedding day outfits?
I chose a Taupe color long one-shoulder dress for the bridesmaids, and Justin wanted himself and the guys to be in a light khaki colored suit (he was mainly worried about being too hot!), and I completely agreed. For my dress, I always had my heart set on ruffles. I knew I wanted strapless and sweetheart, with some kind of ruffled bottom. Again, how often do you get to wear a such a dramatic dress and feel like a princess? I loved the impact of it, and the way it looked in pictures! It now hangs in our guest room closet and all I want to do is wear it again!
What was your favorite part of the day?
Walking down the aisle with my Dad, and again with my husband!
Was there any Do it Yourself (DIY) projects? If so, can you describe them in detail?
Almost everything in the wedding was DIY!
Hotel guest bags included a personal note in the shape of the state of Virginia, snacks and personalized handmade labeled water bottles and handmade bag labels.
I designed & cut a 4 page tiered ceremony program to also include fun facts about the bride and groom.
Reception tables included 4 mini glass vases to hold flowers that I spray painted gold.
In between the outdoor ceremony & reception, I made an 8' tall wooden directional sign including ski resorts and how many miles away they were located from our wedding.
I made wooden directional signs that my groom hammered into the ground leading up to the wedding venue to help guests from getting lost as well as an extra detail to get guests excited.
My now husband Justin made a ski bench from scratch, using wood as the base of the bench, old family skis and skis off of craigslist that he cut down to size, which we used during the cocktail hour and reception for an added detail that guests could sit on and take pictures with.
I googled and printed 5×7 vintage ski resort images, cut and glued them to cardstock to use instead of table numbers, guests sat at a ski resort.
Our escort cards were lift tickets! I made these by printing guests names, ski resort table, and using a black diamond, blue square or green circle (ski slope levels) to indicate food choice. The back of the ski lift ticket I made as a ski lift chair with "L & J" written, and a fake barcode. I then cut these out and glued them onto cut out grey squares of cardboard, and hot glued a metal wicket in between to make them ski lift tickets.
I downloaded unique fonts to create custom signs placed sporadically around tables that read "A family that skis together, stays together"; "You are the boot to my ski", etc.
I made a large wooden sign (painted by hand) that sat on the escort card table that read "find your lift ticket to the party!", I also used gold round tacks and hot glued them to create a unique gold border.
I made a large wooden hand painted sign that rested on an easel next to the guest book table that read "welcome to our beginning".
I made a small 5 x 7 sign for the bar that had the ski slope levels from most difficult = mixed drink, moderate = beer, and easy= wine.
I bought wooden letters from a craft store that spelled BAR (to sit on top of the bar) and MR/MRS to sit on top of the sweetheart table, and modge podged them with gold glitter.
Bride & Groom chair signs that hung on the back of our chairs during the reception. I bought 8 x 10 picture frames, took out the glass and covered the backing to the frame with burlap. Then glued on gold hand painted wooden letters "BRIDE" & "GROOM".
"Here comes the love of your life" wooden sign our ring bearer carried down the aisle.
A burlap bandana hand painted that read "I do too" for our dog to wear down the aisle.
What were the highlights from the ceremony & reception?
We had our dog as part of our wedding, she walked down the aisle with our flower girl & ring bearer, she was all the talk! Justin and his Mom practiced a fun choreographed dance to "Bust a Move" by Young MC, it was a surprise for all of the guests! We had a custom ski bench that Justin made for guests to sit on during cocktail hour and throughout the reception. We also had some fun late night snacks – cotton candy glow cones, and warm pretzels.
Was there a theme for the ceremony and reception?
I always thought I would do either a rustic/country wedding, or a destination wedding. We ended up doing neither! Being with Justin, we have a lot of common interests, one of them being skiing. Although our wedding was in the country in Virginia, not at a ski resort or somewhere cold, and it was in May, not the winter..I wanted to incorporate ski accents while still keeping it classy. Our colors were Taupe, Peach, Gold & Cream and I was able add touches of our passion of skiing all over without making it cheesy or gaudy. It was very unique!
Links to Wedding Videos?
http://vimeo.com/user12968005/review/99387987/62341f0605
Vendors
Photography:  PhotoArt by Lu
DJ:  Above & Beyond DJs
Cake:  Cake Bliss by Donna
Flowers:  Flower Gallery of Manassas
Videographer:  Michael Brazda Films