Whether you're from the gorgeous state of Louisiana or you simply want to bring a little New Orleans flair to your wedding reception, a Creole menu can leave your guests' taste buds singing! This recipe for traditional seafood gumbo is rich, delicious and goes a long way. It's the perfect appetizer when placed in small bowls and paired with chewy, crusty French bread.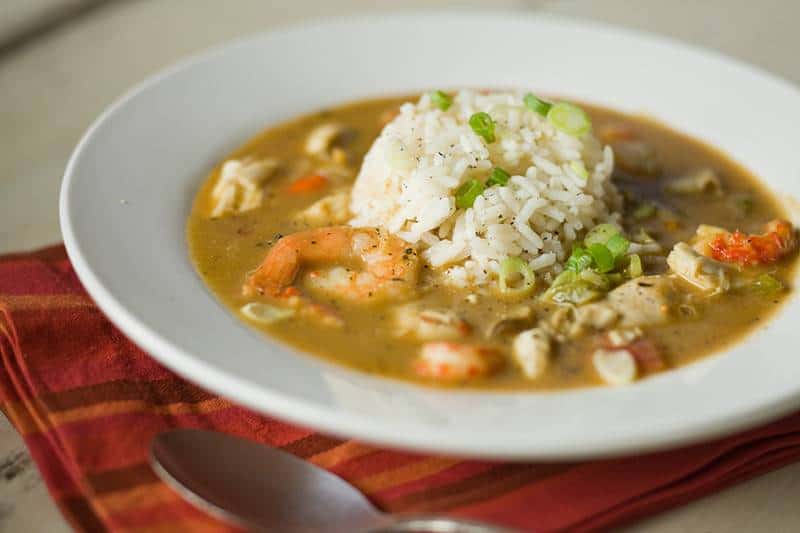 What You'll Need:
1 Cup All Purpose Flour
3/4 Cup Vegetable Oil
1 Can Diced Tomatoes
1 Pound Lump Crabmeat
1 Pound Sliced Sausage of Your Choice
3-4 Pounds Fresh Shrimp (Small to Medium in Size)
1 Cup Each Diced Green Onion, Diced Onion, and Diced Celery
2 Quarts Seafood or Chicken Stock
1 Tablespoon Each Garlic Powder, Salt, Pepper, Cayenne Pepper
3 Bay Leaves
Separate: 6-7 Cups Cooked White Rice
How to Prepare:
You can prepare this gumbo up to 2 days and preparing at least the night before is preferable since the flavors are better able to mingle overnight. Begin by placing the vegetable oil in a large, thick pot over medium-high heat. Add the flour by sprinkling a little at a time and using a whisk to incorporate it. Stirring constantly with a wooden spoon, allow the flour and oil mixture to cook for approximately 10-15 minutes. The mixture should turn a golden brown and smell something like popcorn when it's finished.
Next, dump in the can of diced tomatoes, liquid included, and mix quickly with your wooden spoon. Allow this to cook for approximately 5 minutes before pouring in your 2 quarts of stock. Bring the mixture to a boil, blending your flour/oil/tomato mixture into the liquid very well. When the mixture starts to boil, lower the heat to medium/high and add your chopped onion and celery and your dry seasonings. Allow this to simmer for approximately 10 minutes. Next, bring the mixture back to a slight boil and add your seafood and sausage. Let this cook for about 5-7 minutes (or until shrimp is done).
Voila! It's done, and sure to be the best gumbo you've ever tried. It is also sure to impress your wedding guests and makes a fantastic soup course or appetizer during any season. Are you planning a Cajun/Creole wedding menu? What are some traditional foods you will be adding? Let us know in the comments below!