From Jessica:
I have a soft spot for all New Orleans wedding traditions, after spending my four college years in the city unlike any other. Second lines, cake pulls and groom cakes are just some of the fun traditions that make Nola weddings unique. One of my favorites is their popular cocktail-style reception, as it focuses on everyone's wedding favorites: good food and cocktails! In these more free-flowing fêtes, guests are free to mingle and dance and you never need to worry about the between-course lull.
Besides the obvious fun factor, cocktail party receptions are a fabulous choice for those who want to stretch their budgets without compromising on style. Doing away with a formal dinner translates to big savings in your rentals, as you need less tables & chairs than guests. Fewer tables mean fewer centerpieces… you get the idea!
My inspiration board for this New Orleans-style cocktail reception comes in a romantic, old-world palette of rose and copper. Cocktail tables are dressed up with edible displays of French macarons, and glittering paper stars hang from the ceiling. The bride wears a short lace wedding dress with silk-tied shoes. Bridesmaids carry champagne-colored clutches down the aisle in lieu of bouquets, and gilded apples top the the vanilla-bean spiced apple cake. Since you won't need table settings, focus on fancy glassware like crystal champagne flutes or these blush-hued goblets. Food is the main attraction, so have some fun with inventive hors d'oeuvres — this monochromatic color scheme does double duty as wedding decor. And to end the evening on a sweet note?  Treat your guests to a dessert liqueur bar!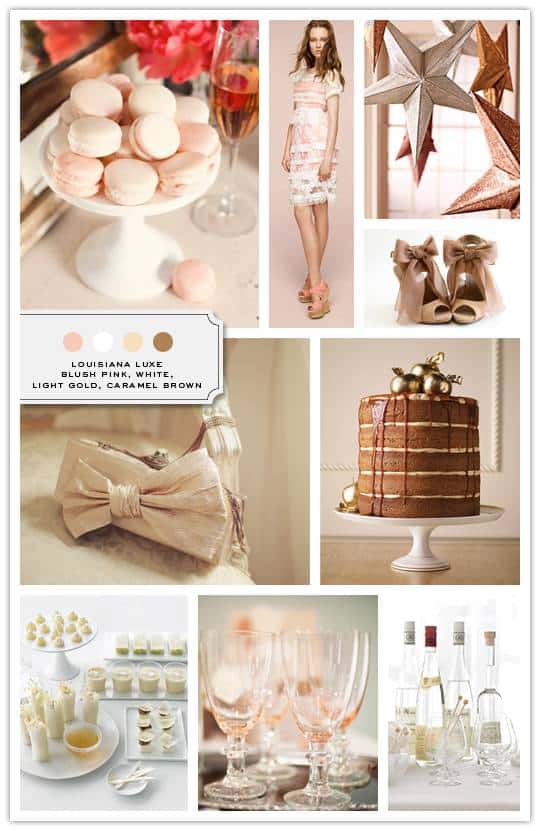 Inspiration Board Credits:
Macarons, Luna Photo for Utterly Engaged via My Sweet and Saucy
Short Wedding Dress, Nina Ricci via Style
Shoes, Cinderella Project
Hanging Star Decorations, Martha Stewart Weddings
Bow Clutch, Cherry Blossom Girl via Absolutely Ladylike
Cake, Nine Cakes via Martha Stewart Weddings
Pink Glasses, Missy Photography via The Sweetest Occasion
White Hors D'Oeurve Display, Martha Stewart Weddings
LiqueurBar, Martha Stewart Weddings
• • ♥ • •
Jessica Edwards Malish is a brand manager at a boutique branding and design agency. She and her husband live and work in New York City. As a recent bride, she fell in love with wedding styling and design and is thrilled to continue the love affair in her guest posts for Inspired Bride.