Click image to enlarge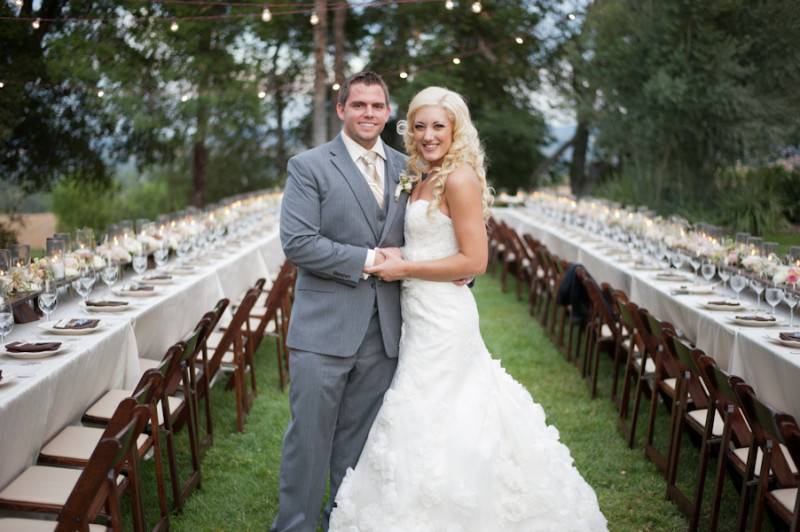 Like. Click to Vote
>
I am head over heels on this feature's details. Like for example, the wooden sign posts, which are not new to weddings, but this event's gallant and smart use of this rustic decor made it stand out to be something quirky and personal. If your guests can even pinpoint your handwriting, it'll even be more special for them. Then, there's the bridesmaids' dresses that looked angelic for me because the ruffled sleeve looked like wings. And then, the stationary was a whole package of awesome. It would be a delight to receive something like that in the mail. For the reception, the u-shaped table was an intimate way to arrange your guests. And lastly, I personally loved the framed chalkboards which was used to inform people on several wedding gimmicks the couple has in store for them. It truly is a beautiful day for our couple. Congratulations Derek & Melissa.
It's a defining journey. A wild ride. It's a gift. – Melissa (on describing her wedding)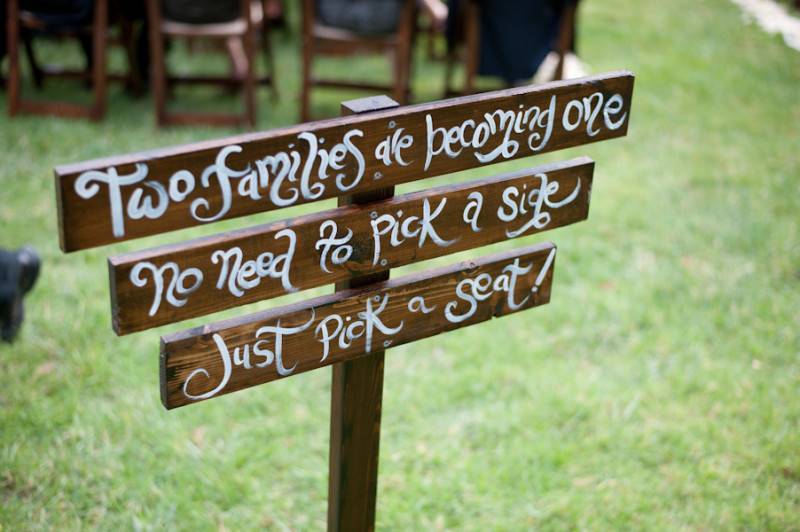 Bride:
The day Derek so perfectly and sneakily proposed to me changed the ordinary process of life as we knew it, and shot without warning into this spectacular, extraordinary world of what we now understand as wedding planning – where everything cost 17 times more because the word "wedding" was in it, where you googled things you never fathomed googling, where you tucked yourself in at night and glimpses of the most special day floated and danced above you… it's a gloriously fun process. It's a defining journey. A wild ride. It's a gift.
I am a better person because of wedding planning. I learned to let go of holding on too tightly to every last detail, every last task. I learned that I am human. I learned how to stain a lot of wood, I learned and rediscovered what a tremendous passion I have for making invitations (and anything and everything paper related for that matter). I learned that I was better off serving cold drinks while Derek and his best man drilled over 10,000 holes for the flowers to be placed in the handmade centerpieces. I learned that it takes a village to plan a wedding. I learned to communicate better, to balance better, to ask for help. I learned that utilizing the gifts God gives you and becoming passionate about them is more effective and wonderfully glorifying than trying to be something you are not. I learned to thank God for the perfectly opposite gifts he gifted my "other half." I learned I am a dreamer, and I married a man who makes all my dreams come true. I learned the journey leading up to your big day, and pouring your heart into making it what you dream it to be is just as much as a gift as the wedding day itself. I learned that I love Derek more and more everyday and forever will, that is all that matters, and all that ever will.
I am thankful to a team of amazingly phenomenal people who believed in our wedding day as much as we did. From Jessi Kaufman, our fearless and fabulous leader, to Marlon Taylor, who so perfectly captured the sweetest most sacred moments which we will forever cherish, to Meg and Annie at the Little Branch, who were crazy enough to go along with our very out of the box floral dreams, to Joan, the caretaker of Upper Las Virgenes Canyon Open Space Preserve, who indeed called me crazy more than once, and I love her all the more for it, and so many amazing vendors (scratch that) FRIENDS who worked tirelessly to bring a very untraditional, very hands on, outside of the box, wedding to life with awe and beauty. I am so thankful for our over-the-top loving families, for the girls who stood graciously by my side, for the men who stood strongly by my husband's side, and every single remarkable friend… for they demonstrated in truth and in love what God intends being family and being friends to look like.
Vendors
Photographer:  Marlon Taylor Photography
Cake Designer:  Sweet & Saucy
Hair Stylist:  Alexander's Grand Salon
Event Planner:  Just Chic Events
Caterer:  Liquid Bliss Catering
Floral Designer:  The Little Branch
Reception Venue:  Ahmanson Ranch