Click image to enlarge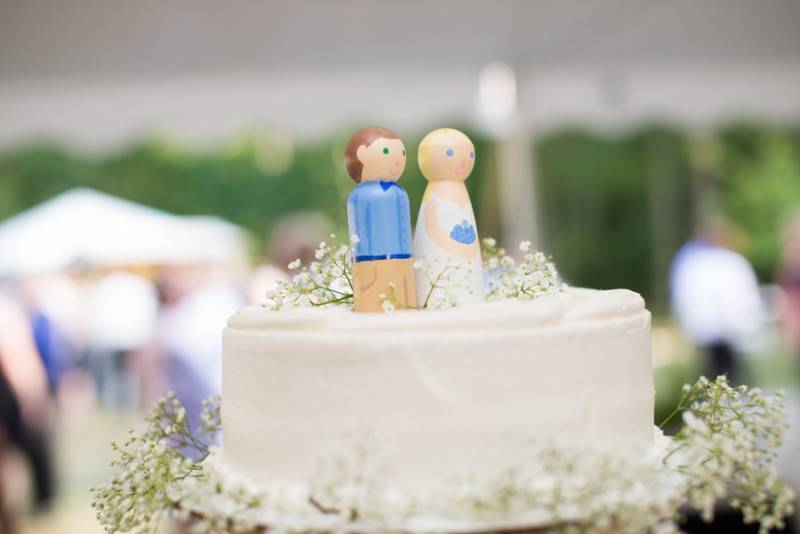 1

Like. Click to Vote
>
You can't get more family oriented than having your most special day as a couple in the place where you grew up. Fortunately, Lauren's family's backyard is vast and beautiful that it was apt for her and her beau's wedding. And I guess since they didn't stress at all on finding the perfect location, they were able to turn their attention towards the details and I must say that they have one of the most adorable, rustic, and personal bunch of decors. I love the generous use of wood as an element in the details and this is because our bride's father is a wood shop teacher and he used his talents to help decorate this wedding. Congratulations on such a beautiful backyard wedding Lauren & Dan!
Photographer
This was a fabulous tented wedding in the backyard of the house where the bride grew up, her parents still live there. The bride's father is a wood shop teacher and made SO many details and props for the wedding, Tons of DIY stuff! They even had a bridal bouquet catapult! It was a very cool wedding!

Bride
My parents bought there current home my sophomore year of high school. What started as a joke (a la Father of the Bride), my dad would insist that when the time came for my sisters and I to get married, we'd flip hamburgers in the backyard. While I imagined the big day with a tad more class, I too wanted a Walker Lane wedding. I was lucky that years later the man I married shared my desire for a low-frills, at-home wedding. We chose late June in accordance with Jersey weather and my parents' work schedules (both teachers), and the rest just sort of unfolded as we went along. We were both pretty relaxed throughout the planning process- I tried on only three dresses, we never looked at table linens, and anything that could be ordered online was. Our bridal party and family had a hand in creating just about every part of our ceremony and reception, so it's really special to look back and remember: bridesmaids cutting table runners, groomsmen constructing a catapult (bouquet toss), and the moms washing out pickle and salsa jars that would hold votives on the big day.

Vendors
Photographer:  Something Blue Wedding Photography
Event Designer:  A Touch of Elegance LLC
Favors and Gifts:  Apex Bee Company
Invitation Designer:  David's Bridal
Band:  Facedown
Other:  Ocean Tents & Party Rentals
Floral Designer:  Reynolds Garden Shop
Caterer:  Sweet Jenny's
Signage:  Sweet NC Collective