Every story has its beginning. Justin and Mary's story started one fateful night at Applebee's, when Mary was waiting on Justin's table. Although it took a while, they eventually realized that they found the one they would be spending the rest of their lives with.
This beautiful engagement shoot is merely a glimpse into their forever. Theirs is a love story that began with a mysterious connection — a love story you can read about right here! I urge you all to scroll down and read the words of Justin himself.
Congratulations on your happily ever after, Justin and Mary! Or perhaps I should say, Mr. and Mrs. Littlejohn? As of this posting, they have officially been married for a week! Once again, congratulations!
Click image to enlarge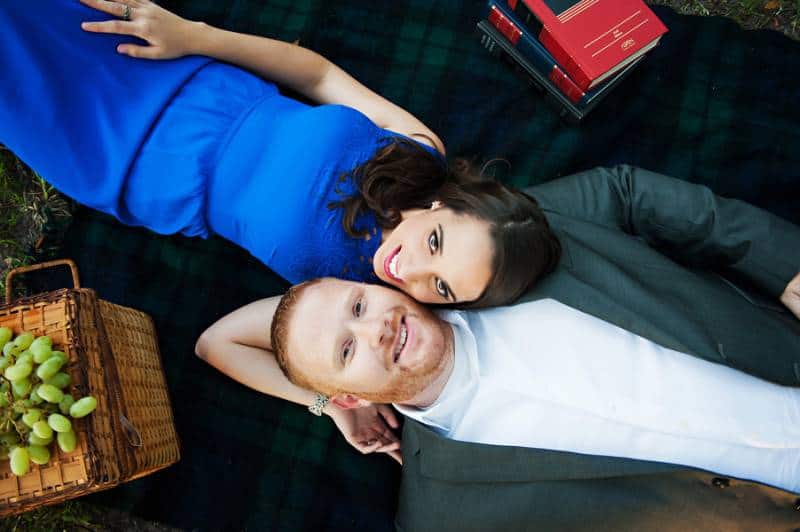 Like. Click to Vote
>
What is the overall story for this album?
The beginning of the wedding year, leading off with the great engagement session.
What is your story as a couple, how did you meet & fall in love?
Mary and I met on September 27, 2010 at an Applebee's restaurant. During this time, a best friend of mine was going through a very difficult time living long distance away from his wife and son, which led to him and I hanging out regularly, playing different sports, and going for beers afterwards. Mary was our waitress one of the first nights we began a tradition of going there for drinks after playing games. She repeatedly expressed that she felt she knew me from somewhere, but I had absolutely no recollection of knowing her and we most likely had not met before – I thought she was just trying to get a better tip! She said she couldn't figure it out either and at the end of dinner said "maybe it's a deeper connection." I remember turning to my friend and saying, "Serious, who says that?!" She was a very sweet and uniquely openly kind person (which is rare). At this time we were both seeing other people and thought nothing of it. My best friend was taken back by her as a great waitress and a great person to have around when we were drinking, so we requested her every time we went.
As weeks and October passed, I separately from my complicated relationship and at no coincidence she broke up with her long term boyfriend. I was sincerely not looking for anyone new, nor was she after immediately leaving a long relationship. However, week after week, as my best friend and I went to Applebee's I learned more about her and realized night by night after finding little things out about her. I starting recognizing traits and interests that I have narrowed down over my life learning from ended relationships about who I am looking for in a woman. Even still, nothing was pursued by either side.
One night after Thanksgiving when travelling, we ended up speaking on the phone which lasted over 7-8 hours until 5:00 AM when I was leaving at 5:30 AM to go on a boat with my Uncle. From that day a spark led to a wildfire, officially starting our relationship on December 17, 2010 despite wanting to take it slow. Now, almost exactly 4 years ago when she and I had that first phone call, I am still falling in love with her more each and every day and cannot wait to marry the love my life in less than 6 months.
What makes the two of you a perfect match?
We are very similar in some ways and very different in others, which keeps things interesting! She is a very attractive Cuban who came to the US when she was younger. I am slightly older than her and am a stark white red head that is a multi-generational American, with a Scottish, Irish, and Swedish heritage. It does not get any more different than that!
She is very mature where I can be a big kid. She has an uplifting, positive personality that leaves an impression where ever she goes. I have a very playful, broad personality which always keeps her smiling and laughing. We are both intelligent and have our own strengths that complement each other. We both are caring, family oriented, have a desire to succeed, and a lust for knowledge. Separate and together we are a very kind, positive, and loving couple that is excited to experience every day to the fullest and look forward to see what tomorrow brings.
How did he (or you) propose?
Well her favorite number is 5 — loves the number 5. So on Saturday 02/23/2013 (23 = 5), when we already registered to to run a 5K (5 again) that morning, I had planned a full day without any of her knowing. Since this was her first race ever, I bought her 5 roses for the morning to begin the day with a card. We left to race, of which by some bizarre happening, she and my sister passed me when unknowingly when I was getting water and beat me (not the plan!).
After the 5K, which was a great time, the rest of the day was very meticulously planned down almost to the minute. I had told her for her win as well as since we had not had a date night between us in a while that the night was ours. I purposely set up the mentality of "does she want to decide where/what we do or just nonchalantly leave it to me for a normal night since I knew the city better?" I was fully expecting she would just say leave it to me, being tired from race, which she did (luckily!).
What she didn't know at this time is that I had a hotel reserved looking on the the water, a high end Italian (her favorite) restaurant reserved (just happened to be on top floor of hotel with view of water too), had been organizing with event coordinator at restaurant, and had planned for her full family (from out of town) and mine to surprise us after dinner. After the race, I took her shopping on purpose "for date night" attire. I bought her a new dress, jewelry of her choosing (which was heavily influenced to match design of ring she was going to receive), and even shoes! She has amazing outfits and shoes, but just so happened she found something she liked of everything which was rare in one day of shopping.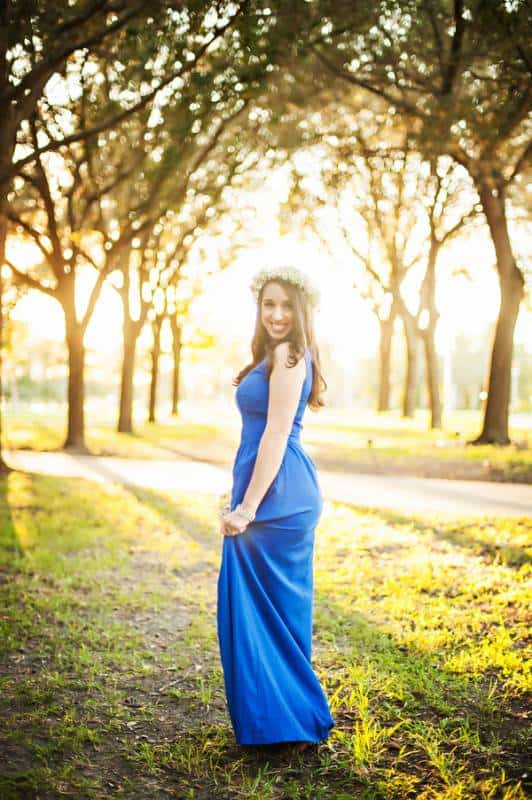 As we were getting ready at home, I packed up two suitcases with anything I could imagine she would need and had my family pick them up to take them to the hotel room. I also had my family room go early to room to decorate with flowers, candles, rose petals, chocolates, and champagne (of which they did a breathtaking job). With her still being oblivious, we set out for the night unknowing that pretty much every one in our immediate families excluding her knew something was happening other than her – not a clue.
My plan was to drive to the beach, drink red wine like we had done times before during the sunset (planned exactly 5:55pm), and set up the proposal with a drawing in the sand. While heading over the bridge towards the beaches, I realized it looked like storm clouds covering the ENTIRE coast. The weather channel or weather.com did not show a single cloud in all of central Florida. Unknowing of the beach we were going to (as my plans failed with zero participation from resorts or select spots I wanted), I left it to her to lead our destiny and pray there was no rain, and hopefully at least a sunset of some sort. From the highway all the way down to the beach we ended up landing on was entirely led by her simply selecting directions of right, left, or straight when reaching intersections with both us unsure where we would land.
At the beach we were pleasantly surprised that it was not rain clouds, but an enchanting mist. We found a private spot on the beach, which was surprisingly empty at sundown at a beach in Florida – most likely due to the mist. As usual, we drank our wine cuddled next to each other from the slight chill from the mist. While enjoying each others company, I offered a challenged of who could do the best or most living drawing in the sand. Being competitive, as expected she accepted. After shortly making drawings in sand with our feet, I claimed time was over and I asked to see hers first. She surprisingly wrote "Eternity with you" which took me back thinking she figured me out. Confirmed afterwards, she still had no idea. I told her that's really good and she cheated, saying it was like mine.
We walked over to mine which was simply a big heart drawn that said "Will You" which made her turn around confused. When she turned around I was already on my knee with the ring box opened. I proposed to her and she filled up with tears and slowly walked towards me hugging me while I was kneeling down. What seemed like an eternity, but probably only 10 seconds she still had not answered! I asked if that meant yes, which she then said yes! There was no sunset which was a bust, but the unusual mist of which we could not see beyond 50 yards in either direction of the beach made it unforgettable and as if it was just for us.
At this point, we had to finish our wine as she stared at her ring saying it was so beautiful. We left fairly soon after so we could meet the reservations of the dinner which was the second phase of the proposal. The plan and what happened to be spot on, was her and I arriving at the hotel which had the restaurant and our hotel room. She still had no clue of her family and that we had a room for the night. Working with the restaurant and their coordinator, we were purposely situated with in a seat that looked onto the water, but where she could not see our families gathering in a private part of the restaurant for the surprise after we finished dinner. After an amazing dinner and wine, I could see the families arriving on time. At the end, the restaurant manager congratulated us on our known engagement and offered us a special dessert for us.
As we reached the section our family was in and once she passed the corner being able to see them, she broke out in tears. At this point almost everyone who is able to cry was crying and everyone was so happy. The table was decorated with rose buds, flowers, and candles courtesy of the restaurant and our families enjoyed wine and desserts for the rest of the evening. The night, though imperfect and unpredictable at points, ended out to be flawless and unforgettable.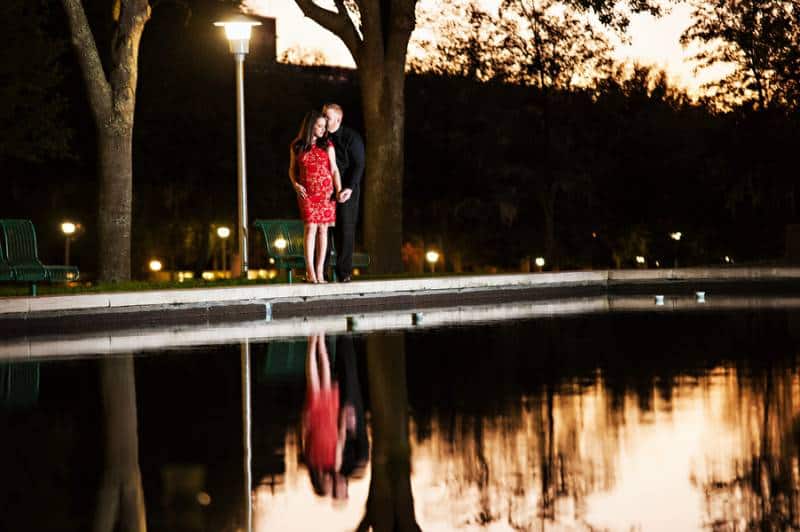 The night concluded with going to room, the final surprise, which we were both very happy to have as we were exhausted and full. The room decorated by my family could not have been any better. The entire walkway was filled with rose buds, multiple bouquets, large vanity balloons, large heart on bed made of rose buds, chocolate kisses everywhere, and candles all throughout the room. The perfect day. And, still to this day one of the best decisions I have ever made in my life.
How long was the planning process? Did you think it was enough time?
The planning began over six months before I purchased the ring. The actual planning for proposal was officially two months. Though I had always dreamed how I would propose to the love of my life, I had never been able to settle on anything that either I stole from some other idea or was unrealistic. Most of my planning up until the ring was focused on buying the best ring I could find (and afford). Found the exact ring set she wanted (after 10+ jewelry places and online searches). The search then continued for the perfect diamond (again what I could afford, which meant no retail). I was led to what ended up being the best luck I could have had which was a lady who for the past 30 years had run her own private jewelry business, and up-scale, too. Despite several narrowed choices, no diamonds met my liking until one day a diamond came through to her and it was the one! After that, I planned the proposal, which not much avail. Most of my original plan flopped when trying to set up reservations or make special plans with different places – who were mainly uncooperative. Time of planning ended up not mattering, outcome ended up being meant to be (which in the end made it that much more meaningful and unrepeatable).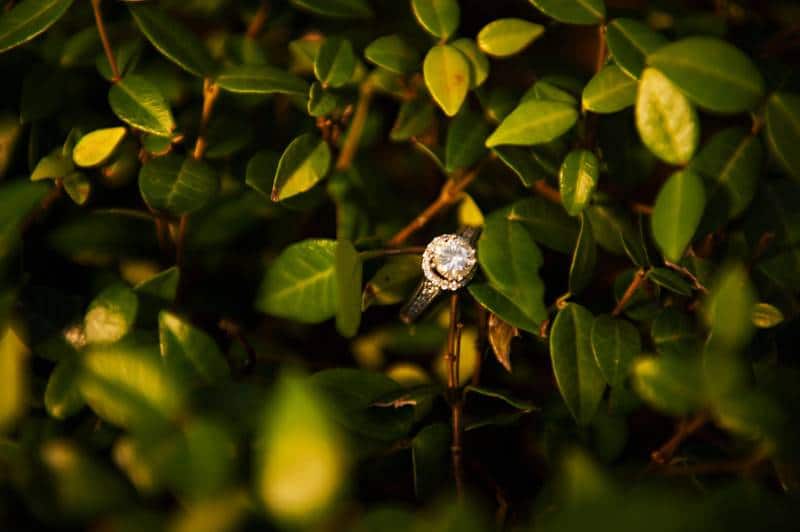 After that, I planned the proposal, which not much avail. Most of my original plan flopped when trying to set up reservations or make special plans with different places – who were mainly uncooperative. Time of planning ended up not mattering, outcome ended up being meant to be (which in the end made it that much more meaningful and unrepeatable).
What are you most excited about for the future?
Seeing her walk down the aisle and being able to officially call her my wife.
What inspired your outfits for the engagement session?
Personal styles as we mostly setup outfits individually so the looks ended up being natural, not staged.
What was your favorite part of the day?
The moment where we became relaxed and cared less about people walking around. The moment of ease and happiness to be with each other and not care about any one else other than us and of course the photographer.
Was there any Do it Yourself (DIY) projects? If so, can you describe them in detail?
The flower headband and the bouquet was hand made by my (groom) mother.

 VENDORS:
Photographer: Limelight Photography
Other Location: University of South Florida